Sharing is caring!
I'm a little embarrassed to admit I was almost 30 before I discovered I liked sweet potatoes. In my defense, until then I'd only been presented with the typical Thanksgiving dinner variety: sweet potatoes from a can smoothered in brown sugar, butter, and marshmallows. Nasty. Then one day as I was getting ready to roast some red potatoes I wondered what sweet potatoes would be like cooked the same way.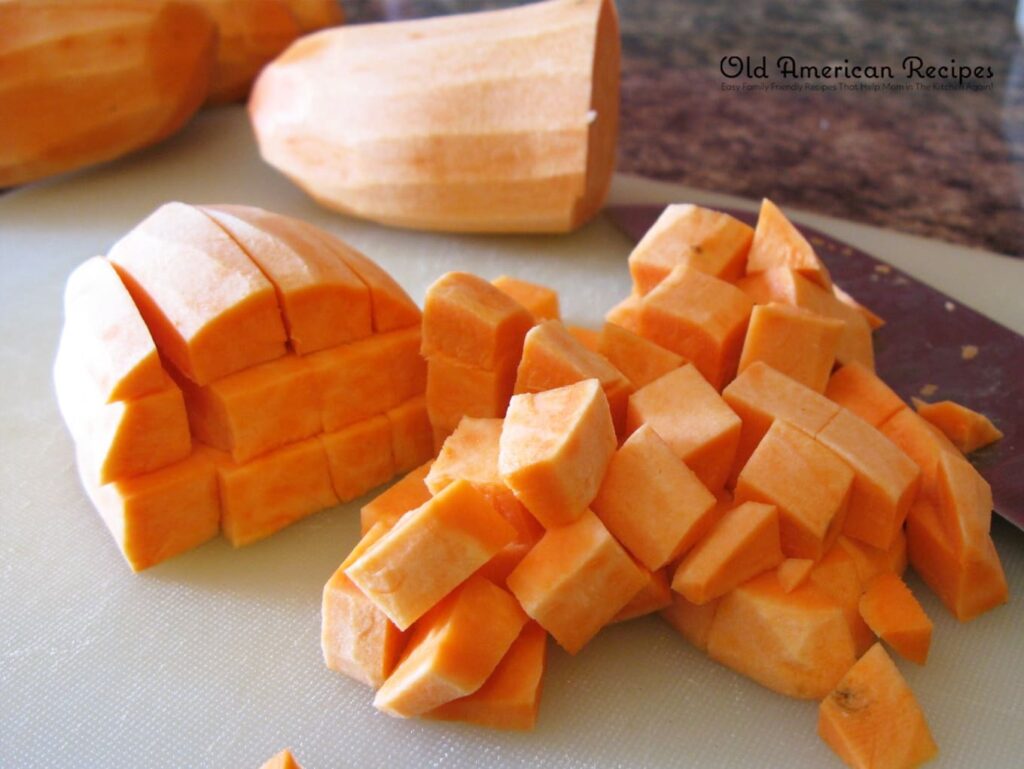 In the produce section of my grocery store I was faced with two options. They both looked sweet-potato'ish to me, but one was labeled "sweet potato" and one was labeled "yam". Which one was the one I wanted? I didn't want to doom my first try before I even left the store, so I went with the one that said "sweet potato".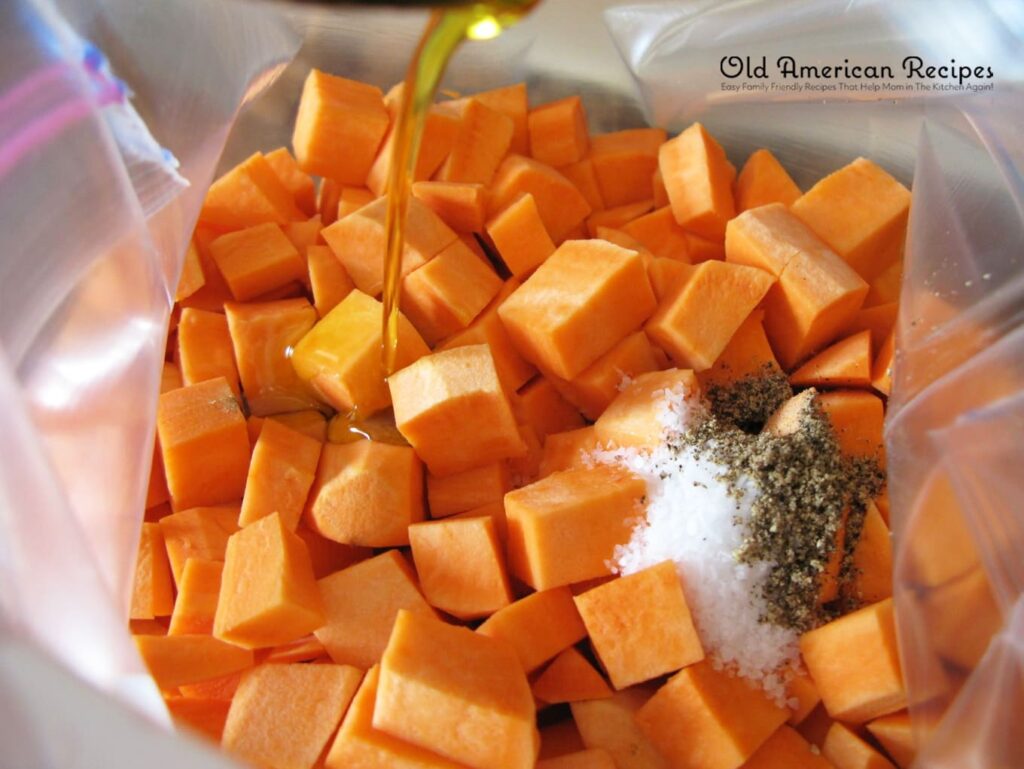 I came to learn later that they were both sweet potatoes. Zoe, from zoebakes.com, has an awesome article on her website about Yam vs. Sweet Potato. You should go read it. The Department of Horticultural Science at North Carolina State University also has some good, if more academic, information here.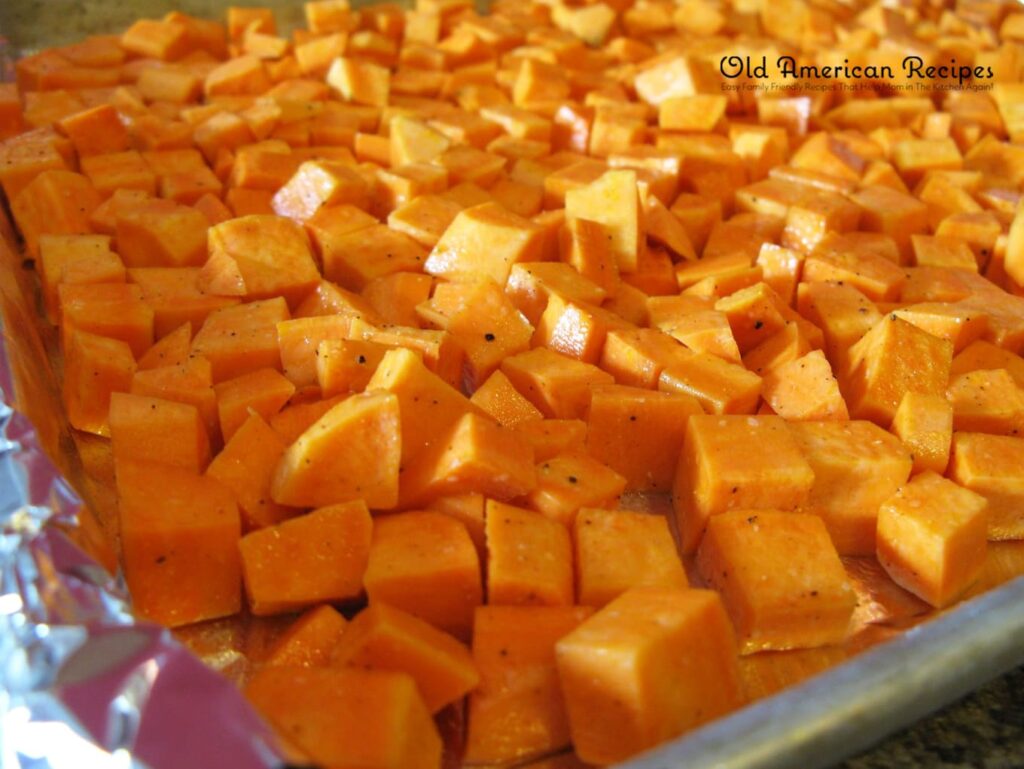 I took my sweet potatoes home, peeled and diced them, tossed them with a little olive oil, Kosher salt, and fresh black pepper, and roasted them in a super hot oven. The smell was heavenly. The heat from the oven evaporated most of the sweet potatoe's moisture, shrinking the pieces (a lot) and concentrating the natural sugars. The sweet-salty flavor, combined with the slight charring on the edges–I was in love after my first bite. The little jewels were like sweet-potato candy. I must have eaten half the pan standing right there in front of the stove.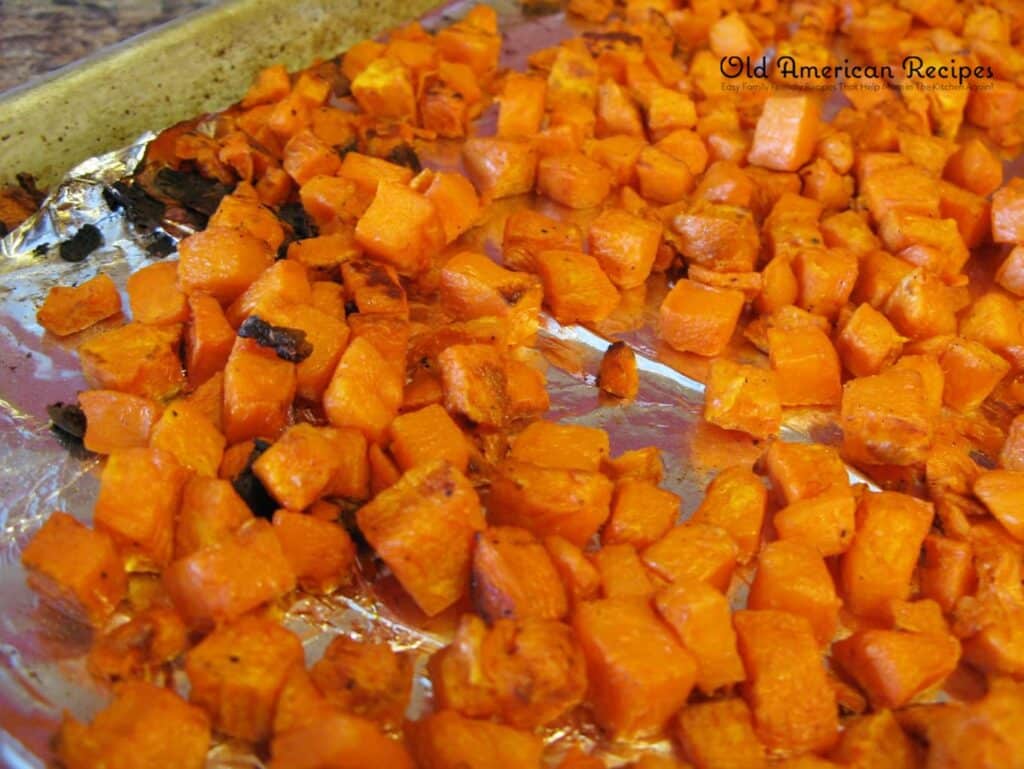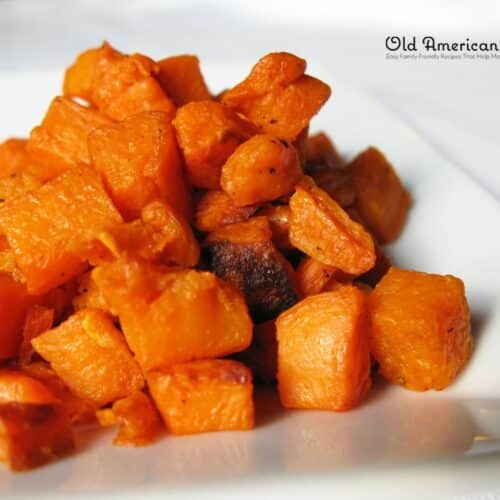 Roasted Sweet Potatoes
Ingredients  
about 3 lbs. sweet potatoes

peeled and cubed (I do just under 1/2-inch cubes)

1 1/2

teaspoons

coarse

Kosher salt

1/2

teaspoon

fresh ground pepper

1

tablespoon

olive oil
Instructions 
Heat your oven to 425. Line a 15 1/2 x 10 1/2-inch rimmed baking sheet with foil and spray the foil with non-stick spray.

Combine all of the ingredients in a gallon size zip-top bag. Seal the bag with the air still in it, and shake and turn it until the potato pieces are evenly coated with the oil and seasoning. Pour the potatoes onto the prepared pan and spread them into an even layer. Throw the bag away (one of the best parts).

Roast the potatoes for 40-45 minutes or until they are very tender and nicely browned. Stir the potatoes several times during cooking, more frequently toward the end of cooking to prevent them from burning on the bottom.
Notes
I've found 3 lbs. is about all this size baking sheet can handle. If you crowd the pan the potatoes will steam instead of roast. They will still cook, but they won't get the lovely browning and charring that makes them go from yummy to

OMG

, THESE ARE SO **GOOD**…
-Because I use so little oil, you need to spray the foil with non-stick spray. Otherwise the potato pieces stick to the foil and you leave all the good parts behind.
-I pick sweet potatoes that are as close to russet-potato shape as I can get; it makes them easier to peel and easier to cut into more-or-less even cubes

Sharing is caring!