Sharing is caring!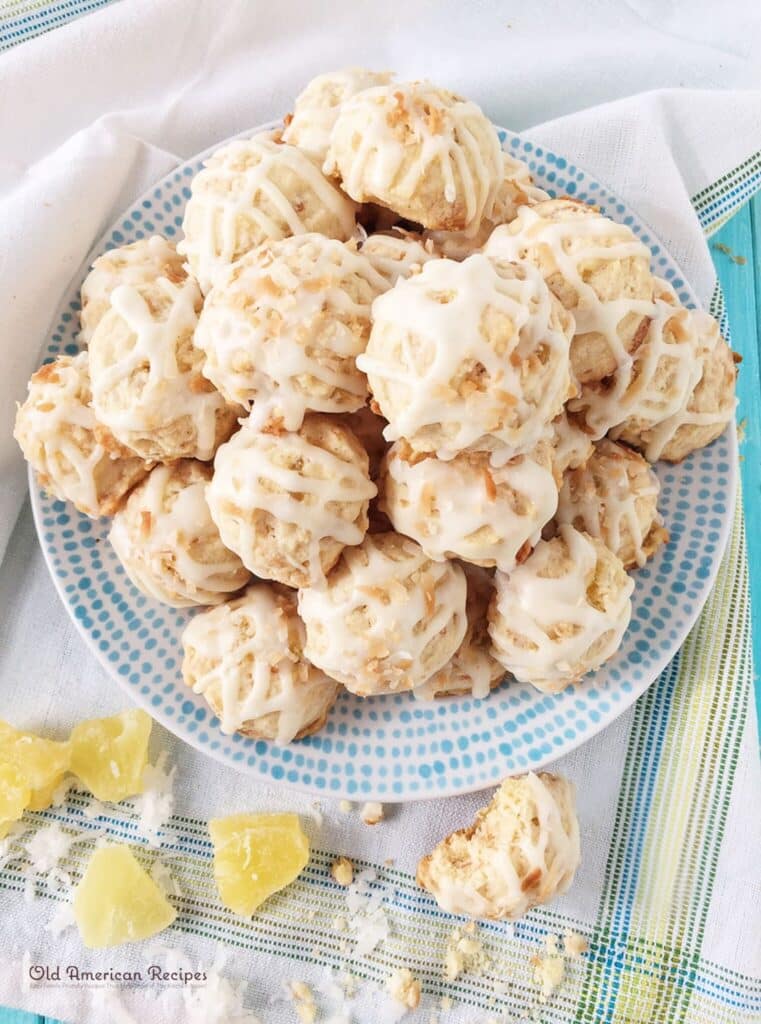 I've never been one to dream about a vacation in the tropics. The closest I've ever come to a tropical locale was when I was a kid in the 60s and visited my grandparents in Florida. In Miami. Which at the time was pretty much just like being in New York, only with hot weather and a lot more old people (and for some reason, lots of Canadians). No, my preferred vacation spots—and I haven't been on a proper vacation since 1981, poor baby— have been places like Alaska (way back in the 70s) and the Shetland Islands. My dream vacation if I ever get there? Iceland (snorkeling in the Silfra Fissure? Swoon). Machu Picchu and Patagonia with a side jaunt to Antarctica. I'm not sure why I have such an aversion to the tropics. Well, other than the fact that I'm not too crazy about hanging out on the beach and I hate the heat (and that whole "it's not the heat, it's the humidity" thing? So not true. It's definitely the heat.) 
But as I sat here this past weekend, with temps in the single digits and a sub-zero windchill, the tropics weren't lookin' too shabby. Bali Ha'i was calling. But what's a girl to do when faced with a job and a budget and multiple pets to board? Hopping on a jet was clearly out of the question so instead I baked cookies. Cookies with a tropical theme. I'll grant you, it's not quite the same, but when I curled up on the couch with the dog, dressed in my fuzzy jammies and fleecy socks (me, not the dog), and closed my eyes while snarfing down these cookies…well, gosh darn it, it was almost like being in the Bahamas.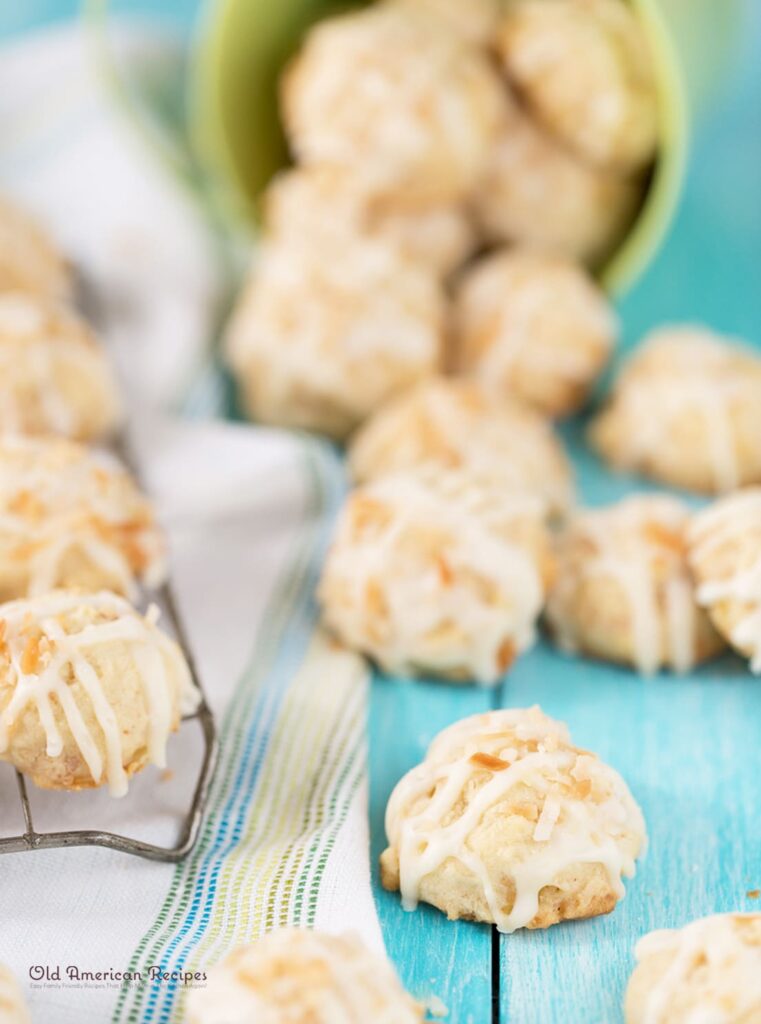 Okay, so maybe I'm exaggerating about the Bahamas thing—ya think?—but I'm definitely NOT stretching the truth when I say that these cookies are good. Ridiculously good. Insanely good. I'll admit that when I saw that tropical cookies were February theme for the Creative Cookie Exchange I wasn't exactly thrilled. Tropical flavors aren't really my favorites, especially since so many tropical cookie recipes include those damned macadamia nuts (sorry, nut lovers) or coconut which I'm just "meh" about. But I came upon these while searching for recipes that matched the theme and since I love pineapple I decided to give them a try (despite the coconut) and I'm not sorry. They're soft, silky and cake-like, with a melt-in-your-mouth feel. They're sweet but not too sweet—the sweetness of the glaze is balanced out by the tangy pineapple and hint of lime. And the coconut adds a toasty, nutty but subtle flavor. These were a HUGE hit with the Official Shaggy Dough Taste-Testing Team. I brought in almost 4 dozen of the first batch to work and those babies were GONE by lunchtime. Demolished by 4 very picky people. Even our UPS guy loved them.
So if you're in need of a tropical fix and a there are no island getaways in your near future (and if there are, just keep it to yourself, okay?), bake up a batch of these little gems and create your own paradise. It's just like being there. Sort of.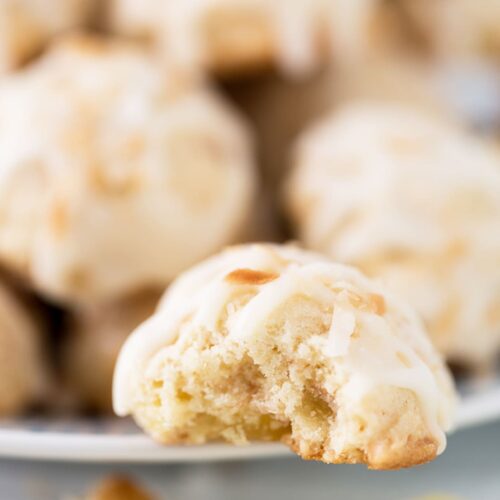 pineapple coconut cookies
Ingredients  
57

g

/ 2 oz pineapple juice

163

g

/ 5-3/4 oz diced dried pineapple *see Notes

170

g

/ 6 oz soft butter

71

g

/ 2-1/2 oz brown sugar

firmly packed

57

g

/ 2 oz coconut milk powder

1/4

teaspoon

lime oil or pineapple flavor

optional

1

teaspoon

baking powder

1

teaspoon

salt

1

large egg

241

g

/ 8-1/2 oz unbleached all-purpose flour

71

g

/ 2-1/2 oz toasted shredded coconut
Glaze
28

g

/ 1 oz coconut milk powder

113

g

/4 oz confectioners' sugar

28

g

/ 1 oz pineapple juice

a few drops of lime oil

optional
Instructions 
Preheat oven to 375°F and line two baking sheets with parchment paper.

Add the diced pineapple and pineapple juice to a small, microwave-safe bowl and microwave on high for about 1 minutes. Stir and set aside to cool.

In a large bowl or the bowl of a stand mixer, add the butter, brown sugar, coconut milk powder, lime oil (or pineapple flavor), baking powder and salt. Beat together until light and fluffy, scraping down the bowl as needed.

Add the egg and beat until smooth.

Add in the flour, microwaved pineapple and any juice and toasted coconut and mix until thoroughly combined.

Drop the dough (approximately tablespoon size—a small cookie scoop is great for this) onto the baking sheets.

Bake for about 12–14 minutes, turning the pans and switching racks to ensure even baking, until the cookies are lightly browned on the bottom.

Cool the cookies in the pans for about 5 minutes, then transfer to a wire rack to cool completely.

To make the glaze, sift together the confectioners' sugar and coconut milk powder, then whisk in the juice and lime oil (if using) until smooth. The glaze should be thick but pourable. Add a little extra juice if needed.

Drizzle or pipe the glaze over the cookies, then top with a little toasted coconut and set aside to let the glaze harden.
Notes
I'm a big fan of dried fruit and while I normally buy only naturally dried or juice infused (usually from nuts.com—they're awesome and if their packaging doesn't make you smile there's something wrong with you), in this case, I thought the sweetened pineapple (the stuff you can find easily in the grocery store) worked best. First, it cut into small dice much more easily than the naturally dried, unsweetened stuff and small dice made for a neater cookie. Second, the natural pineapple didn't really soften up much in the pineapple juice so there were chewy bits in the baked cookies, whereas the sweetened pineapple had an almost jammy consistency—little bursts of soft tangy goodness. And third, this isn't a particularly sweet cookie so the sweetened pineapple gave the cookies a bit of a boost. It wasn't that the cookies with the naturally dried pineapple definitely were bad, just that the ones with the sweetened pineapple were better.
I could only find artificial pineapple flavoring—not my preference. I used it in my first batch of cookies and thought it was okay. For my second batch I decided to try some lime oil and while the cookies weren't obviously lime-y, the oil did add some extra zing that the pineapple flavoring didn't. I added some to the glaze as well.
I used the microwave to toast the coconut. Spread it evenly on a microwave-safe plate, then nuke on high in 30-second increments, stirring after each. Once you see the color start to turn, microwave for 15 seconds at a time, until the shreds are a nice toasty shade of brown. The first time I used this method, my coconut shreds had been opened and stored for a while and this process took very little time—in fact, I burned the first batch because it toasted up so quickly. The next time, I used a fresh package of coconut and the process took longer, about 2 and a half minutes at 30-second bursts and another minute for the 15-second bursts. So you do need to keep an eye on things, but I still found this easier and faster than toasting in the oven.
A word about links: As always, any links here are just that, plain old links. No affiliates, no nothing. I only link to things that are necessary for a recipe or to things that I use and love.

Sharing is caring!