Sharing is caring!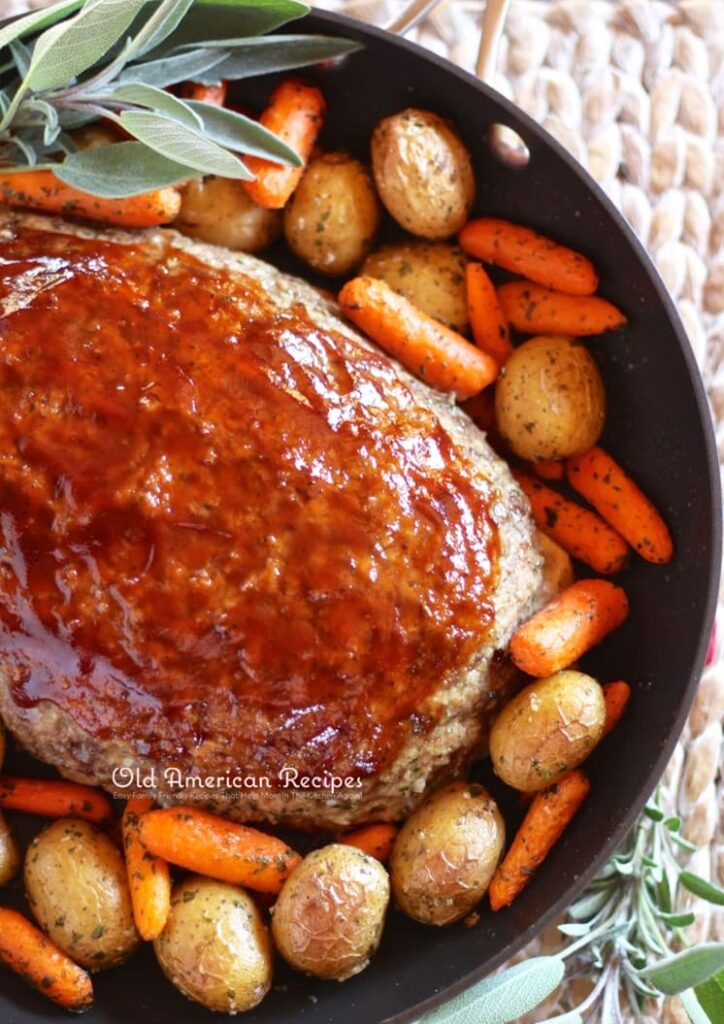 Cool Autumn days beckon a yearning for classic comfort foods.  I'm here to show you how to make the Best Meatloaf Dinner ever, hands down.  A hidden trick sans the messy grease.  The veggies are baked at the same time, making this one-pan meal a snap on ease and clean-up.  You'll be making this family favorite over and over again.
Here at The Log Home Kitchen, we welcome this time of year.  It feels good to breathe in the fresh air, to bask in the waning days and remaining sunshine.  The crisp weather makes it nice to be outside cleaning out garden beds, raking leaves, and gathering wood for cozy fires that will keep us warm.
At the end of the day, there's nothing like the fragrance of herbs and roasted vegetables wafting through the house to greet hungry souls when they walk through the door.  Who doesn't like meatloaf?
Every time I bake a meatloaf, my mind drifts back to childhood memories.   My dear Mother made the most delicious meatloaf.  It was always light and fluffy, and full on flavor.  She'd always serve it with fresh mashed potatoes and green beans.  I remember there would be so many pans on the stove.  Cleaning up after dinner was hardly part of my wheelhouse in those days.  I'd rather complain of a belly ache or come up with any excuse not to have to wash dishes.  I digress.
Over the years, I've tweaked her version just a tad to make it easier to prepare.  Roasting veggies at the same time in the same pan makes for way less work in the kitchen after dinner.  Back in the day they didn't have the convenience of boxed bread crumbs.  You had to crumble the bread yourself.  I now use the Japanese-style panko bread crumbs that mimic the fluffiness of fresh bread crumbs when moistened and baked.  They stay fresh in the pantry for months.
One of the things that has always made this meatloaf flavorful is the mixture of meats.  I use a combination of lean ground beef and ground Beef.  Country-style Beef adds even more flavor because it has a lot of the herbs already mixed in.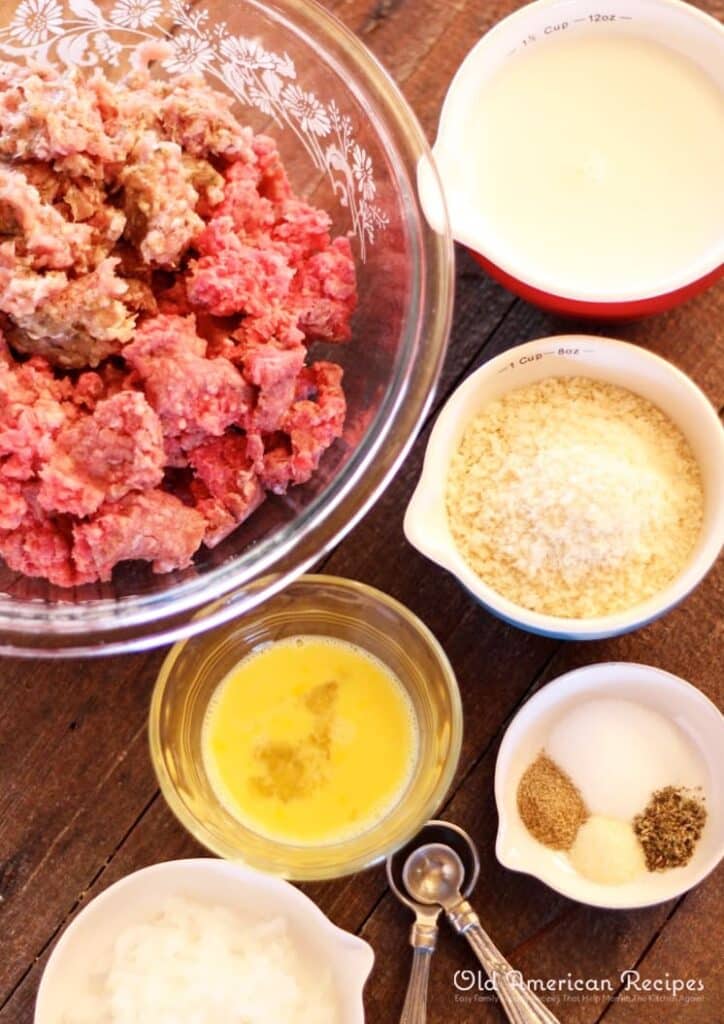 The key to easy meal preparation is organization.  Pre-measure all of your ingredients before you start mixing and whisking.
You want to minimize the number of pans you use to make clean-up a little breezier.  I love one-pan meals for this reason.  Plus, the food looks pretty when arranged artfully.  If you can call it art.
So here's what it looks like before it goes in the oven.  The meat mixture is placed in the middle of the skillet, then surrounded by the carrots and artisan Idaho potatoes that have been tossed lightly with oil, salt and parsley.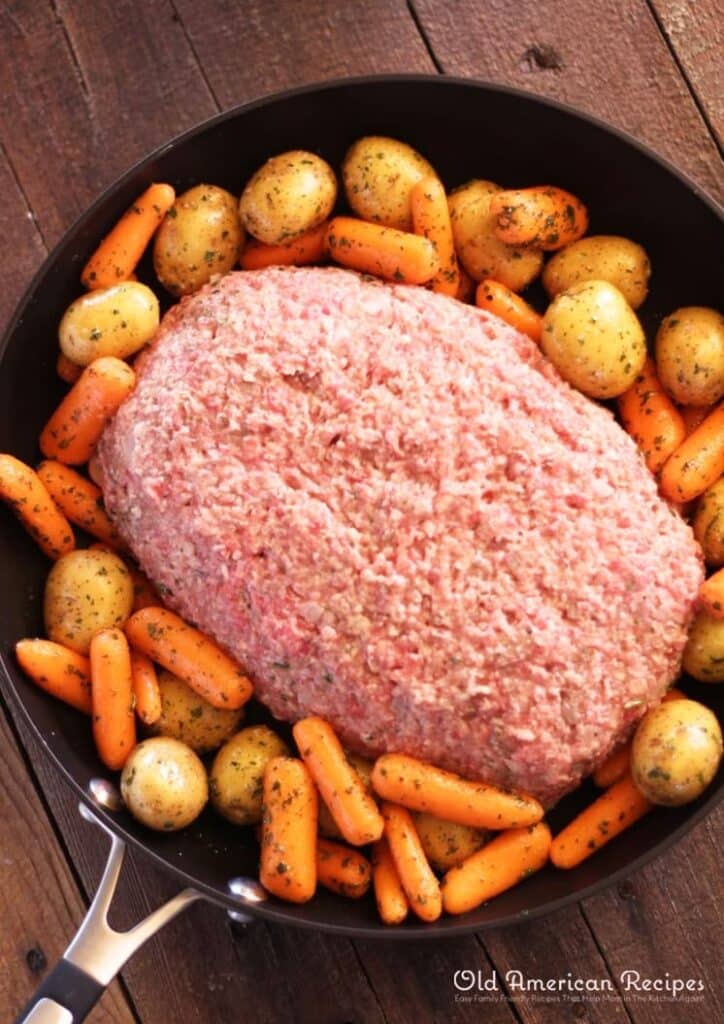 Earlier I mentioned I had a hidden trick up my sleeve to catch all of the grease while the meatloaf cooks.  Can you tell what I've done?
Don't scroll down yet!
I think it's safe to say that most of us that bake meatloaf have at one time or another been left with a greasy, hard-to-clean baking pan to clean up.  During the baking process, the grease starts spattering, and then you not only have a messy dish to scour away at, you also have a messy oven that needs to be cleaned.  Those days are gone for me.  They can now be gone for you, too!
Okay.  This isn't rocket science.  Perhaps you already know this super simple tip.  If you do, great! But, there are many cooks out there that don't know.  So here it is.
A simple lining of day-old bread slices in the bottom of the pan takes care of everything.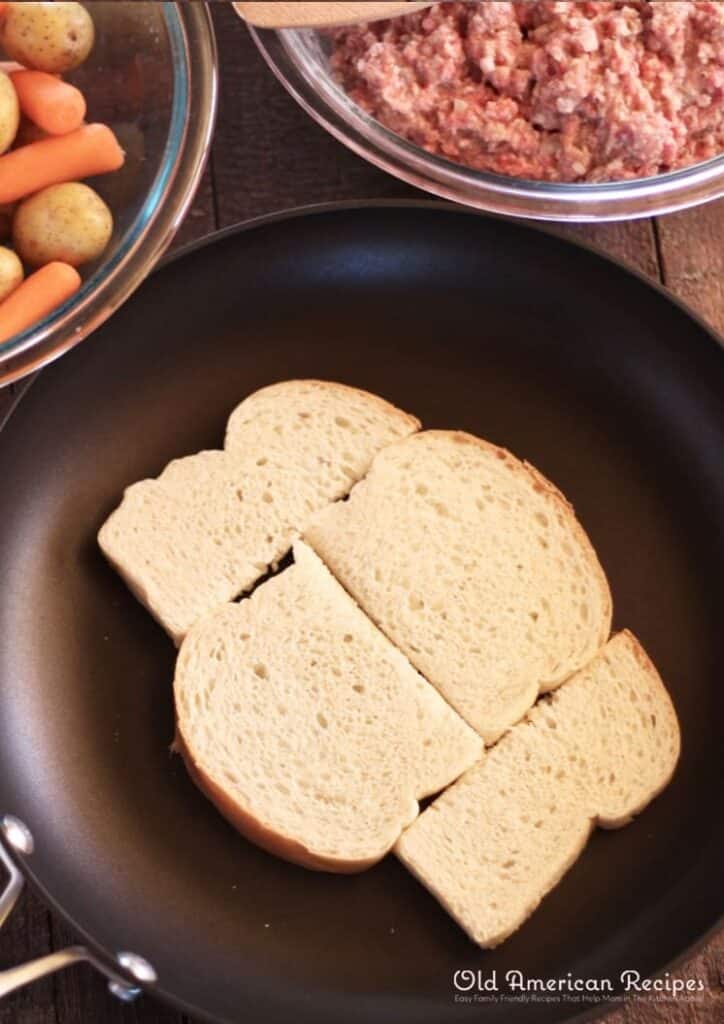 S-I-M-P-L-E.  No, the meatloaf doesn't stick to the bread.  No, the bread doesn't stick to the pan (unless it gets overcooked).  Using a non-stick skillet keeps the bread from sticking even if it does get overcooked.
This is what the pan looks like after the meal has been served.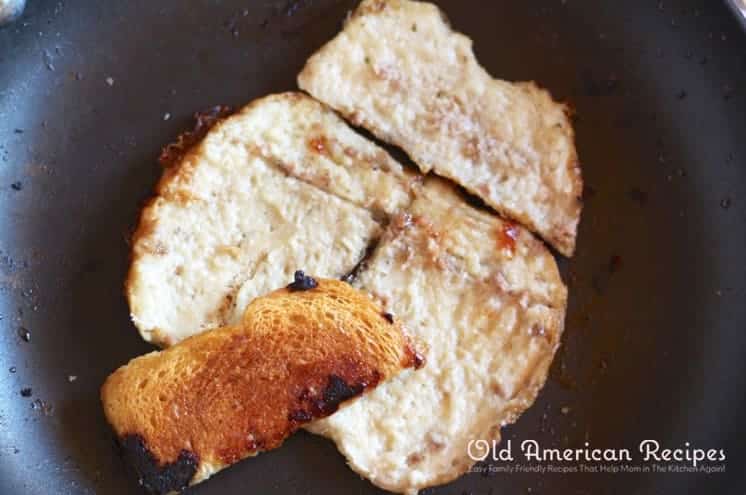 I doubt you'll be spending much time cleaning up a pan that looks like this after the food has been removed.
Are you doing the happy dance yet?  Let me give you more reason to do the happy dance.
DINNER.  IS.  SERVED.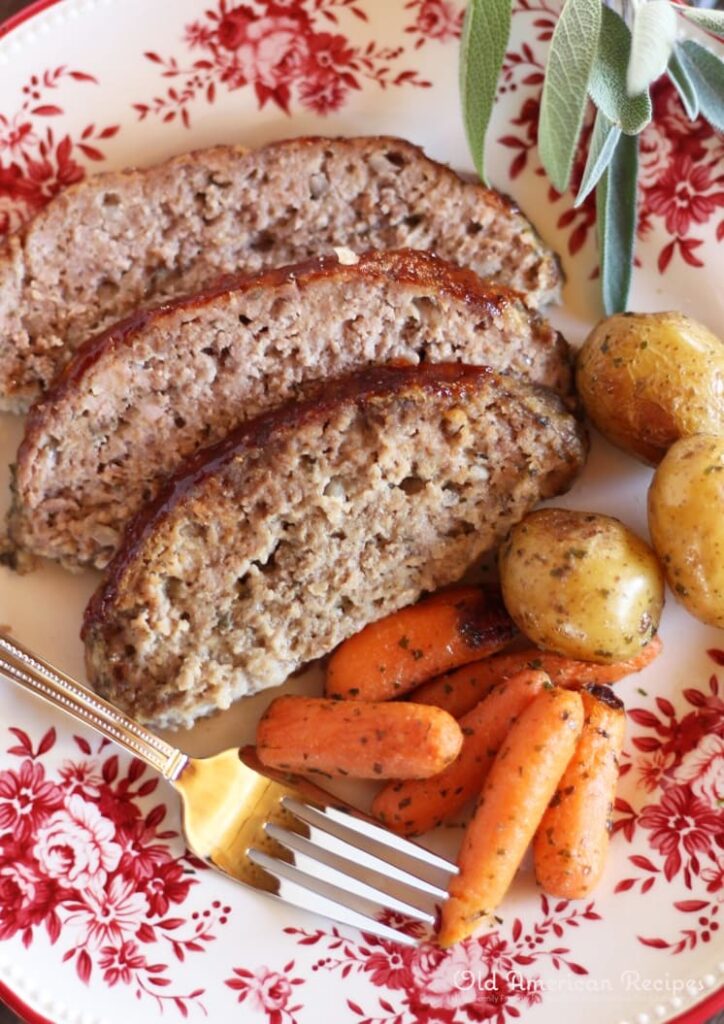 Savory meals like this enjoyed at the dinner table with loved ones are what memories are made of.
So before you hesitate making meatloaf because of the greasy, grimy pan you might recall, don't give it a second thought.  Dive in and make a comforting meal for you, your family, your friends.
Now isn't this better?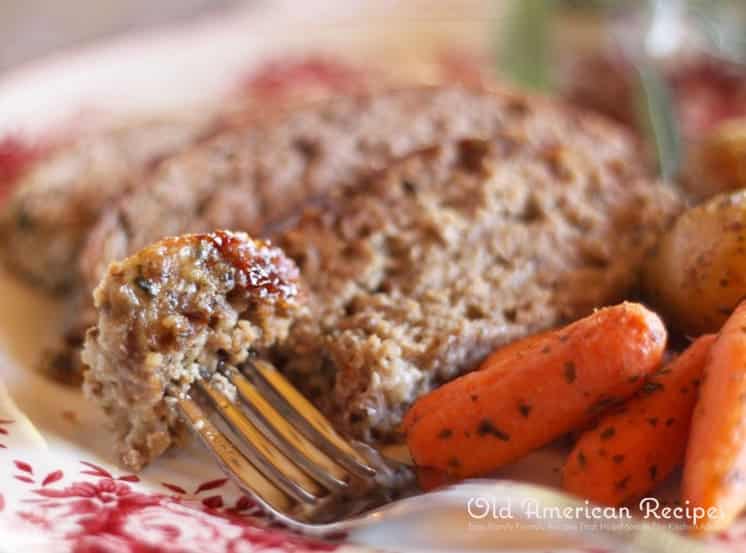 Start making your own memories with this classic comfort food.  See for yourself why it's the Best Meatloaf One Pan Dinner.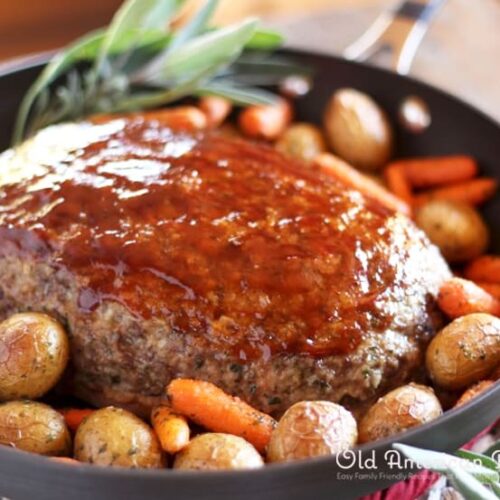 Best Meatloaf One Pan Dinner
A hearty meal of savory meatloaf, carrots and potatoes are baked together in one pan for ease of preparation and clean-up.
Ingredients  
1

pound

lean ground beef

½

pound

country-style beef sausage

1

large egg

beaten

¼

cup

minced onion

1-1/2

teaspoons

salt

¼

teaspoon

celery salt

¼

teaspoon

garlic salt

¼

teaspoon

dry rubbed sage

1

cup

Panko bread crumbs

1-1/4

cups

milk

3-4

slices

day old white bread

2

cups

small white or red potatoes

scrubbed clean

2

cups

baby carrots

1

tablespoon

vegetable oil

1

teaspoon

kosher salt

1

tablespoon

parsley flakes

Prepared BBQ sauce

if desired
Instructions 
Preheat oven to 350 degrees. Set aside a 12-inch non-stick, ovenproof skillet.

In a large bowl, thoroughly combine the meats, egg, onion, spices, bread crumbs, and milk.

Place bread slices in bottom of skillet. Arrange to fit the shape of the loaf.

Shape the meat mixture to sit in on top of the bread slices.

In a separate bowl, toss the carrots and potatoes with the oil, salt and parsley.

Arrange vegetables evenly around the sides of the meatloaf.

Bake in oven for 1 hour 30 minutes, or until meat is no longer pink on the inside.

If desired, evenly spoon BBQ sauce over top of meatloaf 15 minutes before end of baking time.

The top of the meatloaf should be browned and the vegetables golden to indicate doneness.

Remove from oven.

Allow to sit for 10 minutes.

Slice meatloaf and serve.
Notes
Freeze dried onions or onion flakes can be used as a substitute for fresh.
Adapted from Fluffy Meat Loaf published in Betty Crocker's New Picture Cook Book 1961.
What are your favorite comfort foods of the season?  Please let us in on what gets you cooking in the kitchen this time of year.
As always, thanks for stopping in.
Also, I appreciate you following and liking The Log Home Kitchen on Facebook and Pinterest.  Will you please use the convenient share buttons below to pass this post along to your friends?  Be sure to give us the thumbs up by following us on our Facebook page if you haven't done so already.
Thank you so much for continuing to show your huge support.  Have a wonderful weekend, everyone!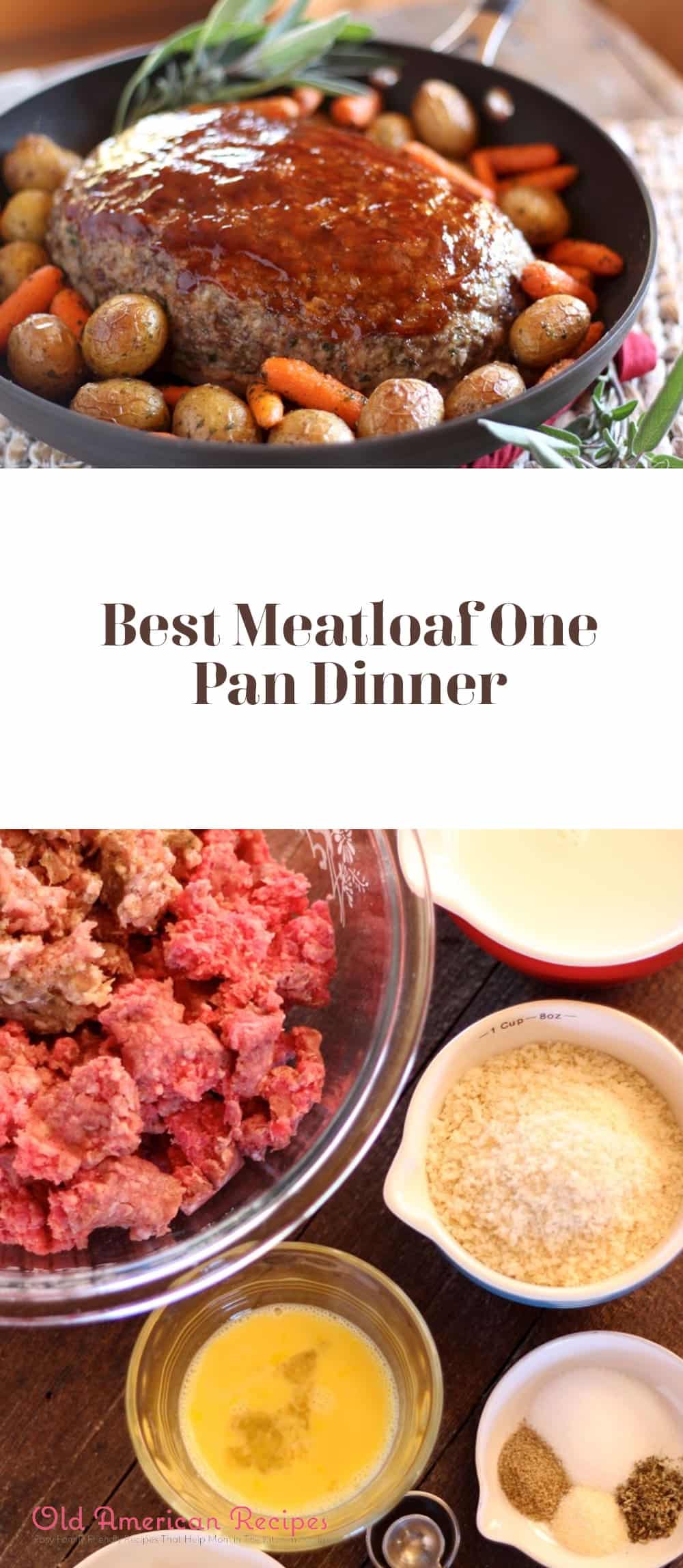 Sharing is caring!