Sharing is caring!
Get ready for the raves when you cook up a big batch of these slow simmered pinto beans.  It wasn't until recently when I was hosting a dinner party that I was reminded how good they are. I've been making them this way for years.
I tend to take these little pops of fiber for granted.  They're no frills, simple to make, and budget friendly.  A pot of beans can be pure comfort any time of the year.  They can be enjoyed on their own, or as a side to an array of other foods.
These flavorful pintos are simmered for several hours in a smokey, spicy broth until they've reached a perfect tenderness.  The house smells soooo good when they're cooking on the stovetop.  The wait is well worth it.  Ummm…Yum.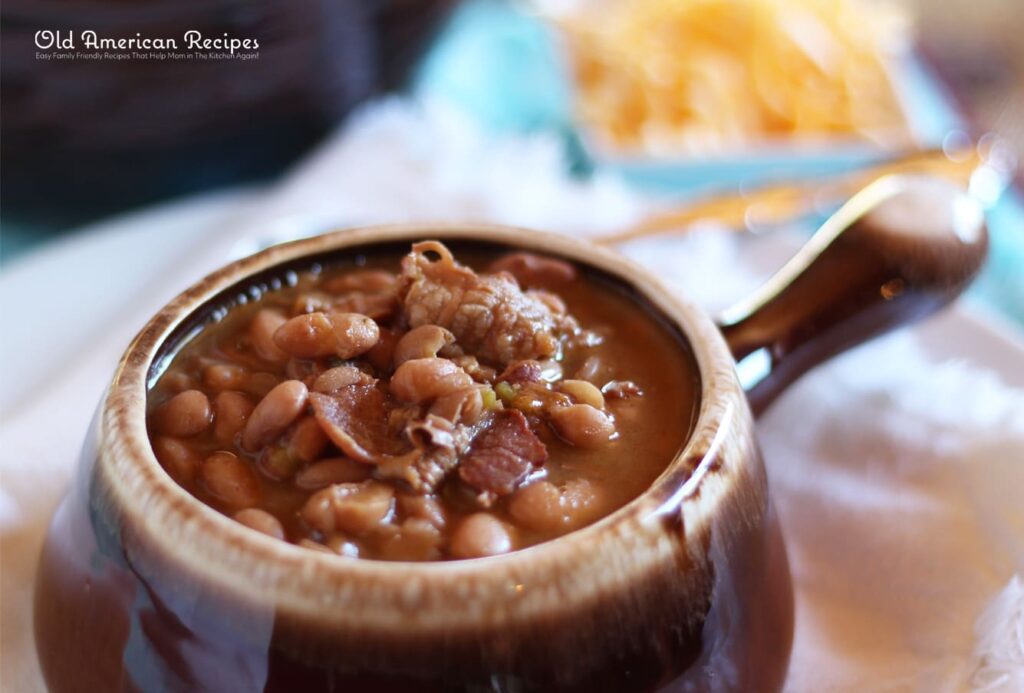 To you bean lovers out there, I'm going to show you the way I make them.  Just so you know, no cans are cracked open for these babies.  Just pure, unadulterated ingredients.  Except for maybe one.
Dry beans are sorted, rinsed, then soaked in water overnight (at least 8-10 hours).  The longer they soak, the shorter amount of time they take to cook.  Freshness of the beans also affects the cooking time, as well as how soft the outer shell of the bean will be.  The older the bean, the tougher they are on the outside, and no amount of hours on the stovetop will soften them up. That's been my experience, anyway.  The point is, the fresher the bean, the better and more tender it will be.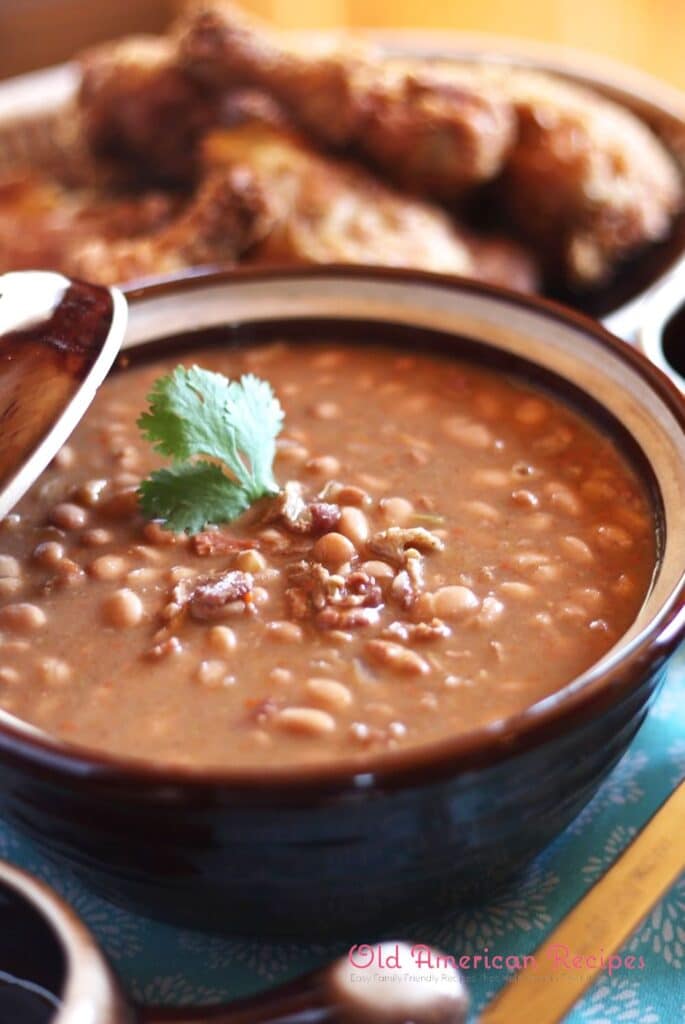 A long time ago when Hubs and I lived in Arizona, we would stop in at a small dusty cafe off the main highway.  It was one of those places you could get an ice cold beer served in a frosty glass when it was over 100 degrees outside. Boy did those go down nicely.  The burgers were great too, and were always served with a side of the best darn ranch-style beans we ever had.  Unfortunately, the recipe was kept a secret.  I can certainly understand why.  It was from that experience I was determined to figure out how to make a pot of frijoles like that at home.
It's been a long time since we last visited, but the memory of the beer, burger, and beans has been kept alive.  After many, many pots that boiled for hours and hours, I finally arrived at a recipe that replicates the ones we had in the gold star state.
And now I'm going to share it with you.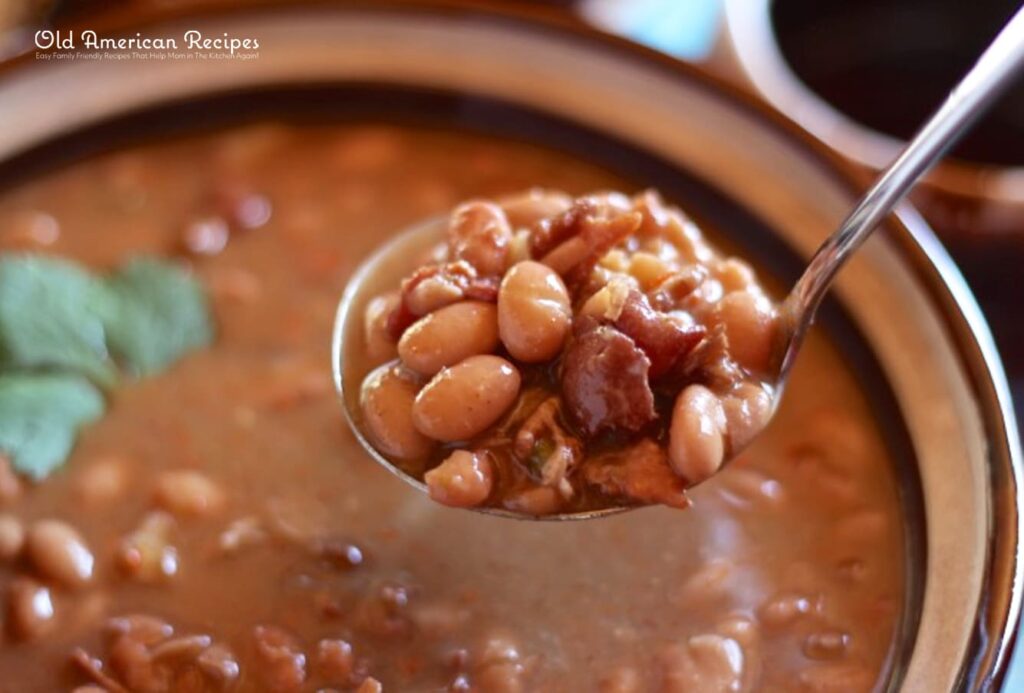 We like our beans on the smokey and medium spanky side.  Not too mild, not too spicy.  And we don't like them drowning in too much broth.  Remember, you can always crank the heat up by adding more chili powder and jalapeño.
Cooking the beans in chicken broth enhances the flavor.  Adding in chopped smoked beef along with a dousing of liquid smoke gives them that characteristic of having been cooked in a large kettle over an open fire all day long.  Just like the cowboys do it.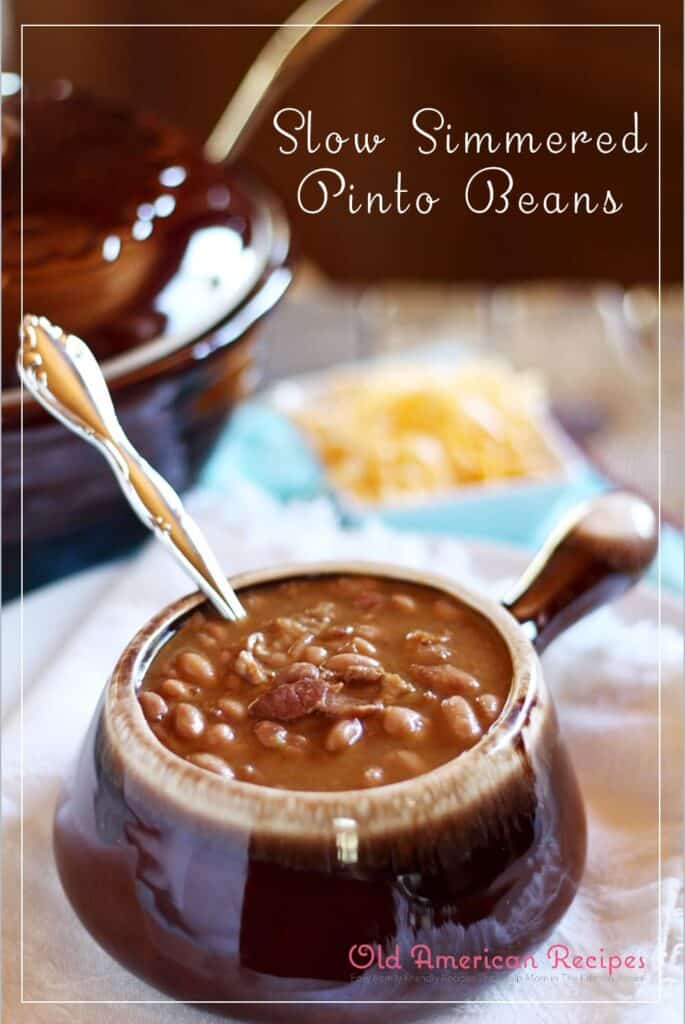 If ever there was a more perfect side to a big mess of chicken and bbq ribs, this is it.  Think of those big outside family and friend gatherings coming up as the weather gets warmer.  You'll make a lot of folks happy when they see and smell these here beans.
During the winter months, I'll cook up a pot and serve cornbread with them.  Beans and cornbread. One of our faves.  Or, I'll heat up flour tortillas on the side with butter, and add salsa and shredded cheese on top to make it more of a Mexican dish.
Hungry yet?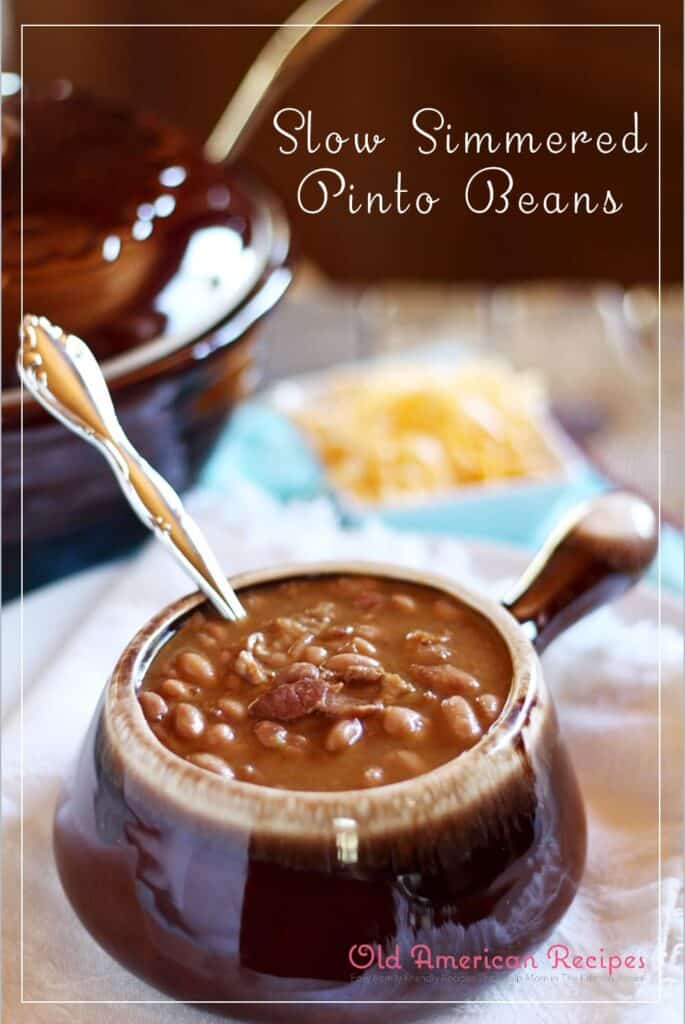 It's a good thing there are some left over from this last batch.  Now I'm hungry.
One of the other ways you can make these beans is by putting all of the ingredients in a large slow cooker and letting them simmer all day.  This is great if you're gone to work and don't have time to monitor a stovetop.  Walking in to the house at the end of the day will smell and make you feel like a chuck wagon has been there cooking dinner for you.
You can even stop by the hot deli for some fried chicken to have with the beans.  Just an idea.  I know.  We're all getting hungry now.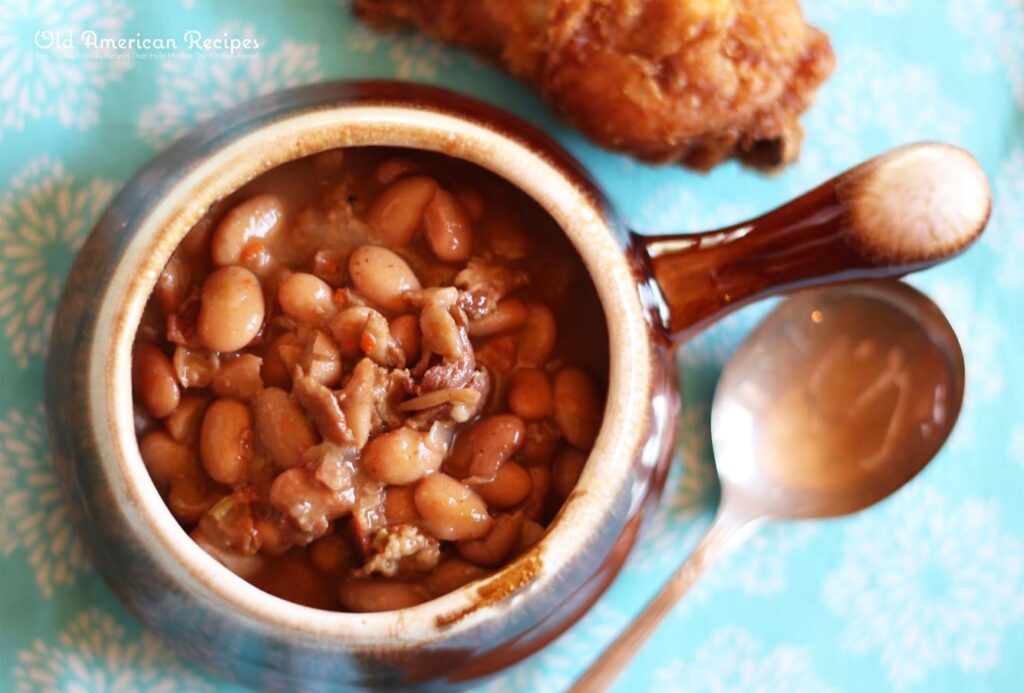 Here's the easy recipe that I've taken all of the guesswork out of for you.  Please enjoy!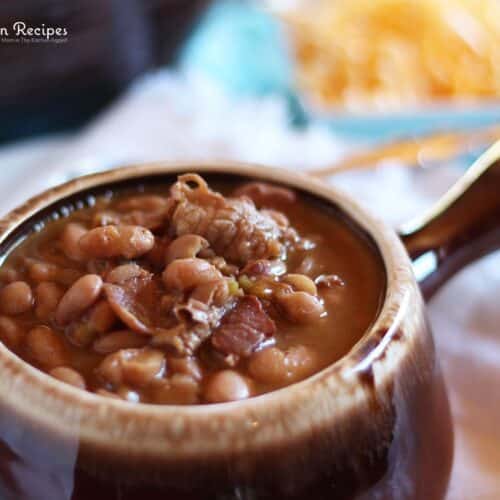 Slow Simmered Pinto Beans
Ingredients  
2

pounds

dry pinto beans

rinsed, and sorted

8

cups

chicken broth or bouillon cube equivalent

I use Knorr

1 12-

ounce

package sliced smoked beef

1

large sweet or yellow onion

diced

2

small jalapeño peppers

stemmed, seeds removed, and diced

2

teaspoons

crushed garlic

2

teaspoons

liquid smoke

2

Tablespoons

chili powder

Salt to taste
Instructions 
Place beans in a large pot adding water that should be at least one inch over beans.

Cover with lid and allow to soak 8-10 hours or overnight.

Drain water. Add broth.

If using bouillon cubes, add clean water.

Add cubes when water starts to boil.

Separate beef strips and microwave between paper towels for 1½-2 minutes.

The beef will be partially cooked. This process removes excess fat without losing flavor.

Allow to cool and chop into small strips. Add to beans.

Add onion, peppers, garlic and liquid smoke.

Cover tightly with lid. Allow to come to a slow boil, then reduce to simmer.

Cook on stovetop for 4-5 hours, or until beans are tender.

Add chili powder and salt, if needed.

Serve immediately.

Refrigerate leftovers.
Do you have a favorite way to cook beans?  I have yet to hear the same, so please chime in.  It seems everyone has their own take on them.
I'm heading out to travel over the next week and to attend an adult camp for food bloggers!  I can't wait to meet up with my peers and learn new ways to provide the best information.  I'll be giving you a blow by blow on it.  Until then…
Enjoy the upcoming weekend!  I appreciate you stopping in.
Sharing is caring!