Sharing is caring!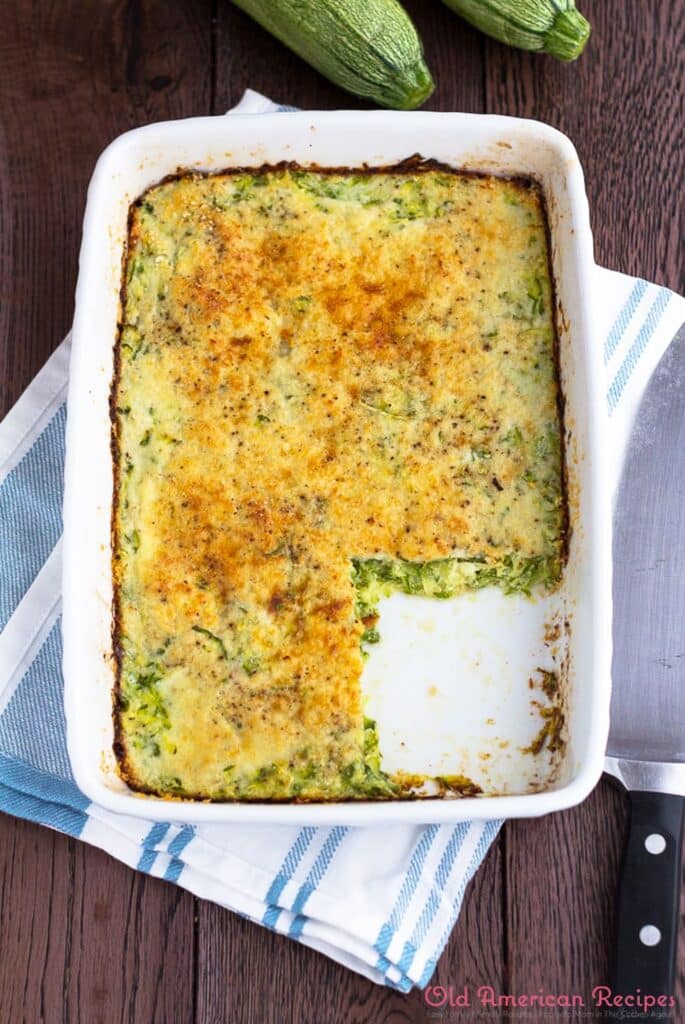 Don't let these pictures fool you – this Easy Zucchini Bake Casserole is a low calorie recipe! I used less than 1/4 cup of Parmesan cheese for the entire dish, and managed to make it simple (4 ingredients!), healthy and full of flavor. The yummy crust is made with a layer of Panko breadcrumbs and a sprinkle of cheese, which meld and co-mingle together during baking.
So… 4 ingredients? This is the type of an easy side dish I need when the garden is overflowing with zucchinis!  Luckily, zucchini is available almost year round, too, and I managed to get these paler "gourmet" ones this weekend.  They taste the same as your regular green zukes, so substitute away.
The bulk of the recipe is made from zucchinis, which are strained to remove excess water after shredding. But don't worry, no crazy cheesecloth action here, just tip the pan over and strain the liquid. No problem if some of it remains in the pan, it will bubble away during baking. You can add the green strained liquid to your smoothies for a fresh, herby flavor.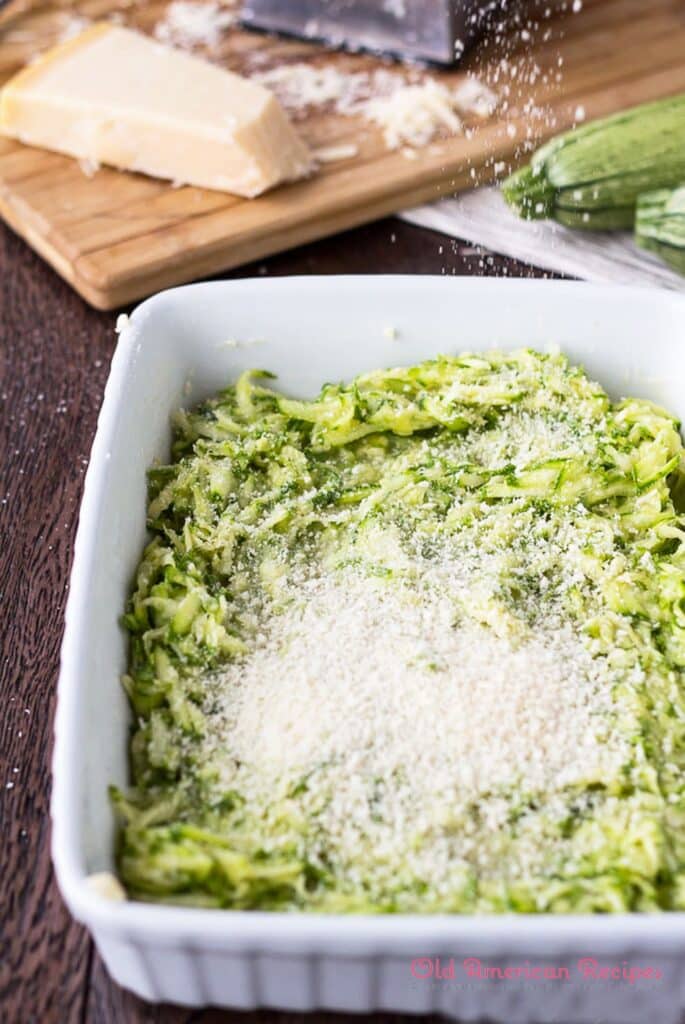 See the Parmesan wedge above??  All I used was the tip! I love Parmesan, and I mean real Italian Parmigiano Reggiano, not that horrid powdered stuff from a jar.  It packs wonderful flavor and saltiness in a tiny quantity, which means you can go easy on the cheese and save your calories.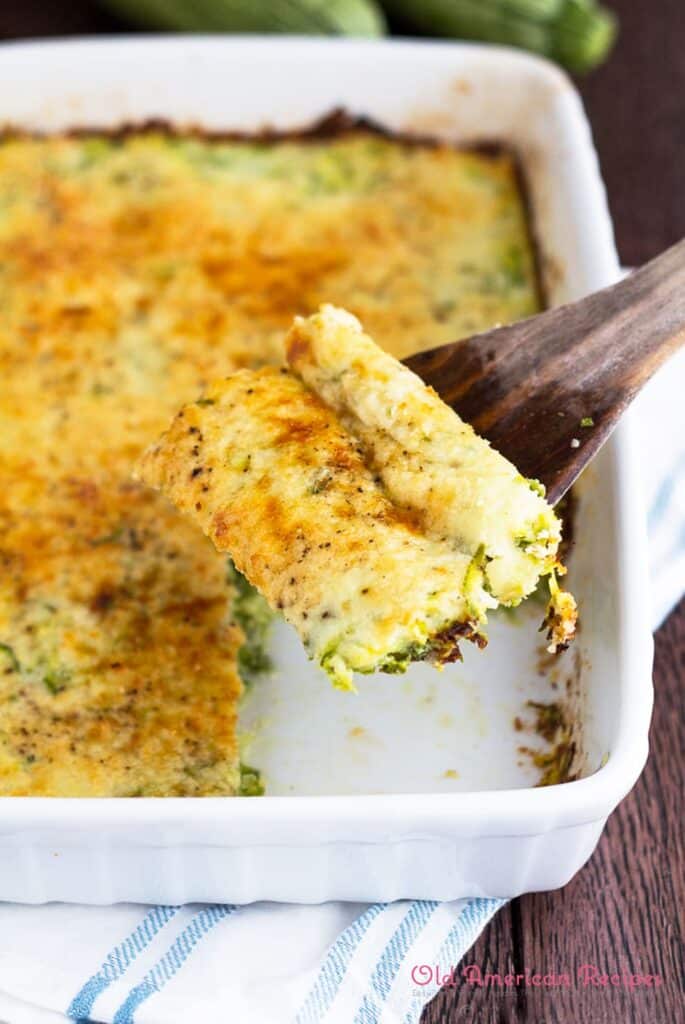 If you're going to have leftovers, warm them up again in the oven, don't microwave – it will get soggy and lose that nice crust.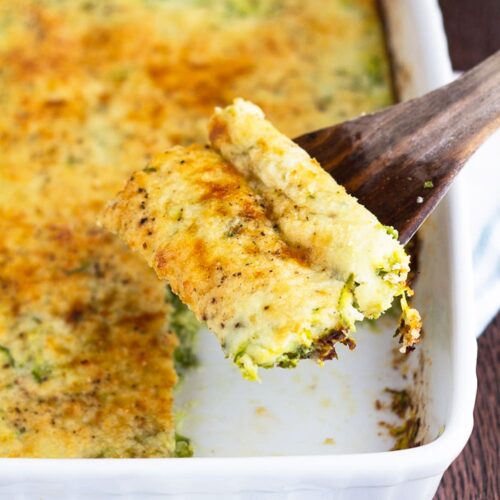 Easy Zucchini Bake Casserole
Ingredients  
1

tbs

butter for greasing the pan

3

medium zucchini

shredded

1

egg + 1 egg white

black pepper

to taste

¼

cup

Panko breadcrumbs

A wedge of Parmesan cheese

to taste
Instructions 
Preheat the oven to 375F.

Grease an 8×11 inch baking pan with butter. Tip over the container with shredded zucchini, and strain excess liquid. Add the egg and egg white, and use a cheese grater to grate about 1 tbs of Parmesan into the zucchini mix. Combine the mixture and season with salt and pepper.

Pour the mixture into the baking pan and spread it out evenly. Sprinkle with the breadcrumbs, and grate Parmesan cheese on top. When done, use a rubber spatula to gently press in the mixture, so that the bread crumbs absorb the liquid.

Cover the baking pan with aluminum foil, and bake for 25 minutes, or until puffed up and bubbly. Uncover, and bake for a further 10-15 minutes, or until golden. Serve immediately.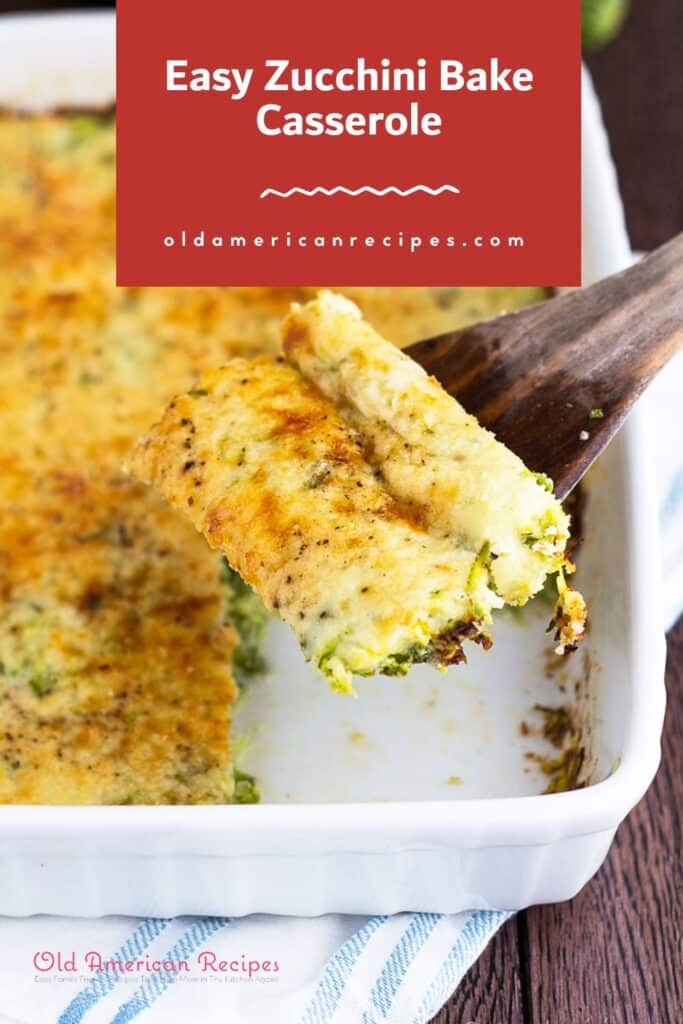 Sharing is caring!