Sharing is caring!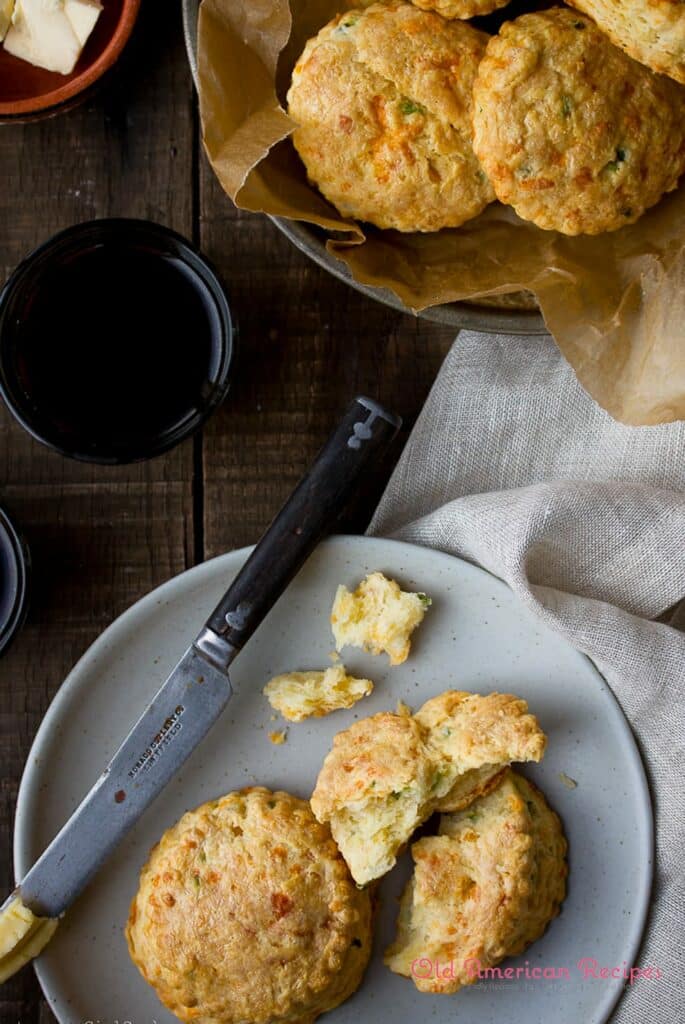 I had a lot of lofty goals for 2023, and being more consistent in posting was one of them. Clearly, not off to such a good start. But tomorrow is a new day, and I'm really going to try. Promise.
I also decided that this year would be more simple. Still delicious, but simpler. I have a tendency to overcomplicate things, and I'm starting to feel that simple, and more approachable recipes are where it's at for this year. Plus, babies and kids are super time-consuming (who would have thought?) and that just leaves me way, way less time. Just keepin' it real.
So yeah, let's make some buttery, cheesy, and delicious biscuits. Unless we're still doing the whole salad thing. In this case, you can definitely eat this with your salad. Or not, I won't judge.
These biscuits are all kinds of delicious. Buttery, cheesy, with just a little kick from the jalapeños they are pretty much biscuit perfection. I decided to slather these savory babies with some apricot jam, and it was surprisingly the best.thing.ever.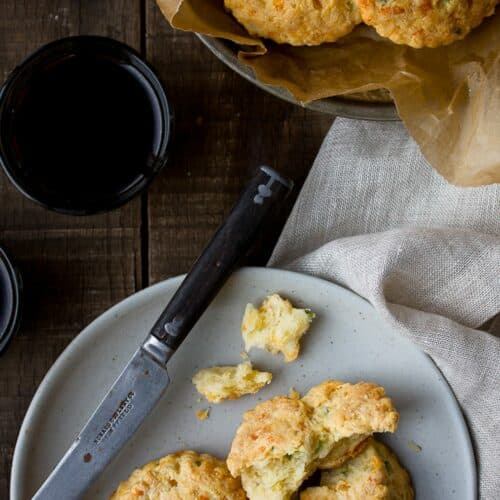 Buttermilk Cheddar-Jalapeño Biscuits
A tender and soft buttery biscuit studded with cheddar cheese and jalapeños.
Ingredients  
2 1/2

cups

350g all-purpose flour

1 1/2

teaspoons

baking powder

1/2

teaspoon

baking soda

1 1/2

teaspoons

kosher salt

or slightly less table salt

1/2

cup

1 stick/114g unsalted butter, cold, cut into 8 to 10 pieces

2 1/2

ounces

about 1 cup packed grated cheddar cheese

1/2

cup

120g cold buttermilk

1/2

cup

120g cold heavy cream

1

cold egg

1

or 2 jalapeño

seeded and chopped finely

1

tablespoon

heavy cream

for brushing tops
Instructions 
Preheat oven to 350 degrees F. Line a baking sheet with parchment paper.

Using a stand mixer fitted with the paddle attachment (or hand mixer), mix together the flour, baking powder, baking soda, and salt. Mix on low speed until combined. Add in the pieces of cold butter and beat on medium-low speed for about 2 minutes, or until the mixture resembles coarse crumbs. Add in the grated cheese and mix just until combined, about 30 seconds.

In a small bowl, whisk together the buttermilk, heavy cream, egg, and jalapeño until well combined. With the mixer running on low speed, pour the mixture into the flour mixture and beat for about 15 seconds or until the dough just comes together. There will still be loose flour at the bottom of the bowl. Gather the dough into a ball and keep turning it over in the bowl to until you have gathered all of the loose flour and it is mixed in.

On a lightly floured work surface, pat the dough into a 1-inch thick layer. Using a 3-inch biscuit or cookie cutter, cut out the biscuits and place them on the cookie sheet. Gently bring together the loose scraps and cut out more biscuits. Repeat until all the dough is used up. You will have about 8 biscuits.

Brush the tops of the biscuits with the remaining 1 tablespoon of heavy cream, and bake for about 40 to 45 minutes, or until the biscuits are golden brown. Cool on the cookie sheet on a wire rack.

Serve slightly warm.
Notes
Make ahead:After you have cut out the biscuits, they can be wrapped tightly in plastic wrap and frozen for up to 1 week. Bake as directed directly from the freezer and add about 5 to 10 minutes to the baking time. Biscuits taste best the day they are made, but can be kept in an airtight container for an additional day. Reheat in a 325 degree oven for about 20 minutes.
Generously adapted from Flour: Spectacular Recipes from Boston's Flour Bakery + Cafe.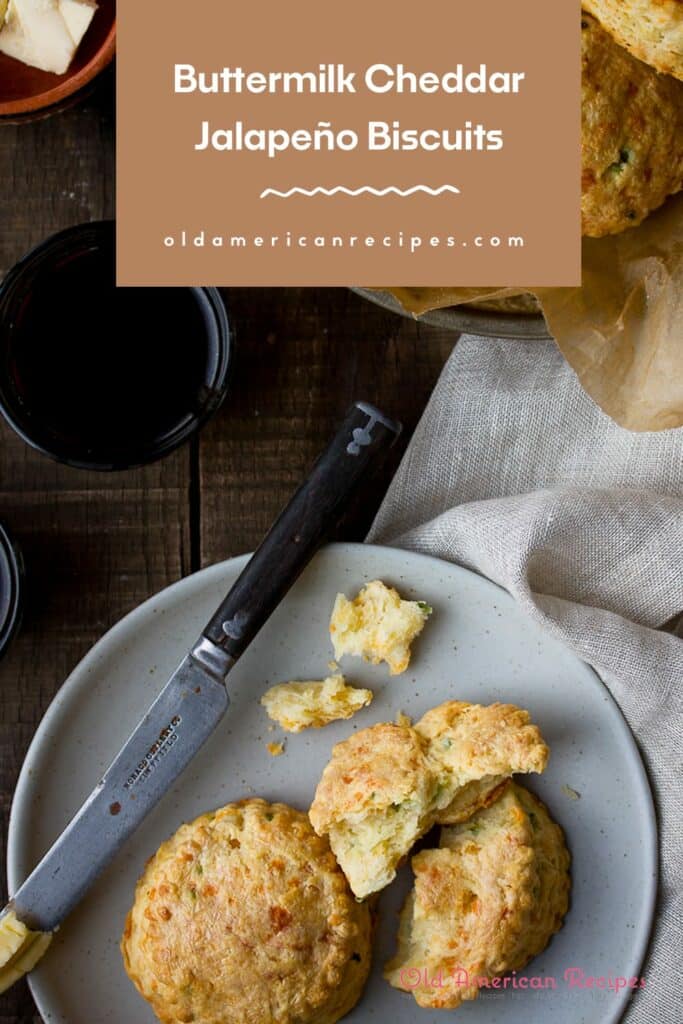 Sharing is caring!