Sharing is caring!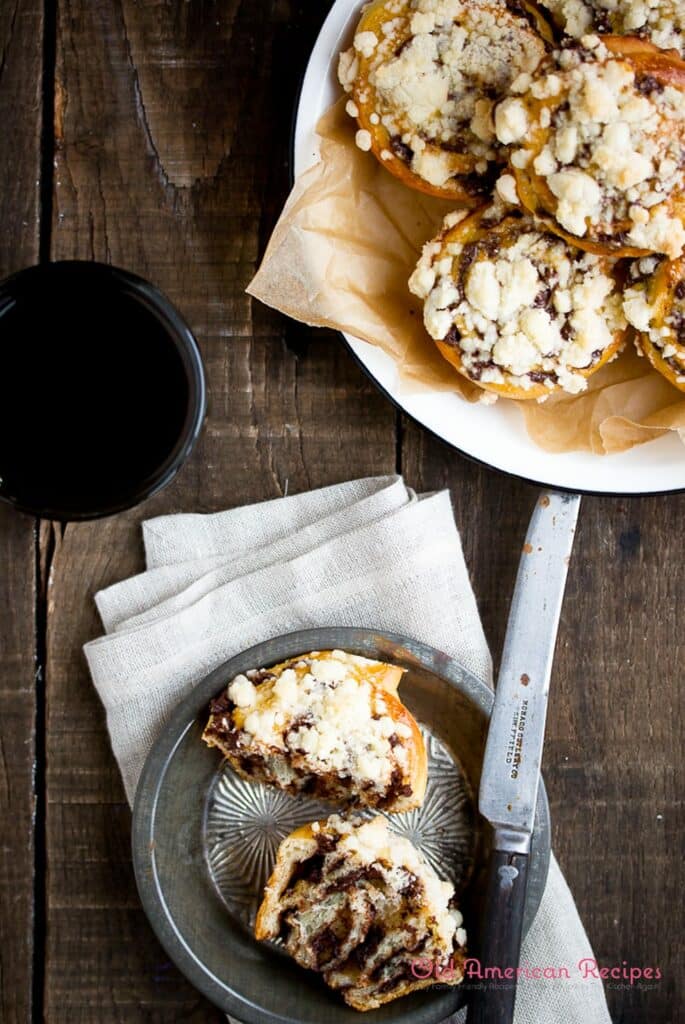 I've been wanting to try chocolate babka ever since the days of Seinfeld and the chocolate babka episode. Back then I had no idea what it was, all I knew was it sounded like something that I would like. I've been meaning to make a chocolate babka for years, in fact, I bought this book years ago because the recipe for babka looked incredible. But making 3 loaves and using 2 pounds of chocolate, and nearly 1 pound of butter just seemed incredibly dangerous. Then I saw these, and it was pretty much the answer to my dilemma. The Babka will just have to wait another year.
These buns are an incredibly soft and tender brioche dough, filled with a cinnamon-infused chocolate filling, and topped with a streusel topping. The dough is rolled quite thin which allows for the dough to be rolled several more times than a traditional cinnamon bun, therefore producing a roll heavily swirled with chocolate. And there is nothing wrong with that! The chocolate filling is complimented by the addition of cinnamon, which somehow just works. Although I added the streusel because I wanted them to be just like the babka, you could most certainly leave it out. Either way, they are absolutely delicious!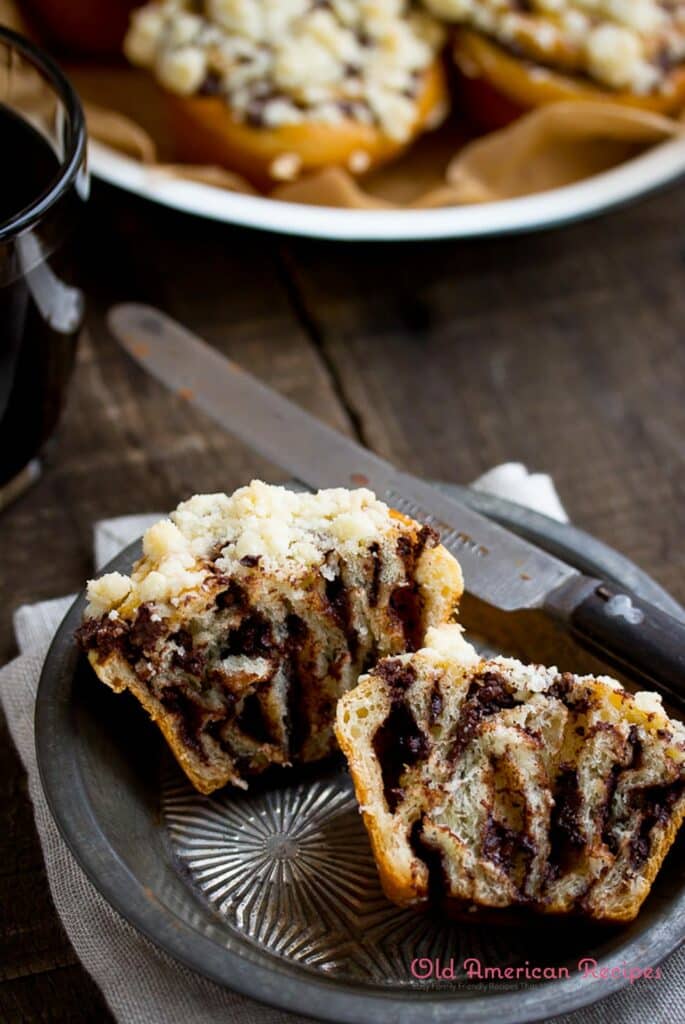 The buns are fairly quick and easy to make, with most of it hands-off time, and they yield the perfect amount of buns. The great thing is they can be made ahead of time, refrigerated overnight, and baked straight from the fridge, or even frozen to be baked at a later day. These buns would be the perfect addition to your holiday breakfast or brunch!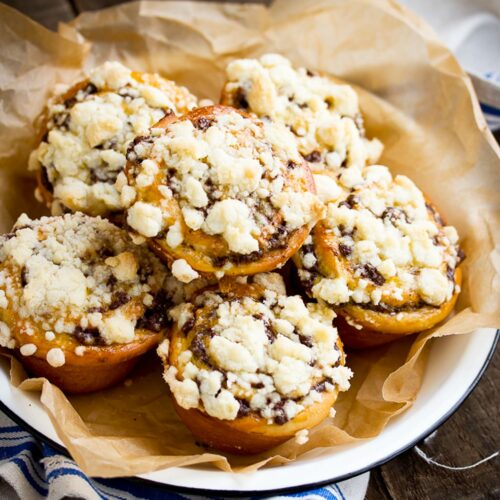 Chocolate Babka Swirl Buns
A light and fluffy brioche bun filled with a chocolate filling and topped with a streusel topping. These make the perfect breakfast or brunch!
Ingredients  
Dough
1/2

cup

120 ml whole milk, warmed to 110 degrees

1/4

cup

50 grams sugar

2

teaspoons

instant

rapid rise yeast

1

large egg

room temperature

2

cups

250 grams all-purpose flour

1/2

teaspoon

salt

3

tablespoons

45 grams unsalted butter, at room temperature
Filling
8

oz.

225 grams semisweet chocolate

1/4

cup

50 grams sugar

3/4

teaspoon

ground cinnamon

pinch

of salt

3

tablespoons

45 grams unsalted butter, room temperature
Egg Wash
1

egg

lightly beaten

1

tablespoon

heavy cream
Streusel Topping
1/3

cup

powdered sugar

1/4

cup

all purpose flour

3

tablespoons

unsalted butter

room temperature
Instructions 
For the dough
In the bowl of a stand mixer fitted with the paddle attachment, combine the warm milk, sugar, and yeast and stir to blend.

Add the egg, flour, and salt, and mix on low speed until a sticky dough begins to form. Mix in the butter until incorporated and no chunks remain. Switch to the dough hook, and knead on low speed for 10 minutes. (The dough will be loose and sticky, avoid the urge to add more flour. It will all come together as it rises.)

Butter a large bowl, and place the dough inside. Cover with plastic wrap or a tea towel and let it rise until doubled, about 1- 1 1/2 hours.
Filling (Prepare while dough is rising)
In the bowl of a food processor add the chocolate (roughly chopped if in bars), sugar, cinnamon, and salt, and pulse until chocolate is fairly finely chopped and some parts powdery. Add the butter, and pulse until the mixture comes together. Set aside.
Streusel
In a small bowl, combine the sugar and flour. Add the butter, and using a pastry cutter or 2 forks, cut the butter into the flour mixture until there are coarse crumbs and some larger clumps. Set aside.
Assembly
Very generously butter a 12 cavity muffin tin.

Turn out the dough onto a lightly floured work surface, and gently deflate the dough. Let the dough rest for 5 minutes.

Roll the dough into a large rectangle, about 12×20-inches. Flouring as needed to prevent sticking.

Sprinkle the filling evenly over the dough. Roll the dough into a tight log, starting from the short end and rolling to the other end. Pinch the seams. Using a serrated knife or tooth floss (the best!), cut the dough into about 1-inch segments. Place each segment into the prepared muffin tin.

(If you want to bake the next day, cover with plastic wrap and refrigerate the dough overnight. Bake as directed without letting the dough rise again. Otherwise the dough can also be covered and frozen at this point).

Cover with plastic wrap and let rise for about 30 minutes.

Preheat oven to 350 degrees F.

Whisk the egg and cream together, and brush the tops of the buns with the egg wash. Sprinkle each bun with the streusel (if using) and bake for about 15 to 20 minutes, until puffed and brown around the edges.

Let cool on a wire rack in the muffin tin. These are easier to remove from the muffin tin if completely cool. But that being said, they are ridiculously good warm.
Notes
If you would like an ultra chocolatey bun, you can increase the filling by 50% and this would yield a bun to filling ratio similar to what is in the original babka recipe from Martha. /These buns are best eaten the day they are made, however they were still good the next day reheated for about 10-15 seconds in the microwave.
Adapted from Smitten Kitchen and Martha Stewart's Baking Handbook.
This post contains an Amazon affiliate link.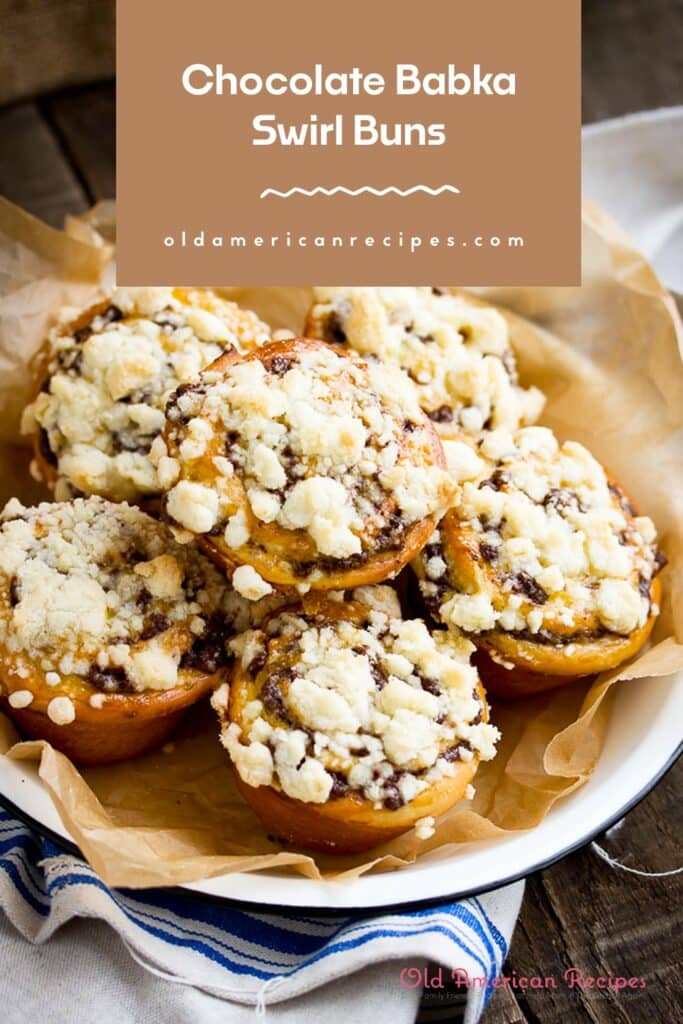 Sharing is caring!