Sharing is caring!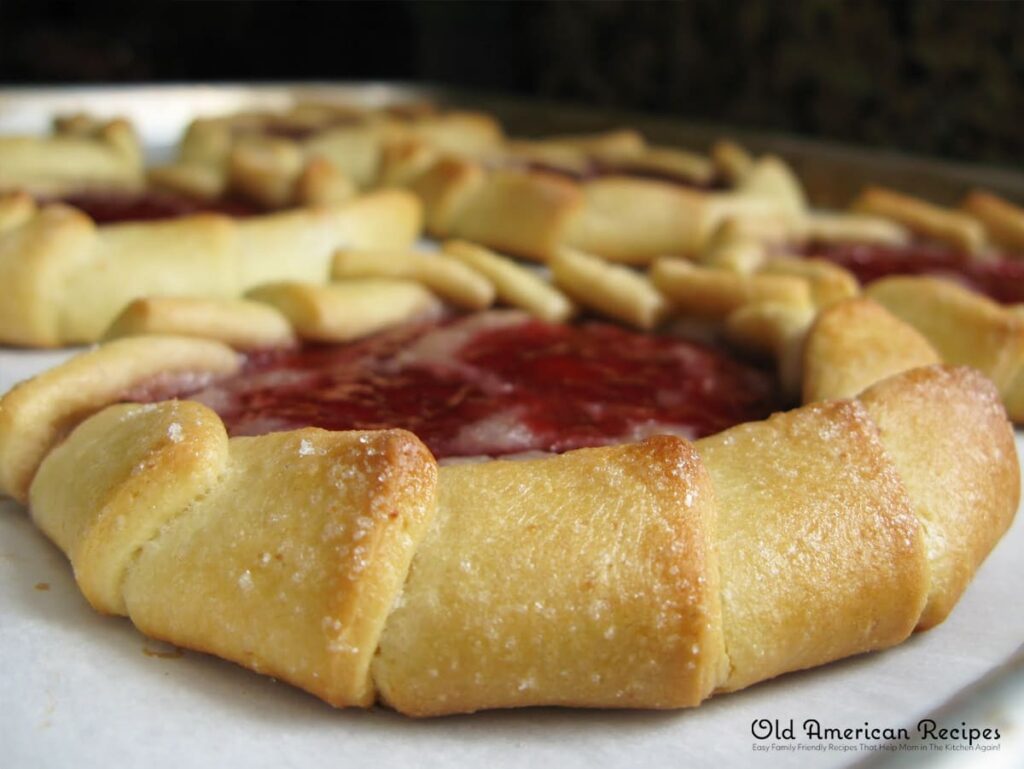 When I was invited back to the Foodie Fights competition for a third time (for battle #12), I thought maybe this time will be the charm! Then I saw the two ingredients: semolina flour and pomegranate. Gracious! I knew semolina flour is used to make pasta, but what else can it be used for? And pomegranate…deep breath…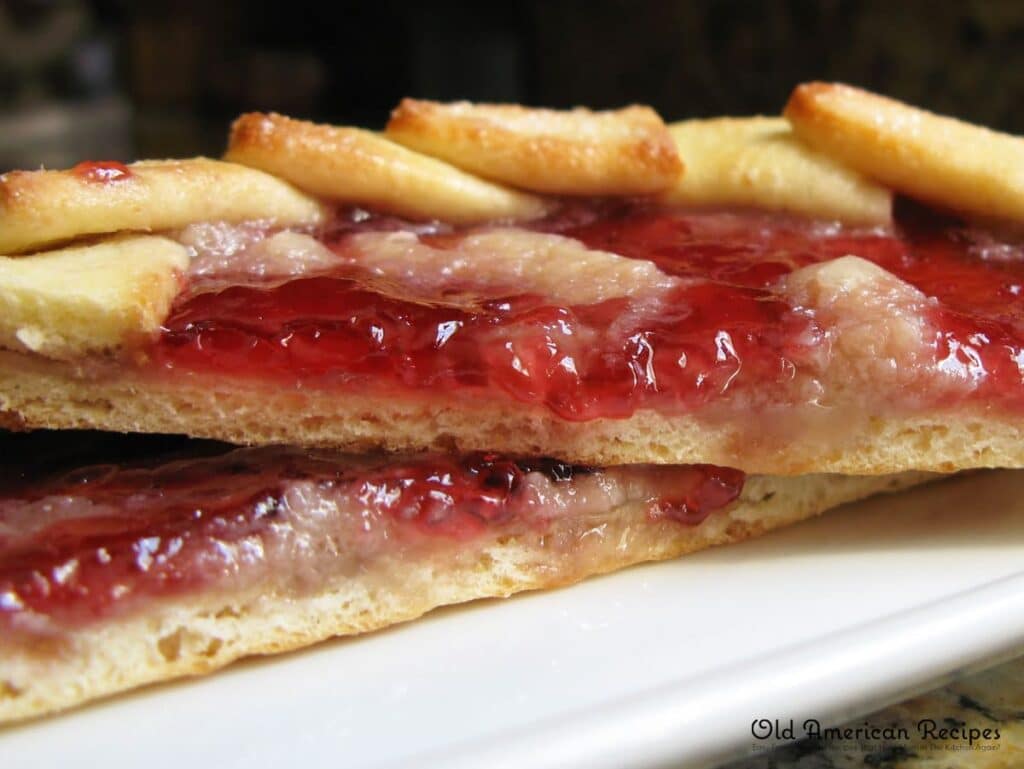 I did some poking around on the internet and found that, besides pasta, semolina flour can be used to make other baked goods like pizza crust and bread. The flour has a very high gluten content, which is why pasta made with it stretches when it cooks instead of falling apart (so that's what happened when I tried making homemade pasta when I was a teenager). But because of it's awesome gluten-ness, it's not so good for other things, like the butter crust I tried first (deee-saas-ter!). So….pomegranate pizza? Probably not. I kept looking. One of the bread recipes I found claimed to produce a loaf of bread with a tender crumb and crisp crust. That sounded promising. But then I had the whole pomegranate thing: I live in Utah, and pomegranates are not in season until October, which meant there was not a single ruby red kernel to be found anywhere.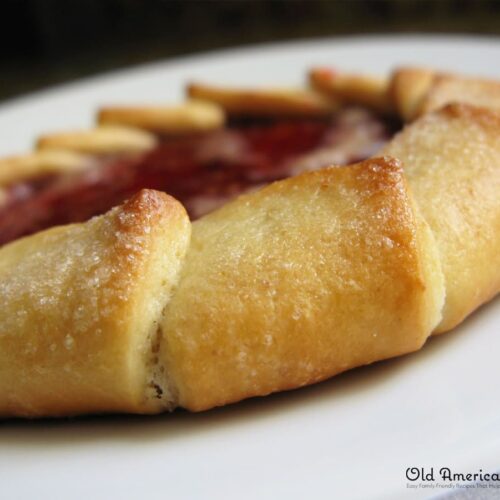 Italian Pomegranate-Lime and Cheese Sweet Bread
Ingredients  
1

recipe Pomegranate-Lime Jelly

see above

1 1/4

cups

all-purpose flour

1

cup

semolina flour

1/4

cup

sugar

1

teaspoon

salt

1 1/2

teaspoons

dry yeast

1/4

cup

butter

cut into 4 pieces

1/2

cup

milk

1/4

cup

heavy cream

1

egg

separated, yolk and white reserved

4

oz

cream cheese

room temperature

1/3

cup

powdered sugar

1/2

teaspoon

vanilla

2

teaspoons

heavy cream

1

egg yolk

2-3

tablespoons

sugar

for finishing
Instructions 
Combine the flours, sugar, salt, and yeast in the bowl of a food processor fitted with a dough blade; pulse several times to mix it all together.

In a small sauce pan, combine the butter, milk, and cream, and heat on medium until the butter has started to melt and the temperature reads between 120-125 on an instant read thermometer (or warm enough you can barely put your finger in it).

With the processor running, very slowly drizzle the milk mixture into the dry ingredients.

Then add the egg yolk and let the processor run for about 2 minutes. The dough is going to sound really, really wet at first, but it will come together after about a minute (and make the machine do the typical bread dance on the counter), so resist the temptation to add more flour.

This is what the dough should look like. It's quite sticky.

Turn the dough out onto a lightly floured surface, and gently gather it together to form a ball. The dough should be very soft; don't add any more flour than you need to keep it from sticking to the counter.

Nice soft ball of dough.

Spray a bowl with non-stick spray, put the dough in the bowl, cover the bowl with plastic wrap, and let it rise at room temperature until it's doubled in size. This took 1 hour and 20 minutes, much longer than for my normal dough…maybe the fancy semolina flour? I put the bowl on my range top to rise; my granite countertop is very cold, and I didn't want the dough to cool too much.

While the dough is rising, make the cream cheese mixture: In a medium bowl, and using a hand-held mixer, beat the cream cheese on low until it's light and fluffy, about 10 seconds. Add the powdered sugar, vanilla, heavy cream, and egg yolk, and mix it on medium until it's smooth and creamy, about 20 seconds. Set it aside if your dough is almost done rising; put it in the fridge if it's still going to be a while.

The dough is done rising.

Turn the dough out onto a lightly floured surface, gently deflate it with your fingers, and cut it into 8 equal pieces. The easiest way I've found to do this is to press the dough into a circle and cut it into equally-sized wedges.

Form each piece into a ball, put them back into the dough-rising bowl, cover the bowl with plastic wrap, and let them rest for about 5 minutes.

Heat your oven(s) to 375 and line 2 baking sheets with parchment paper.

On a lightly floured surface, roll a ball of dough out to a 6-inch circle (it will be quite thin). Put about 1 1/4 tablespoons of the cream cheese mixture on the dough and use the back of the measuring spoon to spread it around, leaving a 1-inch boarder.

Use kitchen scissors to make cuts, 1-inch apart, all around the dough making tabs.

Stir the pomegranate-lime jelly to loosen it. Then, working with 1 teaspoon at a time, drop and gently spread 1-1 1/2 tablespoons of the jelly on top of the cream cheese mixture.

Starting anywhere, fold a tab up and over the filling. Dip your finger in a small bowl of water, dab it on the corner of the tab, and fold the next tab up and over the filling, pressing the two corners together.

Continue all the way around the dough. Carefully transfer the finished breads to the prepared baking sheets (I had 6 on one pan and 2 on another). Add 1 teaspoon more jelly to the breads.

Mix 1/2 teaspoon water with the reserved egg white. Use a pastry brush to gently brush the egg wash over the tabs, and then sprinkle with the sugar.

Bake for 15-20 minutes, or until the breads are golden brown and the jelly is bubbly (my lower oven was done at just over 16 minutes, my upper oven at just over 20 minutes). Remove to a wire rack to cool. Serve warm or room temperature (I think the cheese part tastes better after it's cooled all the way).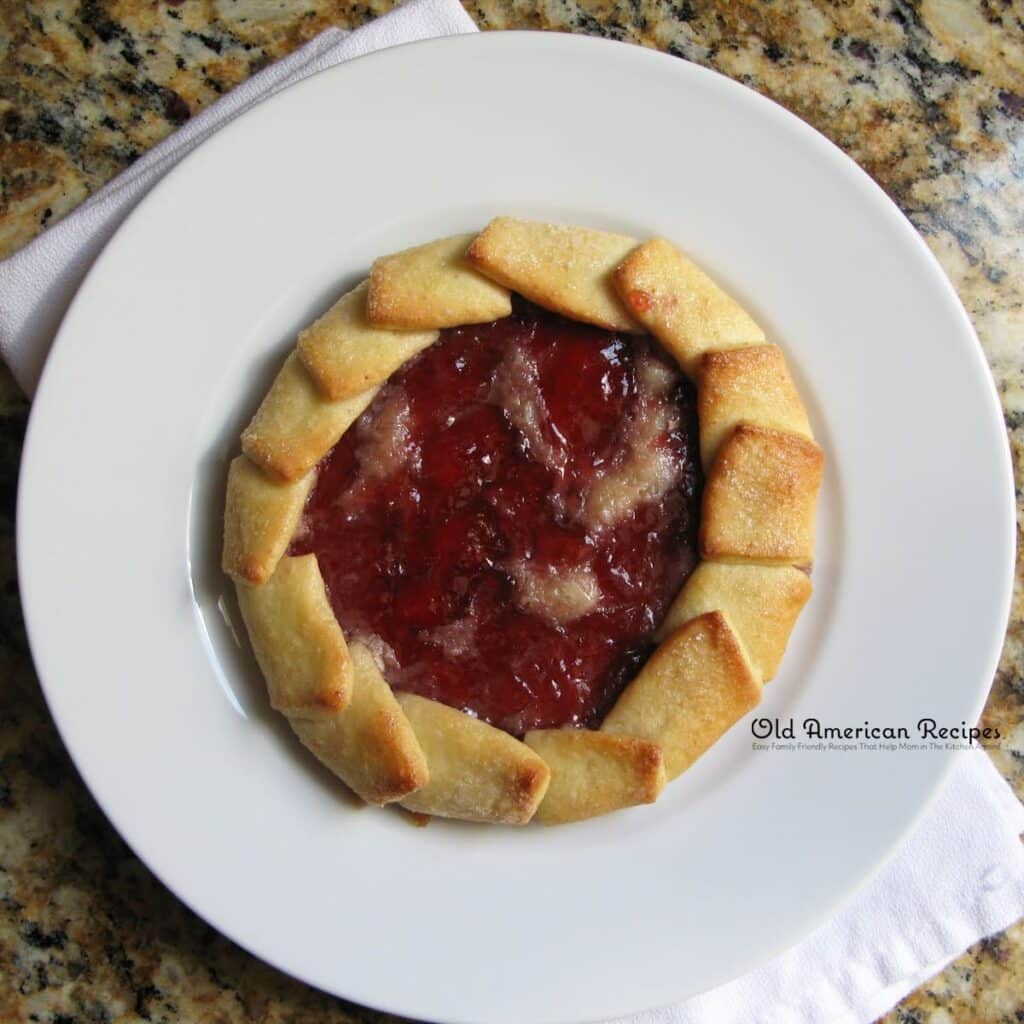 Sharing is caring!