Sharing is caring!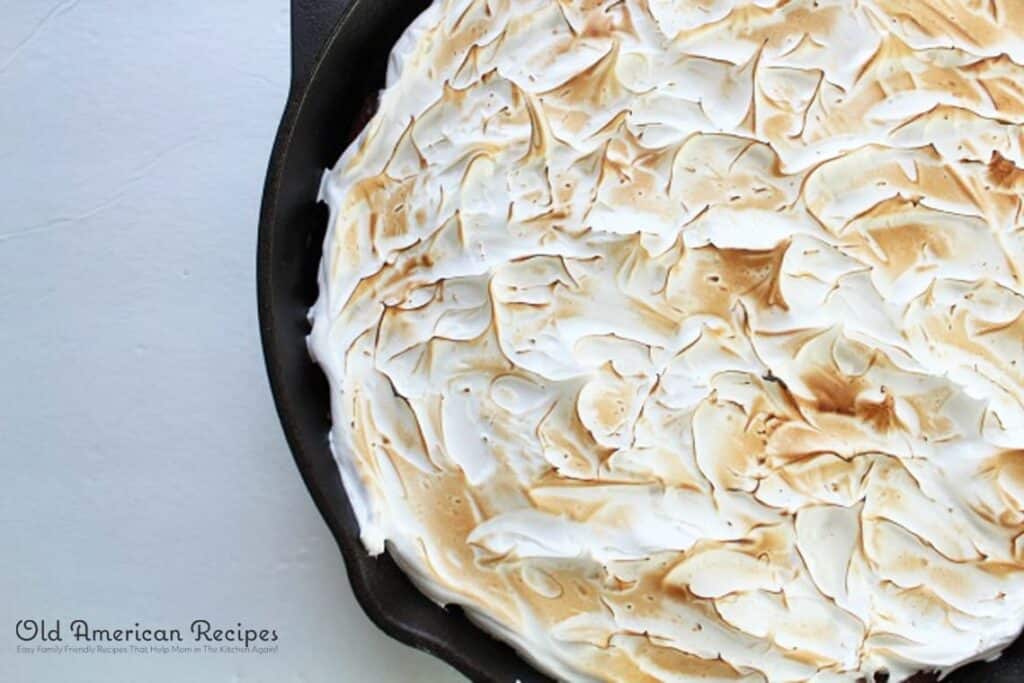 Ah, Pi day.  The greatest of days!  The day when we celebrate the mathematical constant Pi, and then throw caution to the wind and fill our faces with real pie.
Pi day is Monday, and I'm all ready to go with this delicious little number.  First of all, should we just admit that everything tastes better in a cast iron skillet?  I've been studying this for years, and that's definitely the conclusion I've come to.  And that's especially true when we get deep into dessert country. And as we all know dessert country is where I throw up my arms and twirl in happiness like Julie Andrews in The Sound of Music. 😉
So let me tell you a little about this pie.  The bottom layer is a tender peanut butter cookie.  On top of that is a chocolate layer made from semi-sweet chocolate chips and sweetened condensed milk.  I'll stop right there for a moment to let that sink in.  Chocolate and sweetened condensed milk are pretty much the only two ingredients you need to make a fast fudge. 🙂  That's right: you are basically pouring a layer of fudge on top of the cookie. Mmm. It's like a beautiful dream. 😍  Let's make it a reality!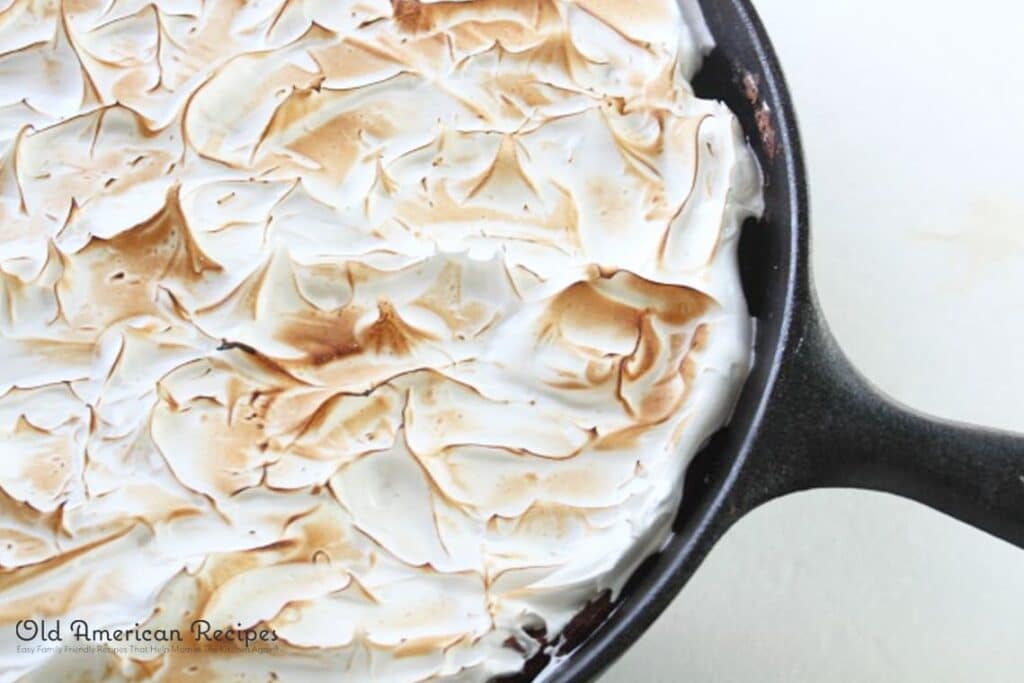 I adapted this recipe from a s'mores peanut butter skillet cookie pie from the wonderful blog Mariah's Pleasing Plates.  There are so many yummy recipes there, so check it out.  The original recipe called for a topping of marshmallows that you darken with a kitchen torch.  But I decided to adapt it a little by using my ol' faithful marshmallow frosting.  I've used that frosting on so many recipes, from dolloping it on ice cream to spreading it on angel food cakes.  And if the curtains were pulled I could probably stick my paw into it like Winnie the Pooh and eat it by itself.  Then of course I got  out my favorite kitchen tool: the kitchen torch.  I love that thing.  And I made that frosting all nice and toasty.
This makes a HUGE 12 inch skillet of dessert.  Now you could hide this all and eat it yourself.  I totally understand that.  But I also  think it would be lovely as an Easter dessert.  It would really get people psyched and dreamy of summer.  And just imagine how little kids would react to getting a gooey slice of s'mores pie.  Or, you know, adults too.  S'mores for all!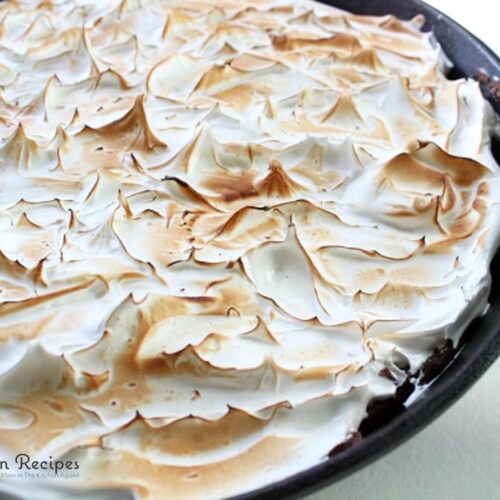 Peanut Butter S'mores Skillet Pie
Ingredients  
For peanut butter cookie:
½

cup

softened butter

½

cup

creamy peanut butter

½

cup

granulated sugar

½

cup

brown sugar

1

large egg

1

tsp

vanilla

1½

cups

all purpose flour

1

tsp

baking soda

½

tsp

kosher salt
For chocolate layer:
2½

cups

semi-sweet chocolate chips

1 14

oz

can sweetened condensed milk
For marshmallow frosting:
4

large egg whites

1

cup

granulated sugar

¼

tsp

baking soda

1

tsp

vanilla
Instructions 
To make the cookie layer, preheat the oven to 350 degrees F.

Spray a 12 inch cast iron skillet with cooking spray.

In the bowl of an electric mixer fitted with the paddle attachment, cream together butter, peanut butter, and sugars until fluffy.

Add in the egg and vanilla and mix until combined. Scrape down the sides of the bowl if you need to.

In another medium bowl, mix together the flour, baking soda, and salt. Add this to the peanut butter mixture and mix until completely blended.

Press the cookie dough into the prepared skillet and bake for 15-20 minutes, until just barely done. Remember that cast iron retains heat well and the cookie will continue to cook for a few minutes after you remove from the oven, so you don't want to overbake it.

Cool the cookie for 15 minutes.

For the chocolate layer, mix the chocolate chips and sweetened condensed milk in a small saucepan over medium heat. Stir until completely melted and blended.

Pour the chocolate over the cookie and spread evenly.

Refrigerate for an hour.

To make the marshmallow frosting, whisk together the egg whites, sugar, and baking soda in the top pan of a double boiler set over simmering water on medium heat. Whisk until the sugar is dissolved and the mixture is warm to the touch, about five minutes.

Pour the egg mixture into the bowl of an electric mixer fitted with the whisk attachment. Start mixing on a low speed, then work up to medium high, and mix until you reach stiff peaks, about 6 minutes.

Add in the vanilla and stir.

Spread the frosting over the chocolate layer. Burn the frosting with a kitchen torch and serve.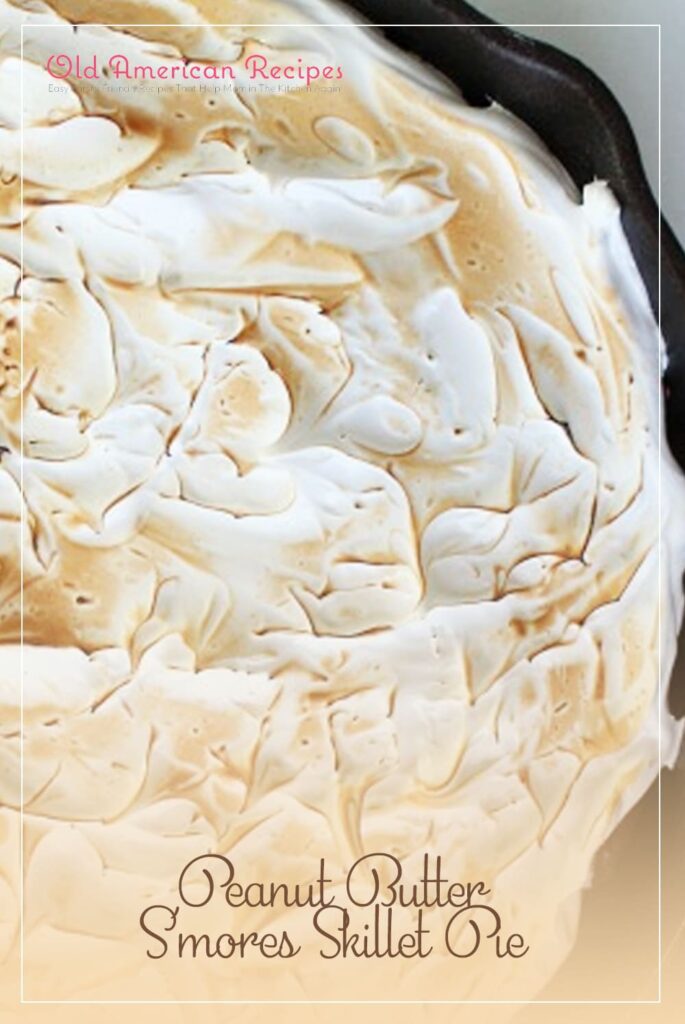 Sharing is caring!