Sharing is caring!
A skinny lime cheesecake bar made with a coconut oil graham cracker crust, greek yogurt, and topped with sweet toasted coconut.
Mondays. Who needs em? I think it's everyones least favorite day of the week. I always throughly enjoy the weekend because the hubs is home. Sunday is always our relaxing day. We go to church, have a lazy lunch, and baby Stella revels in all the extra attention from daddy. It makes Mondays real hard.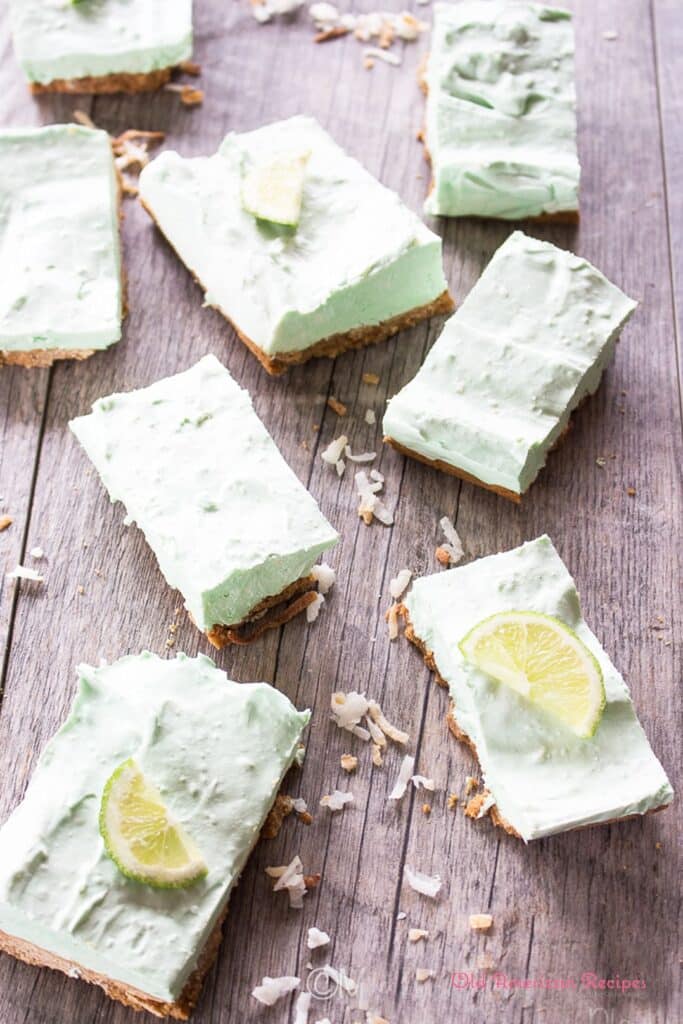 This morning was especially gruesome because of the time change. Does anyone else hate spring ahead? It may have been the reason I waltzed into church late yesterday, clutching a little pink donut box behind my back hoping to dispose of it before anyone noticed. I overslept, ate 2 apple fritters, and managed to put Stella's shirt on backwards. (Mother of the year award anyone?) Why do they call it spring ahead anyways? Because it makes me fall seriously behind.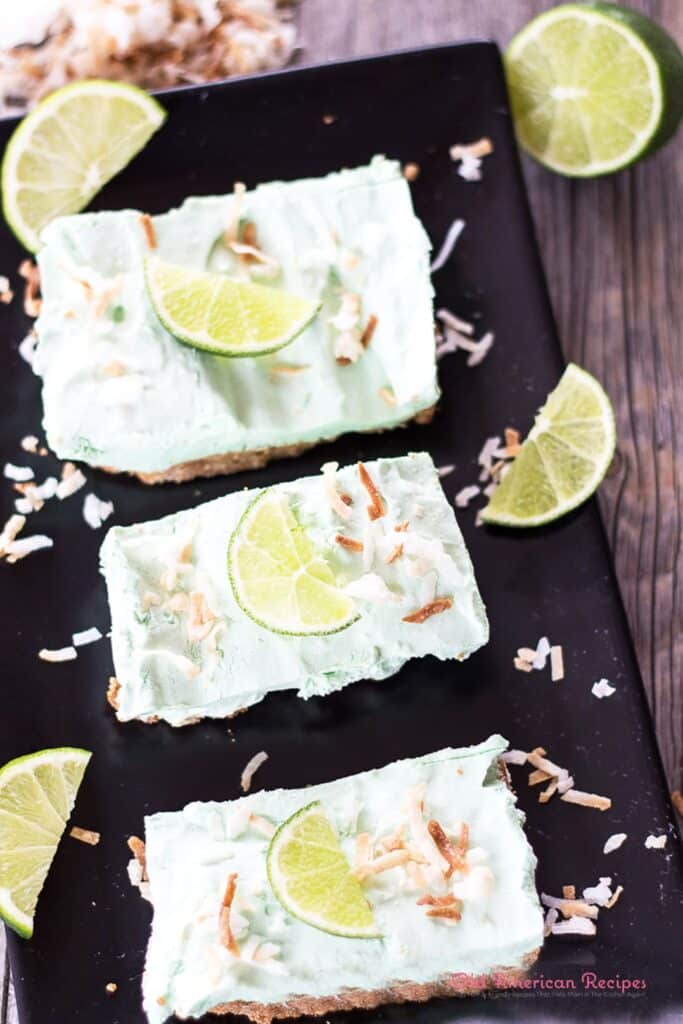 Which brings me to why Mondays are such a downer. 6am is now 7am and Stella has definitely gotten the memo, no sleeping in here! So that is why I bring you Skinny Lime Cheesecake Bars today…its a whole lot of yum to brighten up your day.
I love skinny desserts. Especially good ones. And I LOVE lime!! These skinny lime cheesecake bars are made with both coconut oil and greek yogurt. Coconut oil is a great substitute for butter. I have been using it as a substitute since the beginning of the year and am loving it. (However, I still try to use it sparingly as it is still a form of fat.) This crust is sooooo good. I could just eat it all by itself but I wouldn't do that right? Cause I have self control and all that. 😉
These bars came together so quickly…almost as quickly as they disappeared at our house. I have a thing for frozen desserts so after these bars were baked and cooled I threw them in the freezer for a couple hours. Pure bliss.
I think I'll make another batch of these tomorrow and I'll be dreaming away these early mornings.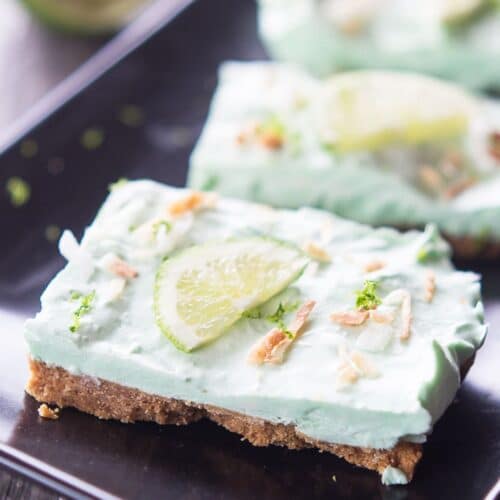 Skinny Lime Cheesecake Bars
Ingredients  
3

Cups

Reduced Fat Graham Cracker Crumbs

½

Cup

Coconut Oil

melted

8

ounces

Reduced Fat Cream Cheese

1

cup

Lime Greek Yogurt

3

Tablespoons

Truvia

8

ounces

Fat Free Cool Whip

1

Tablespoon

Vanilla Extract

1

Tablespoon

Lime Zest

Juice of 1 lime

Optional: Toasted Coconut for sprinkling
Instructions 
Preheat the oven to 350° and line a 9 x 13 pan with foil, spray lightly with nonstick cooking spray. Set aside. In a bowl combine the graham crackers and the coconut oil. Press the graham cracker mixture into the bottom of the pan evenly and bake for 10 minutes. Meanwhile, in a bowl beat the cream cheese, greek yogurt, truvia, cool whip, vanilla extract, lime zest, and juice of 1 lime. Beat on medium speed for 2-3 minutes or until ingredients are smooth and fluffy. Remove the graham cracker crust from the oven and allow to cool completely before pouring in the lime cheesecake mixture. Refrigerate for 2-3 hours or until the bars have set completely. Score the bars into 16 slices and serve.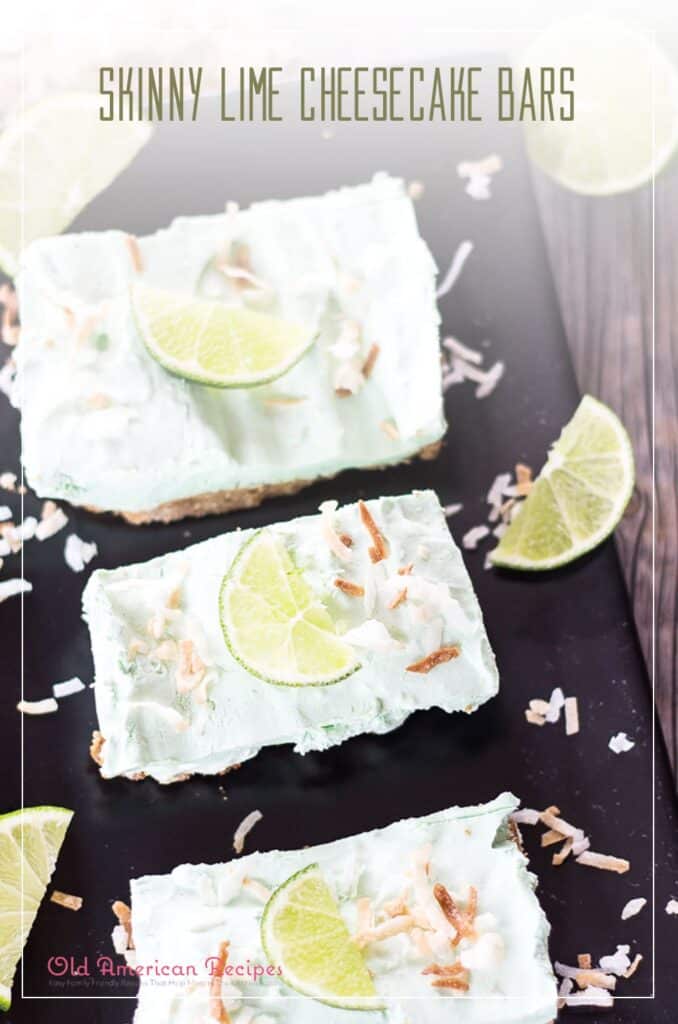 Sharing is caring!