Sharing is caring!
These sweet and sugary pralines are loaded with toasted pecans – they are a classic Southern treat that practically melts in your mouth!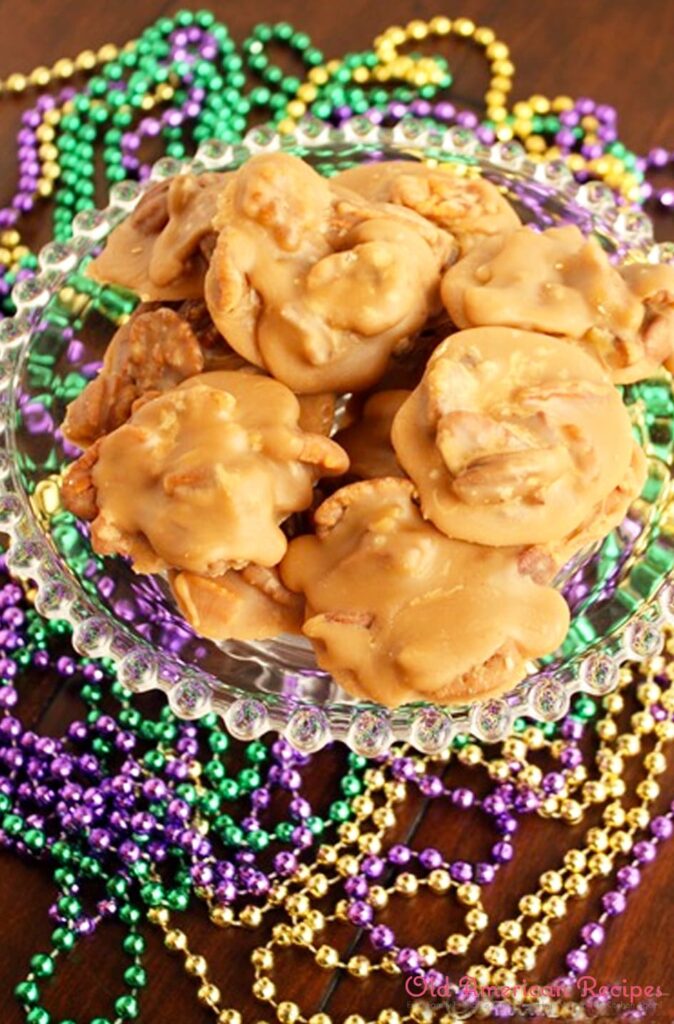 Happy Mardi Gras!
Today I'm sharing my favorite Southern treat – Pralines!
Have you ever had a praline? My first experience with them was in New Orleans on one of our trips. I wasn't really sure what to expect since they aren't very common here in Arizona. They are sweet little confections made from combining sugar, milk and nuts – in most cases pecans. As soon as I tasted my first one I knew there was no turning back – to this day when I eat them I think of the French Quarter in NOLA.
Remember it later
Like this recipe! Pin it to your favorite board NOW!
Pin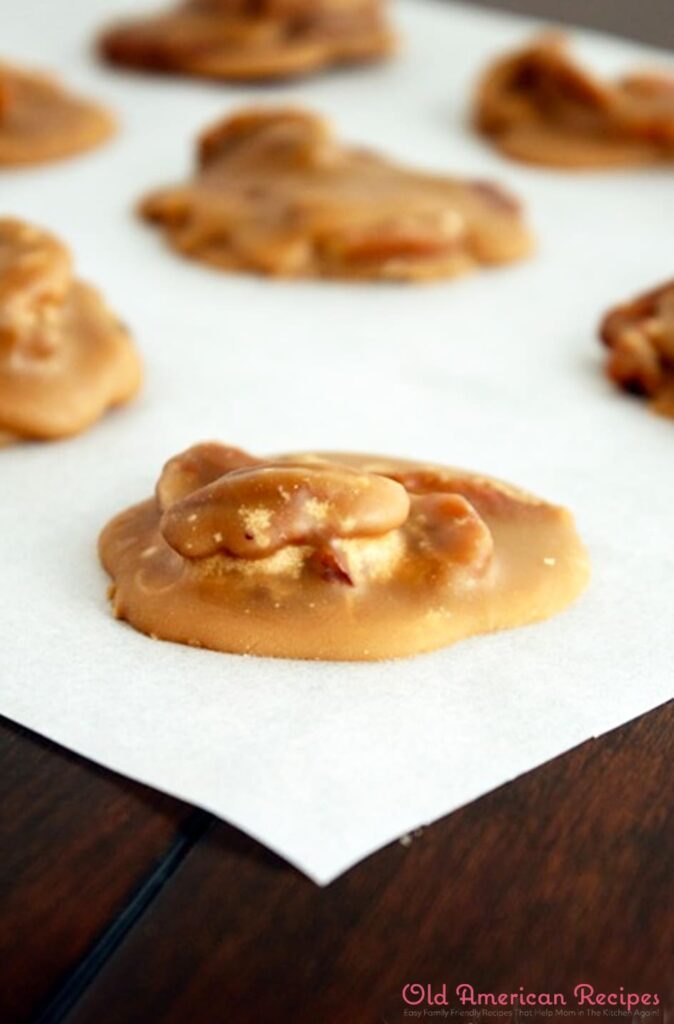 Technically speaking pralines aren't too difficult (in the world of hot sugar). Personally I think they are a little easier than things like caramels or fudge, but you will definitely need a candy thermometer to make sure you cook it to the right temperature. You just let everything cook away until it reaches 235 degrees, give the mixture a good stir, let it cool slightly, then scoop it out.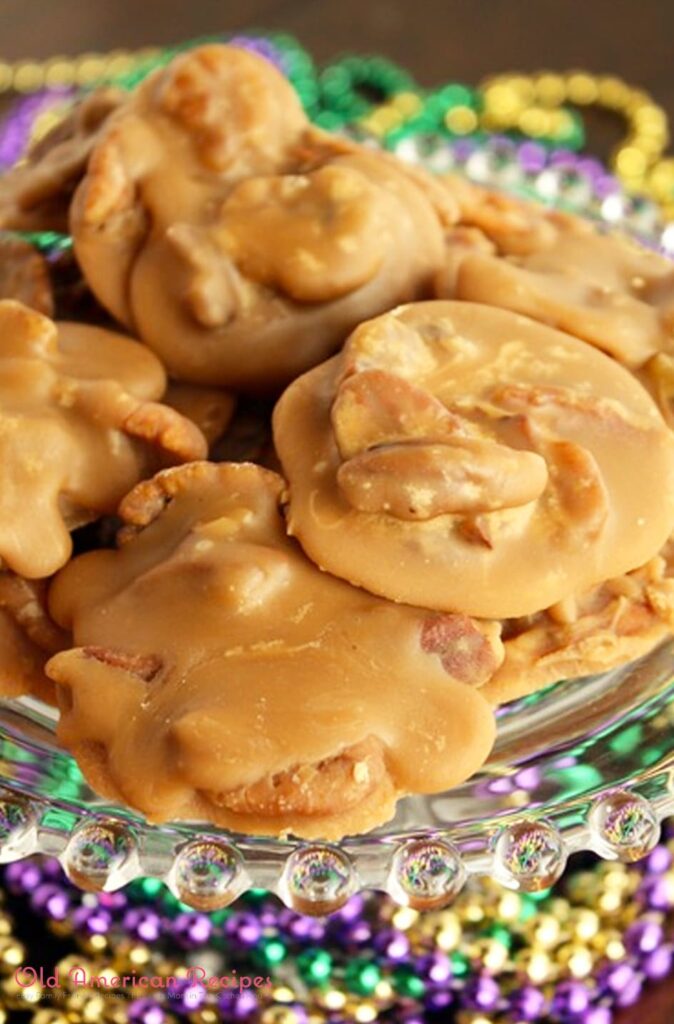 It's amazing what happens when you cook some butter, brown sugar, milk and pecans in a pot – the results are simply magical. The mixture gets scooped out onto sheets of parchment or wax paper. The finished product is sweet with a little crunch from the pecans and the whole thing just melts in your mouth. This time around I added a little Bourbon for some extra flavor – and to capture a little of the Mardi Gras spirit, but feel free to omit if you'd like!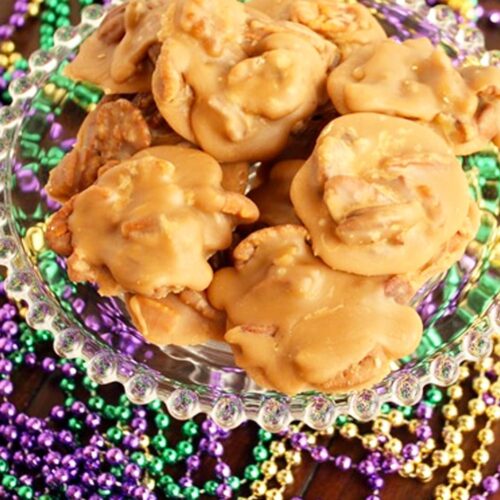 Southern Pecan Pralines
Ingredients  
1½

cups

brown sugar

¾

cup

granulated sugar

6

Tbsp

butter

½

cup

evaporated milk

2

cups

pecans

½

tsp

salt

1

teaspoon

vanilla extract

1

Tbsp

of Bourbon

optional
Instructions 
Line 2 baking sheets with a silicone baking mat or parchment paper sprayed lightly with cooking spray

In large saucepan combine sugars, butter, milk, pecans and salt. Cook over medium heat, stirring frequently, until the mixture reaches 238 degrees or "soft ball" stage. Remove from heat and stir in vanilla and bourbon (if using).

Stir the mixture rapidly — and keep stirring until the mixture thickens slightly and becomes cloudy and grainy. The pecans should be floating in the mixture and should no longer sink to the bottom.

Spoon out the mixture onto the prepared pans, working quickly before the candy sets. Allow pralines to cool completely before removing from baking sheets.
Notes
The stirring stage is very important and the key to making a good praline! The pot must be stirred constantly. Keep stirring mixture until it becomes grainy and thick – if it is still liquidy, it's not ready.
Keep in mind candy making can be finicky – even things like humidity can affect the pralines.
Before you begin make sure you have your pans prepared and all of your ingredients ready to go. It's also a good idea to make sur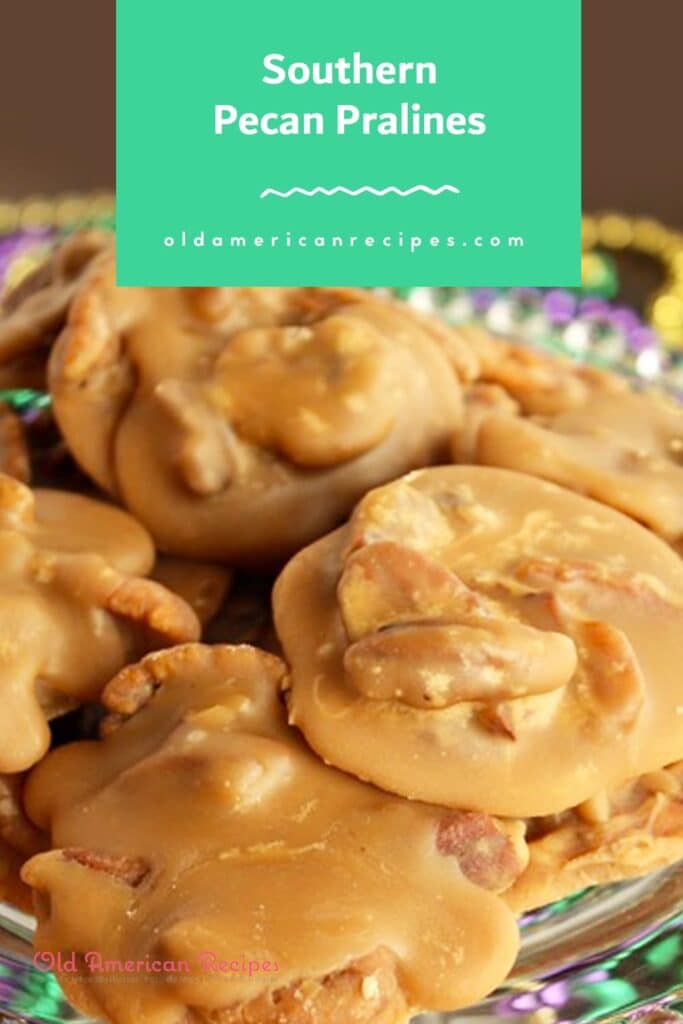 Sharing is caring!