Sharing is caring!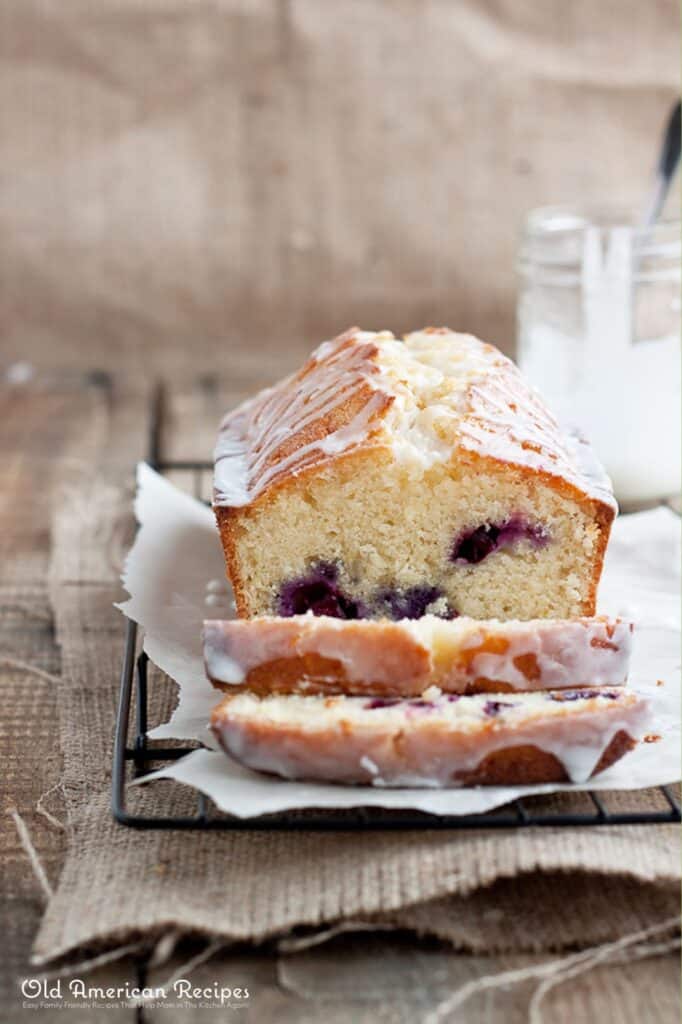 I know what you're thinking….sigh…another lemon dessert.
I'm a little surprised myself. Where did this sudden love of citrus desserts come from anyway?
But this was too good not to share, and when I bake, I bake to share. What's the point of making something good and keeping it all to yourself.
With all the snow(??), rain, and overall dreary weather the last couple days you need this bright and cheerful bread.
Remember it later
Like this recipe! Pin it to your favorite board NOW!
Pin
It's not just some plain old bread with some lemons and stuff. It's studded with blueberries, meyer lemon zest, brushed with a warm lemon syrup, and finally drizzled with a sweet and tangy lemon glaze. See, told you it was good. It's super moist and all around wonderful.
Plus, it's super easy and fast to make. The hardest part, is waiting for it to cool so you can eat it.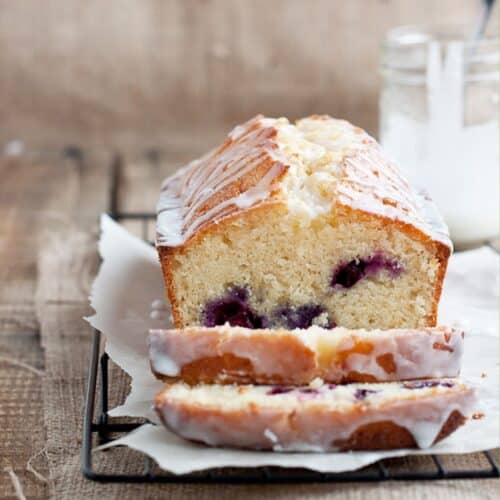 Lemon-Blueberry Drizzle Bread
Ingredients  
1 1/2

cups

7 1/2 oz/235g all purpose flour, plus 1 teaspoon for blueberries

1

teaspoon

baking powder

1/2

teaspoon

kosher salt

or slightly less table salt

1/2

cup

4oz unsalted butter, room temperature

3/4

cup

6oz/ 185g granulated sugar

1

tablespoon

finely grated lemon zest

3

large eggs

1/2

cup

4fl oz/125ml whole milk

1

teaspoon

pure vanilla extract

1

cup

4oz/125g fresh blueberries

For the Syrup:

4

tablespoons

fresh lemon juice

I used meyer lemons

4

tablespoons

granulated sugar

For the Glaze:

1/2

cup

2oz/60g confectioners sugar

about 1 tablespoon fresh lemon juice
Instructions 
Preheat oven to 350 degrees F, and adjust rack to the middle position. Butter and flour a 9-by-5-inch loaf pan.

In a small bowl, whisk together the flour, baking powder, and salt. Set aside.

In the bowl of a stand mixer fitted with the paddle attachment, beat the sugar, butter, and lemon zest on medium-high speed until light, about 3 minutes. Add in the eggs one at a time, until each one is incorporated. Add in the milk and vanilla extract, and beat until well blended, about 1 minute. Add the dry ingredients and beat until just incorporated.

In a small bowl, toss clean blueberries with the 1 teaspoon of all-purpose flour. Gently fold the blueberries into the batter. Scrape the batter into the prepared loaf pan.

Bake until the top is lightly browned and a toothpick inserted comes out clean, about 50 to 55 minutes. (this will depend on the size of your loaf pan). Allow bread to cool in pan for a few minutes then turn onto cooling rack.

While the bread is baking, make the lemon syrup. In a small saucepan, measure lemon juice and sugar, and bring to a boil over medium-high heat, until all the sugar is dissolved and the syrup has thickened slightly, about 2 minutes.

Using a skewer, poke the top of the bread all over. Don't be shy, you want all the syrup to go into the cake so it will be nice and moist. Brush the bread generously with the lemon syrup. Allow the bread to cool completely, about 2 to 3 hours.

To make the glaze: In a small bowl, mix the confectioners sugar and lemon juice, and whisk to combine. When bread is completely cool, drizzle the top with the glaze.
Notes
If blueberries aren't in season, or you simply don't like them, you can make lemon poppy seed bread instead. Replace the blueberries with 1 tablespoon of poppy seeds. Bake as directed.
I used meyer lemons for this but feel free to use regular lemons.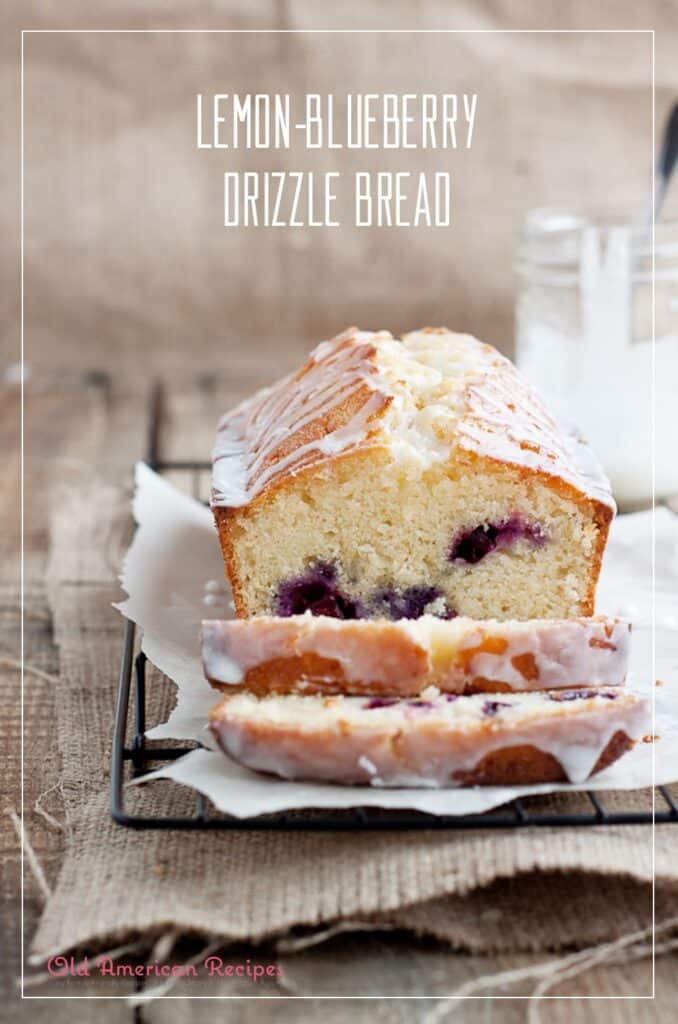 Sharing is caring!