Sharing is caring!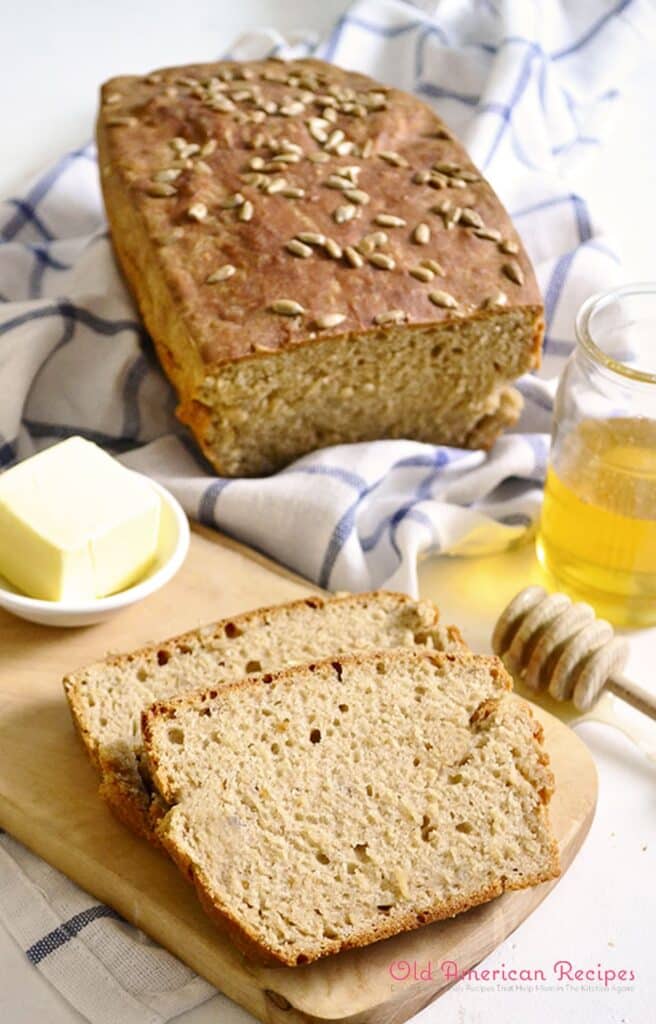 Delicious loaf of home baked spelt bread made within one hour. Crunchy crust and fluffy inside you cannot go wrong with this bread.
Quickest bread you'll ever make. No waiting for yeast to activate and bread to rise, just mix all of the ingredients and straight to the oven it goes. Give it an hour to bake and you are done. A delicious loaf of worm home baked spelt bread with crunchy crust made within one hour.
I can easily go without bread for breakfast because after my morning smoothie I like to have granola, Greek yogurt with fruit or porridge and never have bread with my lunch or dinner but when it comes to home baked bread all bets are off. It does not stand a change and normally disappears within the first day.
Remember it later
Like this recipe! Pin it to your favorite board NOW!
Pin
I can't stand prepackaged sliced bread, life is too short to eat bad food. Rather you are a bread lover or not this spelt bread is guaranteed to go down fast. That's why I avoid baking bread at home on regular basis, because when I cut the first slice and bite into a delicious crunchy crust and fluffy inside I can't stop. It's the same with my Italian focaccia. Except with focaccia it's even worse, because there are endless topping you can make it with and I always have so many ideas for new ones I can't even follow then through. The problems foodies need to face :).
Often there is just not enough time to bring all of my recipe ideas to life. Every day I fill new pages of my notebook with recipe ideas and always have hard time choosing which ones to make first. You can always let me know what kind of recipes you would like to see here or which ingredients you would like me to use in my kitchen adventures. I am open to any suggestions as long as it's vegetarian of course.
Back to spelt bread. Since it does not contain any yeast but still needs a rising agent I use cream of tartar instead. It creates fluffy well risen bread without waiting for it to rise, a win win situation. I also like to mix in different seeds like sunflower or pumpkin seeds but that's optional. After all this bread talk you should already be weighing your spelt flour and preheating your oven to bake one of these delicious loafs. And if you do don't forget to share a picture on Instagram using #oldamericanrecipes so I can find them.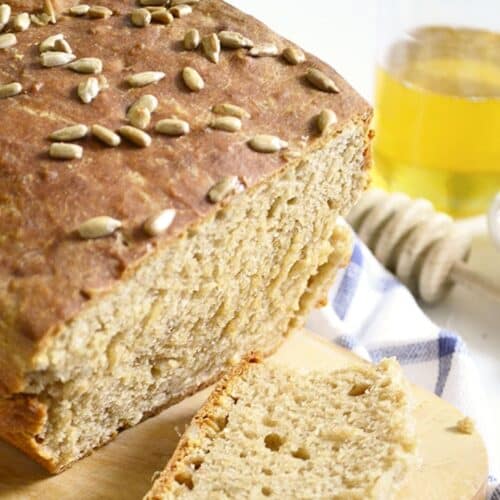 Spelt bread without yeast
Ingredients  
380

g

spelt flour

1

table spoon cream of tartar

1/2

tea spoon of salt

340

ml

almond milk

diary or other plant milk

1

table spoon olive oil

1/4

cup

of sunflower or pumpkin seeds

optional
Instructions 
Preheat your oven to 200 degrees Celsius.

Mix together flour, cream of tartar, seeds and salt to distribute evenly. Add milk and mix for a few minutes to get an even mixture. It should be wet and sticky, do not add more flour.

Transfer the dough into a loaf tin or place on a baking sheet lined with parchment paper. You won't be able to shape it too much because of its wet consistency. Sprinkle over some seeds.

Bake for about 50 minutes (depending on your oven). Bread is baked when tooth pick inserted in the middle comes out clean, has crispy crust and when you tap it on the back, it should sound hallow.

Remove from the oven and let it cool completely. If you want a softer crust wrap the loaf in a kitchen towel.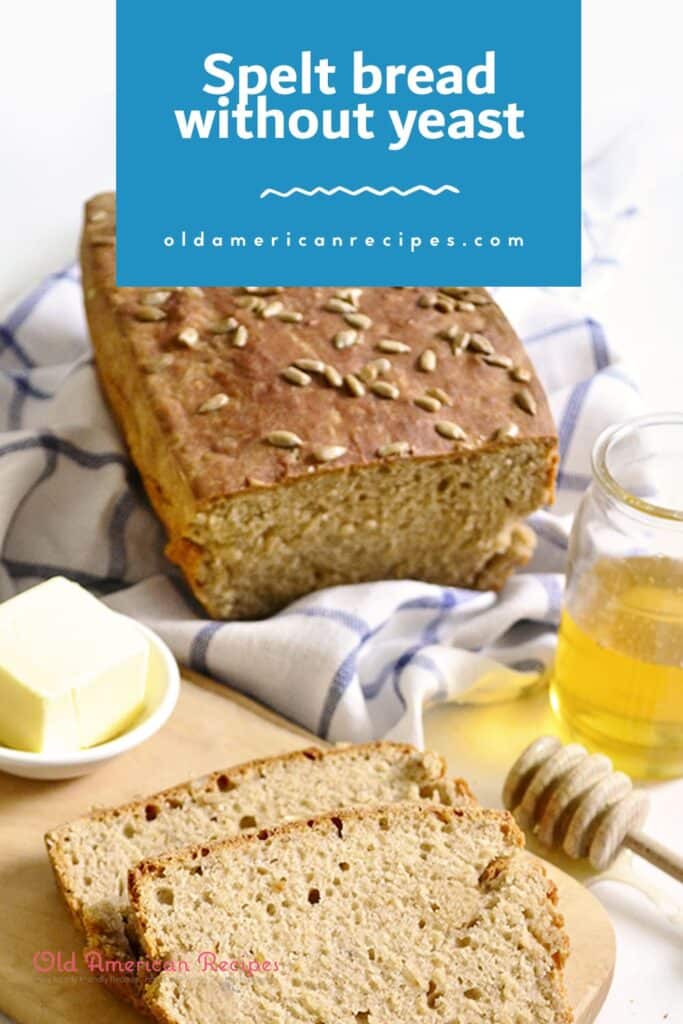 Sharing is caring!