Sharing is caring!
The other day my friend sent me a text and asked, "I want to try making doughnuts and want to make churros with Chocolate but they look difficult. Are they tricky to get right?!" I replied, "Nope! In fact, churros are the easiest doughnuts of all to make. There are only basic three steps!" She didn't believe me, so I whipped up a batch that night, outlining the three steps and texted her with photos at each stage just to prove my point (hooray for technology!).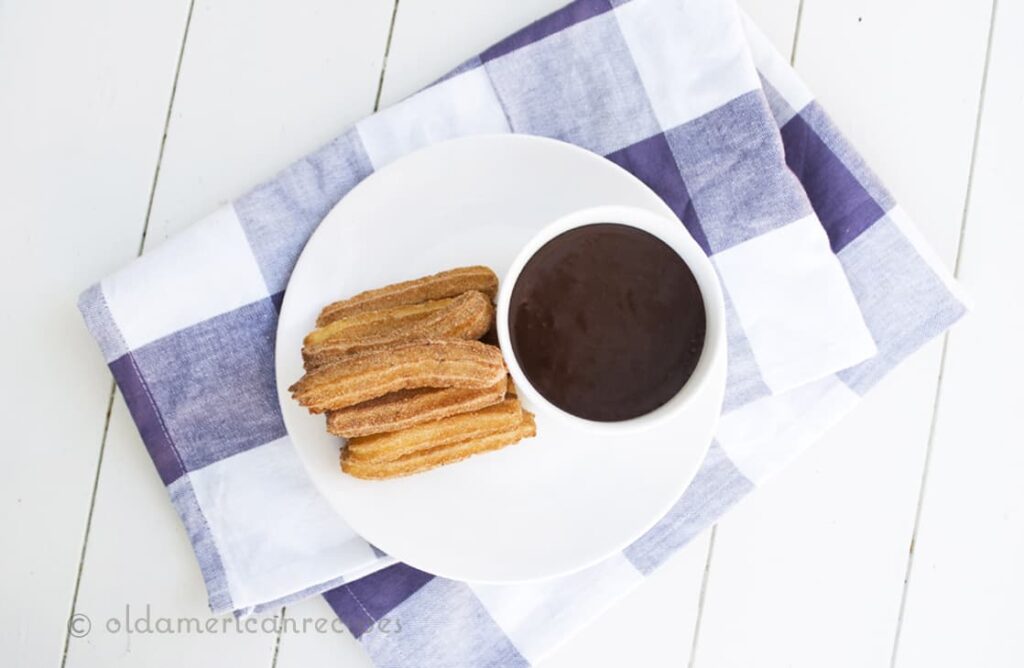 She was so surprised that it only took me about twenty minutes to prepare a fresh batch of these delicious crispy doughnuts. I shared the recipe with her and she reported back the next day with excellent results. This recipe is so simple, I wanted to share it here too.
For the doughnuts, I have a recipe that I've been using for years, and it never fails me. Over time, I have changed the method slightly, but the ingredients and quantities have always been the same.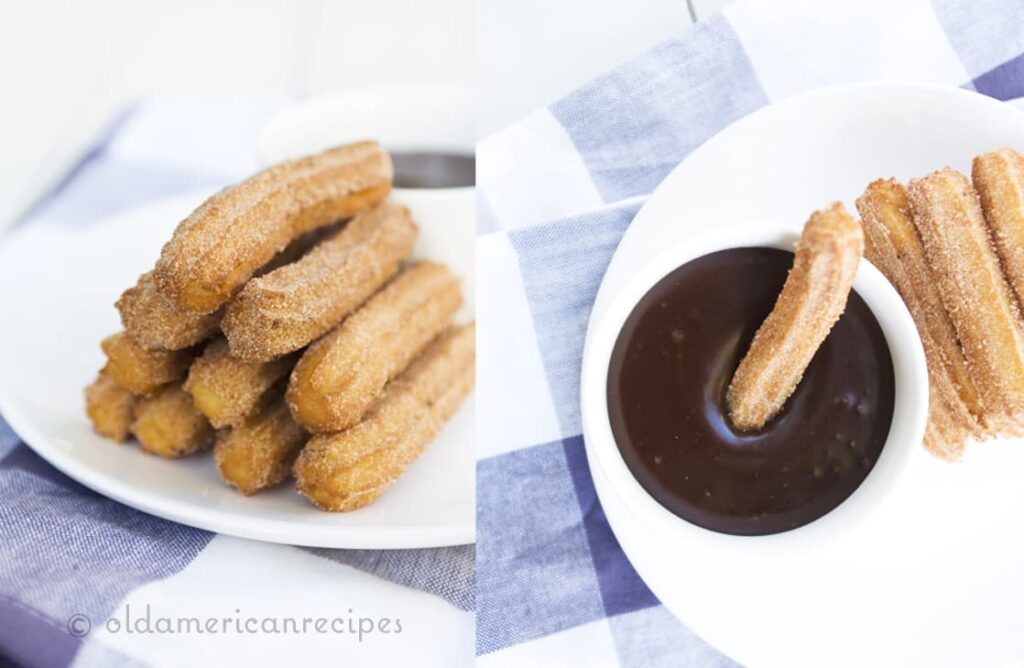 It really is as easy as 1, 2, 3. Preparation takes hardly any time at all and it's the perfect dish to whip up for dessert, or even as an indulgent snack. Churros can be enjoyed simply dusted in cinnamon sugar or served with dulce de leche or chocolate sauce. I've decided to share my chocolate dipping sauce recipe with you today, since I was in a chocolatey mood 🙂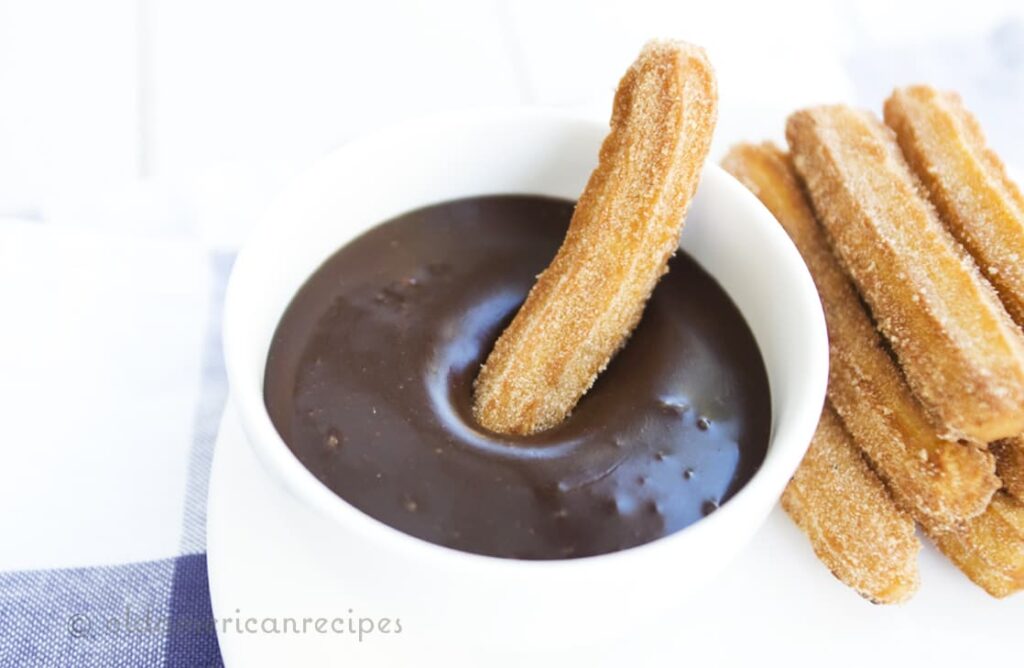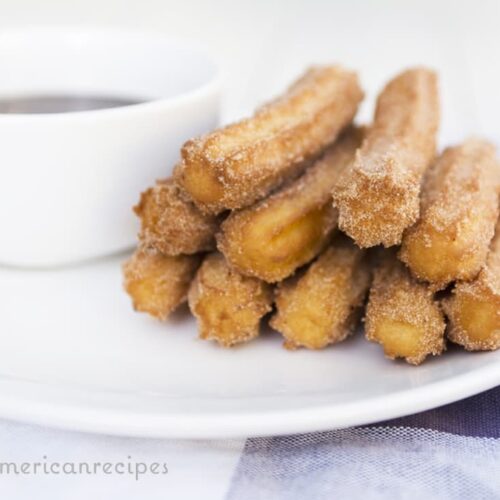 Churros with Chocolate Dipping Sauce
Hey guys! Today I'm showing you how to makes my homemade mini churrros. These are absolutely delicious and a perfect little treat. They really aren't as hard to make as I originally thought! You should give them a try ☺️
Ingredients  
2

cups

plain flour

1

tablespoon

baking powder

pinch

of salt

500

ml

of boiling water

2

tablespoons

of olive oil

vegetable oil

to fry

cinammon sugar

to dust (just combine caster sugar with ground cinnamon)

Chocolate Dipping Sauce

150

g

milk chocolate

chopped

100

g

dark chocolate

chopped

300

ml

of cream
Instructions 
For the sauce:
Combine all ingredients in a double boiler and mix until melted and smooth (alternatively, you can pop it in the microwave and blitz it in short bursts of 20-30 seconds, mixing thoroughly at each interval. Repeat until all is melted and smooth).
For the doughnuts, it's easy as 1, 2, 3:
Fill a deep, heavy based saucepan with vegetable oil. Place on medium-high heat and allow to heat. In a bowl, combine the flour, salt, baking powder, water and oil. Mix with a fork and make sure there are no lumps.

Spoon the mixture into a piping bag with a star tip. When the oil has reached 170 degrees, pipe 12cm lengths into the oil, using scissors to snip them from the bag. Be careful not to splash the hot oil.

Fry until golden brown and dust in cinnamon sugar.

Serve warm with the sauce. That's it 🙂
Don't forget to PIN this Churros with Chocolate Dipping Sauce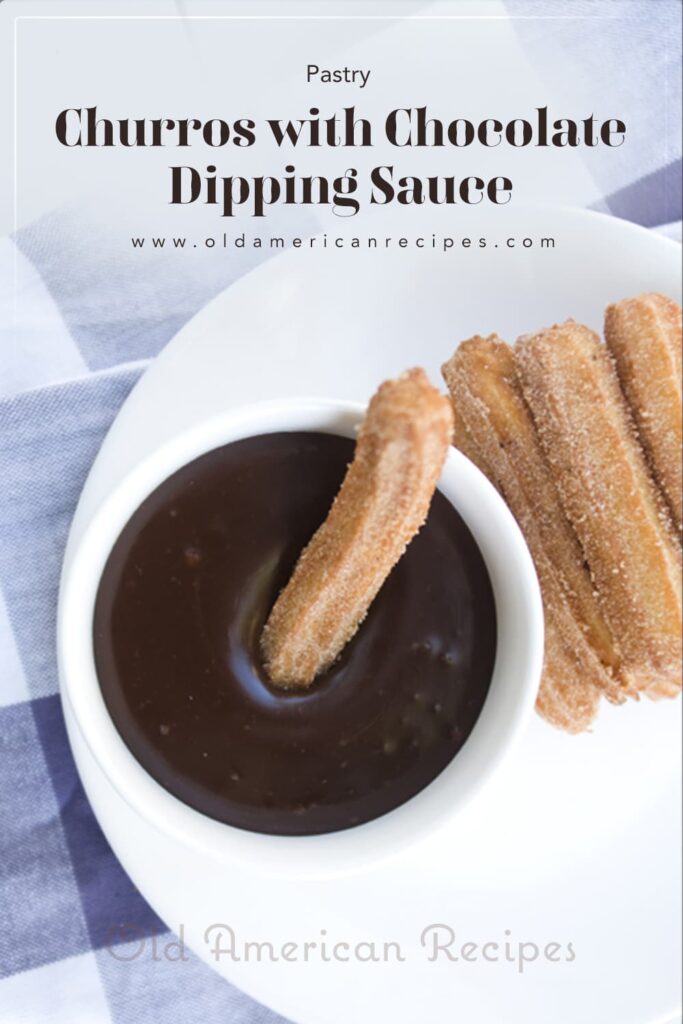 Sharing is caring!