Sharing is caring!
These tender and delicious Moroccan-style beef kebabs have just right amount of spicy flavor to tingle your taste buds.  It's super simple to make them, and threading them on a skewer is optional.  The ground meat mixture can be grilled as burgers, or even seared in a pan and baked in the oven as meatballs.  You can eat the kebabs with a salad, plain yogurt for dipping, and a side of rice.   And make more of them than you think you'll need – I promise you they'll all be devoured.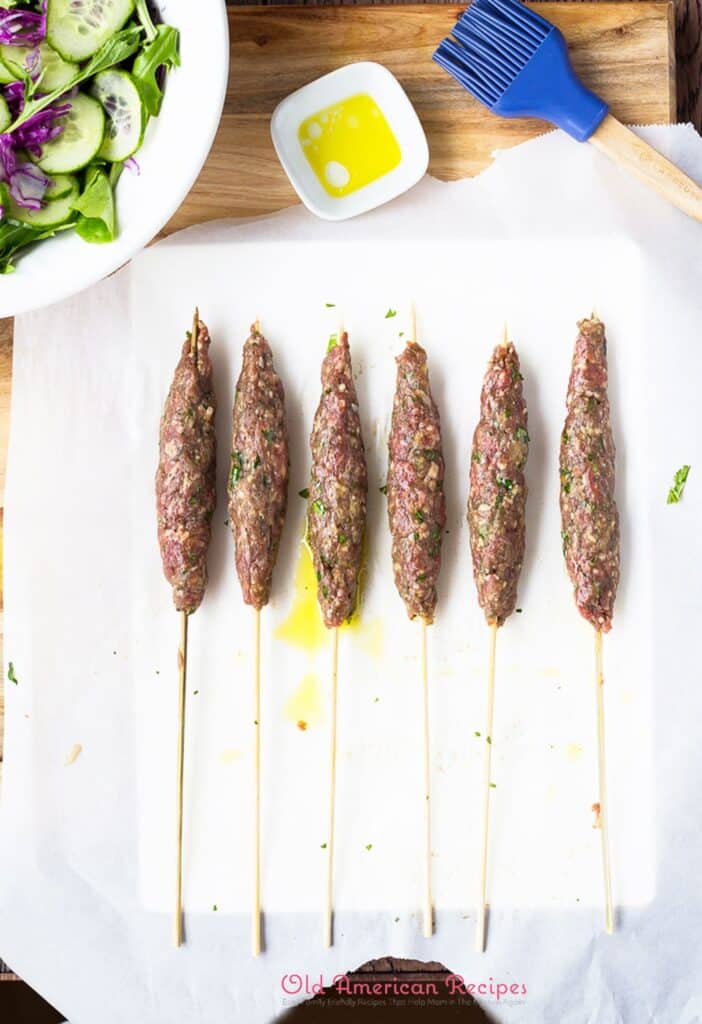 It might seem tricky to thread these onto a skewer, rather than going the easy route with whole chunks of meat, but there's a flipside. Ground meat yields a juicy, softer texture, and absorbs the marinade thoroughly and more quickly.  I use beef in this recipe, because it's nice and rich combined with Moroccan spices.  My other kebab favorite is ground turkey thigh – it's a bit less assertive in flavor, and I use it to make my Vietnamese grilled meat skewers.
To get the kebabs ready for the barbecue, shape an oblong meatball in your palm and press it into the skewer, spinning it around with one hand and pressing to make the final shape with the other. Make sure to wet your hands before shaping, so the meat doesn't stick, and don't just poke the skewer through – it will slide off.   It's best to set them down on a flat surface and something non-sticky like parchment paper.  You can spin them around in your hand, if needed, to fix up the shape right before grilling.
As with any grilled stuff, make sure you preheat the barbecue and thoroughly scrape the grade with a wire brush.   I'm always afraid to use my barbecue for the first time each season, because I found a live mouse in our old one –  it FREAKED out on me and darted and squeaked all around the inside of the grill before jumping out.  If you've ever seen a mouse, then you know how fast they move.  We had to get a new barbecue, it was horrible and I'm scarred for life now.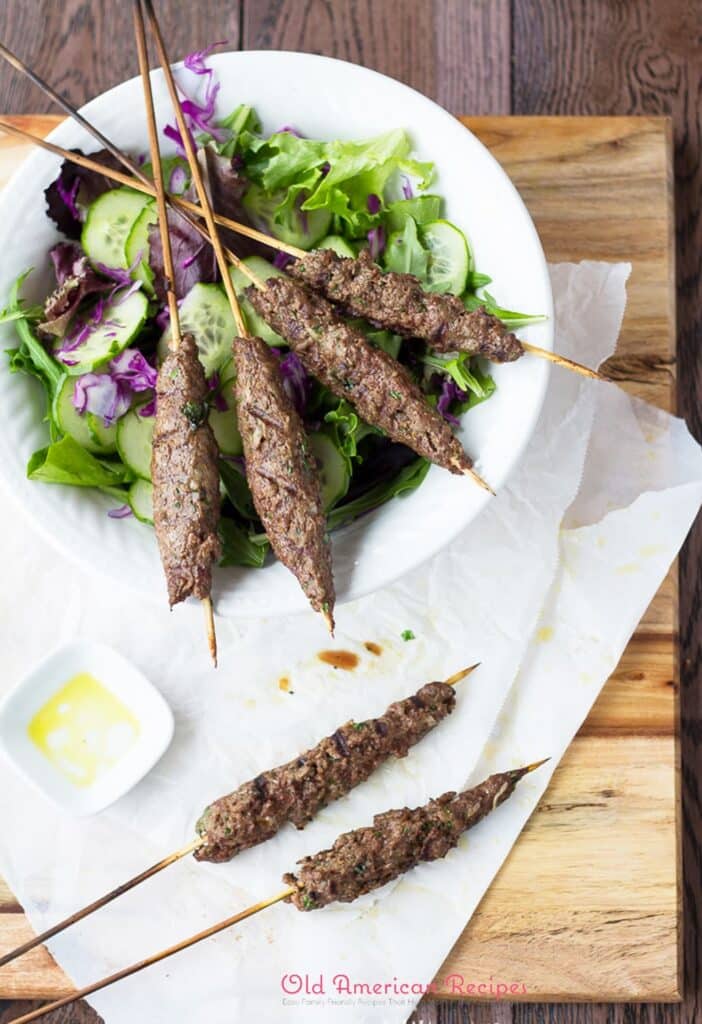 It's important to brush the kebabs with olive oil, otherwise they will stick.  Above is what they look like when ready.  See the two rejects?  That's what happens when you don't brush them with olive oil before grilling.  I don't always listen to myself.
If you're using wooden skewers, make sure to soak them for about 15 minutes, or they will burn.
Happy grilling to you.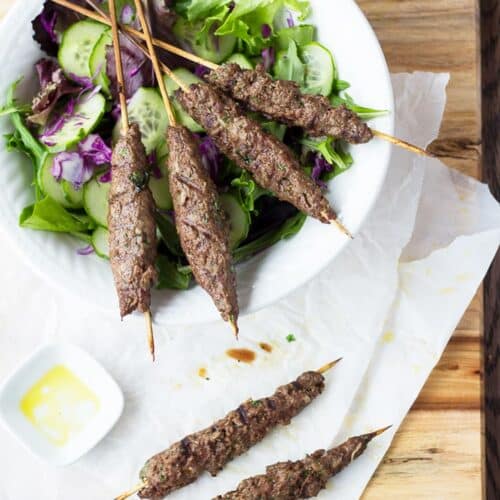 Moroccan-Style Beef Kebabs
Ingredients  
450

g

1lb extra lean ground beef

3

tbs

finely chopped onion

2

cloves

of garlic

finely minced

4

tbs

finely chopped Italian parsley

1

tablespoon

finely chopped fresh ginger

1

tsp

ground cumin

1

tsp

ground coriander

½

tsp

allspice

pinch

of cinnamon

salt and generous sprinkling of black pepper

olive oil

for brushing kebabs
Instructions 
Mix all of the kebab ingredients together in a bowl. Cover with plastic wrap and refrigerate for at least 15 minutes, ideally an hour, to absorb the flavors.

Wet your hands, and take out a small handful of meat mixture out of the bowl, then shape it into a kebab cylinder about 3 inches long. Press the kebab into the skewer, spinning the bottom of the skewer with one hand and making the final kebab shape with the palm of the other. Lay the kebabs down on a flat surface, parchment-paper lined surface, cover with plastic wrap and refrigerate until ready for the grill.

Preheat the barbecue to medium-high and thoroughly scrape the grade with a wire brush. Brush the kebabs with olive oil. Place on the grill and cook, with the grill lid down, for 2 to 3 minutes on each side, or until done to your liking. Turn only once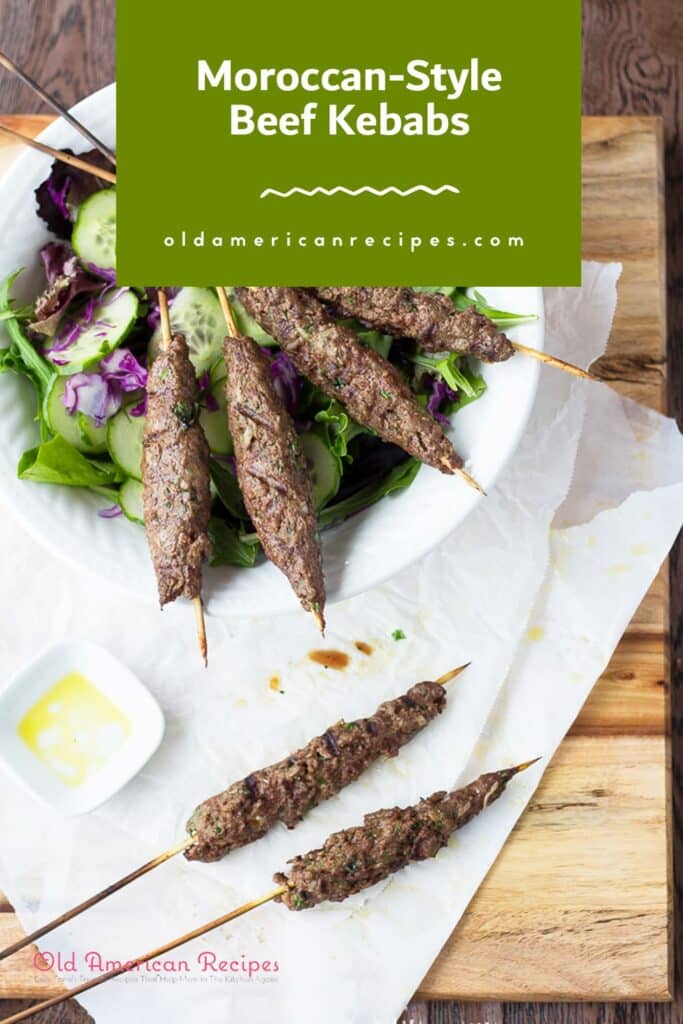 Sharing is caring!