Sharing is caring!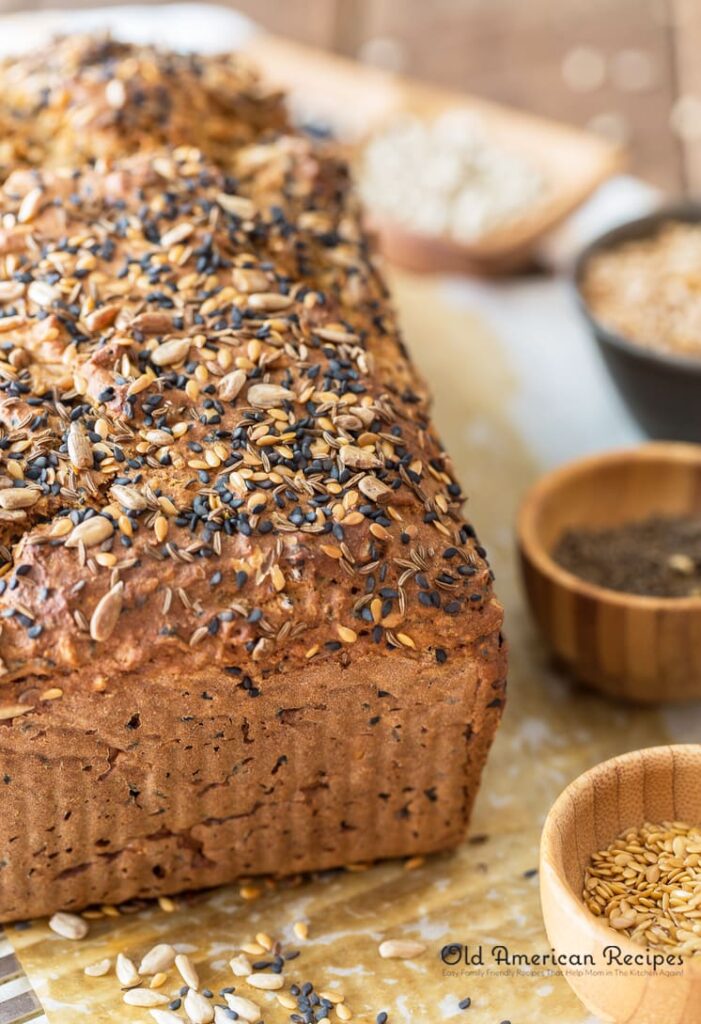 Some people face their fears by jumping out of planes or white water rafting or mountain climbing. Me? I eat stuff with nuts and seeds. Okay, it may not be as glamorous or exciting but for sheer drama (as in whinging or moaning about it), it can't be beat. I do it because I hate nuts and seeds. Hate with the fire of a thousand burning suns. But let's face it, the world is not kind to nut-and-seed haters. Everywhere you go, there they are. And frankly, having to constantly ask "Does this have nuts/seeds?" gets to be old after a while, especially when you have to explain no, you're not allergic (which I would never say because it does a disservice to people who really ARE allergic), you just don't like them and people give you The Look in response. (I wouldn't dare throw in that I don't particularly like chocolate because that would put me in the same league as people who are mean to kittens and puppies.) It's tough being me, with all of my first-world problems. Yes, it is. So I've been trying really, really hard to learn to like nuts and seeds. I fail miserably most of the time, but I keep trying. Over the years, I've grown to tolerate small seeds like sesame or poppy and I can eat cashews and pistachios if I have to. It's a texture thing more than a taste thing (although some nuts like walnuts are just an abomination every which way) so when nuts and seeds are in things like baked goods…just…no. It's almost gag-worthy.
And yet, here we are with a post about a seeded quick bread, a bread that's got more seeds in one slice than I've probably eaten in the past 10 years. Why? Because this month's theme for #TwelveLoaves is…you guessed it…seeds. I could have wussed out and thrown a couple of teeny seeds on top of an otherwise seed-free bread but I dove right into the deep end with this one. It was just waiting for me to hate it. Daring me. Mocking me, even. But I went for it. Part of my aversion therapy.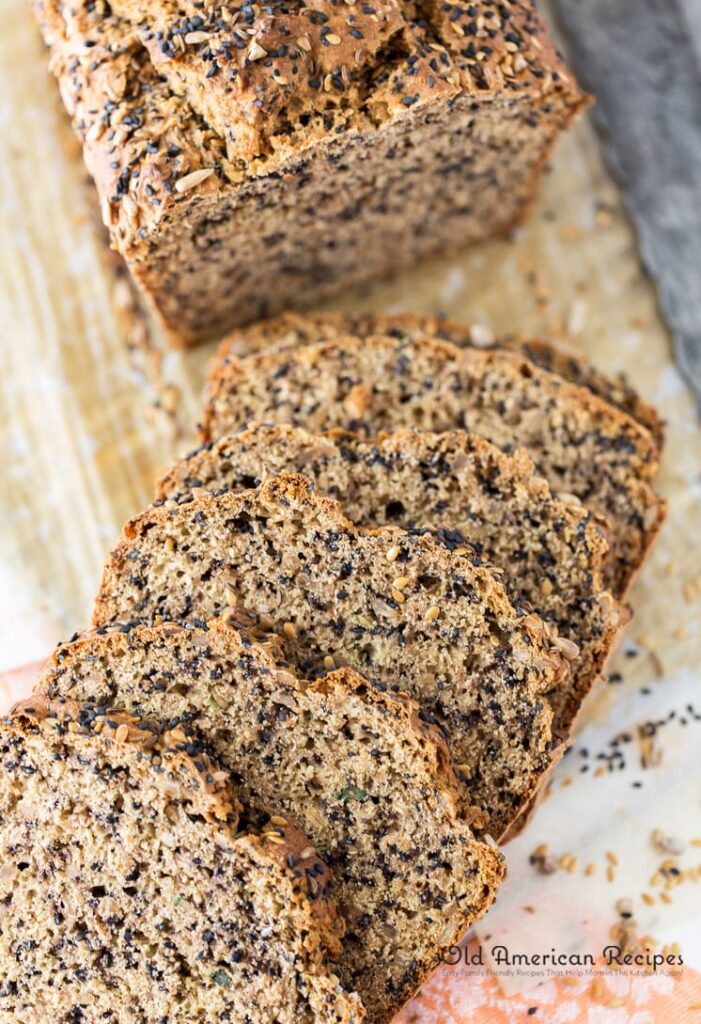 On the plus side for this bread is the fact that I don't think it could be faster or easier to make, even for a quick bread. You'll probably spend more time reading this than you will making it. It's a good bread for a lazy Saturday (I was baking in my jammies—yeah, that kind of lazy). A couple of bowls, a few measuring things, a stir or two, a loaf pan, into the oven and there you have it. But quick and easy doth not a good bread make. The big question, of course, is…How does it taste?
As much as I hate to admit it, it's really not bad. It's very hearty, surprisingly moist, a little messy what with seeds flying all over the place, but really…not bad, especially slathered with sweet butter and some homemade plum jam. The caraway wasn't at all overwhelming, which I was a little afraid of. It was actually gave the bread a very subtle but pleasing flavor. I was okay with the flax, caraway and sesame seeds, but the sunflower seeds are still a big no for me and if I were to make this again (not out of the realm of possibility), I'd probably try something small in their place. I'm still a bit biased though—and "not bad" isn't exactly a ringing endorsement—so in the interests of objectivity, I asked Mr. Dough, who doesn't share my aversion to nutty, seedy things, to give the official thumbs up or down. And he liked it. A lot. There you have it.
If you love seeds (and even if you're kind of meh about them), this is definitely a bread for you. So next time you've got five minutes to spare, throw a loaf together, grab some butter and jam and have a go. I don't think you'll be sorry. And don't forget to check out the links to see what the other TwelveLoafers were up to this month.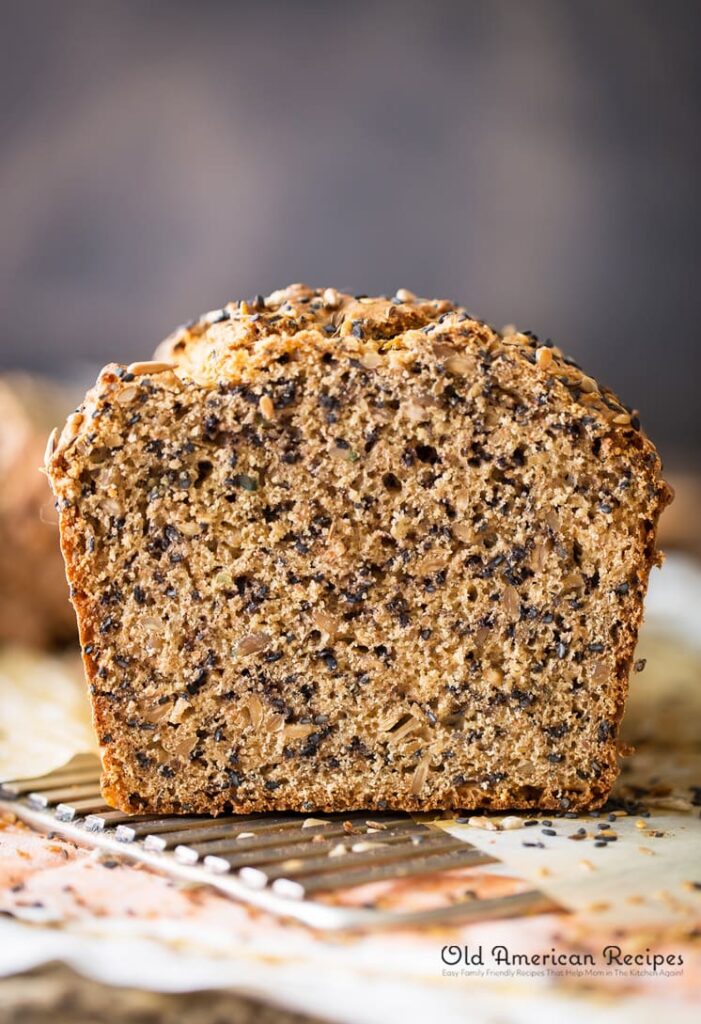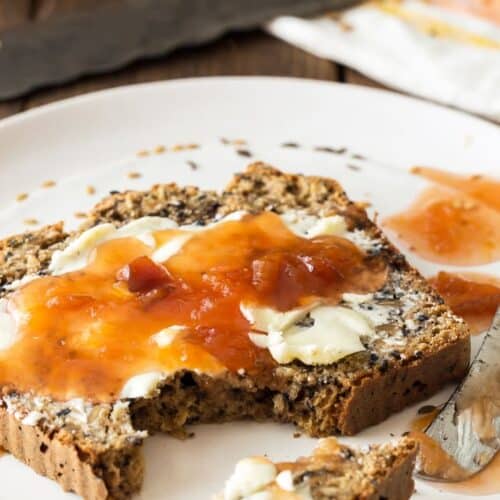 savory seeded quick bread
Ingredients  
2

cups

whole-wheat pastry flour

2

cups

spelt flour

1/2

cup

sunflower seeds

toasted

1/2

cup

black sesame seeds

2

tablespoons

caraway seeds

2

tablespoons

flaxseeds

2

teaspoons

baking powder

1

teaspoon

baking soda

2

teaspoons

coarse salt

1 1/2

cups

whole milk

room temperature

3/4

cup

buttermilk

room temperature

2

tablespoons

honey

2

tablespoons

extra-virgin olive oil
For topping
2

teaspoons

sunflower seeds

toasted

1

teaspoon

black sesame seeds

1

teaspoon

caraway seeds

1

teaspoon

flaxseeds
Instructions 
Spray a 9″ x 5″ loaf pan with cooking spray and line it with parchment paper. Preheat your oven to 350°F.

In a bowl, mix together the flours, seeds, baking powder, baking soda and salt. Set aside.

In another large bowl, blend the milk, buttermilk, oil and honey and stir until the honey is dissolved.

Add the flour mixture to the wet mixture and beat together until fully incorporated and no dry bits remain.

Transfer the batter to the loaf pan, smooth the top and sprinkle with the seed topping.

Bake for about 1 hour or until a tester inserted into the loaf comes out clean.

Remove from the oven, cool in the pan for about 20 minutes, then turn out onto a wire rack to fully cool.

The bread will keep for about a week at room temperature.
Notes
I got all crunchy-granola-y and milled my own spelt flour. I sifted about 1/2 cup to make a clear flour  and left the rest whole grain.
I toasted the sunflower seeds in a small cast-iron pan until they started to show a bit of golden color. Keep an eye on them when toasting because they go from just right to cinders in no time.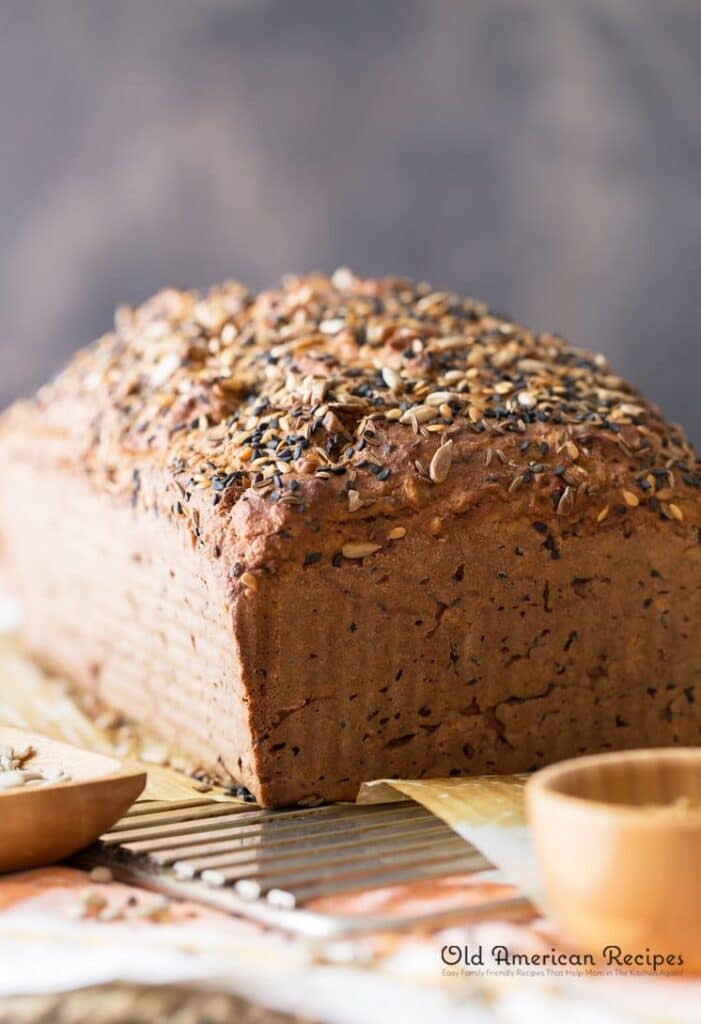 I measured the oil then used the same tablespoon to measure the honey. No sticking! I also added the honey to the oil when preparing my ingredients (I'm forcing myself to get better at mise en place) so it was already dissolved when I added it to the rest of the wet ingredients.

Sharing is caring!