Sharing is caring!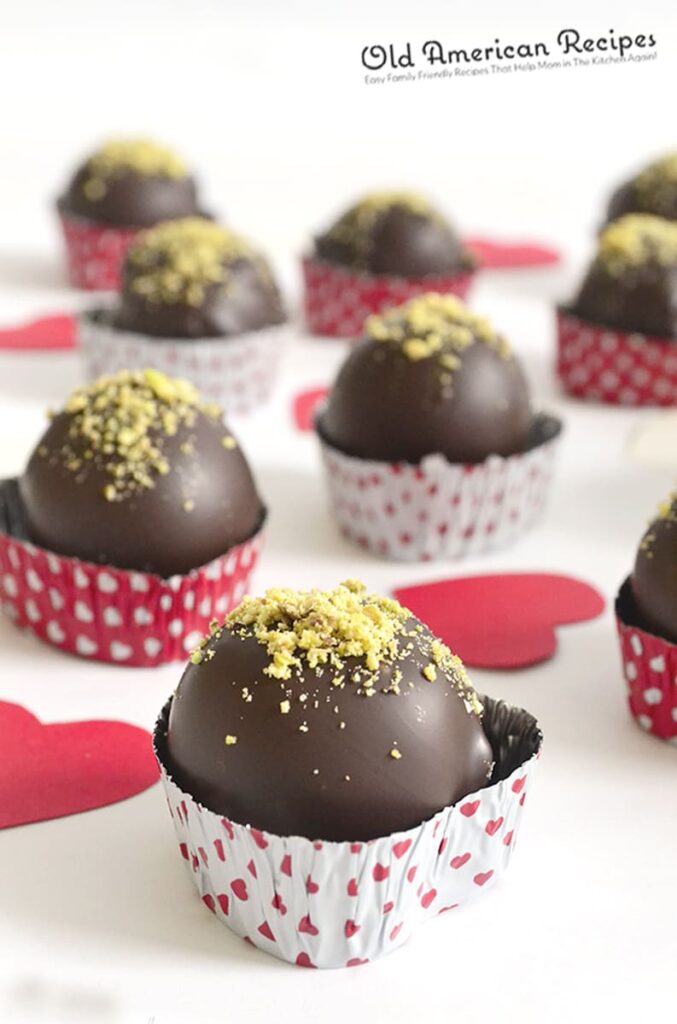 Simple recipe for delicious marzipan chocolate pralines just in time for Valentine's day. Surprise the one you love with a box of these little chocolate bites of heaven.
You'll be amazed at how simple these are to make, yet they look like you picked them up from a fancy chocolate shop. And what's better than chocolate for Valentine's day.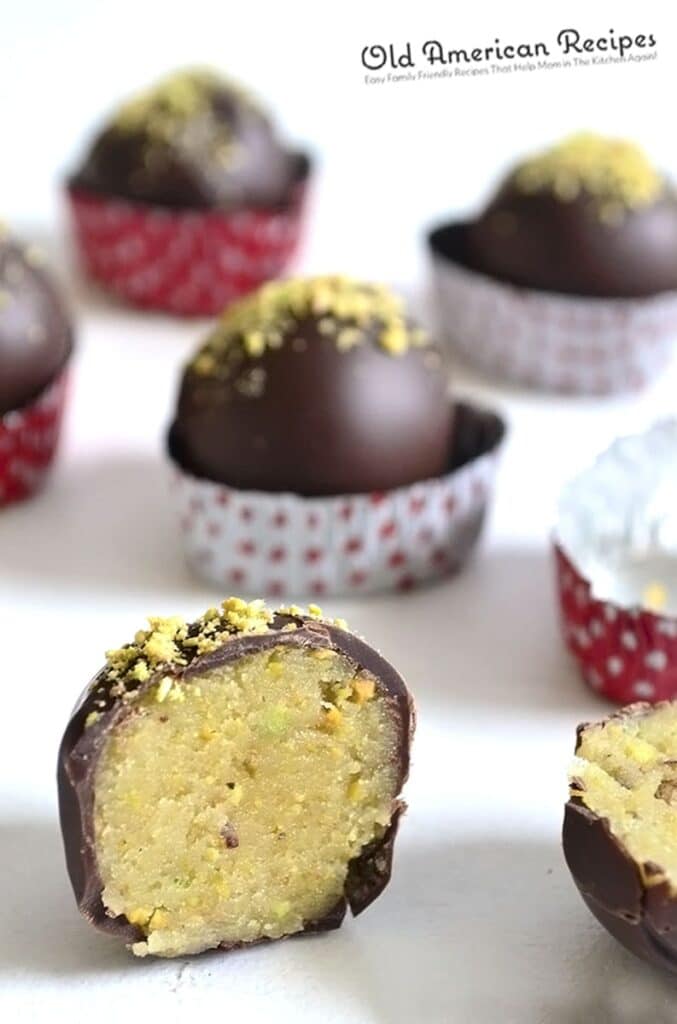 No cooking or baking involved in this recipe. Well there is some chocolate melting but that's all and it only takes a few minutes. Make sure you melt the chocolate right so it will get solid at room temperature with a nice snap. I normally use store bought marzipan but you can also make your own if you like.
Remember it later
Like this recipe! Pin it to your favorite board NOW!
Pin
I used pistachios to flavor my marzipan chocolate pralines but you can use anything you like. Coconut or peanut butter works great! You can also try cinnamon, vanilla, chopped dry fruit, rose water, crushed caramel, nuts… basically anything you like.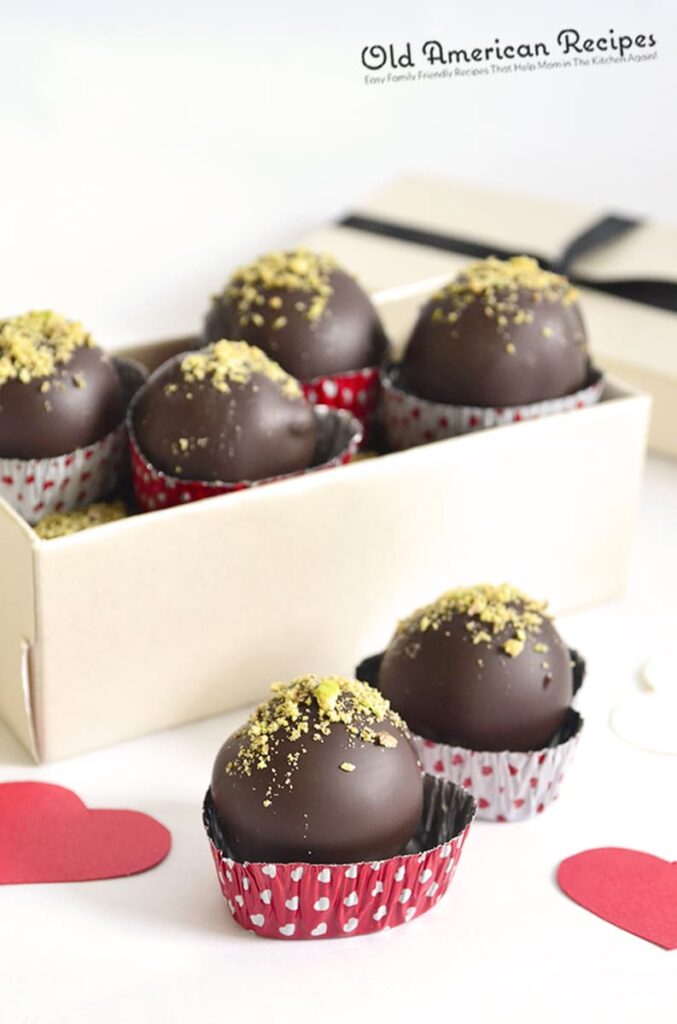 Put each praline in colorful mini muffin case and place in a small box. Add ribbon and card with a thoughtful message.
If you make these marzipan chocolate pralines at home make sure to share a picture on Instagram using #oldamericanrecipes, I would love to see them.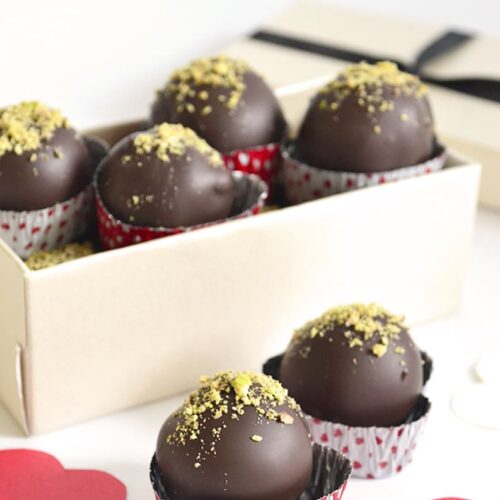 Marzipan chocolate pralines
Ingredients  
200

g

marzipan

4-5

table spoons ground pistachios

180

g

dark chocolate
Instructions 
Mix ground pistachios with marzipan to get them all incorporated. Roll marzipan mixture into two thick ropes and cut into equal pieces. Roll each piece into a ball, you should get about 20 bite size balls. More or less depending on the size.

Temper the chocolate. Put ¾ into a bowl and melt over a water bath. Make sure the bowl is not touching the water and temperature is not too hot. Remove as soon as chocolate has melted, it should not get too hot. Add the remaining chocolate and mix until all of the chocolate has melted. The temperature from melted chocolate will melt the remaining chocolate and lower it's temperature.

Drop each ball of marzipan into the melted chocolate, one at the time, you get to work relatively quickly before chocolate gets hard. Help yourself with a fork to lift it out and remove excess chocolate. Place onto parchment paper and sprinkle with ground pistachios. Let them dry and then place each one into a mini muffin case.
Remember it later
Like this recipe! Pin it to your favorite board NOW!
Pin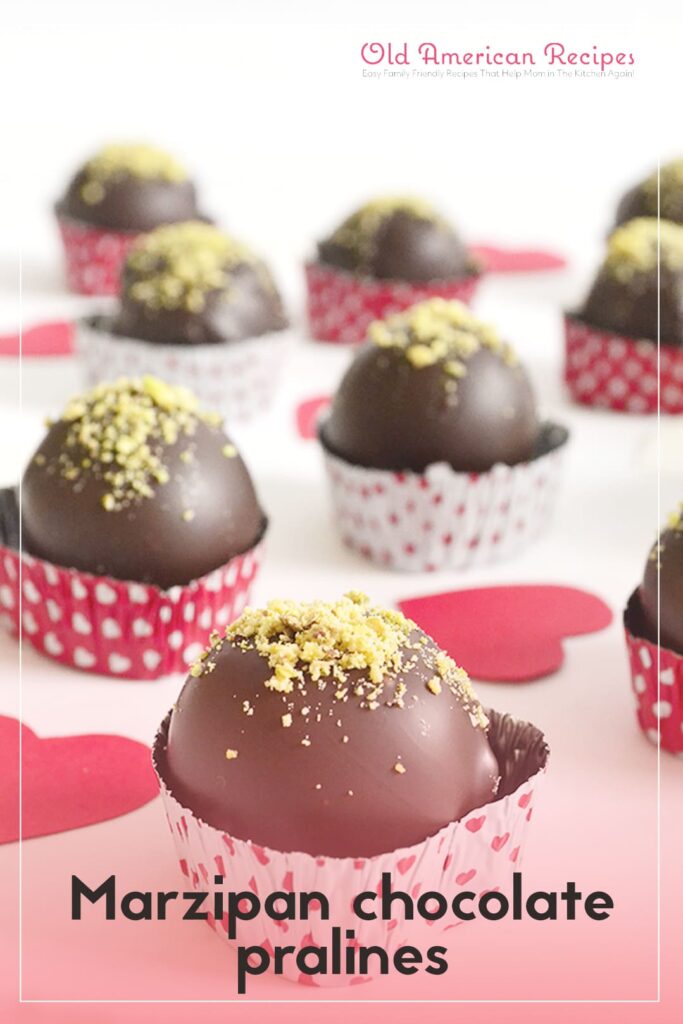 Sharing is caring!