Sharing is caring!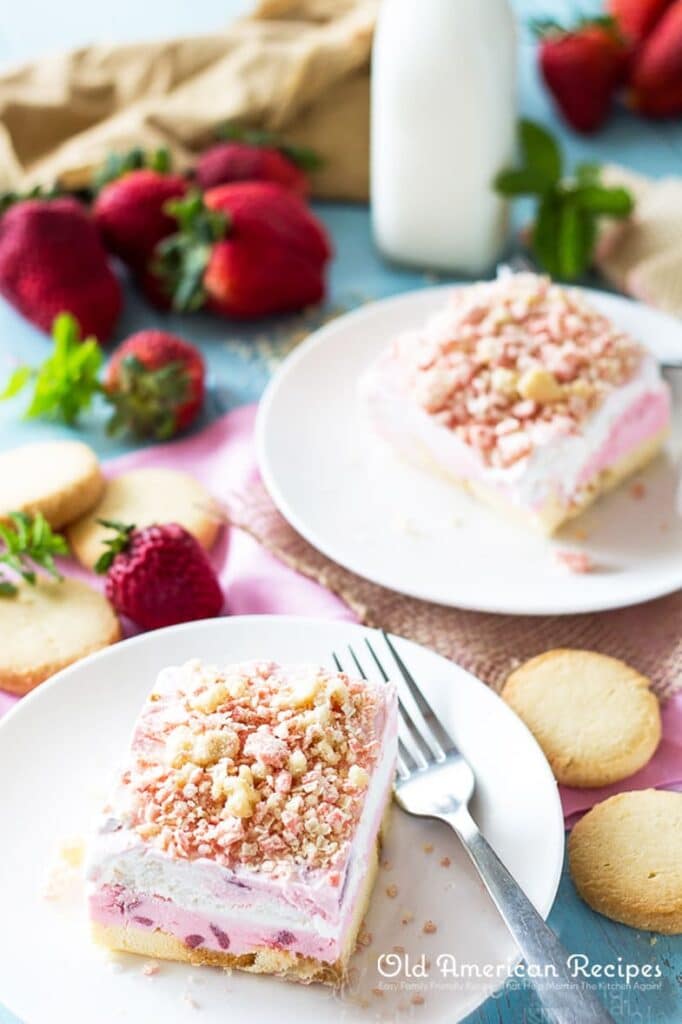 This Good Humor inspired Strawberry Shortcake Icebox Cake is just the thing to cool you down this summer. Swirls of fresh strawberry ice cream are sandwiched between thick slices of pound cake, whipped cream and a shortbread-strawberry topping. 
It doesn't take reading this blog for long to realize that I am a true dessert lover. I have tried to tone down my sweet tooth, cut out refined sugars, lower my carb intake…but somehow that craving starts up all over again and I am right back at it. This isn't a new habit for me though. Dessert is something I have loved ever since I was a kid.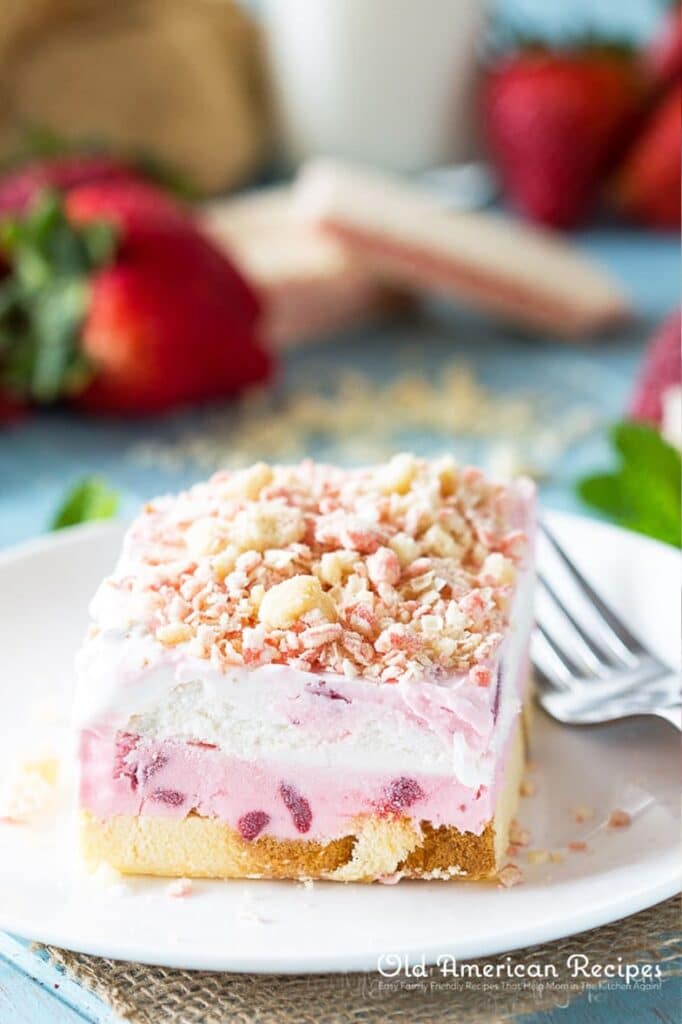 When I was younger, we used to go to this Southwestern restaurant that was basically a legend in our town. My parents would take us on Saturday nights and we would fill up on the homemade tortillas and chips before our dinner ever even came. But no matter how full we got, we would always save room for dessert. The owner was a sweet older man that reminded me of a Mexican Santa Clause. He would come by our table with a smile and his big, round belly laughs. He would pick up my sister and I, and bring us to the back where we would fish out popsicles out of a giant freezer. We always picked the Good Humor Strawberry Shortcake Pops. I would run back to the table full of giggles and strawberry stained lips, already asking my parents when we would be returning.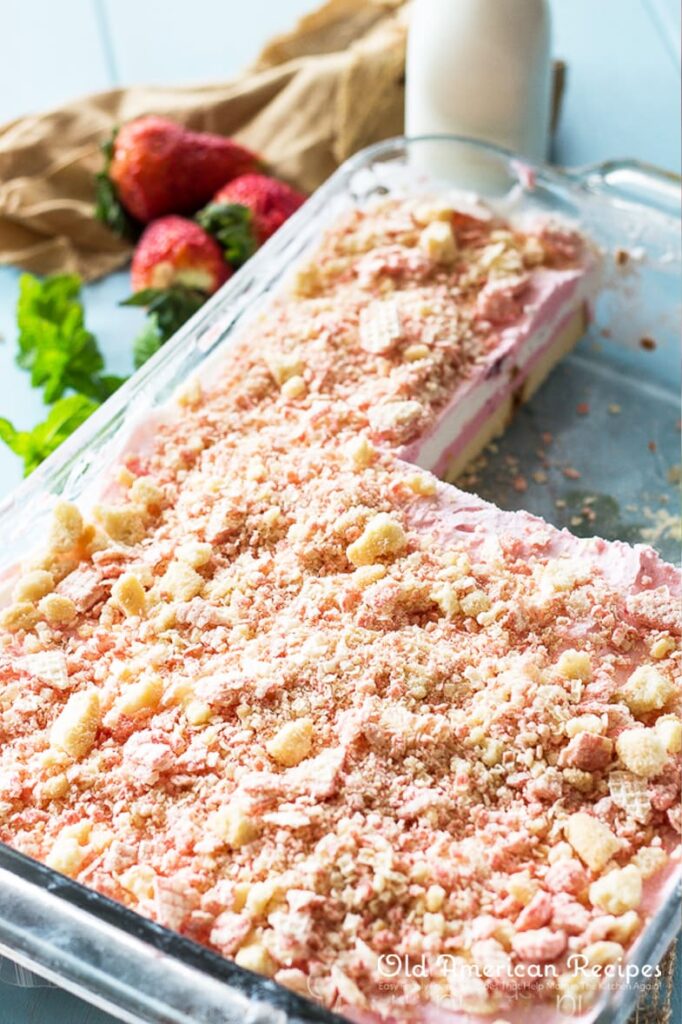 Looking back now I realize that the popsicles were a brilliant marketing strategy. Those 50 cent popsicles were the reason kids just like us would beg to go back over and over again, even to endure the long wait. Nowadays, we have moved away from that town but it is still my older sister's favorite spot so whenever she comes back from Seattle it is always the first place we go. The same sweet old man still owns it. He always greets us with a chuckle and a twinkle in his eye.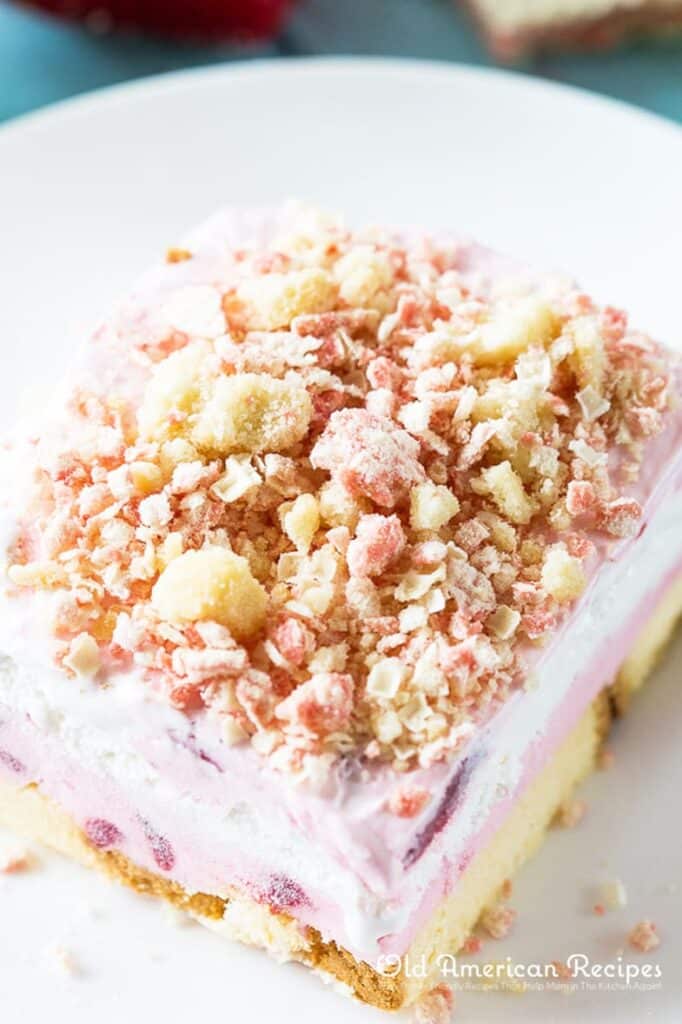 So this Strawberry Shortcake Icebox Cake was really just me dreaming up my childhood and finding ways to indulge in my sugar obsession. Lucky for me those pops were a big part of Nick's childhood too so he loved it just as much. I was struggling to recreate the topping of the traditional bar and he came up with the brilliant idea of combining shortbread cookies with strawberry wafers. It was the perfect combination and tastes just like the real thing. If these popsicles were apart of your childhood get ready to be thrown into complete nostalgic bliss with this Strawberry Shortcake Icebox Cake.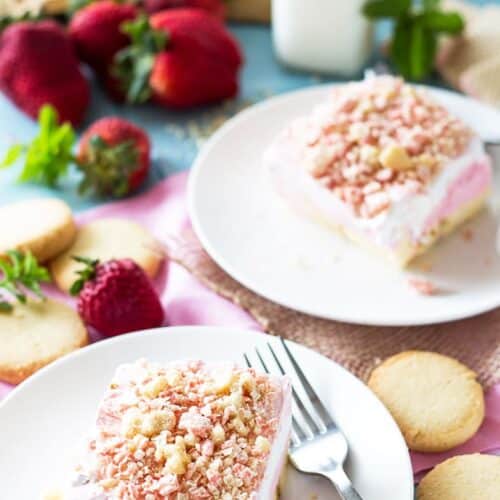 Strawberry Shortcake Icebox Cake
Ingredients  
1

Loaf Pound Cake

I used Sara Lee Frozen Variety

½

Gallon

Strawberry Ice Cream

softened slightly

2

16 oz. Tubs Whipped Topping (I used Cool Whip)

10

Shortbread Cookies

crumbled

10

Strawberry Wafer Cookies

crumbled
Instructions 
Cut the pound cake into twelve ½ inch pieces. Lay the pound cake pieces flat in a 9×13 pan, cutting if necessary to fit. Spread half of the softened strawberry ice cream evenly over the pound cake. Next, 1 container of whipped topping over the ice cream. Repeat once more with remaining ice cream and whipped topping. Freeze for 4-6 hours. Cut into 16 square slices.

In a large plastic bag, combine crumbled shortbread and wafer cookies. Top each slice of cake with cookie crumbles before serving.
Notes
To keep the cookie topping as crunchy as possible, don't top the cake until ready to serve.

Sharing is caring!