Sharing is caring!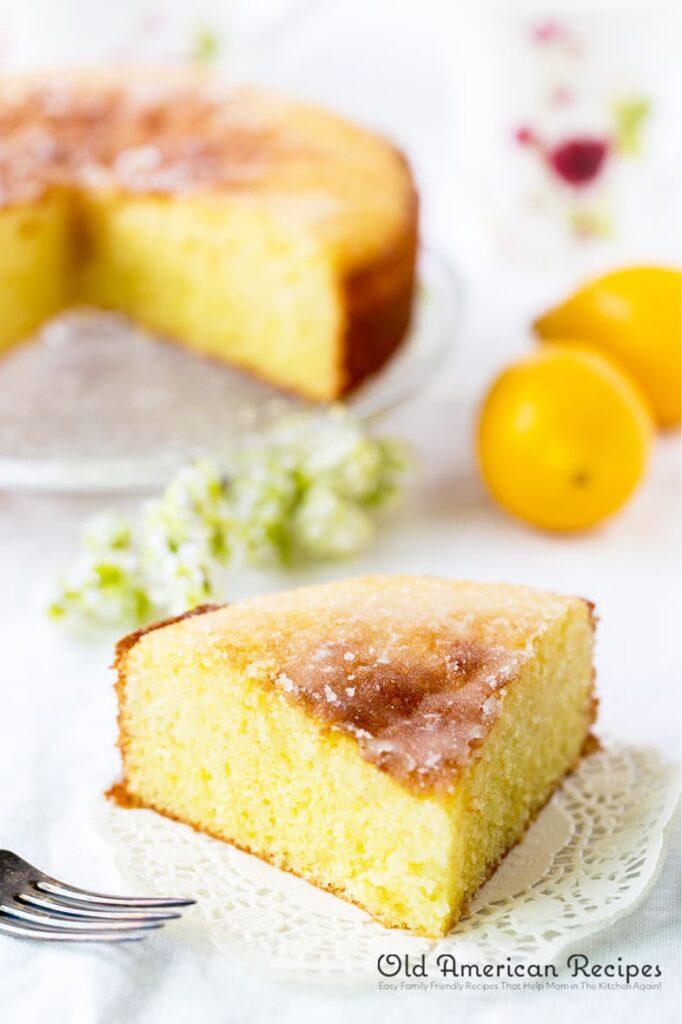 The saying goes, "A watched pot never boils." I'd like to add to that, "A watched cake never cools." You probably know the feeling. You bake something, you can't wait to taste it, but you've got to wait 'til it cools down first. And of course, because you keep checking it every five seconds—"Is it cool yet? Is it cool yet?"—it never happens. Or at least it seems like it never does. That's how it was with this Elderflower and Lemon Drizzle Cake. I have the patience of a toddler and I wanted in NOW. But I waited like a mature adult… Was it worth it? Woo boy, was it ever.
Drizzle cakes seem to be a very British thing—I can't recall ever hearing about one on this side of the pond. But that all changed for me as I fell in love with The Great British Bake Off (which is a perfectly delightful program and one of the very few things I watch—everyone and everything about it is just so flipping NICE). Almost every series has featured at least one drizzle cake challenge and/or variations thereof. Yet somehow I managed to get through six seasons without baking one myself, despite my curiosity, until I finally caved in season 7, episode 1. The Drizzle got me. (Channel your inner Gloria Estefan and sing with me! "The drizzle is gonna get you, drizzle is gonna get you…")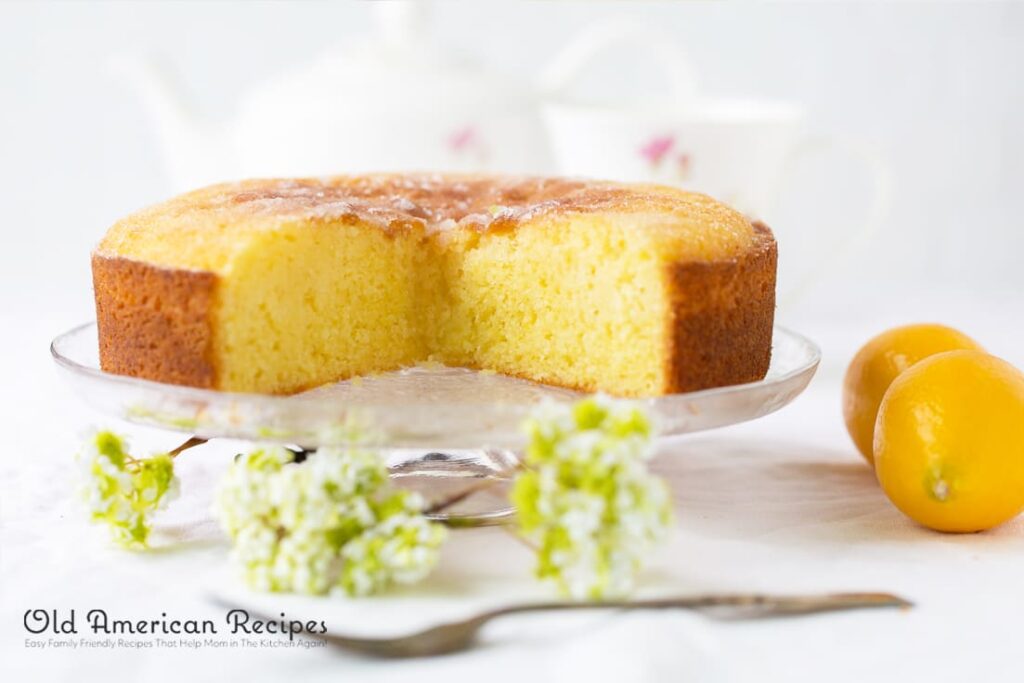 I gathered from GBBO and subsequent web sleuthing, that a drizzle cake is basically a sponge cake that's drizzled (duh) with a flavored syrup of one sort or another, lemon being the classic. I figured if I was going to bake a British cake I might as well go to a British source and decided on this one from Good To Know. There are enough drizzle cake recipes out there to fill a cookbook or 12, but it was the clear winner for me. First, because it had a LOT of drizzle, whereas some others had a couple of paltry tablespoons. But second, it was a lemon and ELDERFLOWER drizzle cake. Elderflower was something else I'd never heard of until Bake-Off and I was itching to try it as well, so this cake was a twofer in the win column. 
It was an incredibly easy cake to make, and fast too, not counting the cool-down. The texture is light and tender with a fine crumb, the crunch of sugar topping is a nice contrast to the velvety texture of the cake and the drizzle is delightfully tangy—lemon, of course, but the elderflower is something else. It's hard to describe—sweet, citrusy, and florally all at once but beautifully balanced and not at all cloying. While I deliberately chose a recipe that had a lot of syrup, as I was pouring it over the cake, I actually staring thinking it might be too much. I used it all anyway, but worried I might end up with a pan full of saturated goo. And this, my friends, is why the cool-down is so important. A warm cake would definitely fall apart, but once it cools completely, the cake and the drizzle become one and the result is pure melt-in-your-mouth brilliance.
I really haven't been much of a cake baker until very recently—bread, obviously, is more my thing—but I've been completely won over by the drizzle. It got me, all right. I'm officially drizzle obsessed.
P.S. The Official Shaggy Dough Taste Testing Team, a notoriously nitpicky lot (at my insistence), LOVED this cake. 10+ love.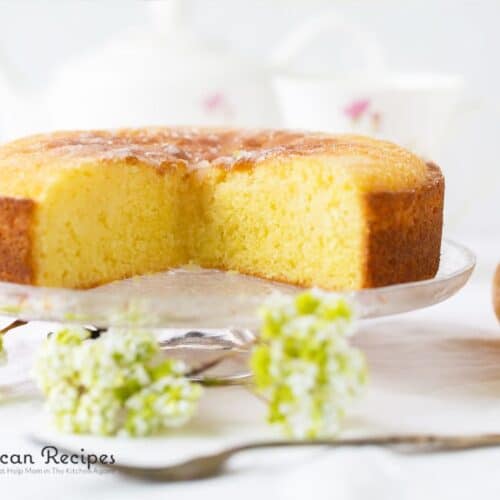 elderflower and lemon drizzle cake
Ingredients  
225

g/8oz butter

softened

225

g/8oz granulated sugar

4

large eggs

225

g/8oz self-rising flour

sifted

zest and juice 1 large lemon

100

ml/4floz elderflower cordial

30

ml/ 2 tbsp granulated sugar
Instructions 
Preheat oven to 350°F. Grease an 8″ round pan, preferably one with a removable bottom (a springform pan will also work) and line the bottom with parchment.

Add the butter, sugar and zest to the bowl of stand mixer and with the whisk attachment, beat until light and fluffy.

Add the eggs one at a time, adding 2 tablespoons of flour with the last egg, whisking until incorporated.

Sift the flour over the bowl, add 2 tablespoons of hot water, then fold in gently until no dry flour is visible.

Spoon the mixture into the prepared pan, smoothing the top. Bake for 45–50 minutes. The cake should be shrinking away from the sides of the pan and a toothpick inserted into the center of the cake should come out clean. Remove from the oven and cook in the pan for about 5 minutes.

Mix the lemon juice and elderflower cordial together.

Using a fine skewer, poke holes all over the surface of the cake then pour the lemon/elderflower syrup evenly over the top followed by an even sprinkling of sugar. The sugar should sink in but still leave a crunchy crust.

Cook completely in the pan before removing.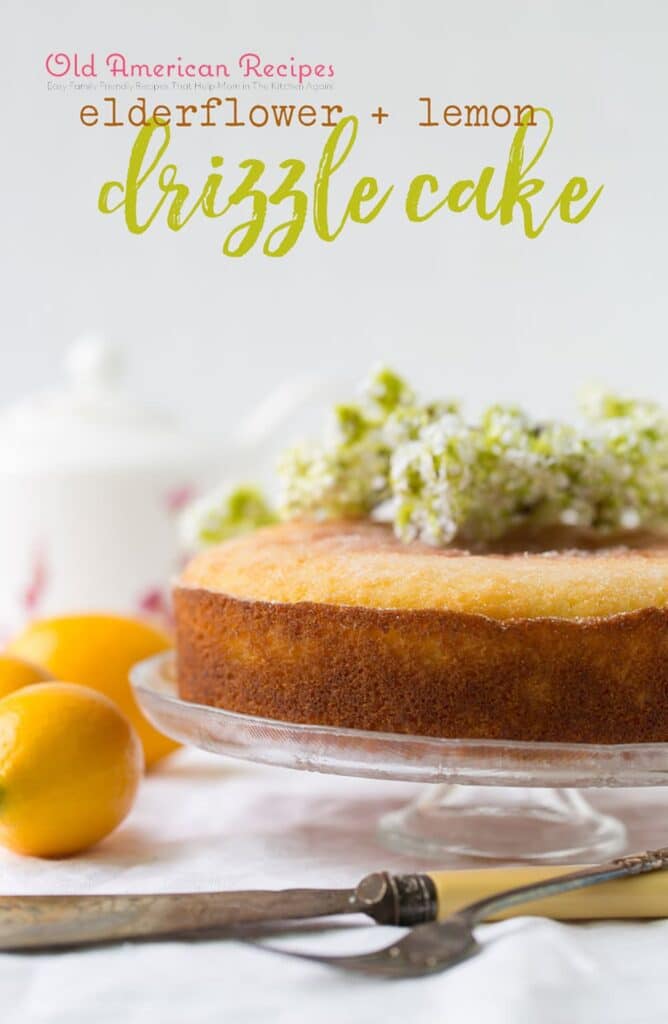 Recipe source: goodtoknow.co.uk
Sharing is caring!