Sharing is caring!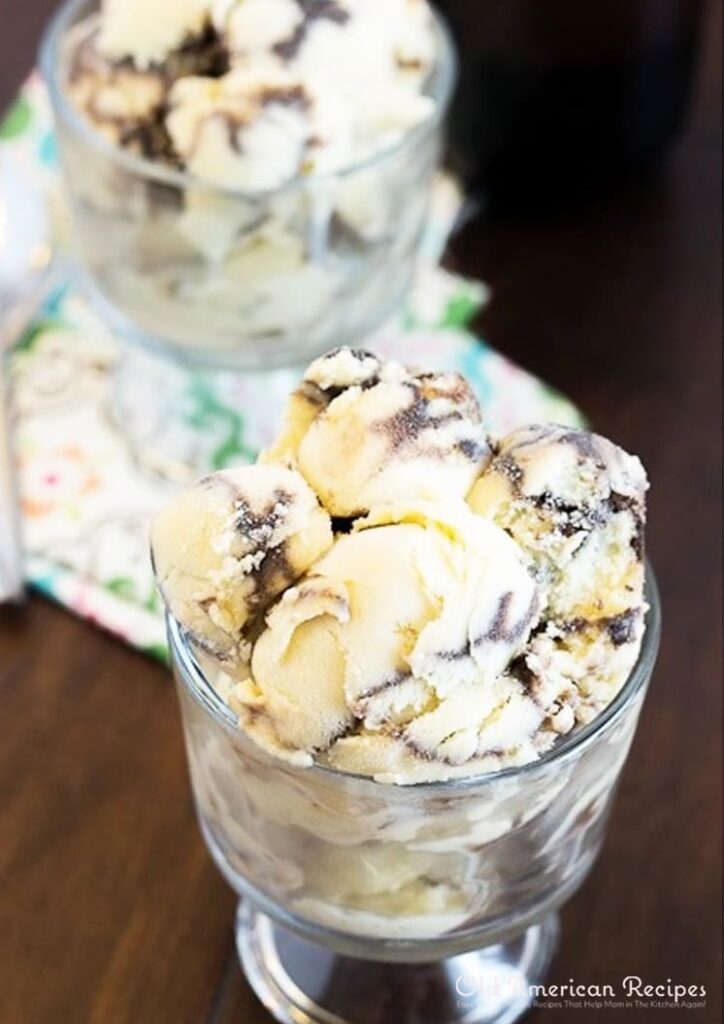 Sweet and creamy almond milk ice cream with a decadent fudge ripple – completely dairy free!
Making homemade ice cream is something I take pride in – we almost always have a container of it in the freezer (even if it's just plain vanilla). It's just one of those things that totally better than store bought. But sometimes there are flavors or components that I see while browsing the freezer aisle at the store and I wonder if I could recreate them – which brings me to the the fudge ripple.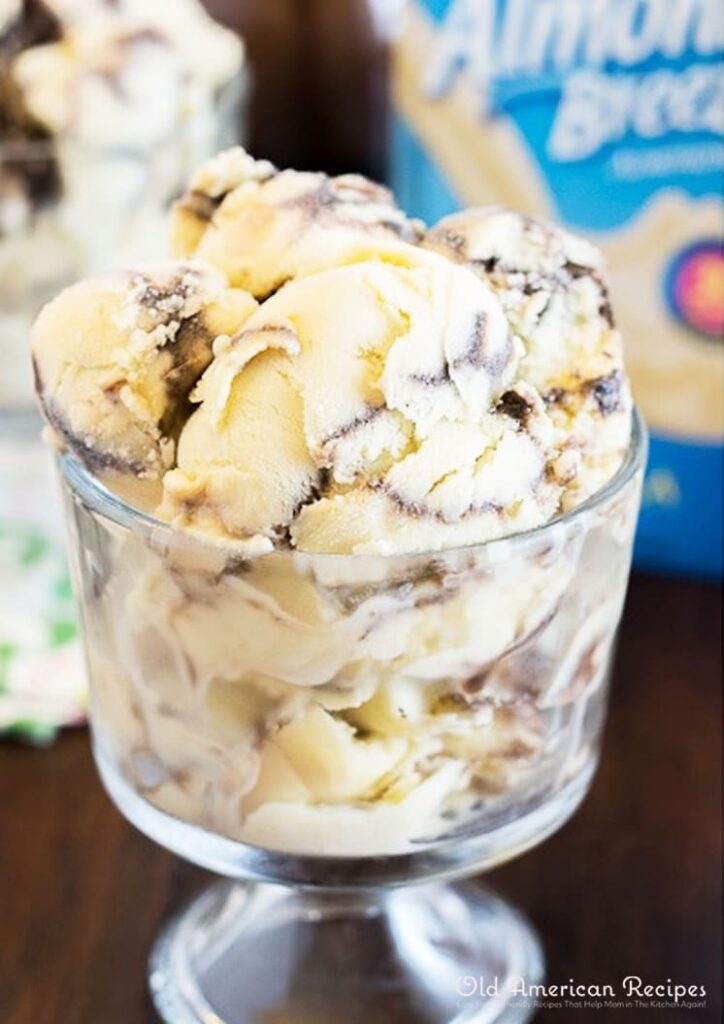 Fudge ripples sound uber complicated, but really they aren't. They are super simple. While my ice cream base was chilling in the refrigerator, I whipped up this fudge in about 5 minutes. And since the ice cream base contains no dairy, I wanted my fudge ripple to be dairy free as well. It's easy and only takes a couple of pantry ingredients.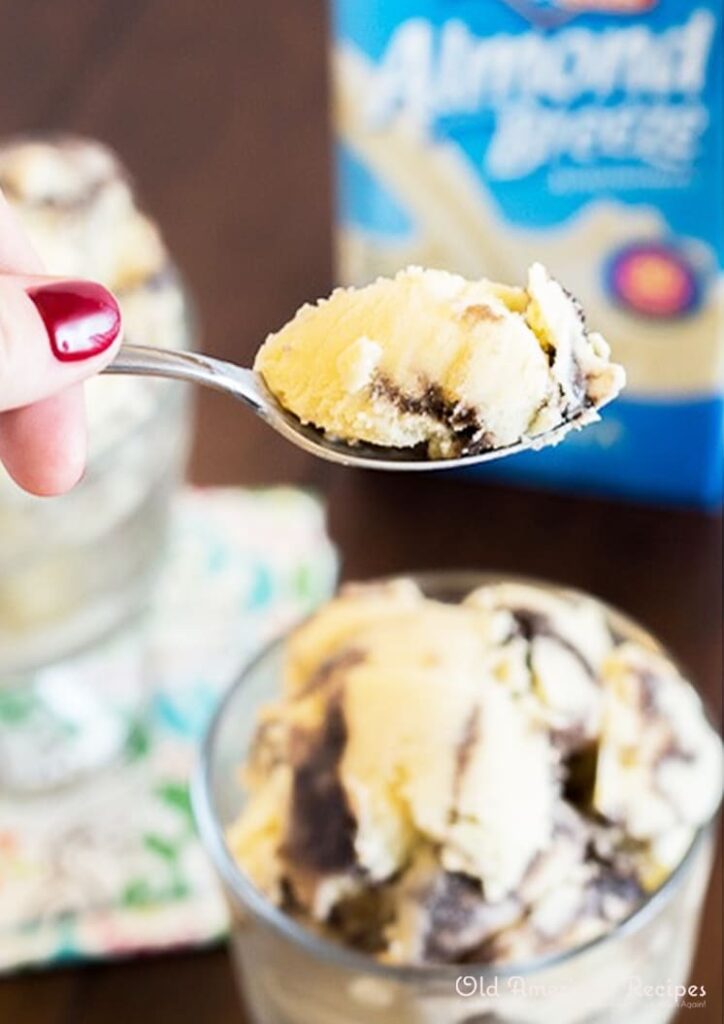 I'm going to let you in on a little ice cream tip that is worth it's weight in gold: I learned really early on when I got my ice cream maker attachment for my Kitchen Aid mixer – it was probably on my second batch of ice cream ever – that if you want a "swirl" or a mix in to your ice cream that you don't just toss it on in there while it's churning. Yeah, that's a bad idea, you end up with a muddy looking ice cream and all your "mix-ins" are at the bottom. The right way is to layer it as you take it out of the machine and put it into your freezer container. Sounds strange, but it works magically! You get perfect swirls, ribbons and evenly distributed mix-ins each time. Score!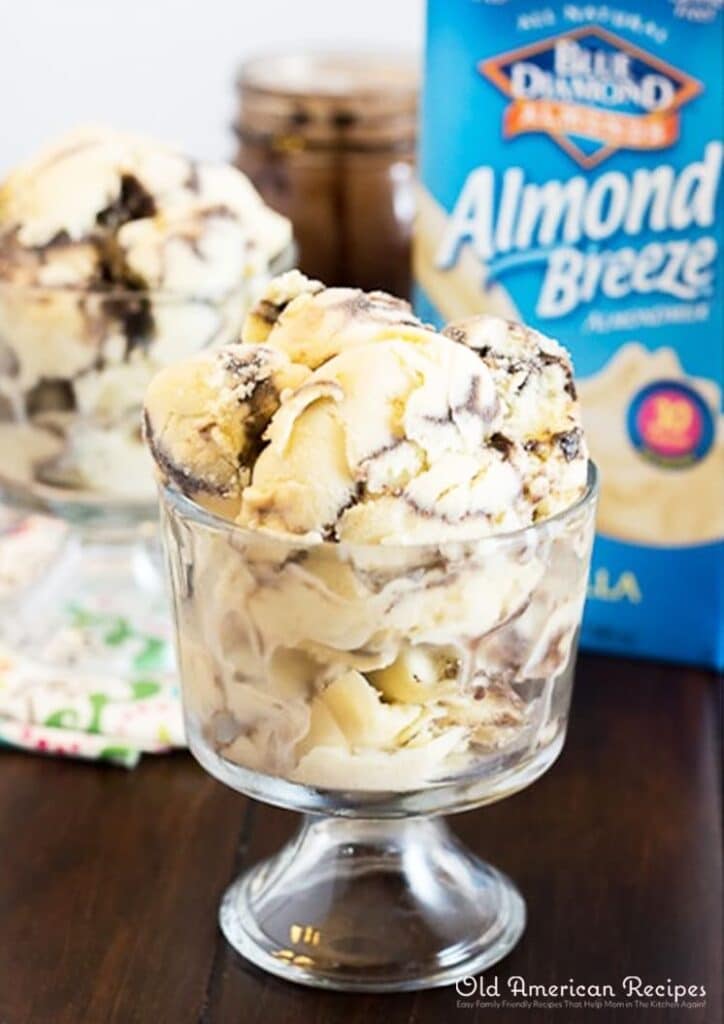 This ice cream starts with unsweetened almond milk – I like to use Vanilla Almond Breeze since it already has a vanilla flavor to it. The important thing to remember is to start with an unsweetened almond milk, we are adding sugar so you do not want one that is already sweet. Almond milk contains very little fat – which makes it an awesome milk alternative for most things….but not ice cream. The fat in ice cream is what makes it creamy, without it you get a hard icy mess. The remedy to that is to add egg yolks to give us our creaminess.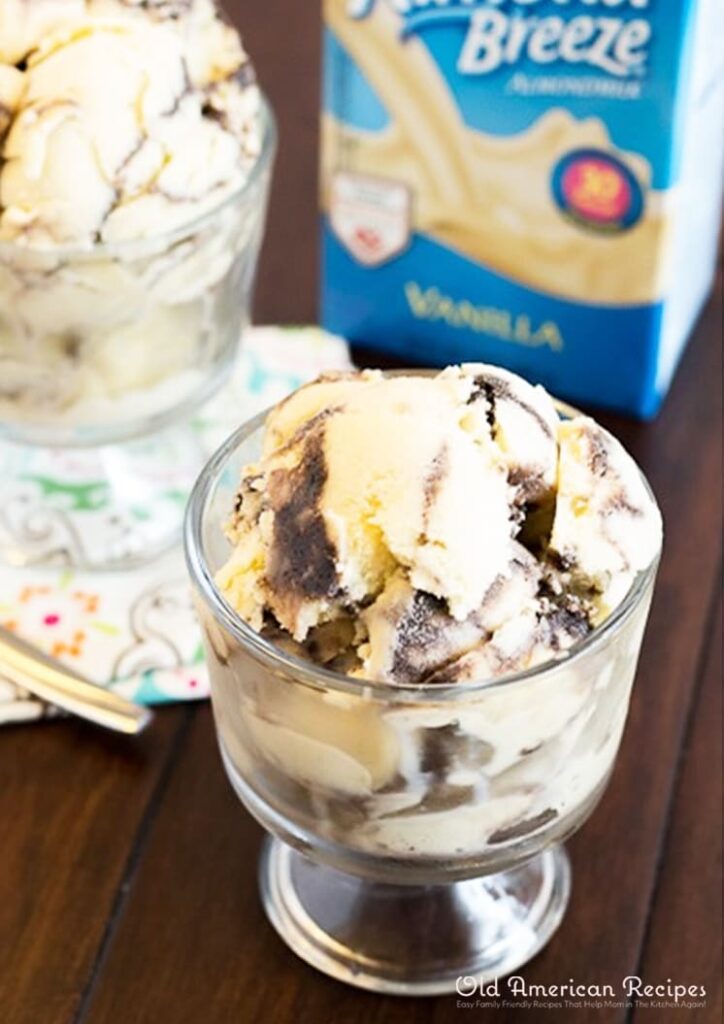 This ice cream is perfect for those who are lactose intolerant or those who don't consume dairy. But keep in mind that it does contain eggs, so it is not vegan – an important distinction if you're making this for a friend or family member with diet restrictions.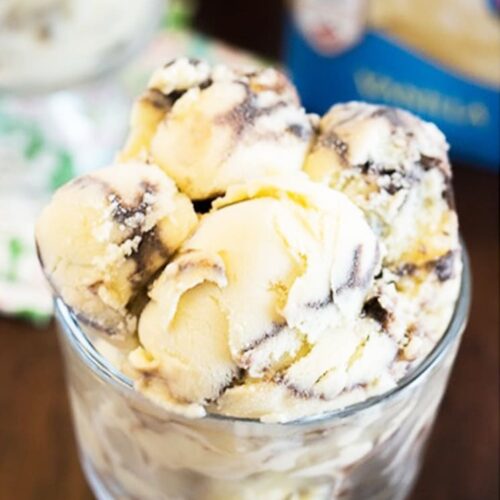 Almond Fudge Ripple Ice Cream
Sweet and creamy almond milk ice cream with a decadent fudge ripple – completely dairy free!
Ingredients  
3

cups

Unsweetened Vanilla Almond Breeze

¾

cup

sugar

Pinch

of salt

5

egg yolks

1

tsp

vanilla extract

⅓

cup

chopped almonds

¼

cup

fudge ripple

recipe below
For the Fudge Ripple
½

cup

sugar

½

cup

water

½

cup

light corn syrup

⅓

cup

cocoa powder

Pinch

of salt

½

tsp

vanilla extract
Instructions 
In a medium saucepan, heat 2 cups of almond milk, sugar and salt until warm.

In a medium bowl, whisk together egg yolks. Slowly add about a cup of the warm milk mixture into the egg yolks, stirring constantly. Pour the egg/milk mixture back into pan with the remaining milk.

Pour the remaining cup of almond milk into a large bowl and set a fine mesh strainer over the top and set aside.

Stirring constantly, cook the mixture over medium heat, until the mixture has thickened slightly and coats the back of a spoon. Pour egg custard mixture through the fine mesh strainer over the prepared bowl. Add vanilla extract and stir to combine. Cover and chill the mixture in the refrigerator.

While mixture is chilling, make fudge ripple.
To make the Fudge Ripple:
In a small saucepan whisk together sugar, water, corn syrup, cocoa powder and salt and heat over medium –high heat. Stirring constantly, bring mixture to a low boil and let boil for 2 minutes. Remove from heat and stir in vanilla extract. Let fudge cool in pan to room temperature, then transfer to a jar and refrigerate until ready to use. Fudge will need to be completely chilled before layering into ice cream. Leftover fudge can be stored in the refrigerator for about 2 weeks.

Once chilled, freeze the mixture in an ice cream maker according to the manufacturer's instructions.

While removing the ice cream from the ice cream maker to a storage container, alternate layers ice cream, chopped almonds, and fudge. Place in the freezer until firm, about 4-5 hours.

Sharing is caring!