Sharing is caring!
My Fig, Pear, and Brie Galette adven­ture started with a half-​eaten blue­berry cake, qui­etly incu­bat­ing under a tea towel for a week. Until the lit­tle bug­gers started fly­ing out every­where. Next thing I know, I'm run­ning to the back lane, cake, con­tainer and all, feel­ing ter­ri­ble for throw­ing out my mom's cake pan, but unable to lift the towel and face the hor­ror under­neath. As care­ful as I was, some fruit flies remained at large, look­ing for their next vic­tim. It was obvi­ous that the 5 kilo bag of pears I bought last week needed res­cue. Enter the galette.
3 bestest friends — figs, pears and gooey melted brie. Take that, fruit flies.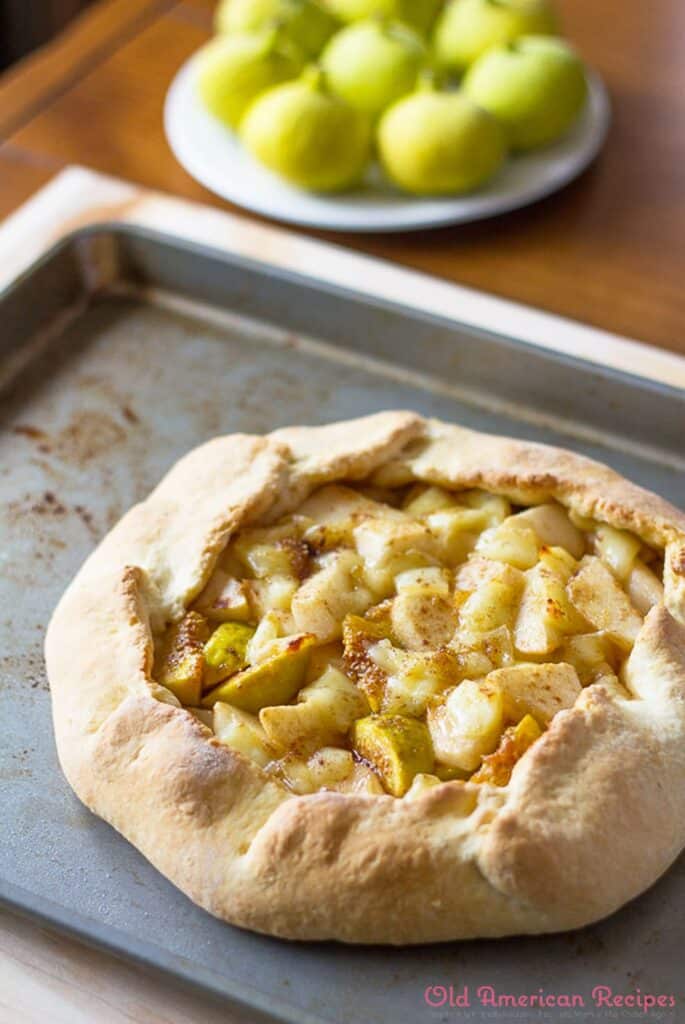 The figs I used here are the Kadota vari­ety — golden-​green, stock­ier type. They're notice­ably less sweet than the pur­ple Mis­sion figs and have slightly thicker skin. Still won­der­ful — just a dif­fer­ent char­ac­ter, that's all.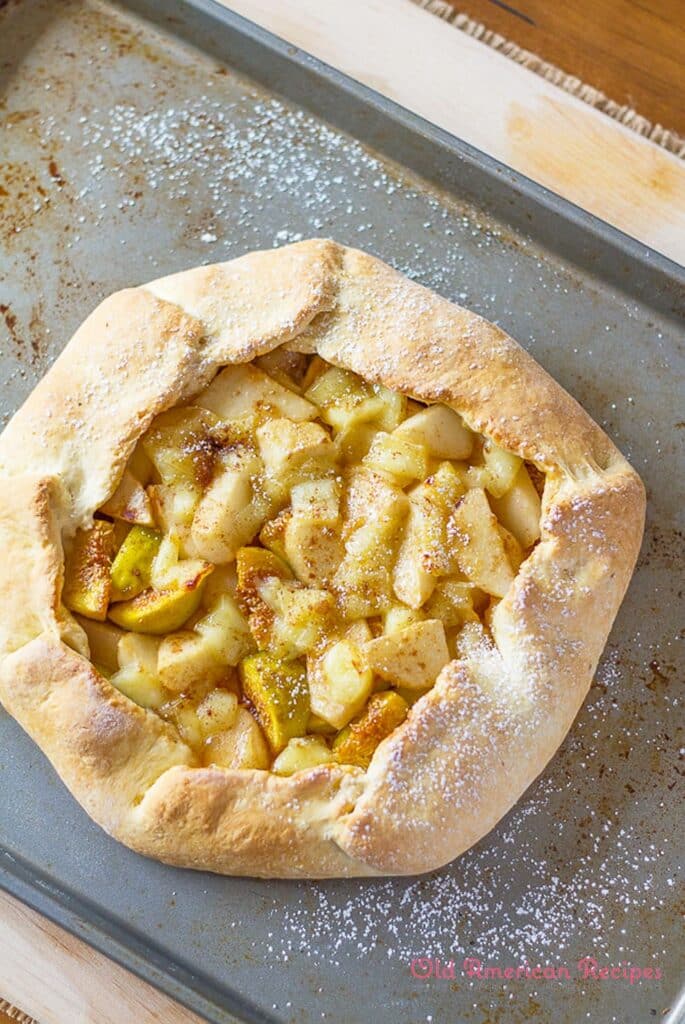 If I had a small bak­ing shop, I'd make this galette all the time. So pretty and eeeasy — no food proces­sor needed. Here are some of my other ideas for fillings:
straw­ber­ries + blue­ber­ries + toasted wal­nuts
apples + cin­na­mon, obvi­ously
nec­tarines + whole roasted almonds + honey
savory galette — skip the sugar and fill with sweet cherry toma­toes, basil and mozarella (galette-​pizza!)
Yummy.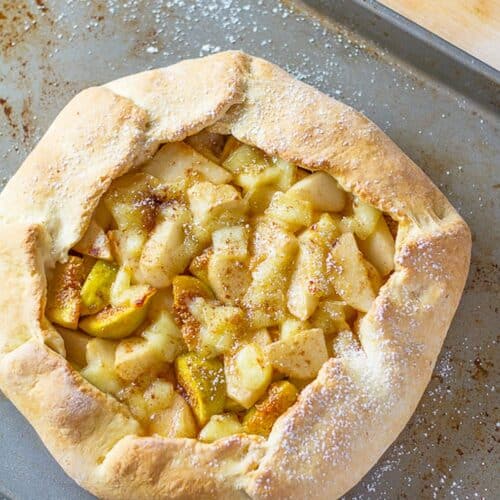 Fig, Pear, and Brie Galette
Ingredients  
Fill­ing
3

Kadota figs

sliced into 4 seg­ments and fur­ther sliced in half

3

pears

peeled and sliced into 1 inch cubes

¼

cup

brown sugar

pinch

of cinnamon

about 125g brie cheese

sliced, or to taste
Dough
2

cups

all-​purpose flour

¼

cup

white sugar

1

tsp

bak­ing powder

¼

tsp

salt

6

tbsp

cold unsalted but­ter

cubed

1

egg + 1 egg white

Pow­dered sugar for dusting
Instructions 
Pre­heat the oven to 375F and but­ter a medium cookie sheet.

Pre­pare the fruit and place in a bowl with the brown sugar and cin­na­mon. Mix with your hands to com­bine. Set aside.

In a sec­ond bowl, pre­pare the dough: mix the flour, sugar, bak­ing pow­der and salt, and stir well to com­bine. Add the cold but­ter and rub into the flour mix­ture with your fin­gers until the con­sis­tency is sandy. Add the eggs and com­bine until a dough forms.

On a lightly floured sur­face, knead the dough a few times to form a soft ball. Using a rolling pin, flat­ten into a 13 inch cir­cle, dust­ing with flour if needed so it doesn't stick. Trans­fer the flat­tened dough on to the cookie sheet.

Place the fruit mix­ture in the mid­dle, leav­ing about 2 inches from the edge of the dough. Top with the brie cheese. Fold over the dough, lightly press­ing in the creases.

Place in the oven and bake for 35 – 40 mins, until the crust is browned and the fill­ing bub­bly. Cut into wedges and serve warm, dusted with pow­dered sugar.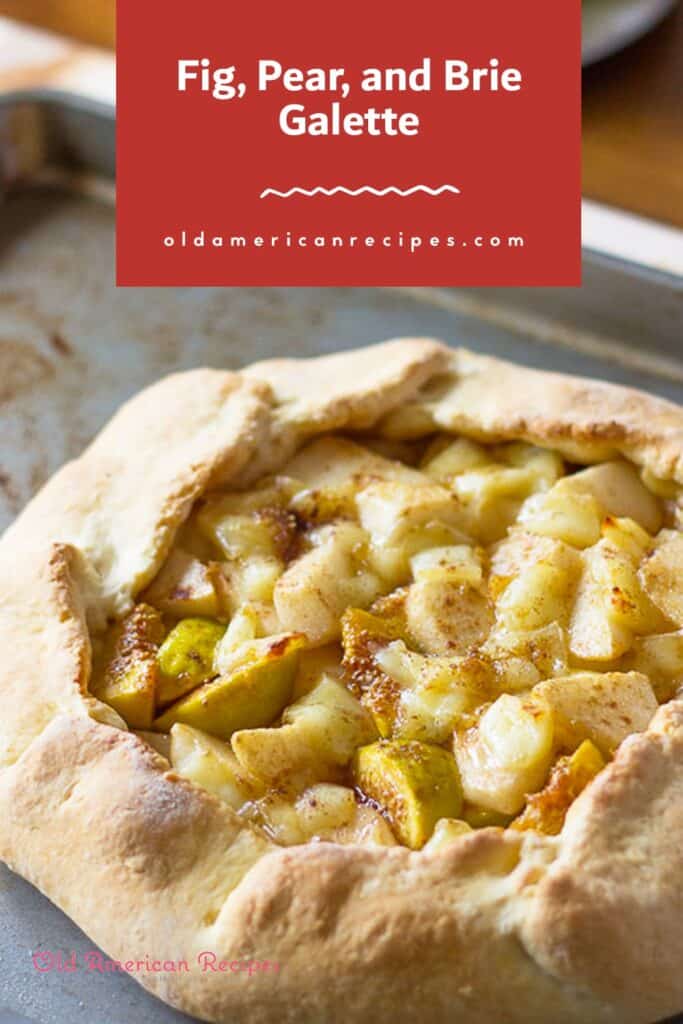 Sharing is caring!