Sharing is caring!
Oh, all those lovely berries that we get to indulge in during summer! I was visiting Germany just when the cherries were luscious-looking, dark-red and super sweet. So we ended up eating them for breakfast, as a snack and with dessert. This cherry oven pancake was one of the desserts that got beautiful red cherries as a finishing touch.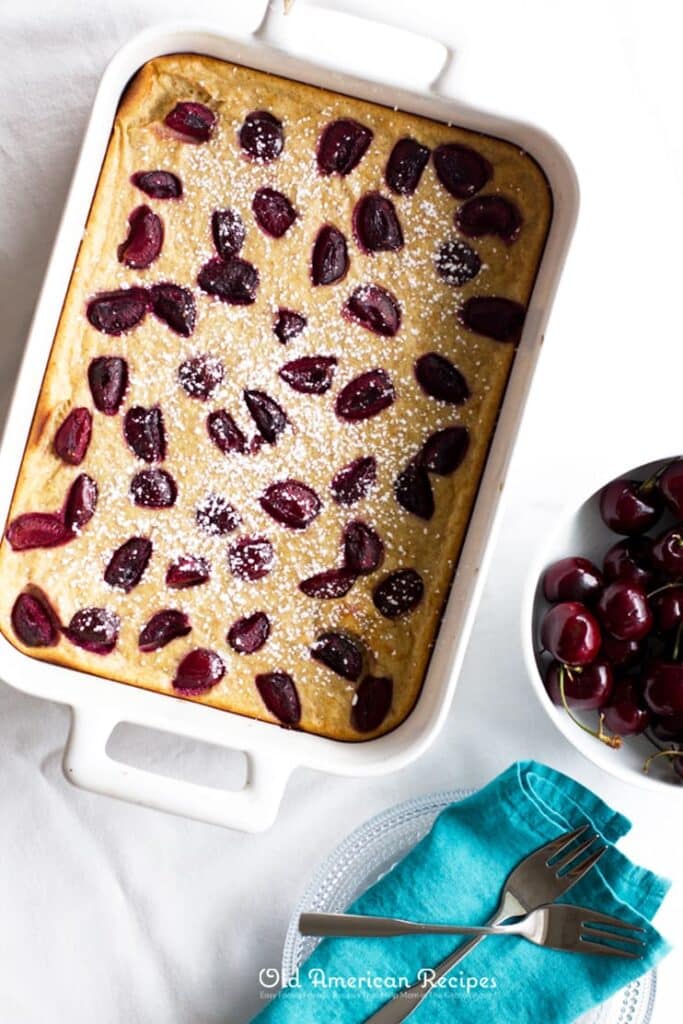 It's a simple recipe and takes only a few minutes to prep. Anybody can do it, really. It's also a fun baking project for kids. And guess what? Even though it's that simple to make, it's incredibly delicious. Plus, you can forget about guilty feelings, since the pancake contains only a tiny bit of sugar. Instead you get all the goodies from cherries – like fiber, flavonoids and vitamin C – and some important protein from the quark. Quite awesome, isn't it :). If you'd like to have it a little bit sweeter, some vanilla ice cream would make a perfect pair with this pancake.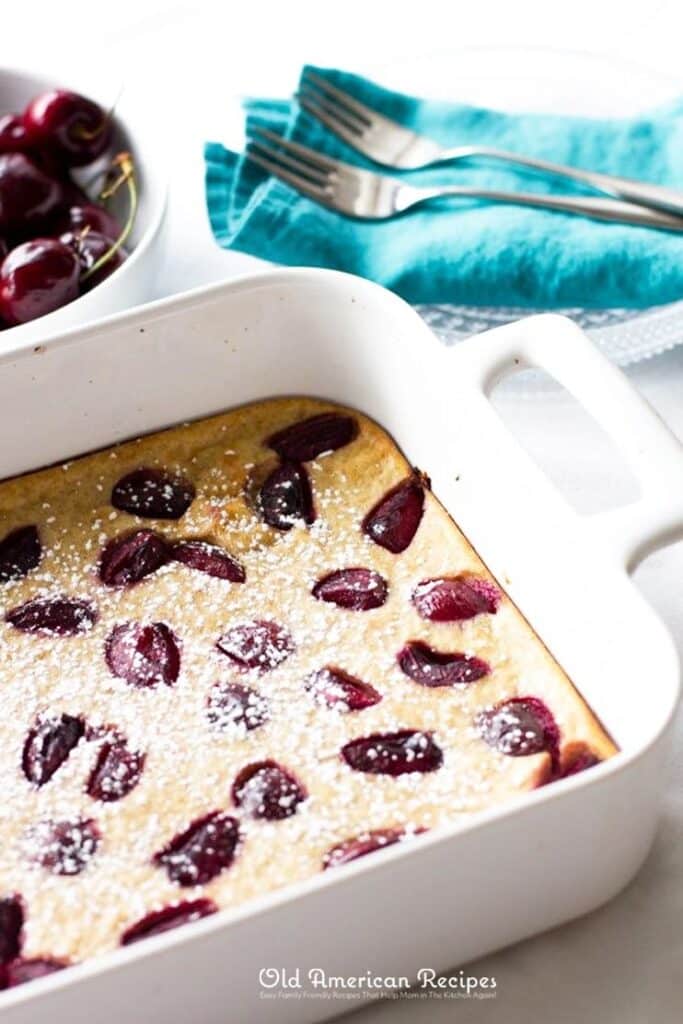 Baking this oven pancake reminded me that I should be doing it more often, using the berries or fruit that are in season. Next time I'm going to involve my 2-year-old in making the oven pancake.
If you love pancakes, check out our savoury spinach and pea pancake, blueberry pancakes and  sweet potato pancakes recipes as well!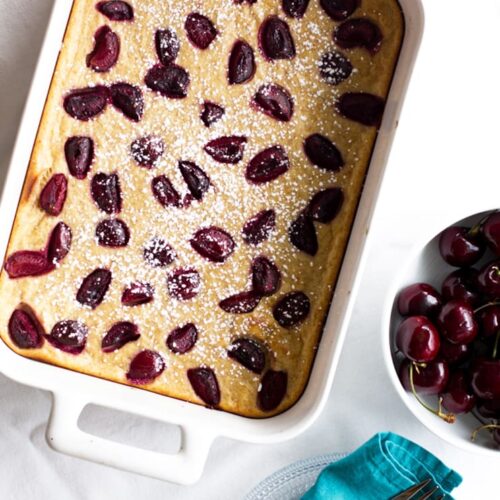 Cherry oven pancake
Ingredients  
250

g/ 8.8 oz quark

1,5

dl/ 0.6 cups milk

2

eggs

1

tbsp

sugar

1

dl

spelt flour

1

tsp

real vanilla powder

pinch

of salt

10-15

cherries
Instructions 
Preheat the oven to 225 Celcius/ 440 Fahrenheit degrees.

Pit the cherries and cut into half or quarters. I think it's easiest if you take a knife and rock it around the entire cherry, as you would an avocado or peach. Twist the fruit into 2 halves to reveal the pit; pop it out and discard it. Then cut into quarters, if you like to have them smaller for your pancake.

Whisk all the ingredients except cherries together in a bowl.

Line a baking pan with parchment paper or grease the pan with butter.

Pour the batter into the pan and sprinkle the cherries on top.

Gently put the pan in the oven. Cook it first 10 minutes in 225 Celcius/ 440 Fahrenheit degrees and after that lower the temperature to 200 Celcius/ 390 Fahrenheit degrees and cook for another 15 minutes.

Let the pancake cool down a little bit before serving. Serve with whipped cream, fresh berries or ice cream.

Sharing is caring!