Sharing is caring!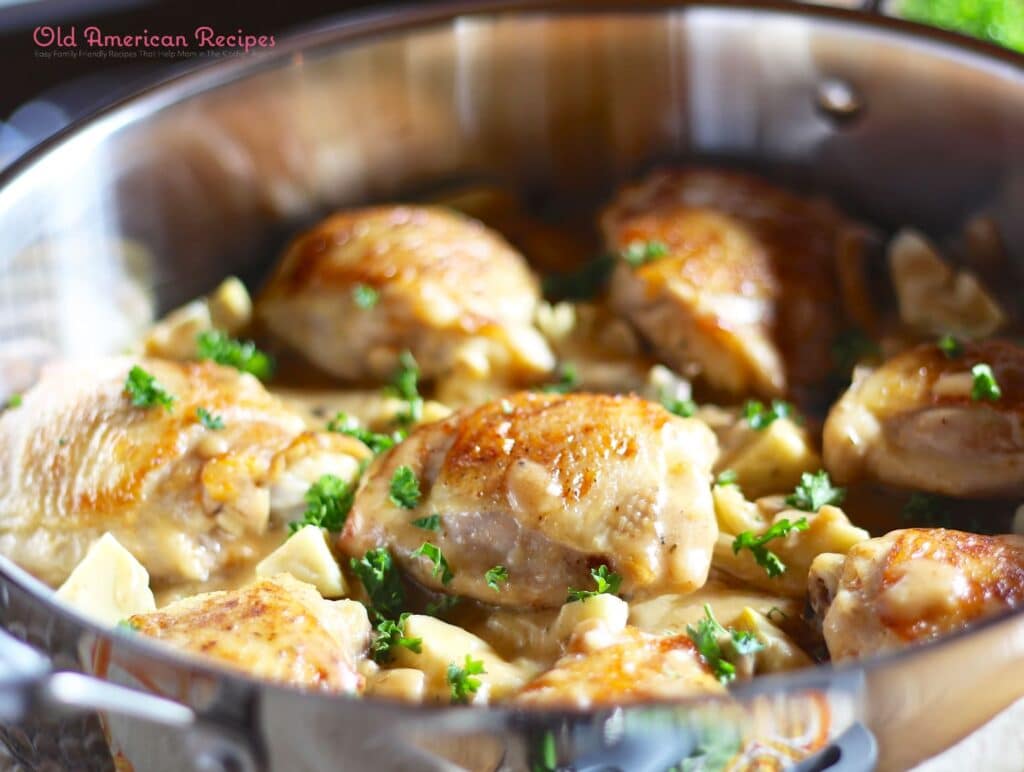 Tinkering with food sometimes results in the most delicious of dishes.  In doing so, fresh poultry and ingredients on hand come together in a marriage of herby, sumptuous flavor. This Chicken Artichoke Mushroom Skillet is easy, and your family will think company is coming.
Put your gourmet on and start adding dashes of this and that to take mealtime from forgettable to memorable.  You don't have to be a graduate from Le Cordon Bleu to pull this simple dish off.  Old school touches can escalate a dish to new heights.
Remember it later
Like this recipe! Pin it to your favorite board NOW!
Pin
Chicken Artichoke Mushroom Skillet is laced with a delicate sauce using a special pantry item that many cooks easily overlook nowadays.  Are you curious what it is?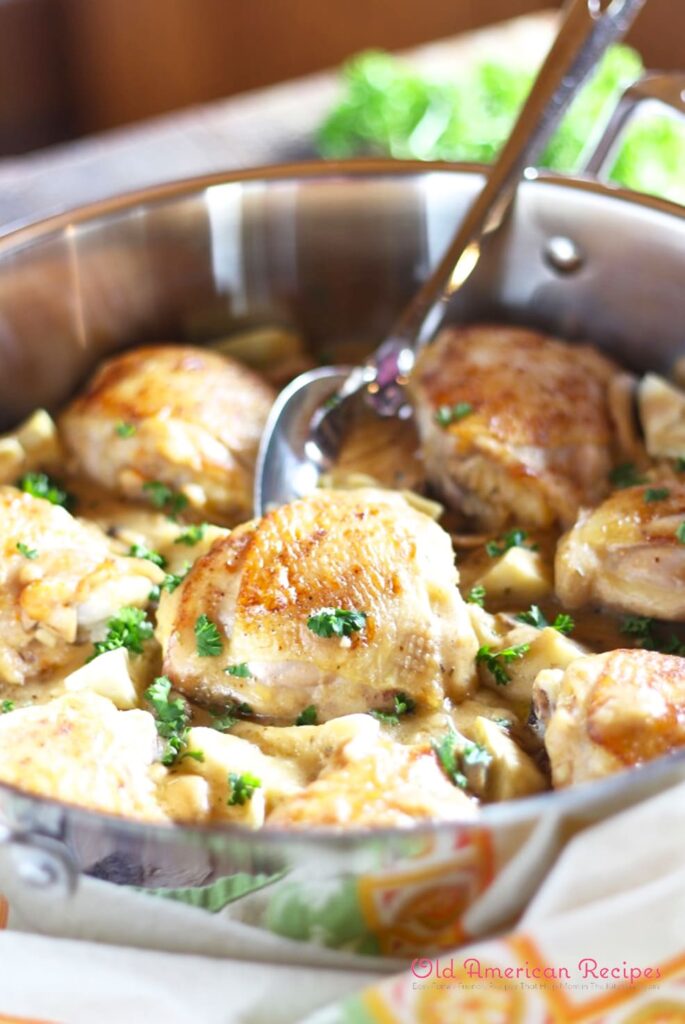 In the sea of recipes out there, it's easy to get lost.  Even as a food blogger, I find myself wondering what I can bring to the table, so to speak, that will interest my readers enough to try and recreate a dish in their own kitchens.  Your kitchens.  There's a stream of food and diet trends to keep up with, many of which are here today, gone tomorrow.
I like good food.  Nourishing, wholesome food.  I hope you do, too.  If so, you're in the right place. It's probably safe to say that most of us are a little more cautious these days about what we put in our mouths, primarily for health reasons.
When cooking, the use of healthy fats and oils lock in flavor and tenderness, as is the case with this chicken dish.  It doesn't mean you're going to have your meat floating around in an artery-clogging pond of grease.  I promise.
Thighs have been my go-to chicken part these days due to the fact they cook up so much nicer than leaner breast meat. To reduce the amount of fat, I trim the skin with a pair of kitchen shears (scissors that are dedicated for food prep).  For some reason meat packers have a way of hiding a whole bunch of fattiness on the underside.  I suppose this has to do with profit margins.  An extra ounce is a penny more.  So be sure to whack those flaps off the bottom of the thighs.  Otherwise you will have a dish swimming in grease, which you don't want.
I ended up using two pans with this recipe.  One for browning and then making the sauce, the other for baking the chicken to perfection.
It's my personal preference to use equal parts of butter and vegetable oil to brown the skin. There's less spattering, and the skin gets evenly crisp and golden.  So after the thighs are trimmed, washed, and seasoned, they go into the skillet for a good browning.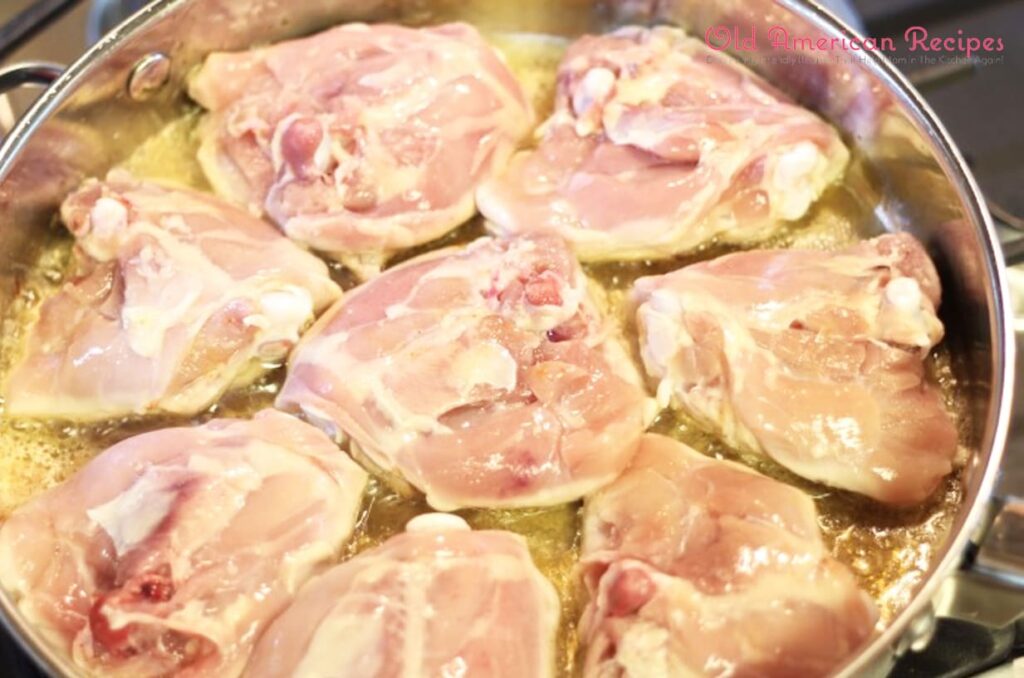 After the thighs are transferred to a baking pan, the remaining juices are used to make the delicate sauce.  A combination of chicken broth and often-overlooked cooking Sherry is whisked in with flour until smooth.  Sherry is a type of cooking wine that can be found in the grocery aisle.  It has a very small amount of alcohol which isn't enough to speak of, and is rendered out when heated.
I've got to say that as I simmered the sauce with the addition of mushrooms and garlic, the house was smelling divine.  The Sherry adds a flair of richness that makes this dish extra special.  Certainly company-worthy.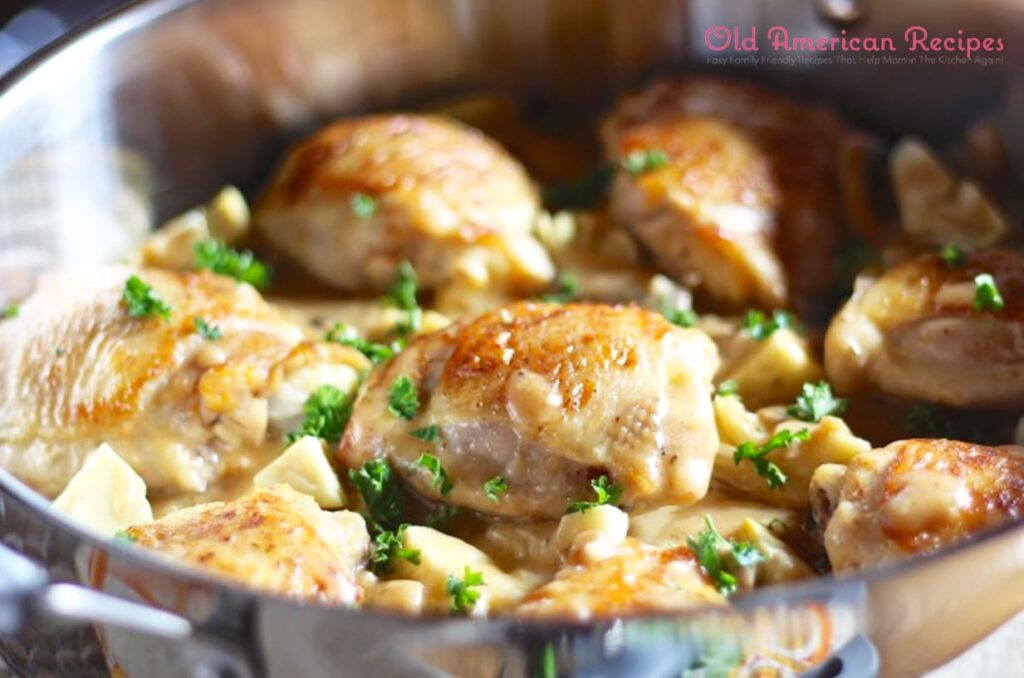 Once the chicken has baked completely, it can be added back to the pan of savoriness, along with the artichokes.  A sprinkling of fresh cut parsley adds a nice finishing touch that makes it pop with "eat me!"
Hubs came in the house and declared that something smelled wonderful.  Indeed, it did.
To really round out the meal, I'm thinking a portion of this Chicken Artichoke Mushroom Skillet would be excellent served atop a bed of rice pilaf, along with a green vegetable.  I don't know about you, but all of this talk is making me hungry.  Hubs has been circling like a vulture begging to dive in.  You would think the poor man never gets fed.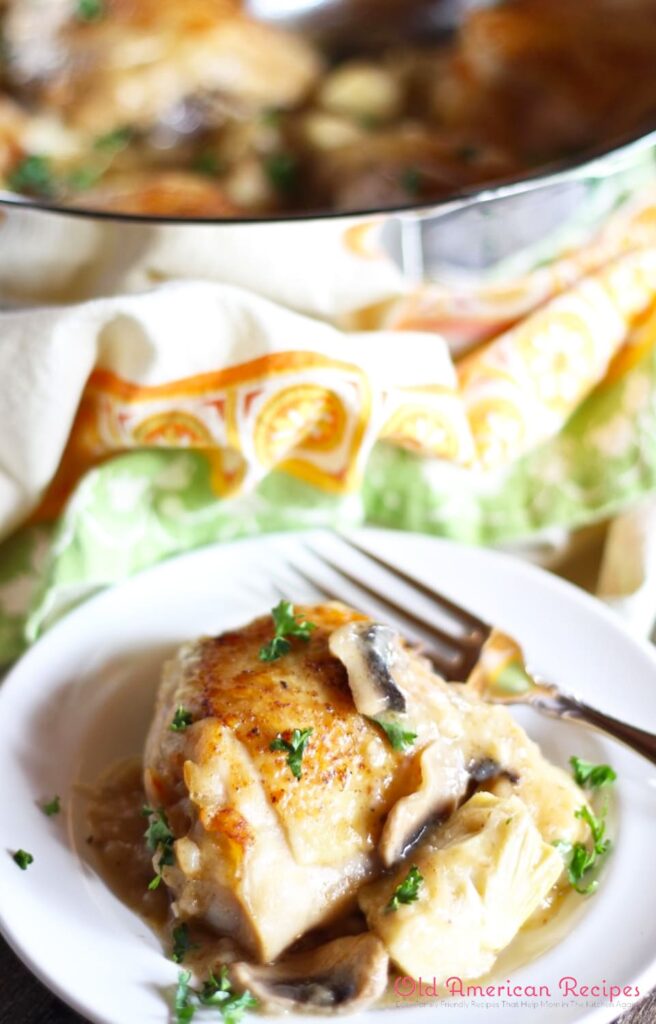 Whether for just the two of you, yourself, your family, and/or friends, you will definitely get the gold star of the evening when this lovely dish hits the table.  Make sure you distribute equal portions of the veggies and sauce on each plate along with the chicken.
Bon appétit!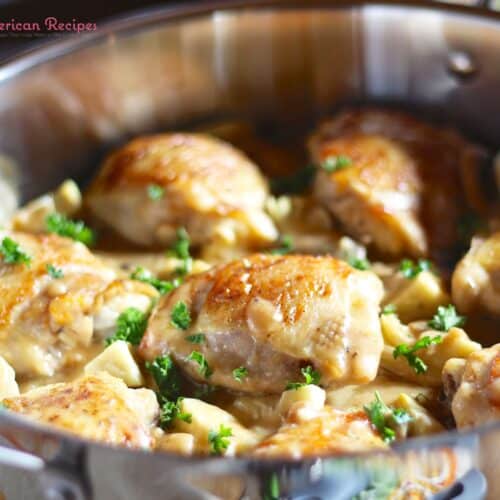 Chicken Artichoke Mushroom Skillet
A company-worthy dish of tender chicken, artichokes, and mushrooms laced with a delicate Sherry-infused sauce.
Ingredients  
8

chicken thighs

skin trimmed to remove excess fat

2

tablespoons

butter

2

tablespoons

vegetable oil

Salt

pepper, and paprika for seasoning

¼

cup

all-purpose flour

14.5

ounce

can chicken broth

½

cup

cooking Sherry

1

teaspoon

minced garlic

1

teaspoon

crushed rosemary

¼

pound

white mushrooms

sliced

14

ounce

can artichoke hearts

rinsed and drained

Parsley for garnish
Instructions 
Preheat oven to 375 degrees.

Evenly and lightly sprinkle salt, pepper, and paprika over both sides of chicken.

In a large skillet or frying pan, combine the butter and oil over medium-high heat on stovetop.

When melted and heated through, carefully add the chicken pieces, skin side down.

Cook until skin is golden brown. Carefully turn. Cook until underside is seared.

Remove chicken from skillet and transfer to a 9 x 13-inch baking dish.

Cover with foil and bake in preheated oven for 30-35 minutes, until meat is cooked through.

Meanwhile, sprinkle flour over remaining juices in pan on stovetop.

Gradually whisk in chicken broth over medium heat, making sure there are no lumps.

Gradually add the Sherry, continuing to whisk until fully incorporated.

Stir in the garlic and rosemary.

Add sliced mushrooms to the sauce. Allow to simmer until mushrooms are tender.

Stir in artichoke hearts and continue to simmer until heated through.

Add additional salt and pepper to sauce, if desired.

When chicken is done, remove from oven.

Using a slotted spoon to drain off excess fat, transfer thighs back to skillet.

Sprinkle with chopped parsley. Serve immediately or keep warm in oven until ready to serve.
Remember it later
Like this recipe! Pin it to your favorite board NOW!
Pin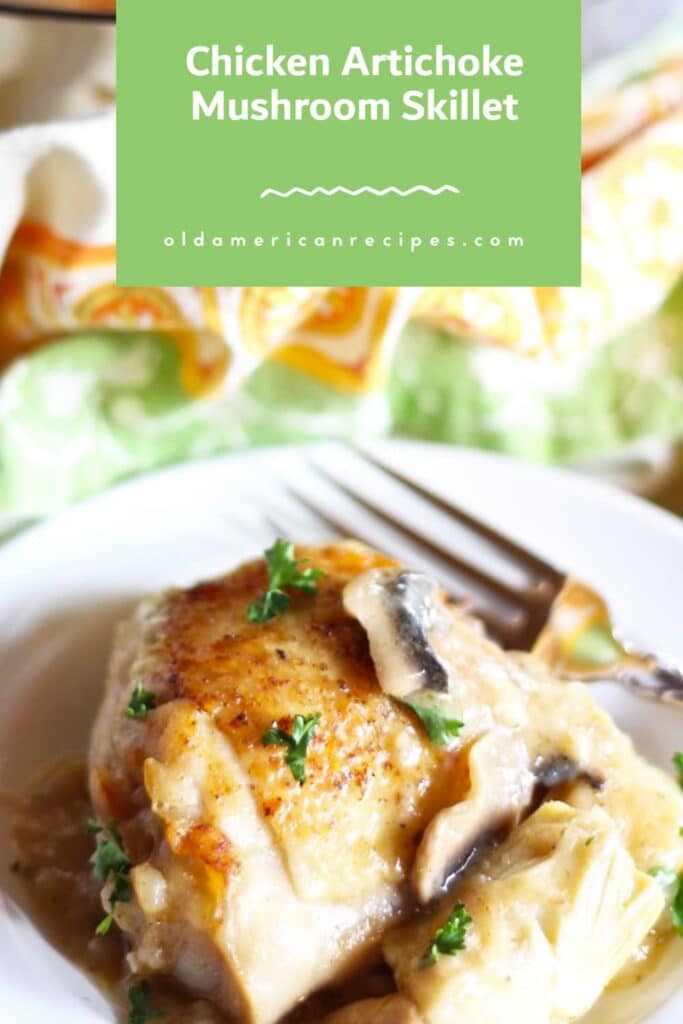 I'm getting ready to hit the friendly skies for a trip to Seattle for the annual International Food Bloggers Conference!  It will be an educational get-together of esteemed and like-minded culinary enthusiasts, writers, and food photographers.  I'll be returning to The Log Home Kitchen inspired, invigorated and recharged to create new recipes that will hopefully encourage you to get creative in your own kitchens.
Until then, happy whisking!
Sharing is caring!