Sharing is caring!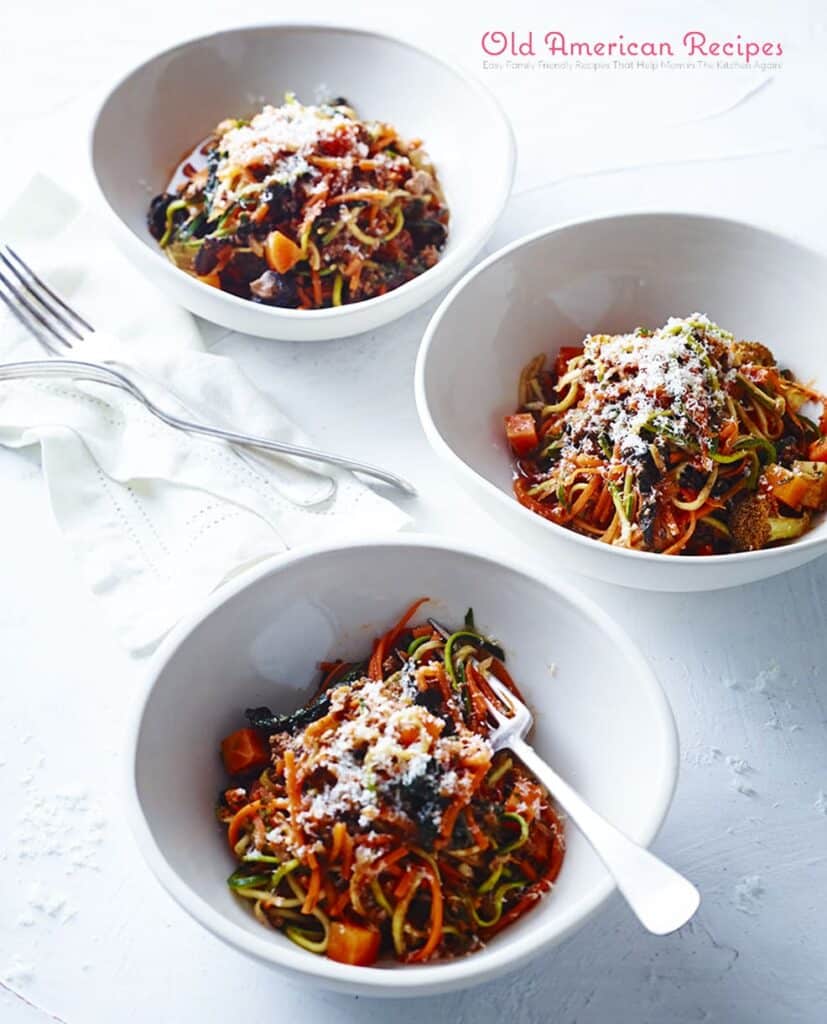 Spaghetti Bolognese is a classic Italian dish made with a meat-based tomato sauce served over spaghetti. It's a favorite of many and can be found on menus around the world. While traditional recipes for Bolognese sauce can be time-consuming and require many ingredients, there are now simplified recipes that make it quick and easy to prepare. Here's everything you need to know about Spaghetti Bolognese, from the history of the dish to tips for making the perfect sauce.
Table of Contents
The History of Spaghetti Bolognese
Bolognese sauce originated in Bologna, Italy, where it's known as ragù alla bolognese. It's a slow-cooked sauce made with beef or pork, onions, carrots, celery, tomatoes, and wine. The sauce is typically served with tagliatelle or fettuccine, but it's also commonly served with spaghetti.
While the origins of Spaghetti Bolognese are somewhat unclear, it's believed to have become popular in the UK in the 1960s and 1970s, where it was often made with ground beef instead of slow-cooked meat. Today, it's a beloved dish around the world and can be found on menus in Italian restaurants and beyond.
Making Spaghetti Bolognese: Tips and Tricks
Making Spaghetti Bolognese is relatively easy, but there are a few tips and tricks that can take your sauce from good to great.
Use high-quality ingredients
The quality of your ingredients can make a big difference in the final product. Use whole plum tomatoes that are picked and canned at perfect ripeness for the best flavor. Ground beef that's 80-85% lean is ideal, as it contains enough fat to keep the meat moist and tender.
Season well
Seasoning your sauce well is key to bringing out the flavors of all the ingredients. Don't be afraid to use salt, but taste your food as you go to avoid over-salting. Add a combination of fresh and dried herbs for added flavor.
Simmer for flavor
While a quick and easy Spaghetti Bolognese recipe is great for busy weeknights, simmering the sauce for longer will add a deeper flavor. If you have the time, let your sauce simmer for a few hours to develop the flavors even further.
Use the right pasta
Spaghetti is the traditional pasta for Bolognese sauce, but you can also use other long, thin pasta like linguine or fettuccine. Cook the pasta until it's al dente, or slightly firm to the bite, for the best texture.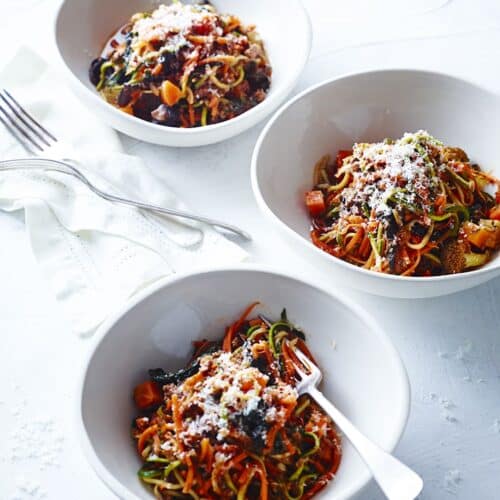 Spaghetti Bolognese
wapping out spaghetti and replacing it with zucchini, carrot and parsnip noodles has elevated this classic dish to new heights. Pasta causes bloating and leads to inflammation of the gut, which makes these veggie noodles a healthier more sensible choice for the whole family.
Ingredients  
3

zucchini

about 450 g, ends trimmed, spiralised into thin noodles

2

carrots ends trimmed

spiralised into thin noodles

2

parsnips peeled and ends trimmed

spiralised into thin noodles

4

tablespoons

flat-leaf parsley chopped

2

macadamia nuts

activated if possible, finely grated
Bolognese
2

tablespoons

coconut oil

1/2

onion chopped

1/2

carrots diced

1/2

celery stalks finely diced

3

garlic cloves finely chopped

550

g

beef mince

1

teaspoon

oregano chopped

200

mls red wine dry

such as shiraz

2

tablespoons

tomato paste

500

g

tomato passata or canned crushed tomatoes

300

g

chicken broth

stock

1

pinch

chilli flakes

optional

1

pinch

sea salt

1

pinch

freshly ground black pepper
Instructions 
To make the bolognese, heat the oil or fat in a large frying pan over medium–high heat. Add the onion, carrot and celery and cook for 4–5 minutes until softened. Add the garlic and cook for 1 minute, or until fragrant and starting to brown. Stir in the mince and brown for 5–6 minutes, breaking up the lumps with a wooden spoon. Add the oregano and wine, stir well and cook until the wine has almost evaporated, about 4–5 minutes. Stir in the tomato paste and cook for 1 minute. Add the passata or tomatoes, chicken broth and chilli flakes (if using) and season with salt and pepper. Reduce the heat to low and simmer, stirring occasionally, for 30 minutes, or until the meat is cooked through.

Add the zucchini, carrot and parsnip noodles and parsley to the bolognese and toss to combine. Cook for a minute or so until the noodles are almost cooked through.

Spoon the bolognese and noodles into four warm serving bowls, then sprinkle the grated macadamias on top.
Notes
I love my spiraliser and always use it when making this dish. Spiralisers are inexpensive, simple to use and clean, and small enough to be easily stored.
I like to add offal to my bolognese, burgers and meatballs to make them even more nutritious (usually about 10 per cent offal of the total meat quantity – in this recipe it would be about 50 g offal and 500 g beef mince). Try using minced liver, heart, marrow or brain.
Spaghetti Bolognese is a classic Italian dish that's beloved around the world. While traditional recipes for the sauce can be time-consuming and complex, simplified versions make it easy to enjoy this delicious meal in under 60 minutes. Remember to use high-quality ingredients, season well, and simmer the sauce for the best flavor. With a few tips and tricks, you can make Spaghetti Bolognese that's just as good as the dish you'd find in a traditional Italian trattoria.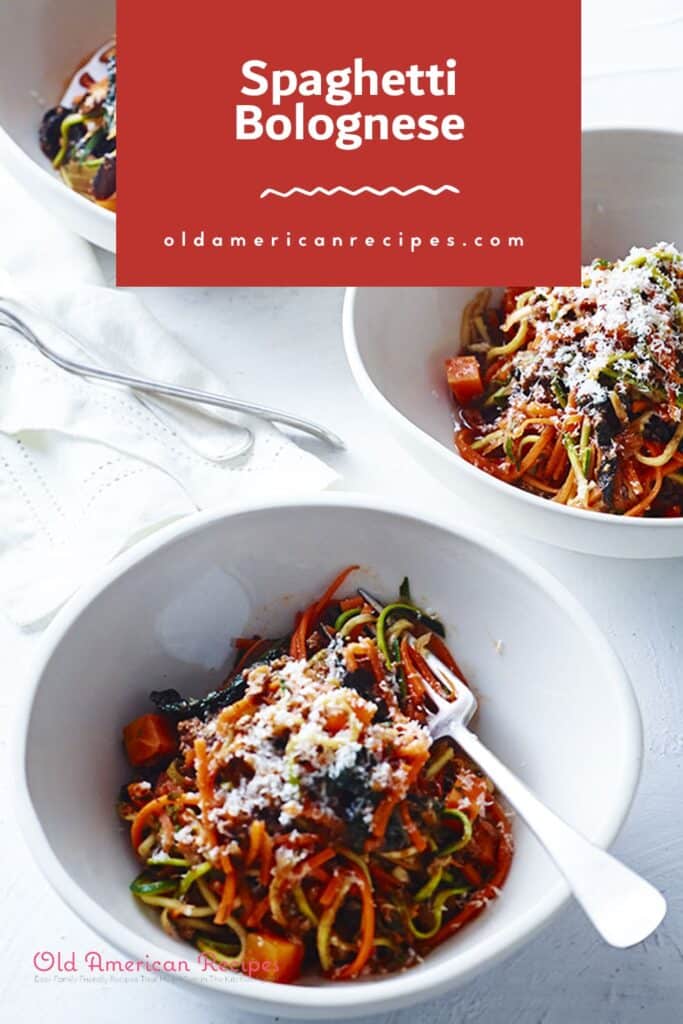 If you enjoyed this Quick & Easy Spaghetti Bolognese recipe, you might also like to try making a Meatloaf One Pan Dinner. This dish is just as simple to make and offers a delicious and hearty meal that the whole family will love. With just one pan to clean up, this recipe is perfect for busy weeknights. Give it a try and see how easy and satisfying it can be to make a homemade dinner from scratch.
FAQs – About Spaghetti Bolognese
What is the difference between spaghetti sauce and Bolognese sauce?
Typically, spaghetti sauce is a meatless tomato sauce, while Bolognese sauce is a meat-based sauce made with ground beef. Bolognese sauce also often includes vegetables like onions, carrots, and celery.
How do you thicken Bolognese sauce?
Cooking the sauce for longer will reduce it and thicken it naturally. You can also add a tablespoon of tomato paste or a cornstarch slurry (cornstarch mixed with water) to the sauce to thicken it.
Do you simmer Bolognese with lid on or off?
Bolognese sauce should simmer with the lid off to allow it to reduce, deepen in flavor, and thicken.
Can you freeze Spaghetti Bolognese?
Yes, you can freeze Spaghetti Bolognese. Store it in an airtight, freezer-safe container and freeze for up to four months. Once defrosted, the sauce cannot be refrozen.
Can you make Bolognese sauce ahead of time?
Yes, you can make Bolognese sauce ahead of time. Refrigerate it in an airtight container for up to two days before reheating and serving.
Can you use ground turkey instead of ground beef for Bolognese sauce?
Yes, you can use ground turkey in place of ground beef for a lighter version of Bolognese sauce. However, keep in mind that turkey is leaner than beef, so you may need to add a little more fat to the sauce to keep it moist and flavorful.
Sharing is caring!