Sharing is caring!
For those that follow me on Facebook, I've been harping on about breakfast a lot lately. I've got two weeks off before I start my new job, so I've got a lot of time up my sleeve for breakfast and well, anything I like really. During the work week, as much as I try, I tend to skip breakfast just because I am so time poor in the mornings (I really just value my sleep too much). If I do have a spare few minutes or so, my first meal of the day is usually something quick, fast and boring like a piece of fruit or tub of yoghurt.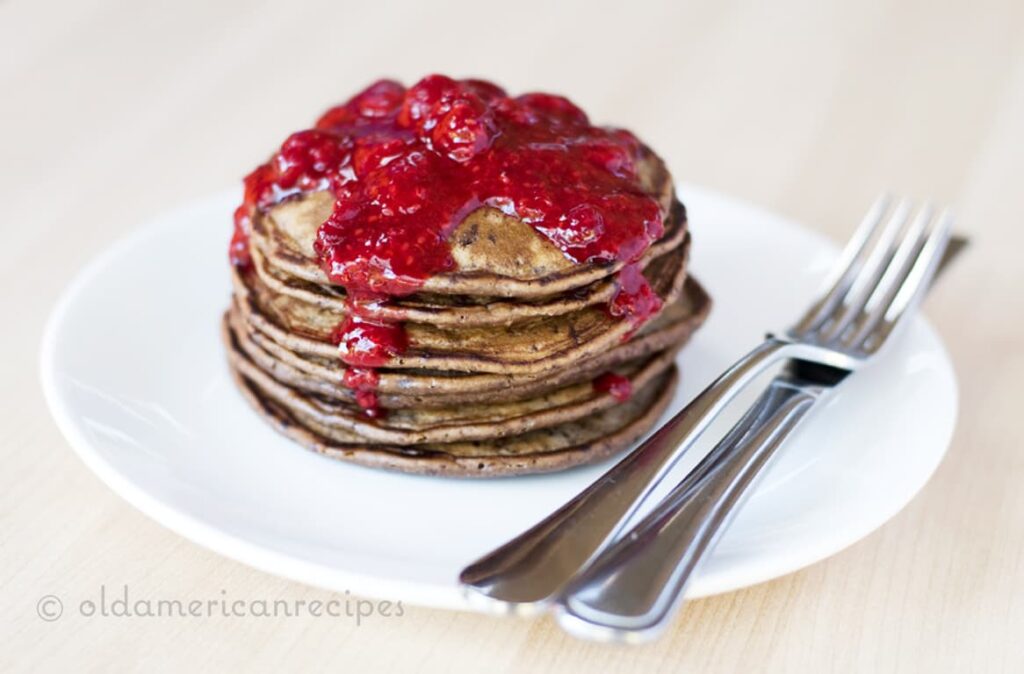 With so much time now, I've been treating myself to nice breakfasts all week. After a few days of savoury meals, I wanted something sweet instead today. It was also going to be a "home breakfast" because firstly, I'm not rich enough to eat out everyday, but also, I really didn't want to leave the house, haha. It didn't take me long to decide what to make, but being the lazy person that I am, the main prequisite was that it had to be something that didn't require too much effort or washing up, and nothing is easier than pancakes! I wanted something special too, and anything chocolate is pretty special to me! These pancakes have twice the hit of chocolate, with cocoa and chocolate bits. Chocolate sauce would have been overkill, so to lighten it up and to add a "healthy" fruit element to the dish, a simple sauce of crushed raspberries was exactly what it needed.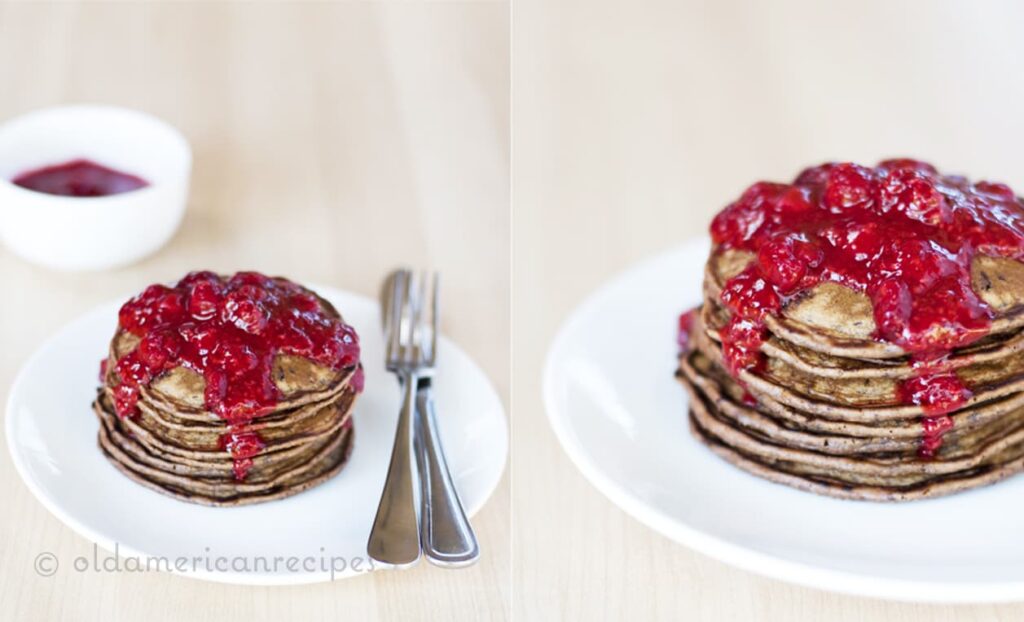 The following recipe makes enough for four, but I made a half quantity and devoured it all on my own! It was a truly fantastic sweet breakfast if I do say so myself. Happy pancake making!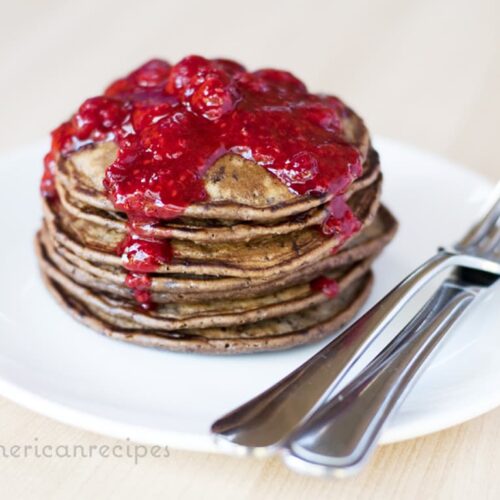 Chocolate Chip Pancakes with Crushed Raspberries
Learn how to make these delicious and fluffy chocolate chip pancakes with Crushed Raspberries that's the perfect way to start off your morning! Doesn't require any fancy ingredients and it is a super simple recipe to follow and make!
Ingredients  
1 ½

cups

plain flour

sifted

½

cup

cocoa

sifted

3

teaspoons

baking powder

¼

cup

caster sugar

1

egg

1 ½

cups

buttermilk

½

cup

milk

75

g

butter

melted

50

g

dark chocolate

chopped finely (try to shave the chocolate as you cut it, or use chocolate chips)

Crushed Raspberries

300

g

raspberries

fresh or frozen

icing sugar

to taste
Instructions 
In a bowl, combine the flour, cocoa, baking powder and sugar. In a separate bowl, combine the wet ingredients of egg, buttermilk, milk and melted butter.

Combine the two mixtures with a whisk, ensuring there are no lumps! Add the chocolate. Set aside.

In a small bowl, crush half the raspberries with a fork. Add the remaining raspberries. Add icing sugar to taste. If you like it quite tart, omit the icing sugar. I usually add about a tablespoon though, but it depends on your berries. If using frozen raspberries, don't bother thawing; just use them straight from the freezer. When mixing, add a touch of water to help it along. It won't hurt. You can also zap it in the microwave for 20 seconds or so too. The whole raspberries added in the second half will thaw by the time you finish making the pancakes.

In a non stick pan, pour dollops of batter to whatever size you like. Cook over medium heat until bubbles form at the surface. Flip and cook the other side for 30 seconds or so. Place on a plate, cover with foil to keep warm and repeat with remaining batter.

Serve pancakes swimming in the crushed raspberries! If you really want to go overboard, dust with icing sugar.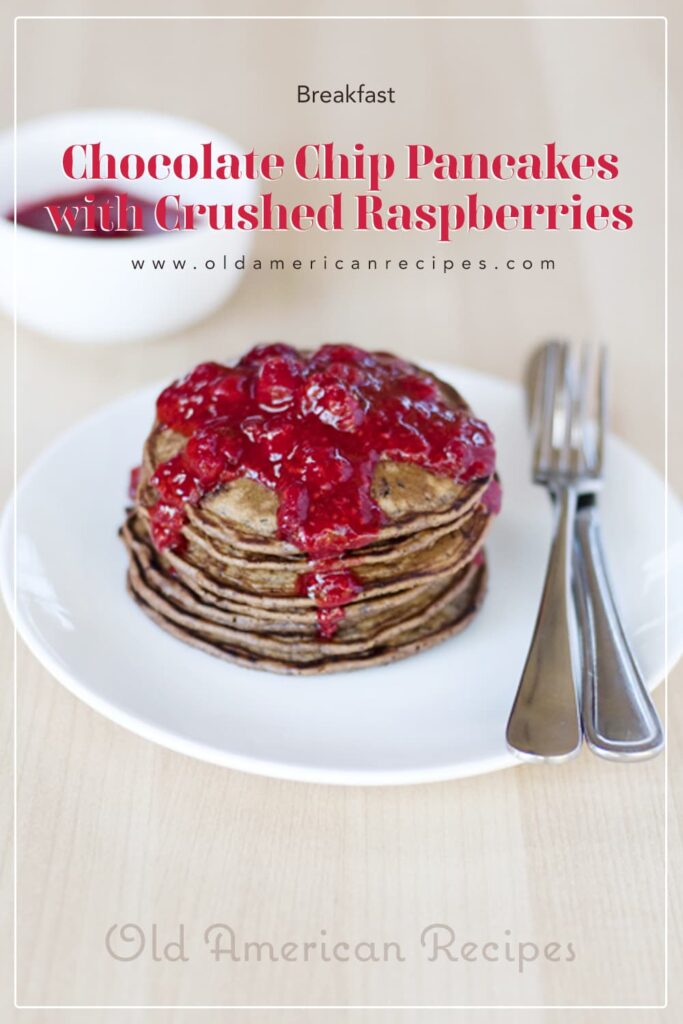 Sharing is caring!