Sharing is caring!
First things first.  Today is Veterans Day.  I feel richly blessed to have this platform, and the freedom to live my life in this incredible United States of America.  It is because of the men and women who have courageously served our great nation that we have been kept from harms way, and whom have protected and helped build the strength of other countries much weaker.  To this, I extend a huge "THANK YOU" which cannot begin to express my gratitude for your service.
Secondly, we must respect the bird!  It is at this time of year we gather with friends and family to give thanks for the many blessings bestowed upon us.
For the past few years I've pondered the thought of buying a smoker.  After some prompting from dear Hubs, I decided to take the plunge.  An all day TV extravaganza featuring it as the deal-of-the-day sealed the deal.  Long story short, it has been a terrific purchase.  The first few meats I smoked in it were just okay.  After a few more practice rounds, my confidence was up enough to make a trial run with "the big bird" before Thanksgiving.
So what do you think?  I wish you could taste this!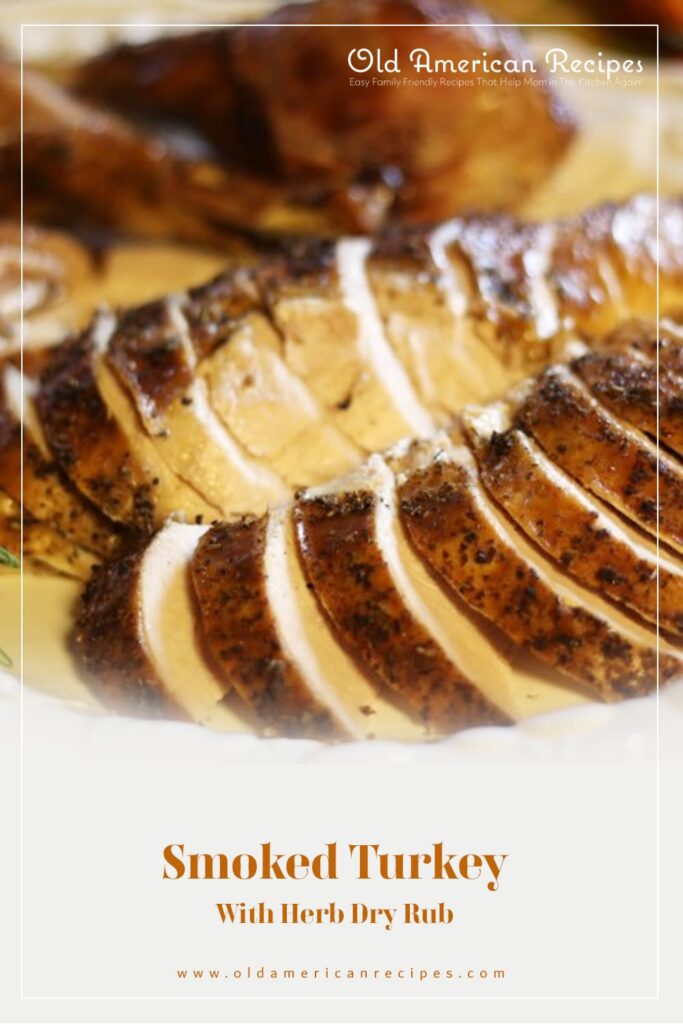 All I can say is, this turkey is smokin'!  As in smokin' delicious.  Tender, juicy, flavorful meat cooked to perfection right to the bone.  The heady aroma from the applewood adds to the feast of the senses.
I've cooked turkeys in the oven, in cooking bags, an electric roaster, on the gas grill, in a deep fryer.  This was the only method left untried.
After watching enough barbeque championships to make your head spin, it was time to dive in and see if any of that stuff had morphed into my brain.  The first decision I had to make was should it be brined, injected, dry rubbed, or a combination of the three.  I took the easy way out and concocted a dry rub of my own based on the herbs and spices that are compatible with poultry, and our tastebuds.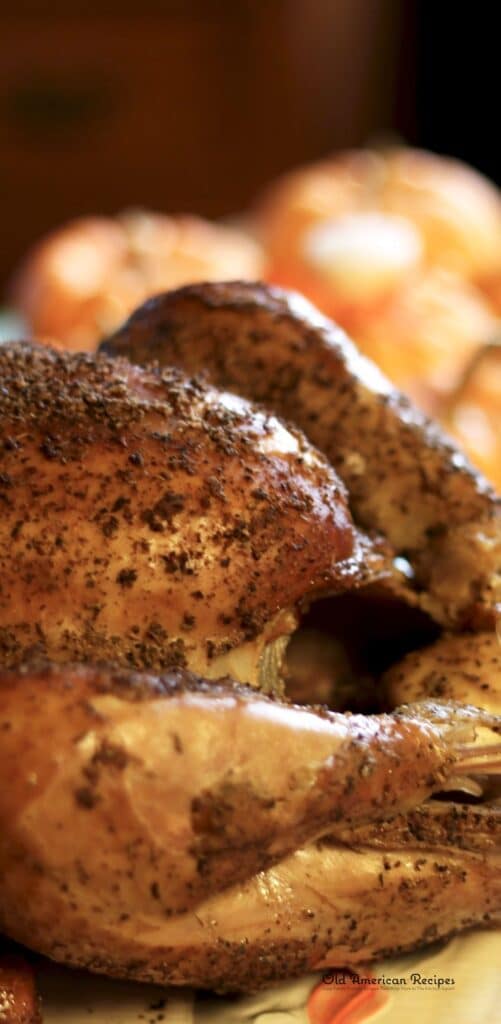 A simple mix of rosemary, sage, thyme, garlic powder, coarse ground pepper and kosher salt made for a divine blend that was compatible with the applewood smoke.  I also placed a pat of butter underneath the skin on each side of the breast, just for insurance purposes to keep the white meat from drying out.
With each year, there are the repetitive compliments of "this is the best turkey yet!"  As was true with this one.  So which process really is the best?
Needless to say, the stars were aligned to pull together the perfect blend of flavors and cooking method for me to say, again, that this was the best turkey yet.  As did our company that shared in this experiment.  I also had to try a new recipe for homemade yeast rolls to go along with supper.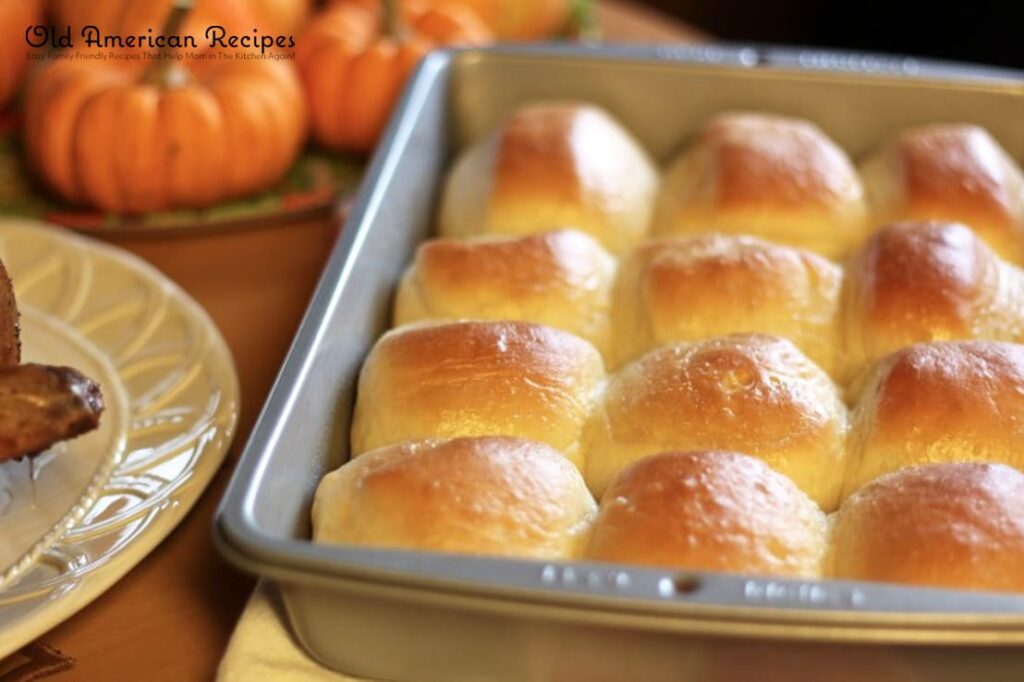 hese didn't disappoint, either.  They were quick, easy, and buttery-soft good.  You can find the recipe for these Classic Dinner Rolls at my trusty culinary resource, Allrecipes.com.  Along with a side of mashed potatoes and a big green salad, it made for a great pre-feast to Turkey day.  Of course, there will be a multitude of sides, some of which I will be sharing with you leading up to the holiday.
For now, I'll leave you with the dry rub mixture I came up with that you might want to try, along with smoking directions the way I did it.  Just as an aside, smoked poultry can end up having a rubbery skin texture after many hours of smoking on a low temperature.  In order to achieve a crispier skin, I upped the temp, therefore a shorter cook time, which also required a more frequent addition of wood chips to deepen the smoke flavor in just a few hours.
You be the judge.  Please give it a try.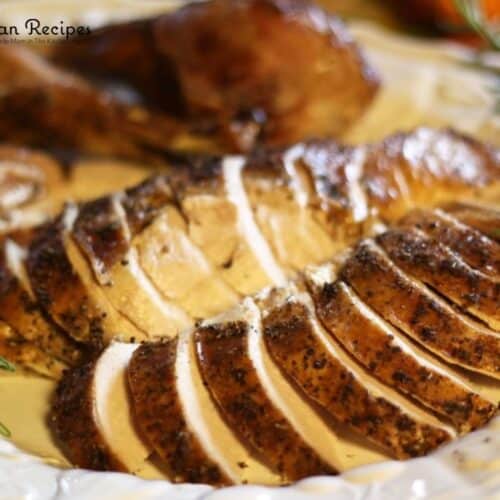 Smoked Turkey With Herb Dry Rub
A smokin' delicious turkey that is tender, juicy, and flavorful cooked to perfection right to the bone. The heady aroma from the applewood adds to the feast of the senses.
Ingredients  
1 12-

pound

whole turkey

completely thawed (if frozen), rinsed, and pat dry with paper towels

1

tablespoon

butter

divided in half

Chipped Applewood

Apple Juice

enough to fill pan of smoker, depending on model and type

For the dry rub:

2

tablespoons

kosher salt

2

tablespoons

coarse ground pepper

2

tablespoons

garlic powder

2

teaspoons

dried crushed rosemary

2

teaspoons

dried rubbed sage

1

teaspoon

dried crushed thyme leaves
Instructions 
In a small bowl, whisk together the dry rub ingredients and set aside.

Line a large cookie sheet with foil and place the turkey on top.

Separate the skin over the breast with your fingers.

Insert pats of butter in the center of each side as far toward the back as you can.

Rub herb mixture evenly over all sides of turkey.

Allow turkey to come to room temperature.

Meanwhile, fill pan in bottom of smoker with apple juice to the maximum level.

Fill the wood chamber with applewood. Insert and lock closed.

Set and preheat smoker temperature to 270 degrees.

When ready, place turkey directly on a rack so it sits centered in the smoker.

Insert an internal temperature (if available on unit) at this time.

Shut door and leave closed.

Continue to add wood chips every 45 minutes.

After 2½ hours, check internal meat temperature with a probe.

Continue cooking until the internal temperature reaches 170 degrees.

When done, remove turkey from smoker and place on rack in a foil lined sheet.

Allow to rest for 30 minutes before carving.
So how will you be cooking your turkey this year?
If you like this, please don't forget to click the button below to the right that says "Share" so your friends and followers will have an option for preparing their turkey this year.
Thank you for stopping in, reading, sharing, and supporting!  I appreciate you all.
Have a great day, everyone!
Sharing is caring!