Sharing is caring!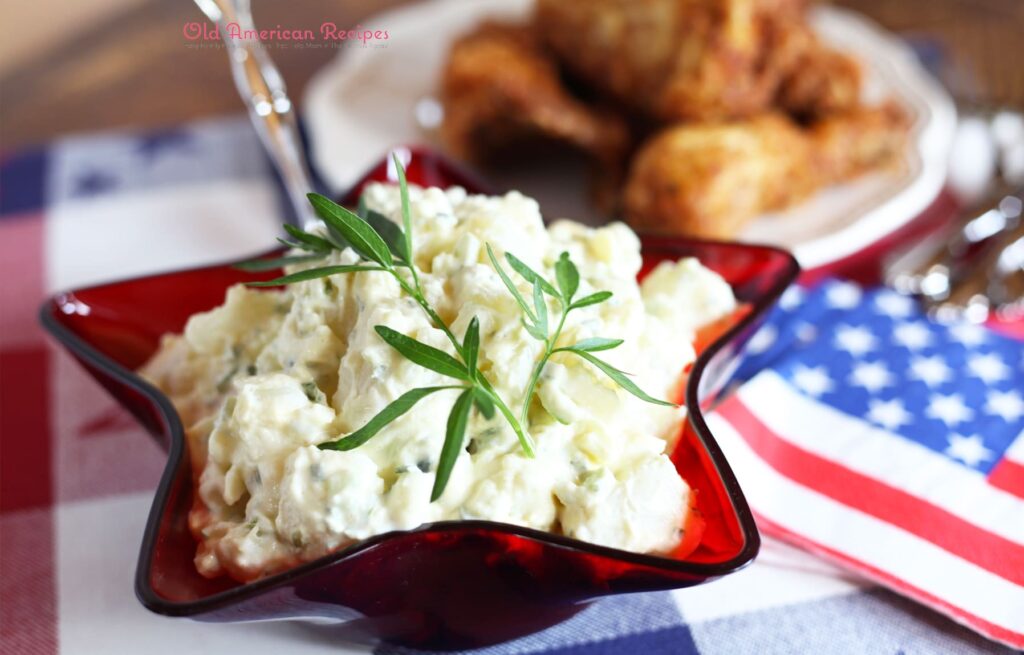 If there's just one thing that makes Idaho famous, it's the potatoes.  And no picnic is complete without a Creamy Idaho Potato Salad.  Since the 4th is just around the corner, I thought I'd share my tried-and-true recipe that keeps everyone coming back for seconds.
Potato salad is perfect for summertime get-togethers.  It's an ideal side to any type of barbecued meats, or one of my personal favorites, fried chicken.  A big bowl of it goes a long way.
Remember it later
Like this recipe! Pin it to your favorite board NOW!
Pin
Everyone has their own version depending on taste and personal preference.  I like it chunky, creamy, and flavorful without a lot of bite or tang.  This is what I'm talkin' about.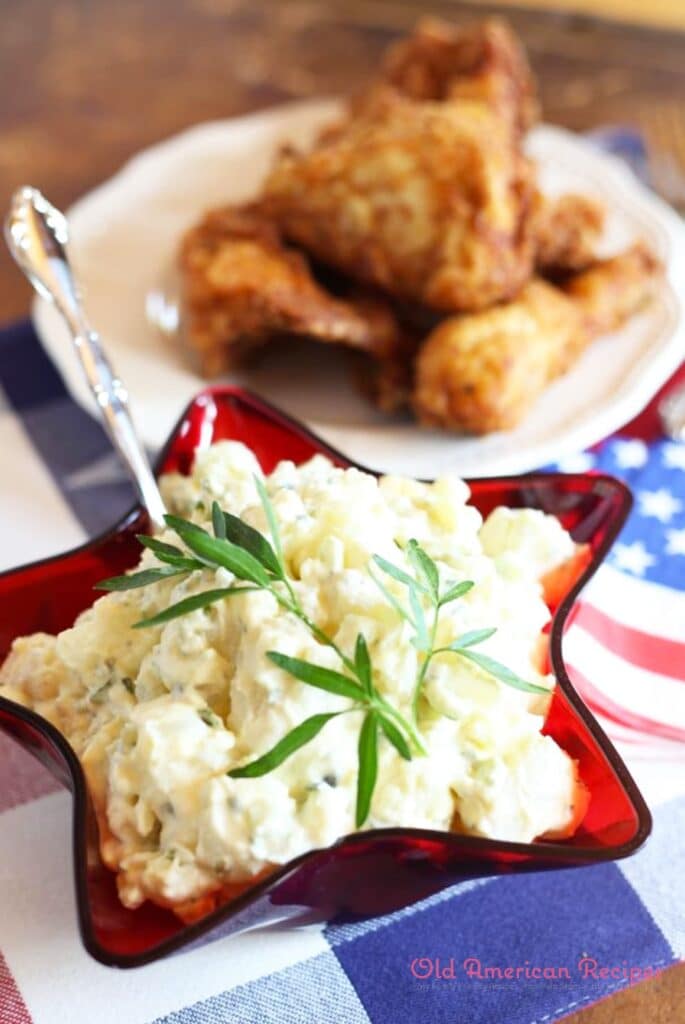 I talk to many that shy away from making potato salad because of it being messy and time consuming, especially having to peel the hot potatoes after they've cooked.  I'm here to show you the easier route to a perfect, creamy potato salad.
The big game changer for me years ago was when I started to peel and dice the potatoes before cooking them.  Kudos if you already do it this way.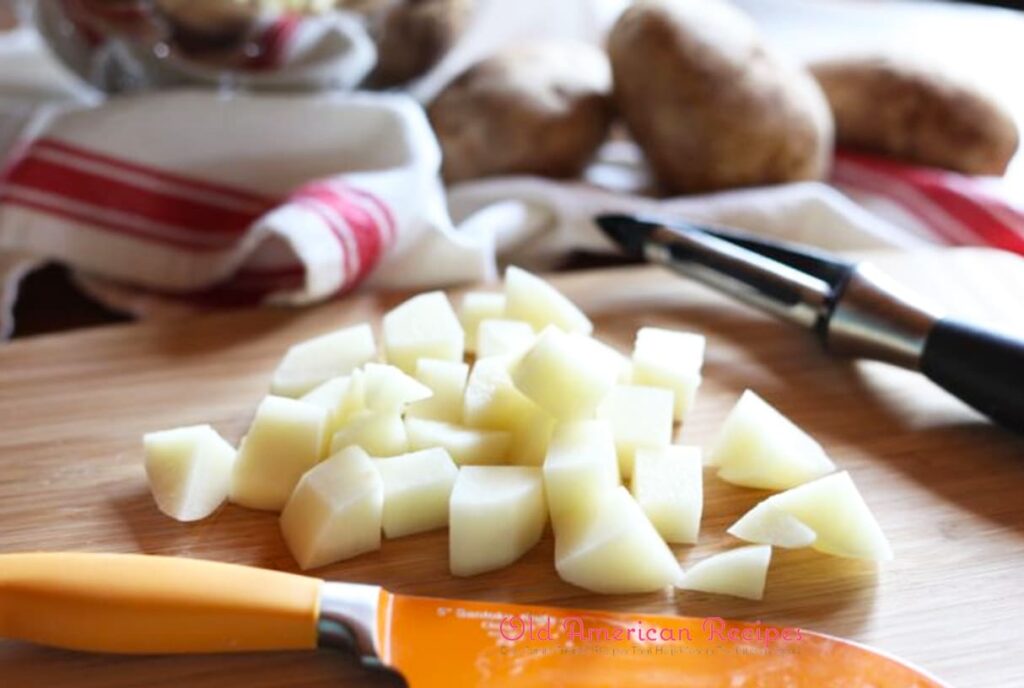 You'll find they aren't as starchy and sticky after they've cooked, because a lot of it's been boiled off into the water.  Some may argue the nutrients are cooked out this way, but I'm on the fence about that.  Besides, I choose the path of least of resistance.
The simple dressing of mayonnaise, vinegar, mustard and salt is whisked together.  The flavors are tamed by using a white wine vinegar versus an apple cider or white vinegar that are most common in potato salad.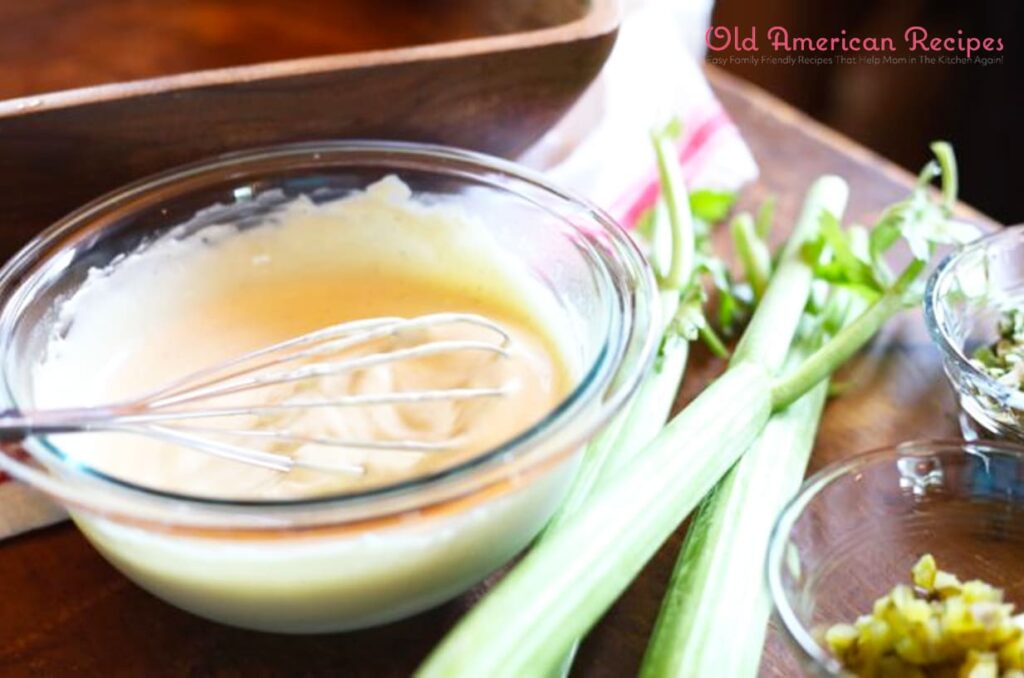 Once the potatoes are cooked and cooled down, you can add the dressing and gently fold in the celery, scallions, pickles, and chopped hard-boiled eggs.  That's it.
Simple, delicious, and a real crowd pleaser.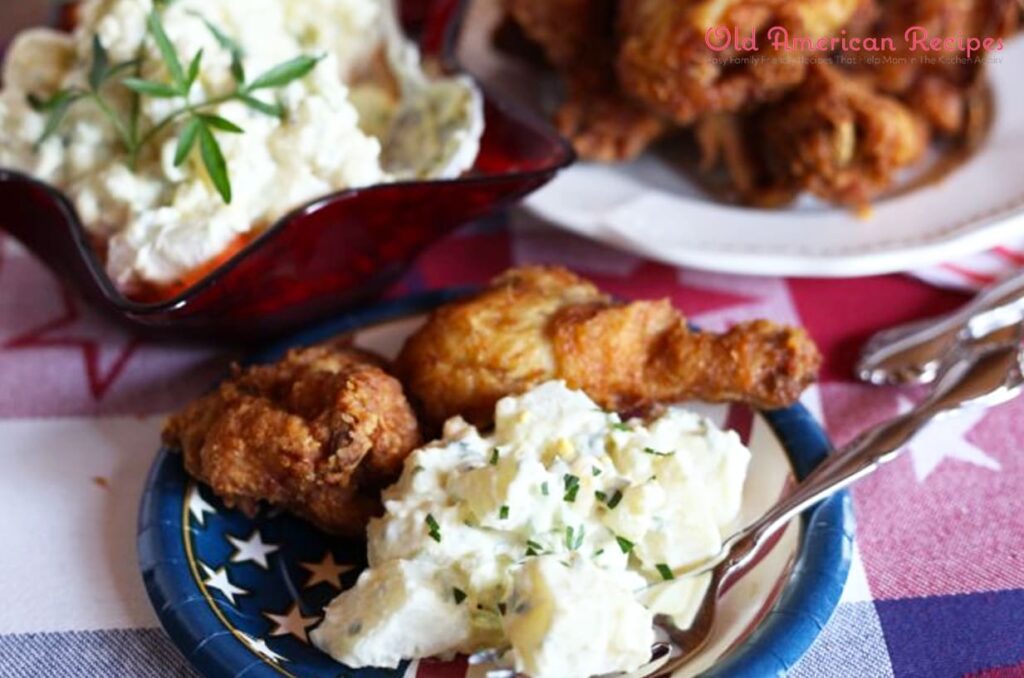 People often ask what makes Idaho potatoes so special.  There are several factors, one important one being the rich, volcanic soil that they're grown in.  Surprised?  There's an expansive resource of it here in Idaho.  That, coupled with the climate of warm days, cool nights, and irrigation that comes straight from the mountains, it's a winning combination for better texture and taste.  You can check out the Idaho Potato website at www.idahopotato.com to learn more.
If you hurry, you might find some cute Fourth of July serve ware to make for a festive table.  I got this dandy star-shaped bowl at a local discount store that already had their red, white, and blue on sale.  It makes the meal just a little extra special.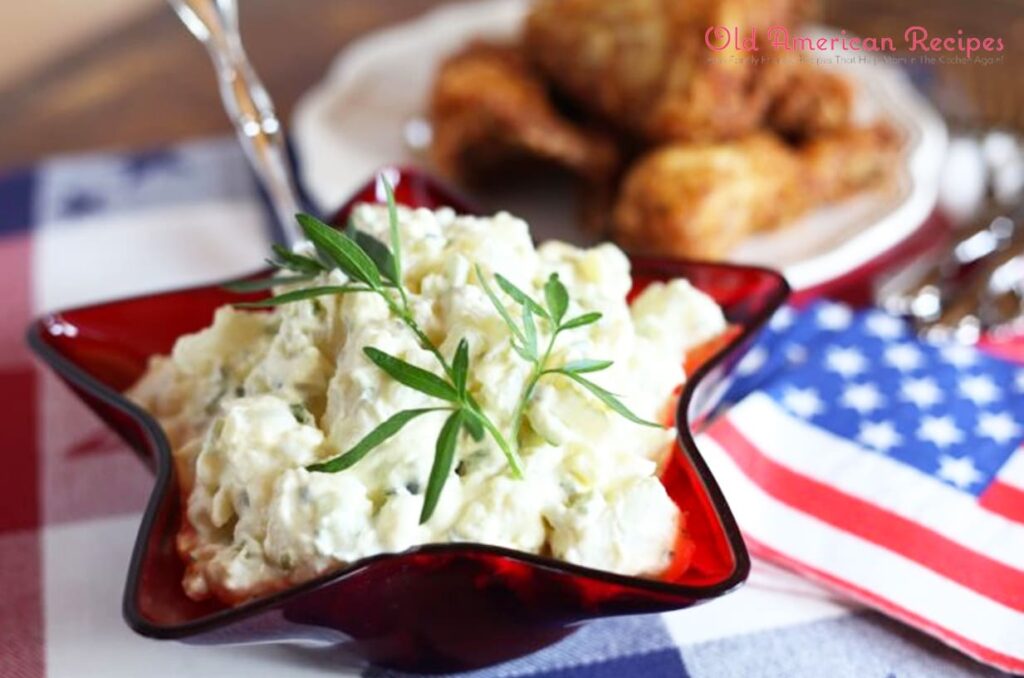 Here's my simple version of a creamy potato salad that won't be dry when you go to serve it.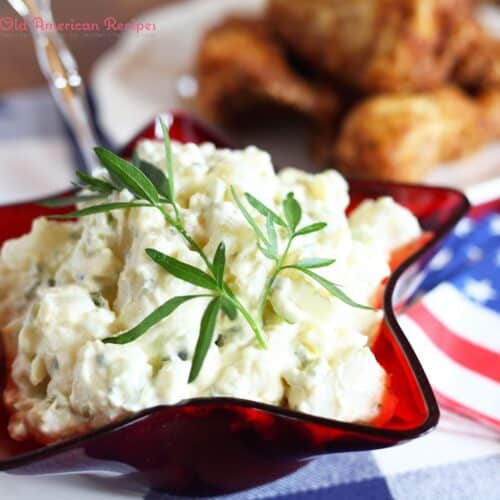 Creamy Idaho Potato Salad
A chunky, creamy potato salad perfect for picnics, barbecues, and get-togethers.
Ingredients  
3

pounds

approx. 8 medium, Idaho potatoes

1½

cups

mayonnaise

1

tablespoon

white wine vinegar

1

tablespoon

granulated sugar

1

tablespoon

prepared mustard

1

teaspoon

salt

1

cup

celery

sliced thin

½

cup

scallions

chopped

⅓

cup

dill pickles

diced

2

hard-boiled eggs

chopped

parsley for garnish
Instructions 
Peel and dice potatoes into bite-size chunks. Place in bottom of stockpot with lid.

Add water to pot just to cover potatoes. Place lid on and bring to boil over medium-high heat.

Reduce to simmer.

Continue cooking for 15 minutes, or until potatoes begin to get tender. Use a fork to test.

Drain in colander and immediately run cold water over the potatoes.

Allow to drain completely.

Meanwhile, whisk together the mayonnaise, vinegar, sugar, mustard, and salt. Set aside.

Transfer potatoes to a large serving bowl.

Gently fold in mayonnaise mixture and remaining ingredients.

Chill in refrigerator for at least one hour before serving.
Remember it later
Like this recipe! Pin it to your favorite board NOW!
Pin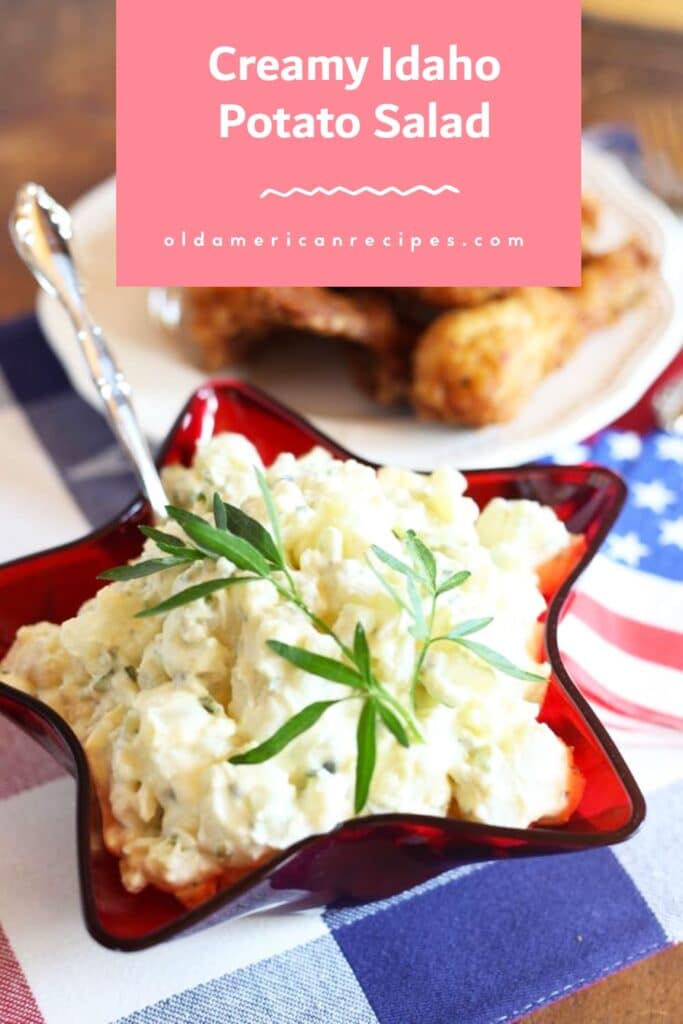 Do you make potato salad?  If you do, is there something special you do to change it up for added flavor?  Please share.  Everyone likes to get ideas on an old classic.
Have a terrific week everyone, and thanks for stopping by!
Sharing is caring!