Sharing is caring!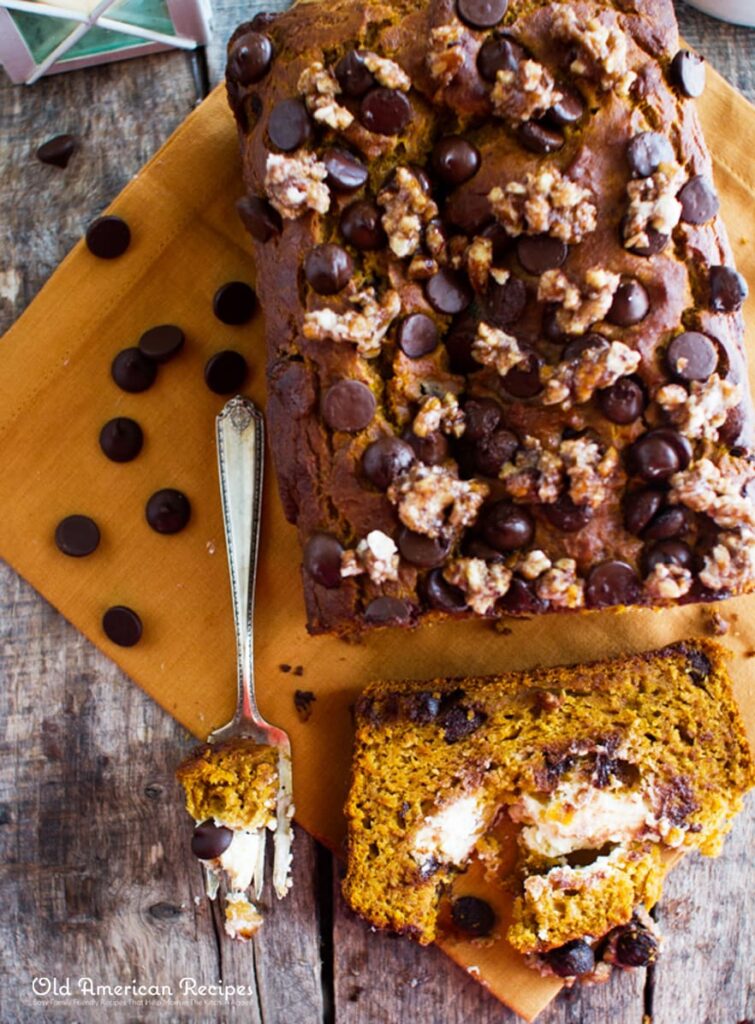 Rich Chocolate Chip Pumpkin Bread with a honey cream cheese filling, topped with cinnamon & sugar pecans. No spread needed for this sweet breakfast treat!
I made this Chocolate Chip Pumpkin Bread after getting reamed out today.  It was my therapy bread. And man, it sure did the trick; so rich, chocolatey and creamy!   I suppose I deserved to get yelled at. It just hasn't happened in a while.  I'm the one doing the yelling these days… I'm not on the receiving end.
So what happened you might ask? Illegal trespassing guys. I know, bad ass right?
I had just dropped my son off at preschool and I figured Annie and I could go check out this lake down the road. I have been thinking about taking some pictures of the kids so I've been scouting out pretty spots. I found this cool area in a neighborhood with a little parking lot and a trail down to the lake. And yes there was a sign that said NO TRESPASSING
But some rules are made to be broken. Plus it was in a neighborhood. It wasn't in the backwoods somewhere , with the scary crooked No Trespassing sign . I would expect to be shot doing something like that..but this is the suburbs guys..So I parked in the parking lot and this crazy old man  man came running up to my minivan. So I unrolled my window… Maybe he is lost and needs help?
N O P E
Get out of here! We don't want you here!! You are trespassing! We are trying to get work done here!!! 
ME: Ok sorry, I was just checking out the area sir and got lost (I know, I'm a liar)
ANGRY MAN: You better leave right now!! Get out, now! This is private property!!
ME: Thanks for helping someone who is lost (lie)!! You're a real nice guy (angry sarcasm)!!
I calmly reversed out of the parking lot, smiled at Annie in the back (Mommy's okay, everything is fine) and then left. Then proceeded to drive around the neighborhood only to see scary guy following me closely in his truck…so I promptly left. I didn't need to die today..but I did need to eat this amazing Chocolate Chip Pumpkin Bread.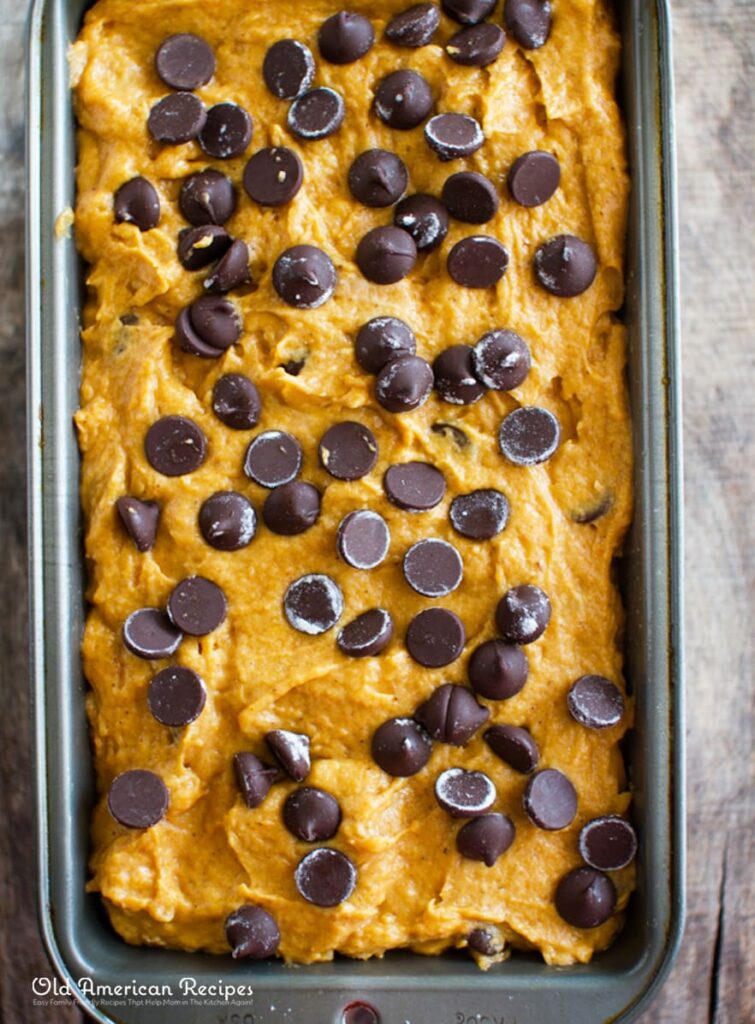 I've been a little reluctant to dive into the Pumpkin recipes. It's not that I don't like pumpkin, it's just that it's not my favorite..unless it's this pumpkin bread which is fully loaded with a whole bar of cream cheese, dark chocolate chips and topped with chopped pecans rolled in butter, cinnamon and sugar…that's my kind of pumpkin recipe!
This bread is simply awesome. So if you're in the need of some comfort or you just love pumpkin and chocolate, you need to make this!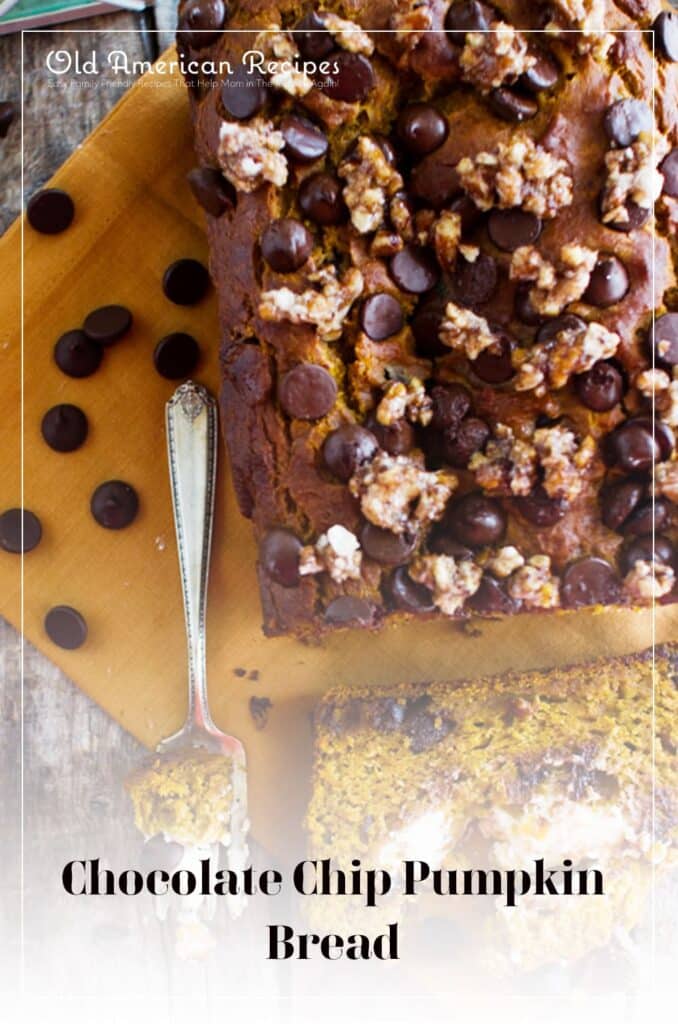 Todays Tip: If a sign says No Trespassing then you probably shouldn't go on the property. Stick to breaking lame rules like wearing white after Labor Day 
Todays baking tip: This is a very rich, dense, bread. If you prefer a lighter bread just add one cup pumpkin instead of the whole can.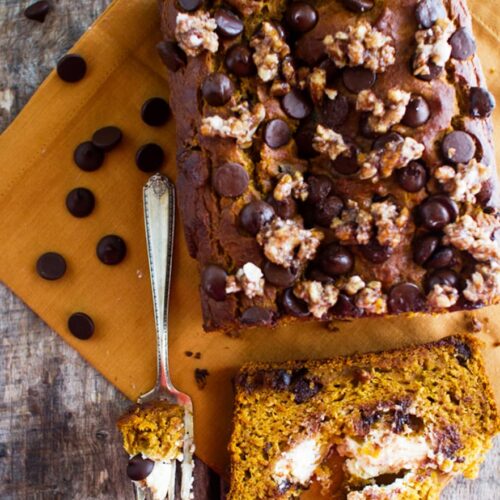 Chocolate Chip Pumpkin Bread
Rich Chocolate Chip Pumpkin Bread with a honey cream cheese filling, topped with cinnamon & sugar pecans. No spread needed for this sweet breakfast treat!
Ingredients  
Topping
1/4

cup

chopped pecans

1

Tbs.

sugar

1 1/2

Tbs.

butter slivered into tiny pieces

sprinkle cinnamon to taste

about 1/8-1/4 tsp
Honey Cream Cheese Filling
8

oz

Cream Cheese softened

1

egg yolk

2

Tbs.

sugar

1/2

Tbs.

milk

1/2

Tbs.

honey
Bread
2

Cups

of flour

1/2

cup

of sugar

1

cup

of dark chocolate morsels- reserve 1/4 cup for top of bread

I used Nestle Toll House

1

tsp

baking soda

1

tsp

salt

1/2

tsp

cinnamon

1/2

tsp

ground cloves

1/2

tsp

nutmeg

1 15

oz

can 100% Pure Pumpkin

1 5/3

oz

container of Greek Yogurt

I used Chobani

1/2

cup

honey

1/4

cup

vegetable oil

1

tsp

vanilla extract

2

large eggs

cooking spray
Instructions 
Preheat oven to 350 degrees

To prepare topping, chop pecans on cutting board. I bought prechopped pecans but still chopped more finely. Take the butter and with a knife cut into thin slivers. Put the butter, pecans, and sugar in a bowl and sprinkle cinnamon in bowl (about 1/4 tsp). with a small spoon or your hands mix until well combined. set aside.
For the Honey Cream Cheese Filling
Mix the cream cheese, egg yolk, sugar, milk and honey together until well combined. Set aside.
For the Pumpkin Chocolate Chip Bread
Combine the flour, sugar, chocolate chips, baking soda, salt, cinnamon, cloves, nutmeg in a large bowl. Stir well with a whisk. Make a well in the center.

Combine the pumkin, yogurt, honey, veg. oil vanilla and eggs in a medium bowl and add to the well of the flour mixture. Stir until just combined (don't over mix!)

Spray 9 x 5 loaf pan with cooking spray. Put 1/2 of the mixture in the pan. Then spread the cream cheese mixture down the middle, but stop before you reach the very end.

Put the second 1/2 of the mixture on top of the cream chese mixture. Sprinkle the reserved 1/4 cup chocolate chips on top of the loaf. Press very gently on the chips to stick them slightly to the batter.

Bake at 350 for 1 hour.

Let cool in pan on a wire rack for 20 mintues. Very carefull remove the bread and let cool completly on a wire rack.
This is a very rich bread. If you desire a lighter bread add just 1 cup of pumpkin and not the whole can
Sharing is caring!