Sharing is caring!
Move over for a second cinnamon rolls! We've got some soft and sweet blueberry lemon rolls filled with blueberries and topped with a lemony glaze. These sweet yeast rolls are perfect for breakfast or brunch.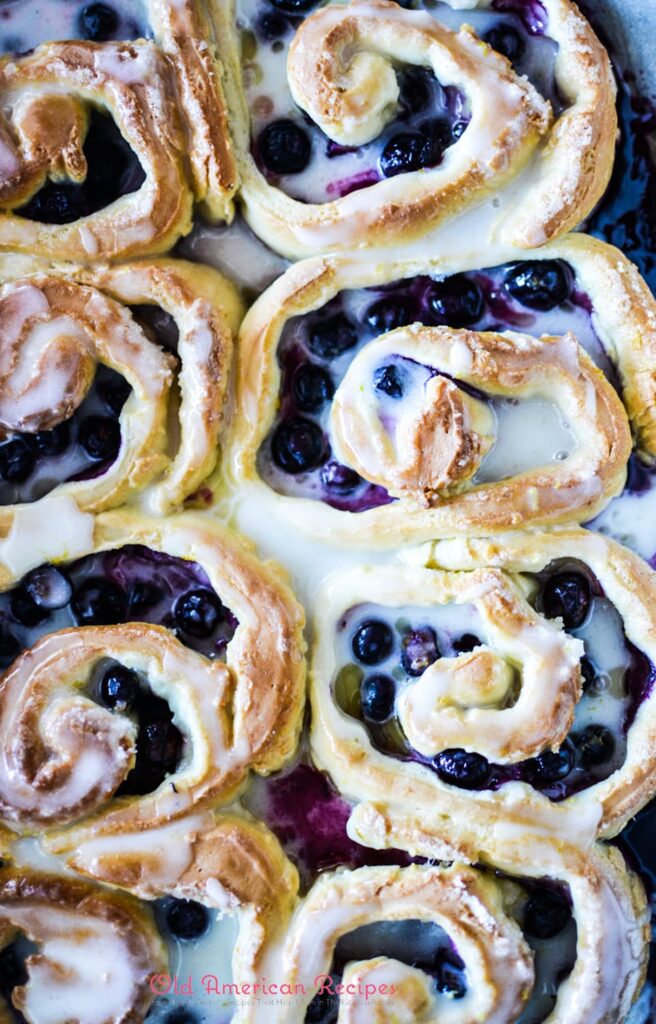 I ran my first race of the year this past weekend. It was a 25km trail race through the Diez Vistas in Port Moody, BC, and it was to date, the hardest race I've done. Being a "marathon runner", I never thought a 25km run would steal the breath from me and make my lungs feel like they'd been squeezed by the hand of Zeus, but this race was up a mountain with ice crusted roots and boy, did it get me! I ended up finishing pretty well and better than I expected (11th female overall) and it was a great kick in the butt for the big training season to come (I'm training for my first 50 km trail race in August).
Remember it later
Like this recipe! Pin it to your favorite board NOW!
Pin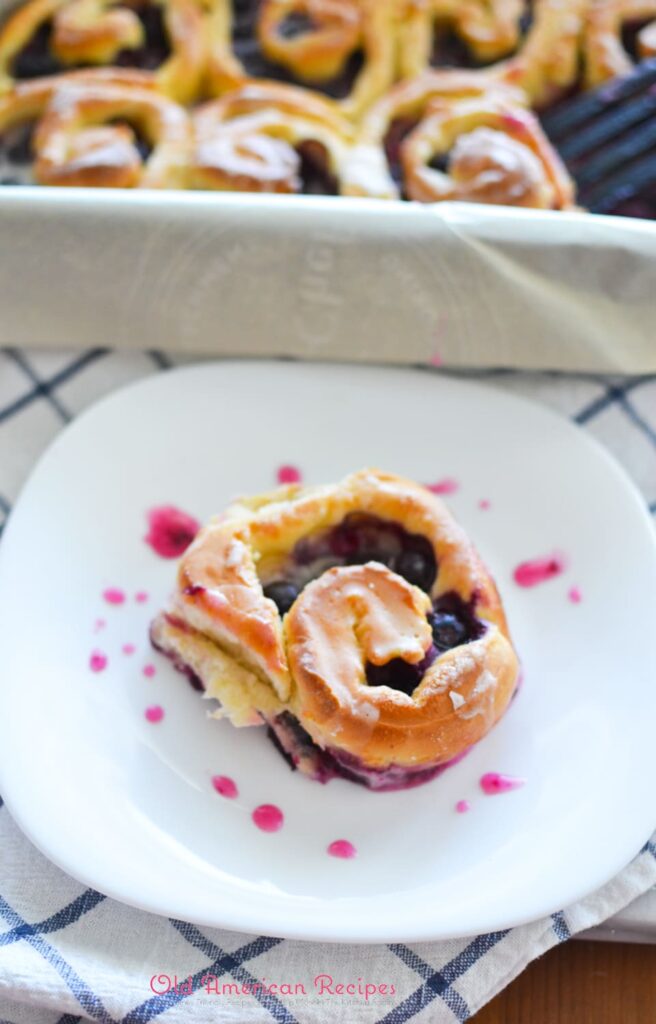 You'd think all the calories I'm constantly burning would be an excuse to eat rolls like this all the time but actually, I find myself eating much healthier during the training months. Sweet rolls are a treat, and when I want a treat I want a damn good one.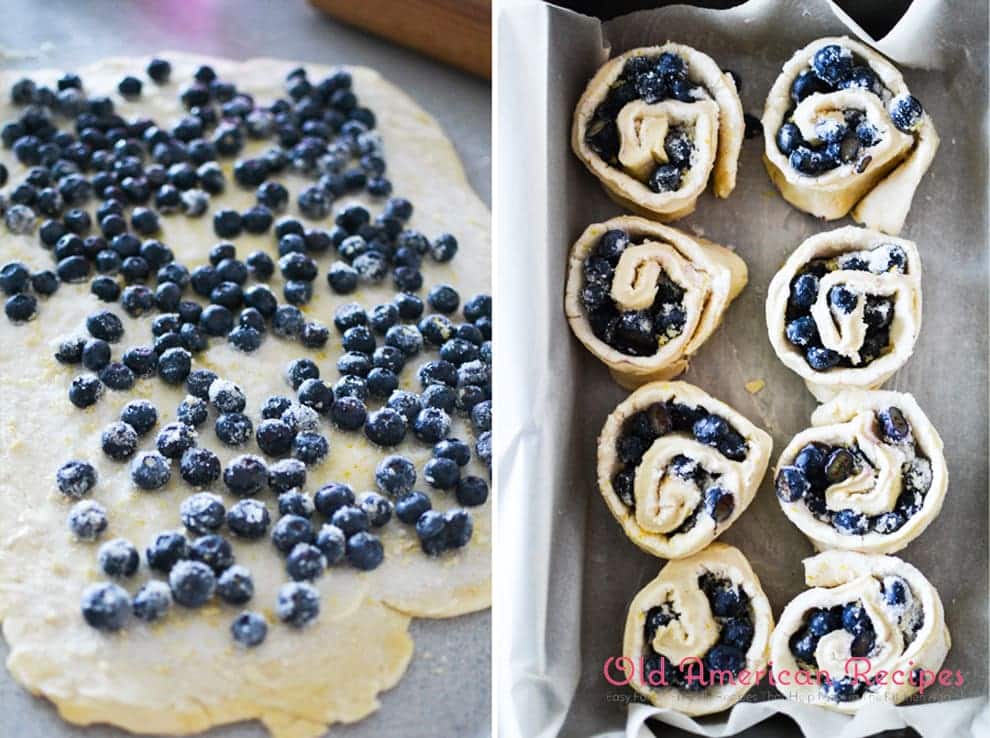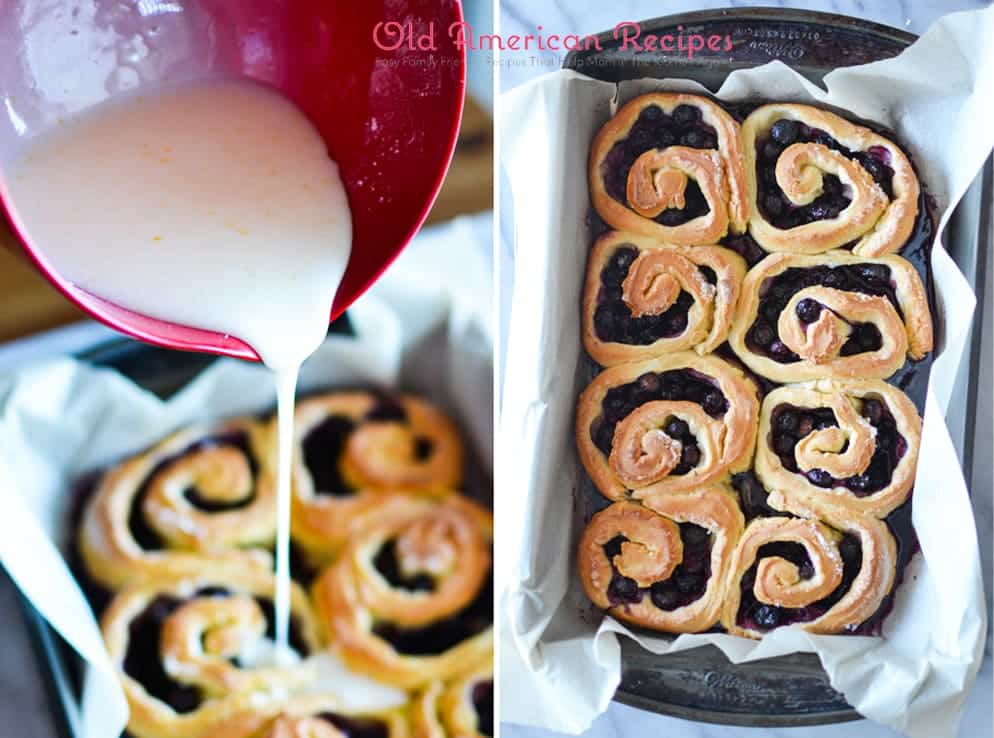 So here we are! And were these soft pillowy beauties love at first bite? Why, yes, yes they were.
The snow is melting here in Chilliwack and I wanted something bright and lemony for brunch over the weekend. These are based off of my classic cinnamon rolls but are stuffed with fresh blueberries and have a drizzle of lemon glaze. Big time heart eye emoji's for these beauties <3 <3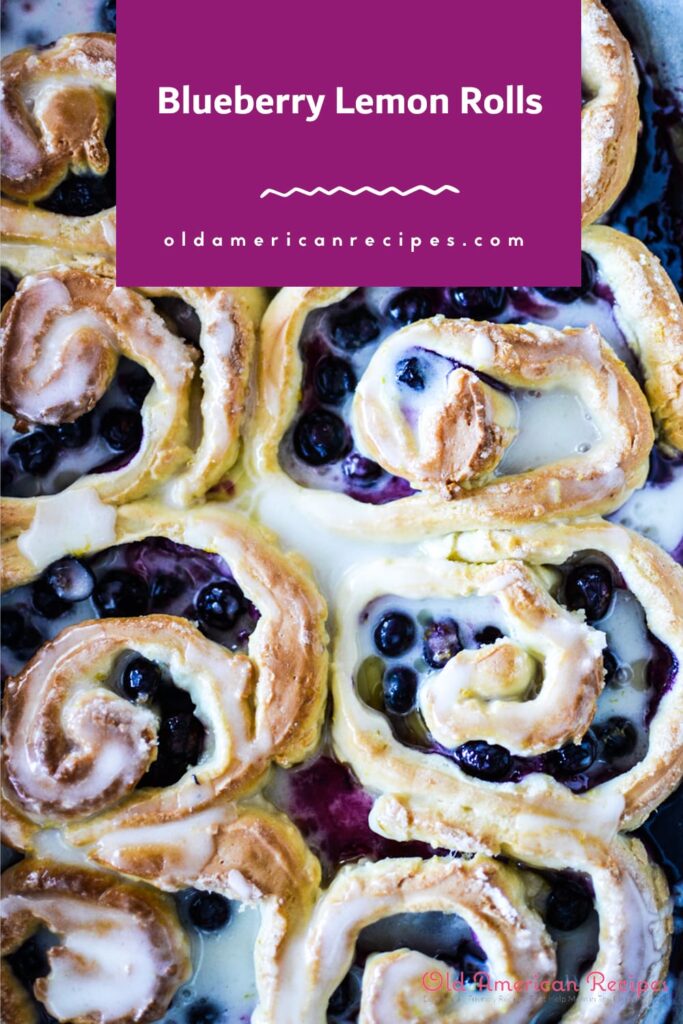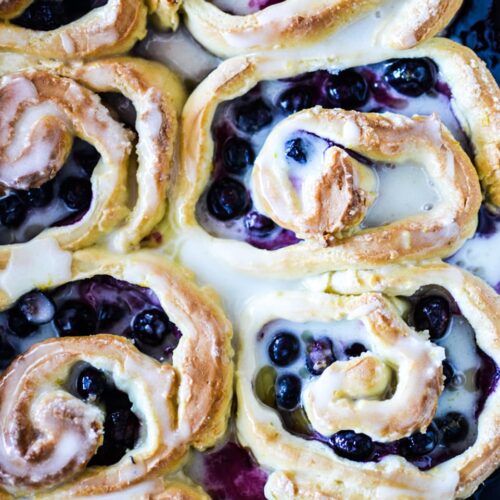 Blueberry Lemon Rolls
Ingredients  
1/4

cup

unsalted butter

1

cup

milk

whole is best

1/4

cup

granulated sugar

1

packet

2 1/4 tsp active dry yeast

1

large egg yolk

1

tsp

pure vanilla extract

2 3/4

cups

all-purpose flour

1

tsp

Kosher salt

1/4

tsp

baking powder
For the filling:
1/2

cup

unsalted butter

softened

1/2

cup

granulated sugar

1

whole lemon

zested

2

cups

fresh blueberries

washed and dried
For the glaze:
1/2

lemon

zested

Juice from 1/2 a lemon

1 1/2

cups

powdered sugar

Pinch

kosher salt

1 1/2

tbsp

unsalted butter

melted

1/8 to 1/2

cup

milk
Instructions 
In a small saucepan over medium-low heat, warm the butter until it begins to melt. Add in milk and sugar and heat until just below a boil. Set aside and cool to luke warm. Sprinkle the yeast on top and let it sit on the milk for 1 minute. Do not stir. Allow to sit in a warm place for about 5 minutes, or until foamy and frothy. If mixture doesn't foam and froth, then toss the mixture and start again – this step is important! Whisk in the egg yolk and vanilla extract.

In a large mixing bowl or bowl of a stand mixer, combine the flour, salt and baking powder. Whisk until evenly combined. Make a well in the center and pour in the wet mixture. Knead with the dough hook, for about 4 to 5 minutes until smooth and elastic OR mix with a wooden spoon and then transfer the dough to a lightly floured work surface and knead by hand for about 5 to 6 minutes until smooth and elastic. Place the dough in a lightly oiled bowl and cover with plastic wrap (or a clean kitchen towel). Allow to rest in a warm spot (like in the oven with the light on) for about 1-2 hours, or until doubled in size.

After rising, use the dough right away OR punch the dough down and refrigerate for up to 3 days. (FYI: dough is easier to work with if it's been chilled for at least an hour or so beforehand.)

Punch the dough down and transfer to a lightly floured work surface. Roll out into a large rectangle that is about a 1/2-inch thick. Slather with the softened butter (Note: at this point you can pop the butter into the microwave to soften slightly for 15 seconds if it's not spreading easily) in an even layer and sprinkle generously with the sugar. Sprinkle the lemon zest over top in an even layer and then sprinkle the fresh blueberries. Roll the dough tightly into a log, lengthwise, pinching the seam to close it. Cut the log into 8 rolls and discard the pinched ends.

Line a 9 x 13-inch baking pan (or casserole dish) with parchment paper, add evenly coat the bottom of the pan with some melted butter. Transfer rolls to the buttered pan, spacing them evenly apart. Cover lightly with plastic wrap or a clean kitchen towel. Allow to rest in a warm spot for 1 hour.

Preheat oven to 350°F.

Bake the rolls for about 30-35 minutes, or until golden brown on top. Remove from oven and allow to cool slightly for about 15 minutes before glazing.

To make the glaze, add lemon juice, lemon zest, powdered sugar, and dash of salt in a bowl. Add melted butter and whisk together until smooth. Add in the milk, 1 tablespoon at a time until you get the desired consistency. Taste it and adjust to your liking.

Drizzle the glaze all over the rolls. Be sure to get it all around the edges and covering the surface so they'll be nice and moist. Enjoy!
Notes
Cinnamon rolls, in general, take a long time to prepare but you can do a lot of the prep work the day before if you'd like to have these quickly in the morning. There are two ways you can do this:
(1) The night before baking, make the dough, allow to rise for an hour and then place in the fridge. In the morning you can then roll the rolls, slice, allow to rise for a second hour and then bake (this is the option I prefer).
(2) The night before baking, make the dough, allow to rise for an hour, prepare rolls, and place in the fridge. In the morning you just allow the rolls to rest for an hour and then bake.
Wrap leftover rolls well in plastic wrap or place them in an airtight container. They'll keep in the fridge for about 3 to 4 days. Right before eating, rewarm them for a few minutes in the oven or a few seconds in a microwave to warm through and make them soft once more.
Dough recipe adapted from The Candid Appetite
Sharing is caring!