Sharing is caring!
Apple frit­ters can do won­ders if you crave some­thing sweet, but still want it to be a rel­a­tively healthy snack. Or, if you're caf­feine deprived…like me. Apple frit­ters are noth­ing new, and I'll some­times whip up a batch for break­fast, and eat them with a side of yogurt. I made the frit­ters with coconut sugar this time — both the in bat­ter and for the caramelized crust. I bought a huge bag of coconut palm sugar last sum­mer, and I still have enough left to last til the end of time. The brand in the link is the one I use, and I rec­om­mend it — and it doesn't taste of coconut, btw, it's made from the sap of the tree. I have no prep pic­tures because I made a giant mess of things.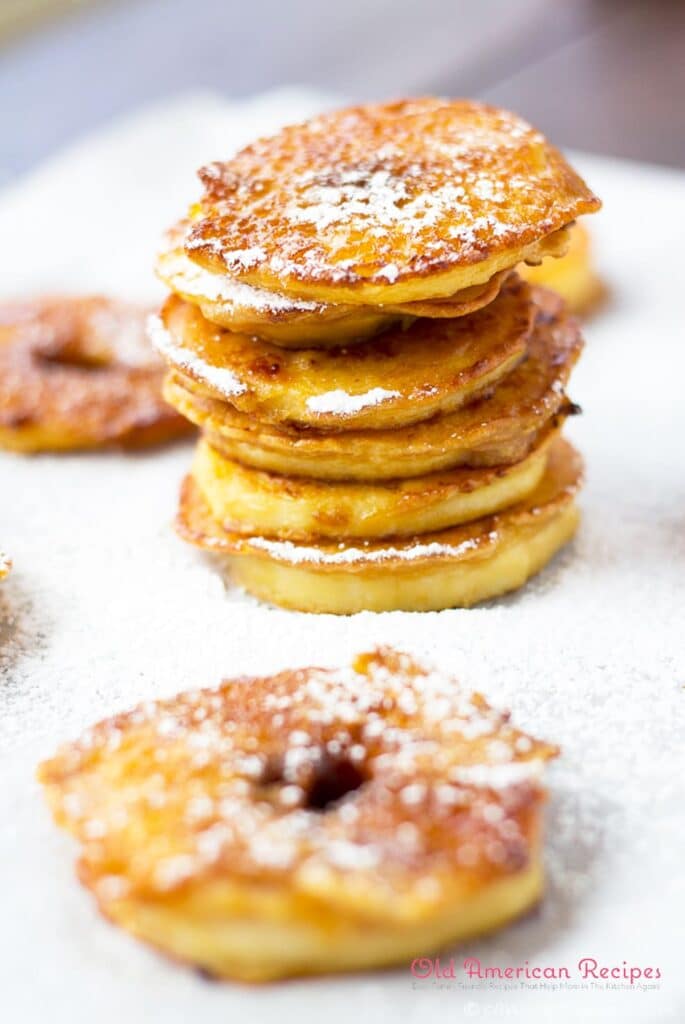 The apple frit­ters are not deep fried — pour just enough olive oil to barely cover the bot­tom of your pan, that's all you need. The apples inside will soften, and the bat­ter and caramelized crust will be so yum. For best results, cut the slices about 1/​3 of an inch thick at most — if cut too thick, and they won't soften enough. I used organic Red Deli­cious apples for my recipe, although any sweet apple will do.
If you don't have a 4lb bag of coconut sugar in your pantry, no wor­ries. You can swap in white sugar, but use about 3/​4 of what this recipe calls for. Coconut palm sugar is less sweet than white, but low on the glycemic index — it won't cause a spike and crash in blood sugar. I use it because I love the fla­vor — it's a bit like caramel, smoke and coffee…if you've never had it and enjoy try­ing new things, I say go for it and try.
No cof­fee drink­ing update: 10 days. I'm still on my get-​better diet after stom­ach funk, which means I con­stantly fan­ta­size about sip­ping a cap­puc­cino /​stuff­ing my face with tiramisu /​choco­late cheese­cake. The very smell of cof­fee could bring me to tears right now. And I tech­ni­cally wasn't sup­posed to be hav­ing these:
I said that I made a huge mess — ya — I had an idea that I'd dip each batter-​covered slice on a plate of sugar. You already see where this is going — plate of sugar grad­u­ally cov­ered in bat­ter, drippy, gluey bat­ter EVERYWHERE. Here's an idea, sprin­kle some coconut palm sugar on top of frit­ters as they are brown­ing in the pan.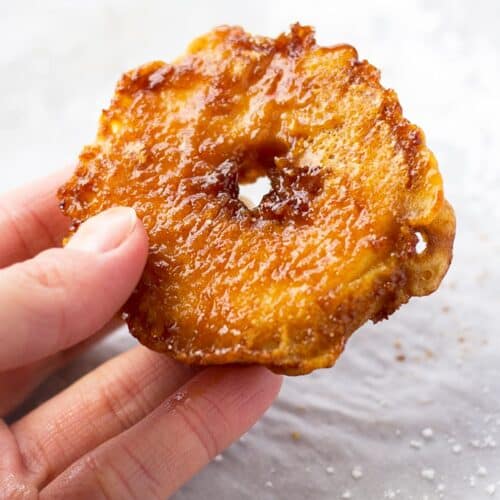 Apple Frit­ters with Caramelized Coconut Sugar
Ingredients  
bat­ter:
1

cup

milk

1

cup

plain white flour

¼

cup

coconut palm sugar + more for sprin­kling over while frying

1

egg

pinch

of salt
frit­ters:
olive oil

6

medium sweet apples

such as Red D
Instructions 
Whisk all bat­ter ingre­di­ents in a medium bowl until smooth.

Pour just enough olive oil into a pan to cover the bot­tom and warm up over medium heat. Dip each apple round in the bat­ter, and place in the hot oil. Don't over­crowd the pan. When the whole batch is placed and fry­ing on the pan, use a spoon to sprin­kle more coconut palm sugar on top of each frit­ter (only one side). It will caramelize when flipped over.

Serve gar­nished with pow­dered sugar.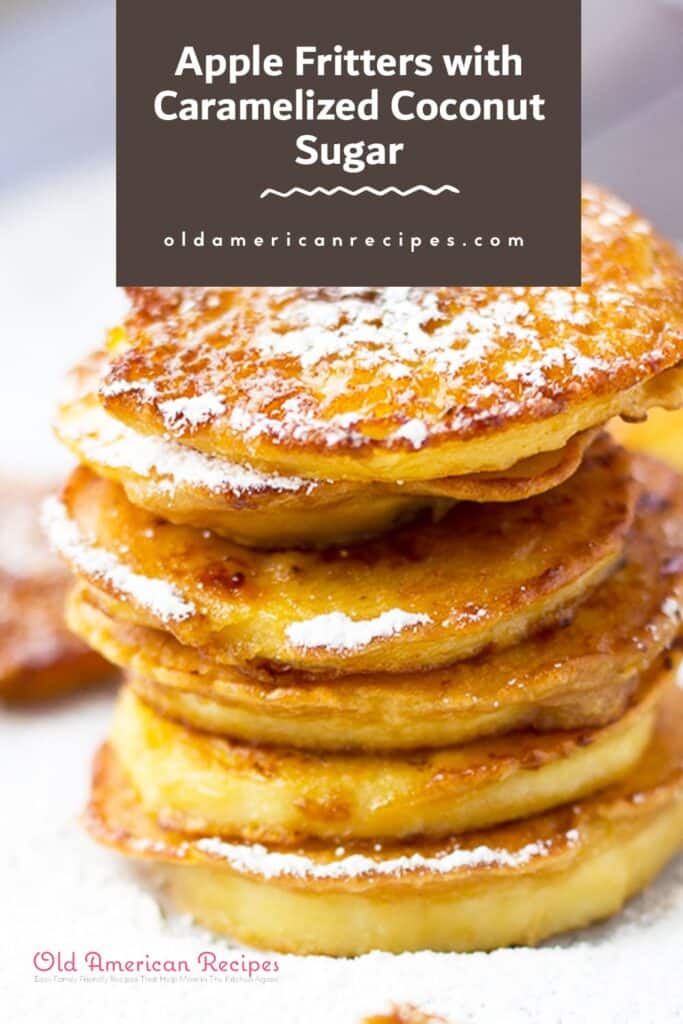 Sharing is caring!