Sharing is caring!
Quite some years ago, I made a list of all the new places around the world I would like to explore. But somehow, despite having travelled fairly extensively in my younger years, the list was visibly much longer than that of the countries I had already seen.
Hmmmmm, a bit of a predicament!
Now, as time is gently ticking away (and yes, it is), I know I must get serious about my exploration list. Unless there is some sort of cash windfall in my future, I have serious reservations that I will accomplish a visit to all the desired countries on my original list (FYI, over 50!).
So I decided to do something extreme. I set myself the goal to reduce the list to my absolute, critical and most essential must visit destinations. I limited the list to … dare I admit … only five countries.
Do you know how hard that was? I mean, it is simple to create a long, extensive, and a nothing-gets-left-out list. But a brief, short, you really-have-to-think-about-it one?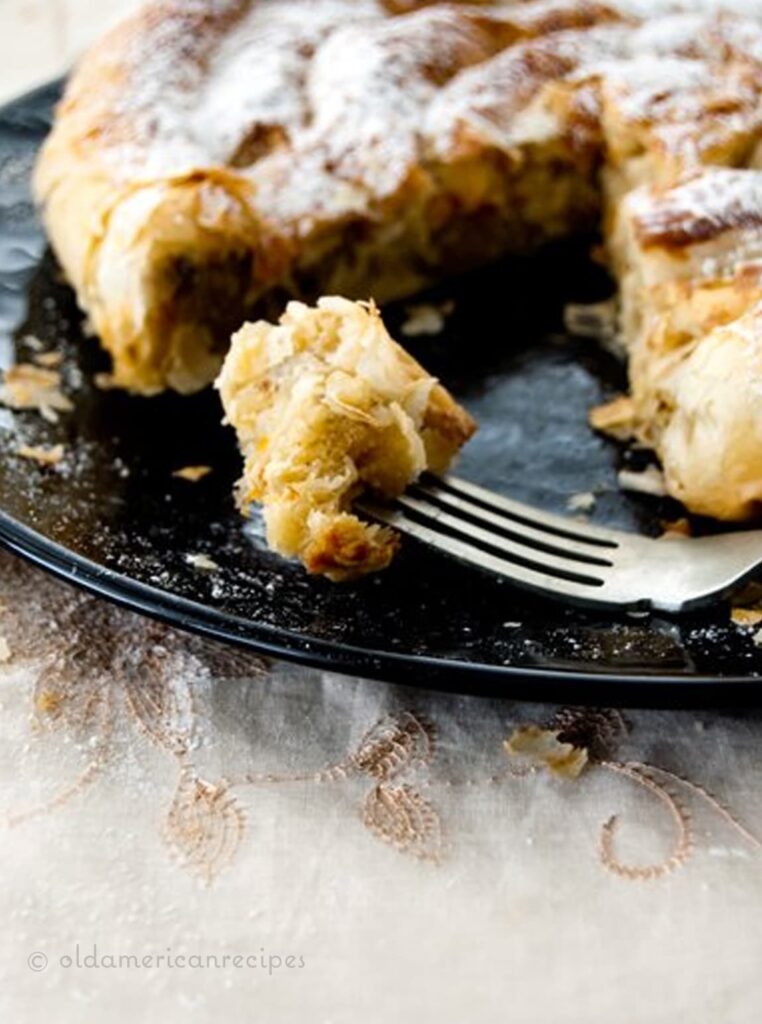 After much deliberation though, I am happy with the final outcome – and, of course, looking forward to future travel plans!
Morocco will be one of the countries I visit.
Although Mr Mélanger has already been to this popular North African destination, he is more than happy to travel there again, with me. Together, I hope we share one of these sweet M'hanncha delights from a local vendor – along with a range of other traditional Moroccan desserts, cookies, pastries and sweets!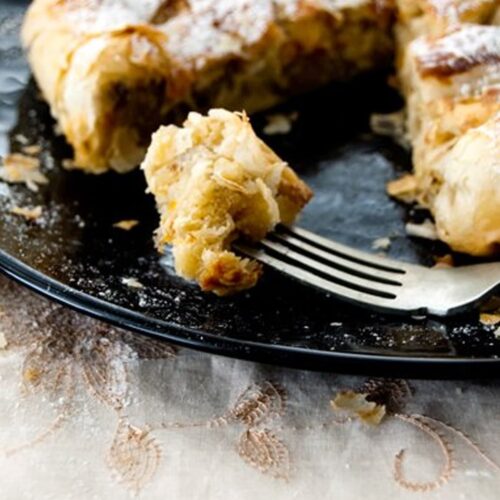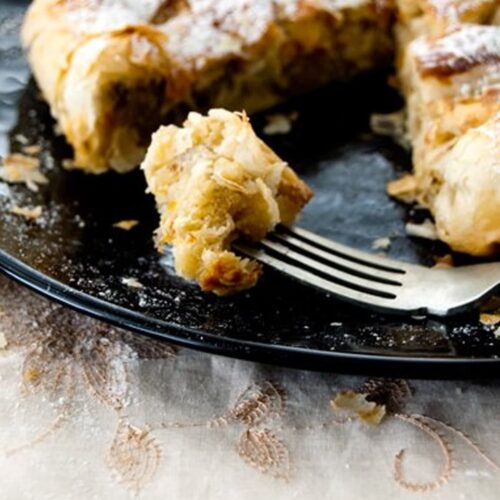 M'hanncha – Moroccan 'snake' cake
When cutting into this M'hanncha, the light, delicate crunch of the filo pastry is a glorious enticement. The first taste will not disappoint either. The texture is moist and the flavour is fragrant. The rose water is subtle and works well with the confident citrus flavours. Overall it is not overly sweet, which is as refreshing as the mint tea traditionally served with it! I was inspired by this recipe from Tess Mallos (The Food of Morocco) and Jamie Oliver (Jamie Does)
Ingredients
150

g

ground almonds

50

g

pistachios

roughly ground

125

g

icing/confectioners' sugar

1

tablespoon

of plain flour

Zest of 1 lemon

Zest of 1 orange

1

tablespoon

rose water

90

g

unsalted butter

8

sheets of filo pastry

1

egg

Pinch

of cinnamon

Icing/ confectioners' sugar

to serve
Instructions
Preheat oven to 180C/350F.

Lightly butter a 20 cm/8 inch springform pan.

Set aside.

Separate the egg and place the egg white in a large bowl, and put the egg yolk aside for the end of the preparation. Gently whisk the egg white, and then add the almonds, pistachios, icing sugar, flour, zests, and rosewater.

Mix to a paste.

Divide the mixture into 8 equal portions (around 50g each).

Roll each into a sausage shape about 20 cm in length.

Remove one sheet of filo pastry from your pile (keeping the remaining pastry covered with a clean tea towel), and place the sheet with the long side towards you.

Gently brush butter over the pastry and place another sheet on top, also brushing the top with butter.

Place two of your almond 'sausages' side by side at the front of the pastry leaving a gap of around 2 to 3 centimetres around the edges (sides and front).

Roll up to enclose the filling. Form into a coil and sit the coil, seam side down, in the centre of the tin, tucking under the unfilled ends of the pastry to enclose the filling.

Continue in this manner to make three more pastry 'snakes' shaping each around the smaller coil to make a large coil.

If the coil breaks, cut small pieces of some extra filo, brush with a little egg yolk and press the filo onto the breaks.

Add the cinnamon to the remaining egg yolk and brush over the coil.

Bake for 25-30 minutes or until golden brown. Dust with icing sugar.

Serve with cream, ice-cream or a date sauce!
Don't forget to PIN this M'hanncha – Moroccan 'snake' cake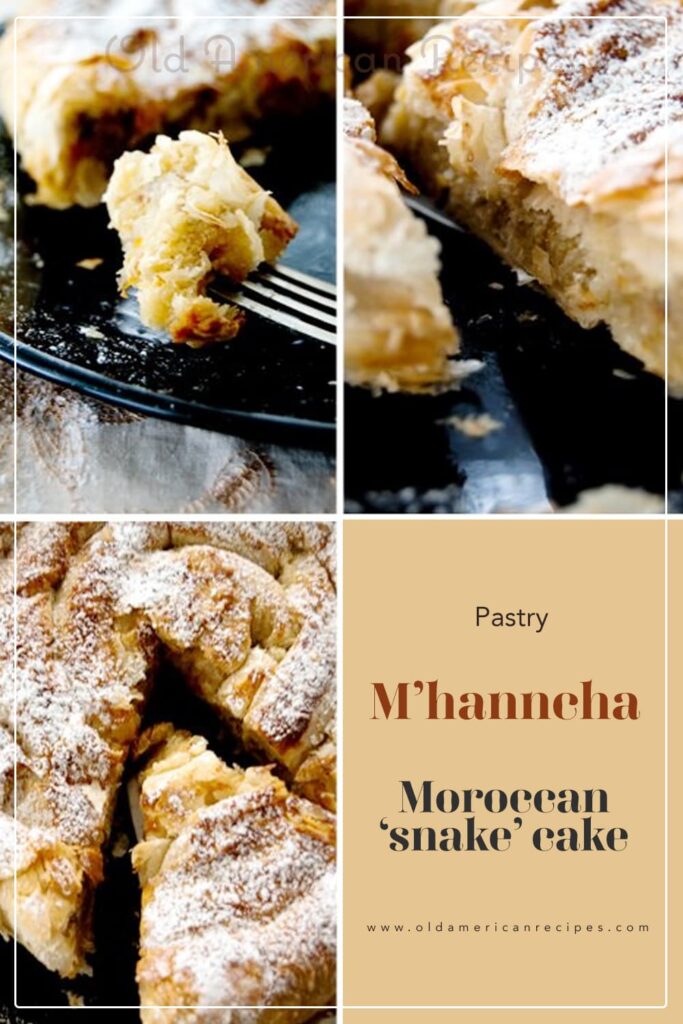 Sharing is caring!