Sharing is caring!
I've realised my blog is sort of like Seinfeld. When it comes time for me to write a blog post, I'm always at a blank. I stress out trying to come up with some sort of witty/thoughtful/interesting prose to accompany a recipe that I want to share and I find it so difficult to come up with something that won't bore the shit out of my readers. I'm far from a natural writer and I usually end up just writing the nonsense that floats about in my head. Pretty much what I am doing right now…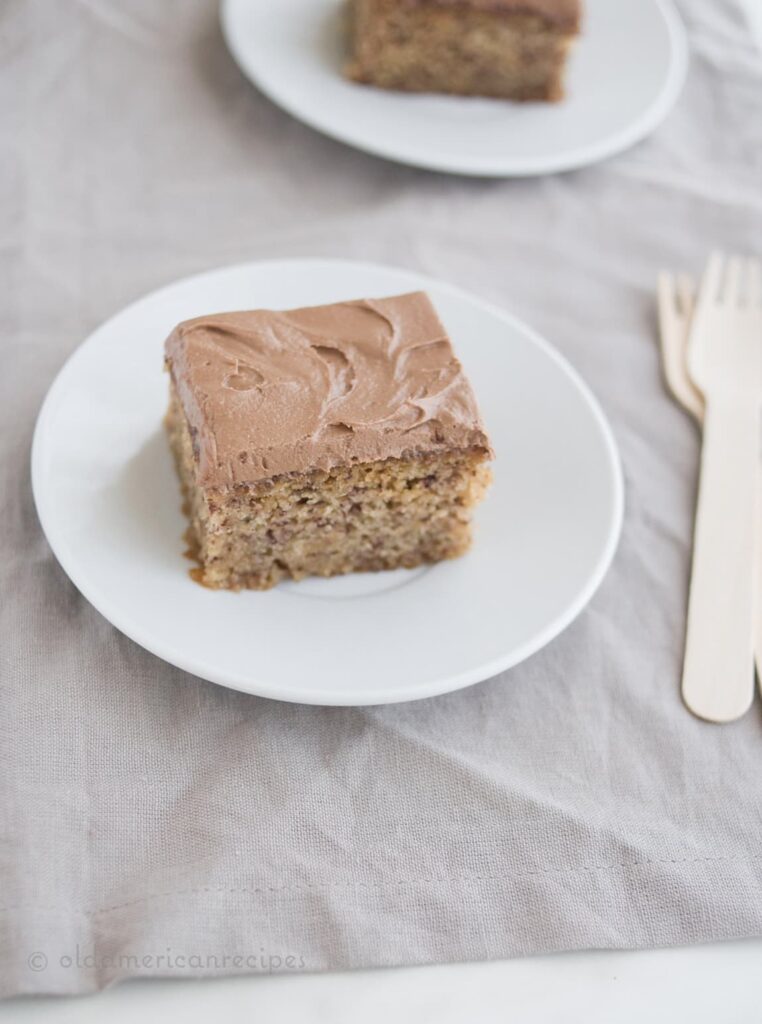 Seinfeld is one of my all time favourite sitcoms. The characters were brilliant, with George Costanza being my favourite. He is so self-absorbed and neurotic and these traits account for some of the show's best cringeworthy moments! The simple storylines also allowed it to basically be a show all about "nothing" yet everything at the same time. Entire episodes would focus on the minutiae of life: trying to find your car in the parking lot, waiting ages for a table at a restaurant, getting a new pair of glasses. All the things you would think wouldn't be interesting enough for a popular television show! It's just like my blog. I just write about the little boring random things that happen in my life, yet I still get quite a bit of traffic everyday (it seriously amuses me because, really, why are you people here!?)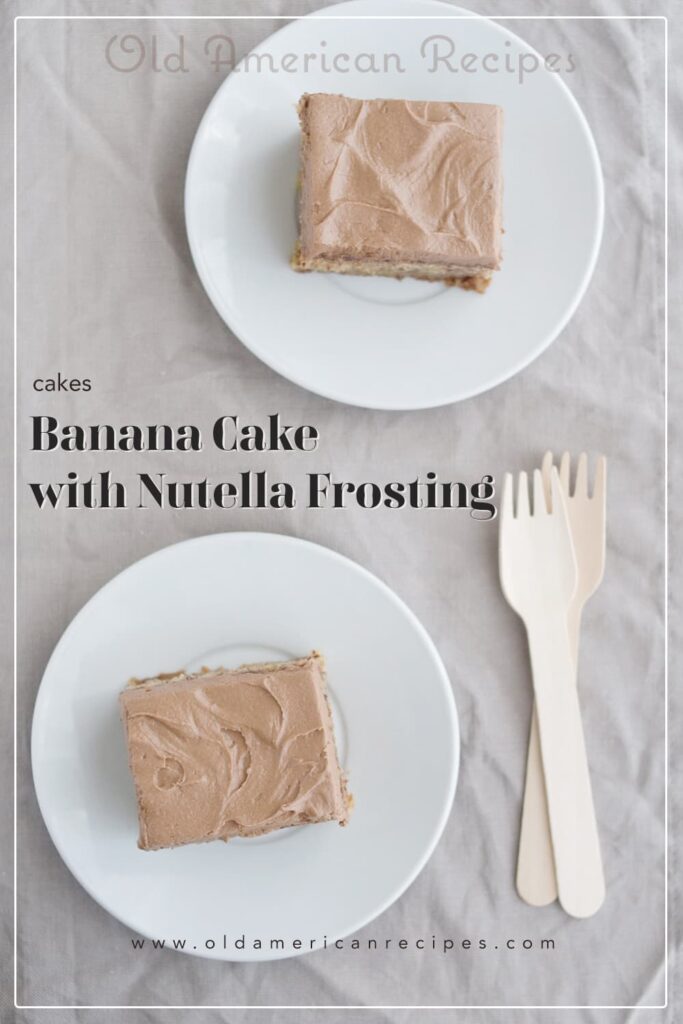 In keeping with the Seinfeld theme, this post is simply about "The Cake" because each Seinfeld episode was titled "The …". The Cake in question here is an amazing (yes, amazing) recipe for banana cake with Nutella frosting. I can't even describe to you in words how good this freaking cake is. It's a foolproof recipe: because of the banana, it will always be moist, and it has Nutella frosting! You can't go wrong with anything Nutella, can you? With that said though, this cake can easily be served sans frosting with a simple dusting of icing sugar, or perhaps with a cream cheese frosting or chocolate ganache instead. All in all, it's a great recipe to have on hand when you want something simple but special.
Remember it later
Like this recipe! Pin it to your favorite board NOW!
Pin
Seinfeld was a show about nothing yet everything, and this blog is about nothing too. Well, "nothing" and cake. Enjoy! 🙂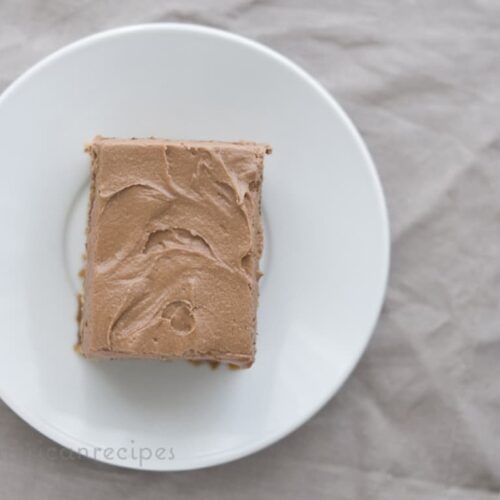 Banana Cake with Nutella Frosting
I've honestly outdone myself this time. This cake is absolutely amazing. You MUST make it! from scratch Banana Cake recipe with Nutella Frosting
Ingredients  
125

g

butter

at room temperature

1 ½

cups

caster sugar

1 ½

teaspoons

baking powder

1

teaspoon

baking soda

1

teaspoon

salt

1 ½

cups

mashed banana

about 3 large bananas

2

eggs

1 ½

teaspoon

vanilla extract

½

cup

buttermilk

2 ½

cups

plain flour

Nutella Frosting

½

cup

Nutella

50

g

butter

room temperature

2

big tablespoons condensed milk

or milk or cream

3

cups

icing sugar

sifted
Instructions 
Line a 10 inch square cake tin with non stick baking paper and set aside. Preheat the oven to 180C.

In a freestanding mixer, beat the butter and sugar until white and creamy.

In a bowl, combine the flour, salt, baking powder and baking soda. Add this to the creamed butter and sugar mixture. Mix well.

Add the bananas, buttermilk, eggs and vanilla. Gently combine and mix for about two minutes.

Pour the batter into the prepared pan. Bake for around 1 hour or until a skewer inserted in the middle comes out clean.

Cool the cake in the tin for 15 minutes before inverting onto a wire rack to cool completely.

For the frosting, beat the butter and Nutella until combined. Add icing sugar, a cup at a time until everything is smooth. Add the condensed milk and mix until glossy.

Spread the frosting onto the cooled cake.
Remember it later
Like this recipe! Pin it to your favorite board NOW!
Pin
Don't forget to PIN this Banana Cake with Nutella Frosting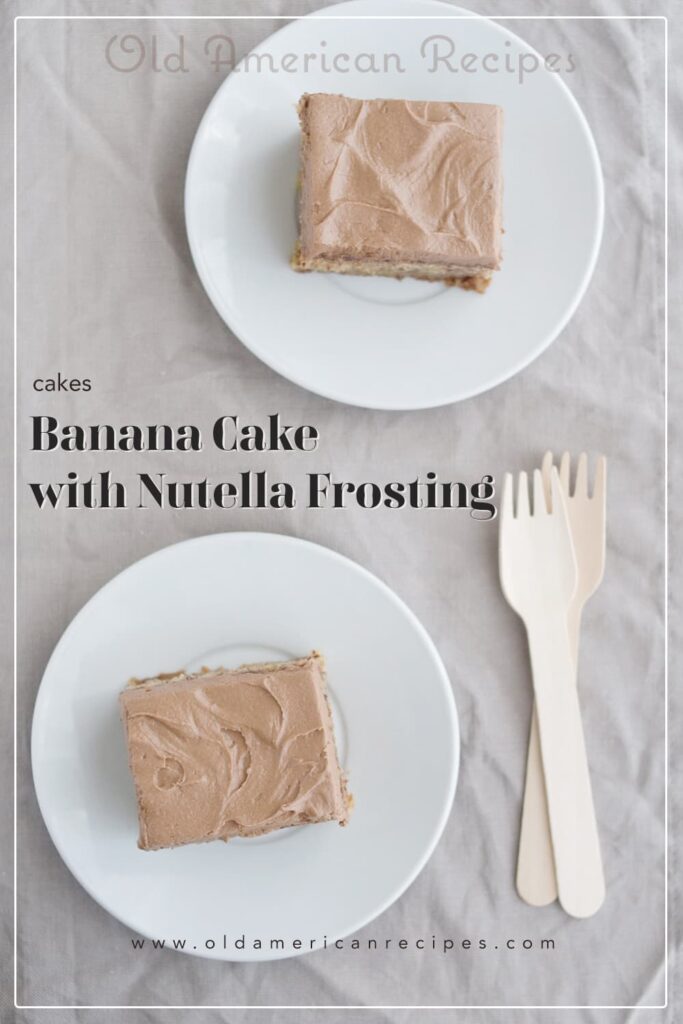 Sharing is caring!