Sharing is caring!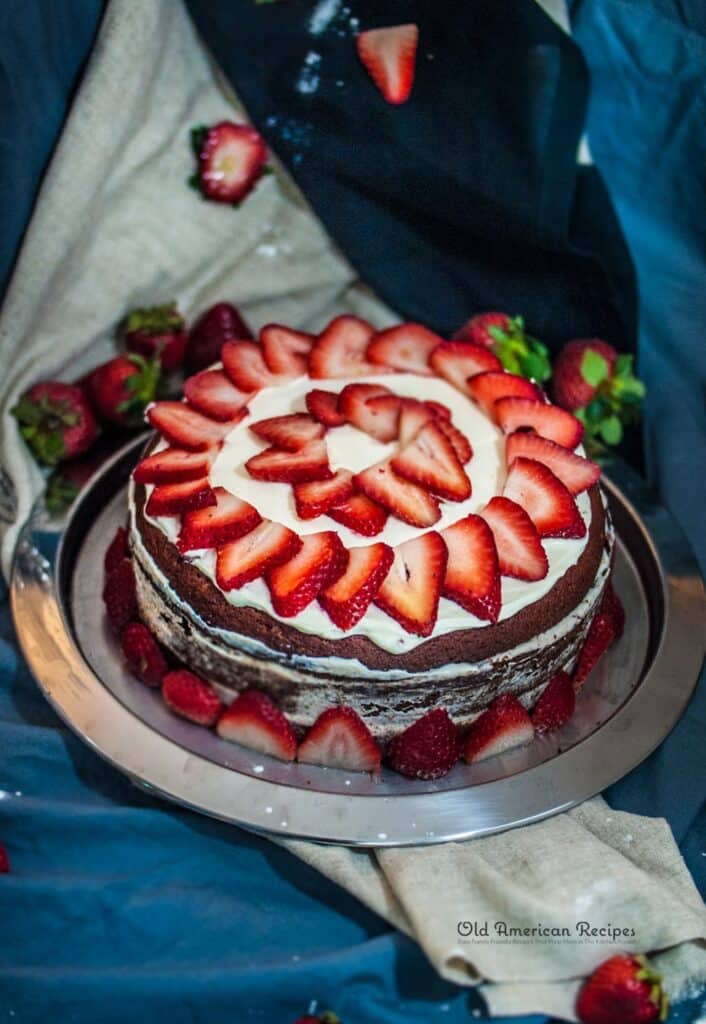 This Strawberry Red Velvet Cake was a hit in my office! I had a really hard time slicing it, since the cake was small, and I had a large number of slices to cut…All I can say is that it disappeared in a minute.
I finally realized how desperately I need a bigger baking pan!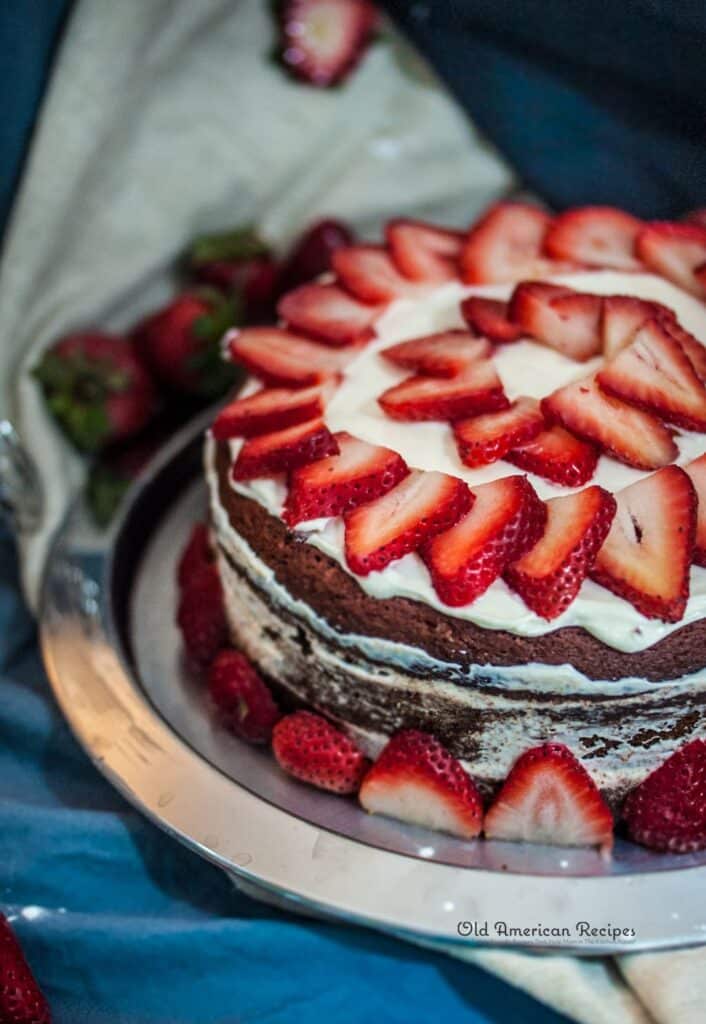 The smooth texture, strawberry syrup and buttery-rich frosting make this Velvet Cake an all-time favorite for any time of year. Perfect for Birthdays and or any other special occasions!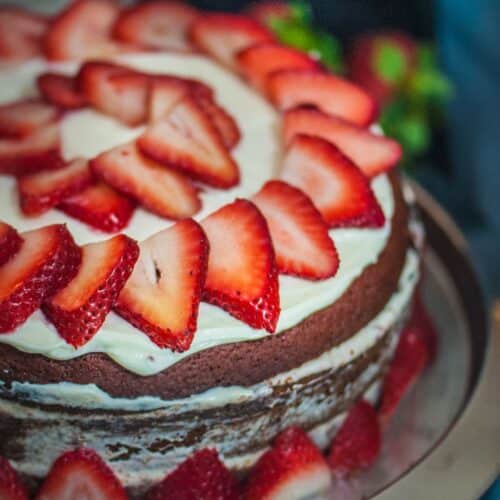 Strawberry Red Velvet Cake
Ingredients  
Red Velvet Cake:
2 1/2

cups

all-purpose flour

1 1/2

cups

sugar

1

tsp

baking soda

2

tbs

cocoa powder

1 1/2

cups

vegetable oil

1

cup

buttermilk

2

large eggs

2

tbs

red food coloring

1

tsp

apple vinegar

1

tbs

vanilla extract

pinch

of salt
Cream Cheese Frosting:
1

cup

butter

1

pound

cream cheese

4

cups

confectioners' sugar

2

tsp

vanilla extract

1- 2

tbs

lemon juice
strawberry mixture:
water

a few tbs of strawberry jam + strawberries

sliced
Instructions 
Red Velvet Cake:
Preheat the oven to 350°F.

Lightly oil 8 -inch round cake pan.

In a large bowl, sift together the flour, sugar, baking soda, salt, and cocoa powder.

In another bowl, whisk together the oil, buttermilk, eggs, food coloring, vinegar, and vanilla.

Mix the dry ingredients into the wet.

Pour the batter into prepared 20 cm round cake pan.

Bake in preheated oven for 70-80 minutes, or until a toothpick inserted into the center of the cakes comes out clean. (After 50 minutes of baking I covered the cake with aluminum cake, to prevent the top from burning).

Remove from the oven and let cool completely.
buttercream:
Combine butter and cream cheese until well blended.

Add powdered sugar and vanilla.

Beat until creamy.
strawberry jam mixture:
3/4 a few tablespoons of jam with 1,5 – 2 tablespoons of water.

Set aside.
assemble:
Cut a cake into four layers.

Put your first cake layer on the plate, use a pastry brush to brush the jam mixture over the entire cake. Make sure you get the edges of the cake covered as they tend to dry out the most.

Then, spread a part of the frosting evenly across layer.

Put the second cake layer on top, soak with jam mixture and frost.

Repeat with the rest of your layers.

Cover the top of the cake with the remaining frosting.

Decorate with sliced strawberries.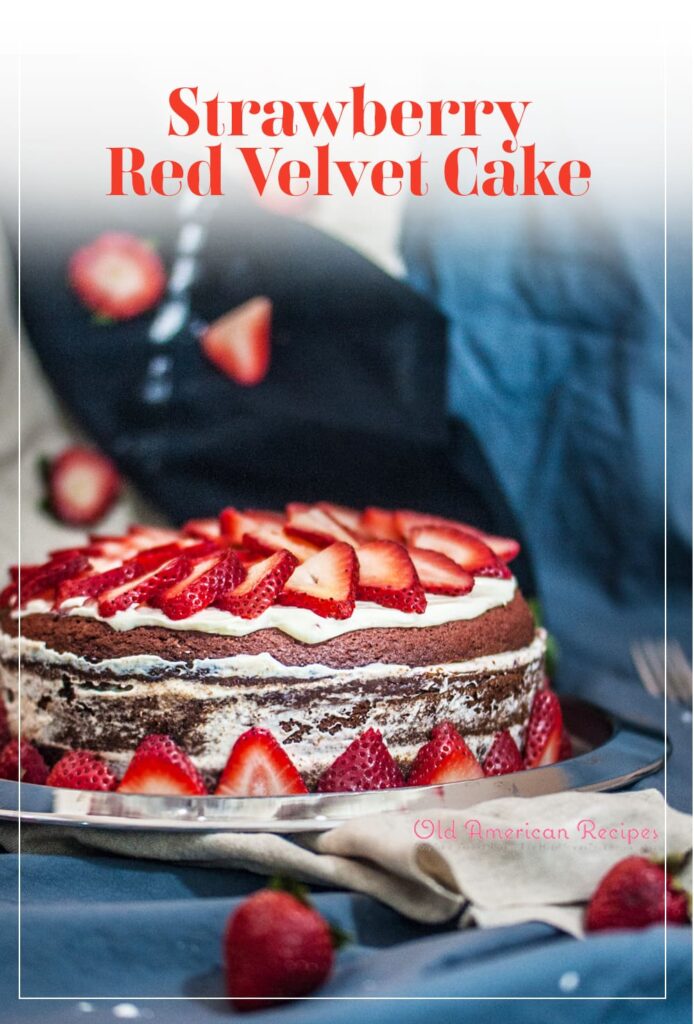 Sharing is caring!