Sharing is caring!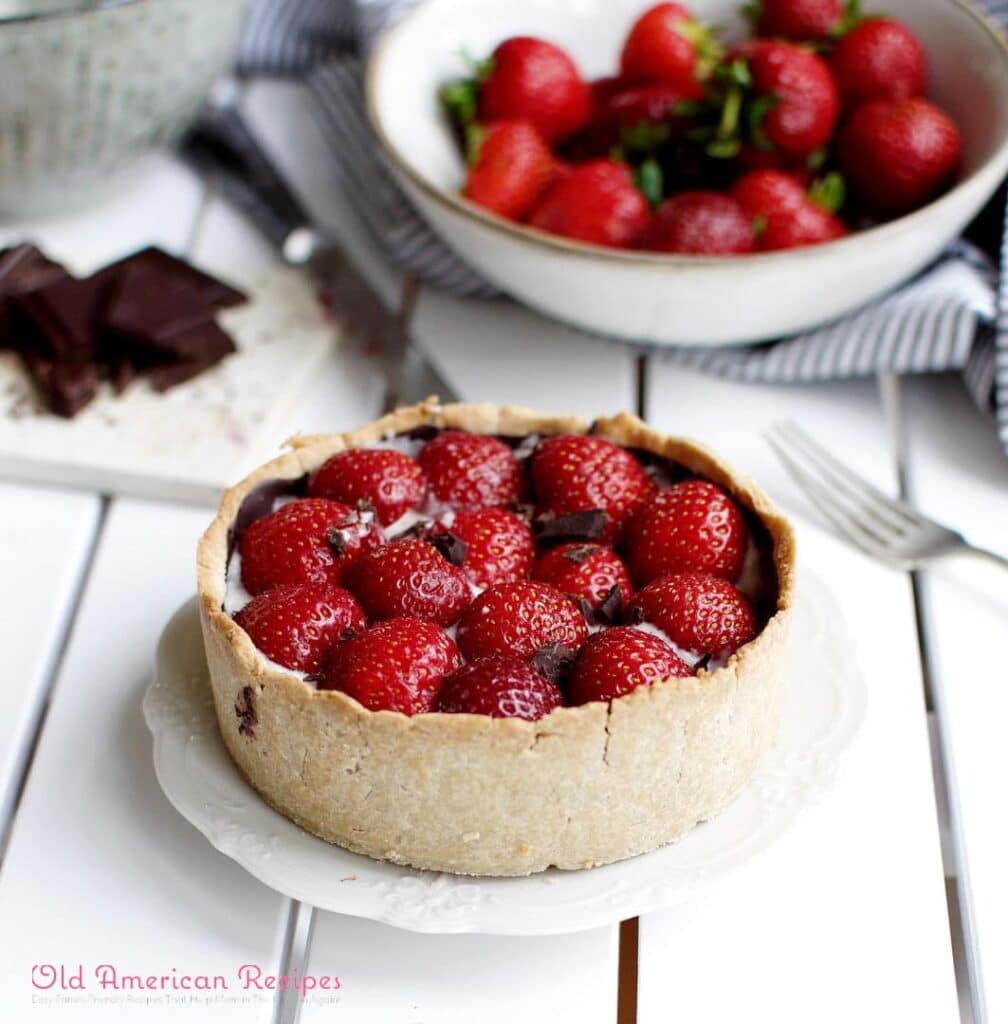 Healthy Strawberry Custard Tart. Vegan and gluten free.
One thing that makes me incredibly happy as of late: I've bought a new lens. A 35mm 1.8/f prime. And I am in love. This makes me insanely happy, not for materialistic reasons – but because it is a clear sign means my photography is developing. I once read – and I couldn't agree more – that you don't become a good photographer by buying the most expensive equipment. So true! I hat it when people look at my photos and say: "well, but you do have a DSLR." HSDKFSDKFEPGSJWQRR.
Seriously?! Yeah, because the chef have got a good oven and the musician a good guitar. Bug off! The quality of my photos is the result of many hours of practicing – not the result of a good camera. Sorry for ranting (: Well, I love my new lens because it is a milestone for me:
I've outgrown my beginner's lens.
Remember it later
Like this recipe! Pin it to your favorite board NOW!
Pin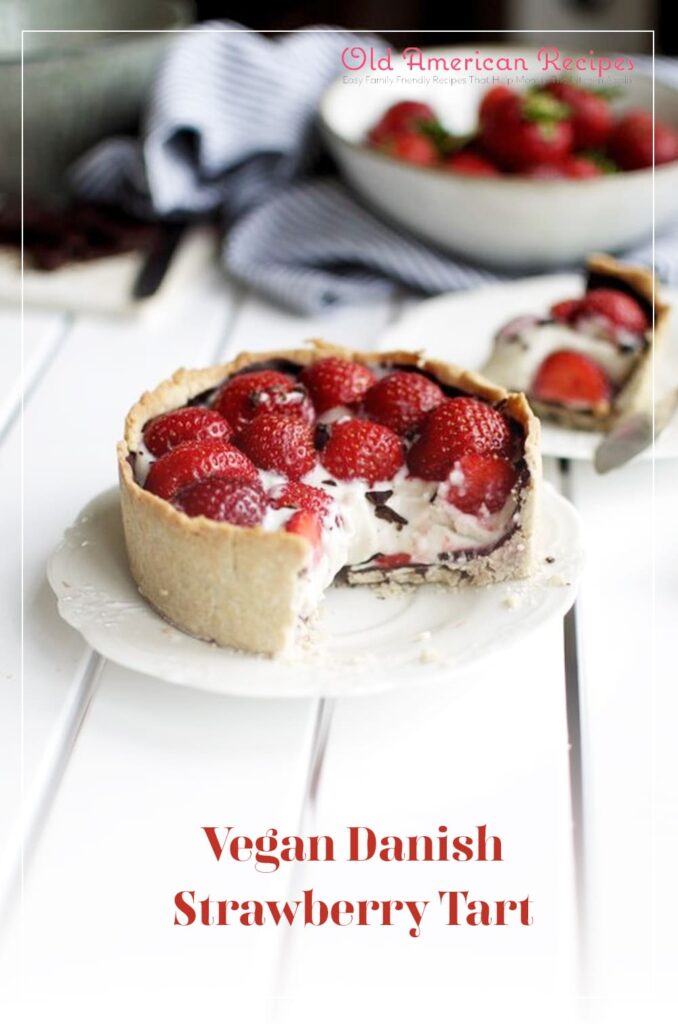 On to this tart: A strawberry custard tart is a super delicious traditional Danish summer tart – I'd go as far as to call it a cultural heritage. You can buy it at any bakery. Seriously, every Dane have some kind of memory about this tart and I don't think I've ever met a person who doesn't like this one (except the weirdoes who don't like chocolate…). And that is no surprise.
A crispy crust,
sweet custard,
dark luscious chocolate
and new strawberries
are what makes this tart irresistible. A combination made in heaven!
I really wanted to make a healthy version of this gem of a tart. I went all the way and made it both vegan and gluten free. Everything tastes like the real deal except the custard, which despite being very delicious, admittedly tastes like almond milk. I love that taste, but if you want this tart to be just like the usual one – just clean – go ahead and swap the custard for this clean, low fat, refined sugar free custard.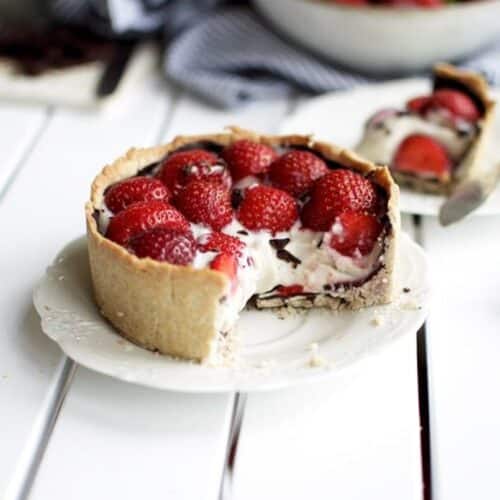 Vegan Danish Strawberry Tart
Healthy Strawberry Custard Tart. Vegan and gluten free. This makes a small tart – double the recipe for a normal-sized tart.
Ingredients  
CRUST:
1/2

cup

brown rice flour

¼

cup

buckwheat flour

¼

tsp.

fine salt

2

tbsp.

coconut oil

cold

2

tbsp.

maple syrup

1 ½

tbsp.

cold water
VEGAN CUSTARD*
1

cup

almond milk

1 ½

tbsp.

cornstarch

1

tbsp

rice flour

1

tbsp.

agave syrup or maple syrup

Beans from half a vanilla pod

or 1 tsp. vanilla extract
OTHER
40

g.

dark chocolate

preferably sugar free

0.25

kg.

8oz. strawberries
Instructions 
Preheat oven to 200°C / 390°F.

CRUST: In a medium bowl mix together rice flour, buckwheat flour and salt. Using your fingers or a fork crumble in the coconut oil until there are no lumps bigger than a pea. Add in the maple syrup. Stir in cold water until a dough forms. Press the dough out into a small spring form. Bake for approx. 15 minutes – or until the crust is golden brown. Let cool completely – eventually in the fridge.

CUSTARD: Meanwhile make the custard. Mix everything together in a small pot. Whisk until there are absolutely no lumps of flour or starch left. Warm up the custard over medium-high heat whisking constantly. Once it begins to boil whisk even more vigorously – take it off the heat as soon as it begins to thicken. Pour out onto a plate and let it cool completely.

Once the crust is cold, chop the chocolate and melt it over a water bath. Pour into the crust and swirl it around until it covers the entire crust (or use a brush).

When the chocolate has hardened pour the custard into the crust. Half the strawberries and place them close to each other on the custard.

Serve right away or store covered in the fridge for up to a day.
Notes
* If you don't mind dairy and want a tart more like the traditional one, use the recipe for the custard linket above recipe.
Sharing is caring!