Sharing is caring!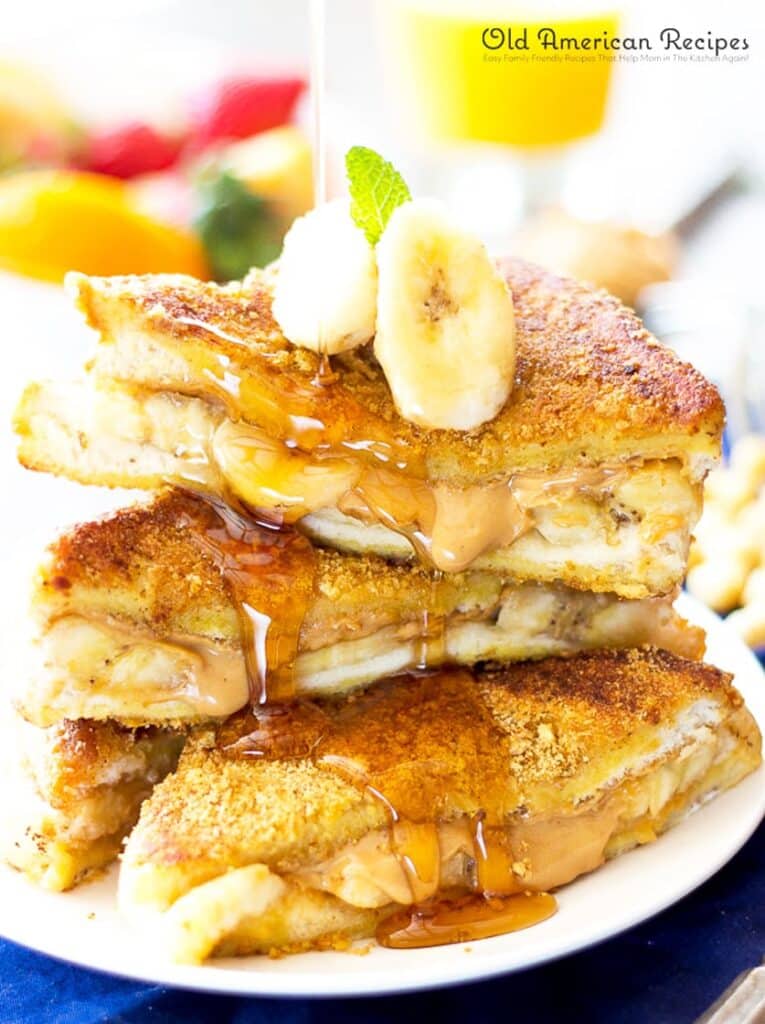 This is the Best Ever Peanut Butter Banana French Toast! Thick pieces of King's Hawaiian bread sandwiched between peanut butter swirls and banana slices, topped with a crunchy peanut butter cereal coating! 
Happy Monday all. Did you all enjoy your Mother's Day? Baby Stella got dedicated at church this weekend so it was a very special day for us and our family. We were overjoyed to spend this special day with the ones we love most.
I especially loved being with my mom. I have a whole new appreciation now for everything she did for me as a child since I have become a mother. I guess what they say is true about everything in life coming full circle. We had an amazing brunch and I indulged in some of my favorite sweet treats. Like any good husband, Nick brought me doughnuts in bed…and if you know me, there is really nothing I could love more than that.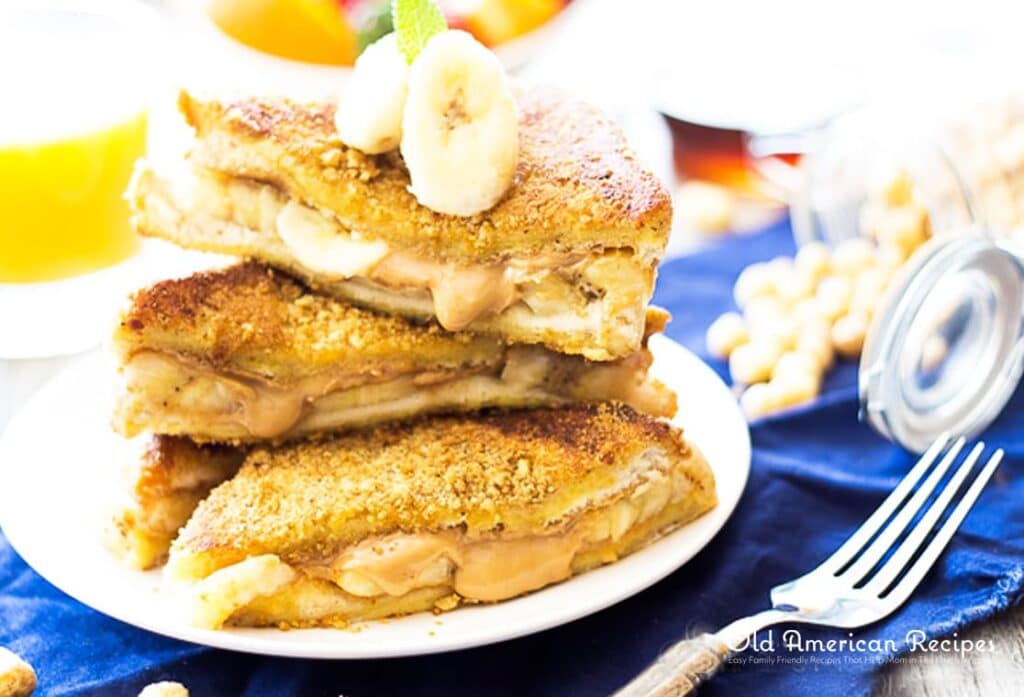 While we are on the subject you should know that I am a huge breakfast person. It is one of my favorite meals. During the week I limit myself to simple breakfast items like greek yogurt or a smoothie but I am all about brunchin' it on the weekends.
My husband and I have our favored breakfast spots but our favorite by far is this little Hawaiian place down by the coast. They serve authentic Hawaiian food and it is SO good! We started going there while I was pregnant with Stella. I have many fond memories of us sitting there chatting about her arrival. There was so much laughter, hope, and even fears exchanged around our little booth in the corner. I struggled during my pregnancy with many health problems and eating was one of the hardest things for me. Going to breakfast and even holding down the slightest amount of food was somewhat of a victory in my little world. All I had to do was mention french toast and Nick was already at the door with keys in hand. We still go back there often and it brings us a sense of contentment, knowing that despite all our irrational fears, she was brought into the world absolutely perfect in every way.
Sorry for the sappyness. She does that to me. Onto what you are really here for, the food!
This little Hawaiian place serves the BEST french toast in the world. I am absolutely convinced of that fact. I have been wanting to recreate it for so long and am happy to say that I have finally done it. You guys, it is truly the best! It is a peanut butter banana french toast served on Hawaiian bread with a peanut butter cereal topping. It is crunchy, creamy, sweet, and decadent all at once. I power mine down with a nice ice cold glass of guava juice. If you truly want to go the authentic Hawaiian route then you MUST serve this french toast with coconut syrup (but maple syrup works too).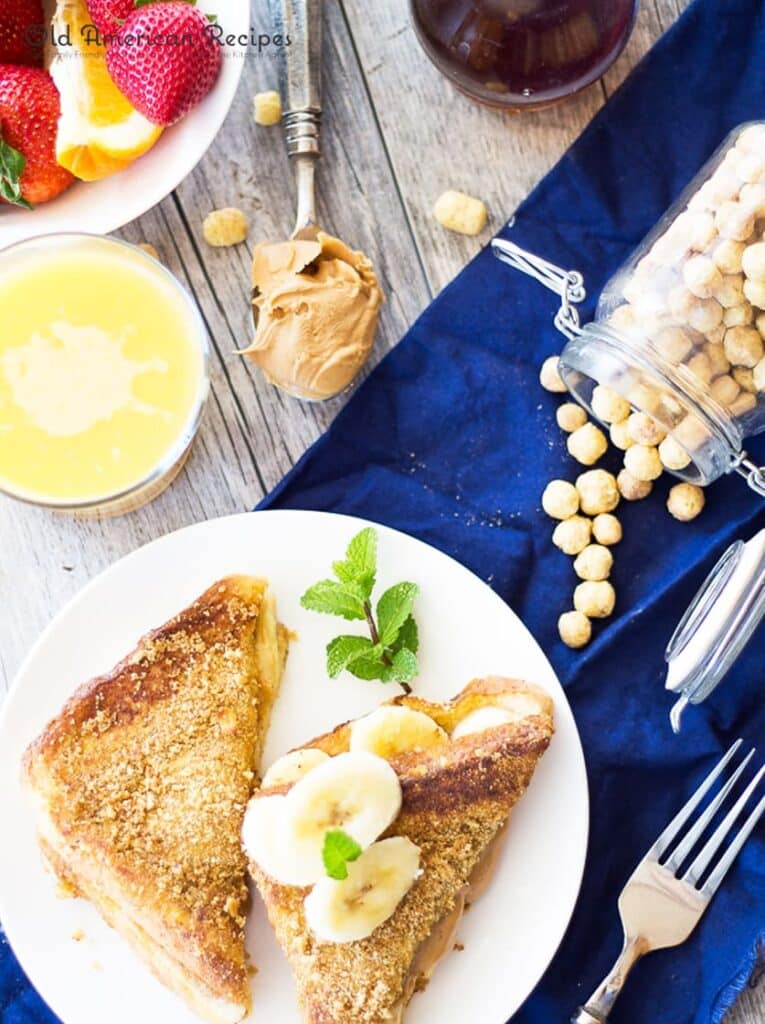 The best part about this recipe is how truly simple it is and chances are you have all the ingredients already on hand. If you can't find sliced Hawaiian bread, you can substitute thick pieces of Texas Toast. You can use any kind of peanut butter, creamy or crunchy. My favorite part is the cereal crust around the french toast. Have you ever had cornflake french toast? It's kinda like that…except a million times better.
You are gonna love this peanut butter banana french toast. I can guarantee it. 😉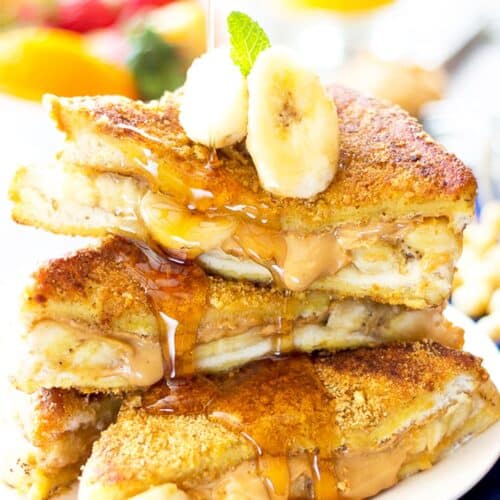 Best Ever Peanut Butter Banana French Toast
This is the Best Ever Peanut Butter Banana French Toast! Thick pieces of King's Hawaiian bread sandwiched between peanut butter swirls and banana slices, topped with a crunch peanut butter cereal coating!
Ingredients  
8

Slices

King's Hawaiian Bread or Texas Toast

½

Cup

Creamy Peanut Butter

2

Medium Bananas

sliced in ½ inch pieces

5

Eggs

2

Cups

Milk

2

Teaspoons

Vanilla Extract

½

Teaspoon

Cinnamon

2

Cups

Peanut Butter Cereal

crushed (I used Peanut Butter Captain Crunch)

2

Tablespoons

Unsalted Butter

Coconut or Maple Syrup for serving
Instructions 
Preheat a skillet on medium-high heat on the stovetop.

Spread 1-2 Tablespoons of peanut putter on each of the 4 pieces of sliced bread. Top evenly with the banana slices. Cover with remaining 4 slices of bread to create sandwiches.

In a bowl, whisk together the eggs, milk, vanilla and cinnamon. Place each sandwich in the bowl to soak up the custard mixture for 10 seconds on each side. Next, dip the custard soaked french toast into the bowl of crushed peanut butter cereal. Coat each side well.

Add butter to the preheated skillet.

Cook each sandwich for 2-4 minutes on each side.

Serve with warmed syrup and extra peanut butter for spreading.

Sharing is caring!