Sharing is caring!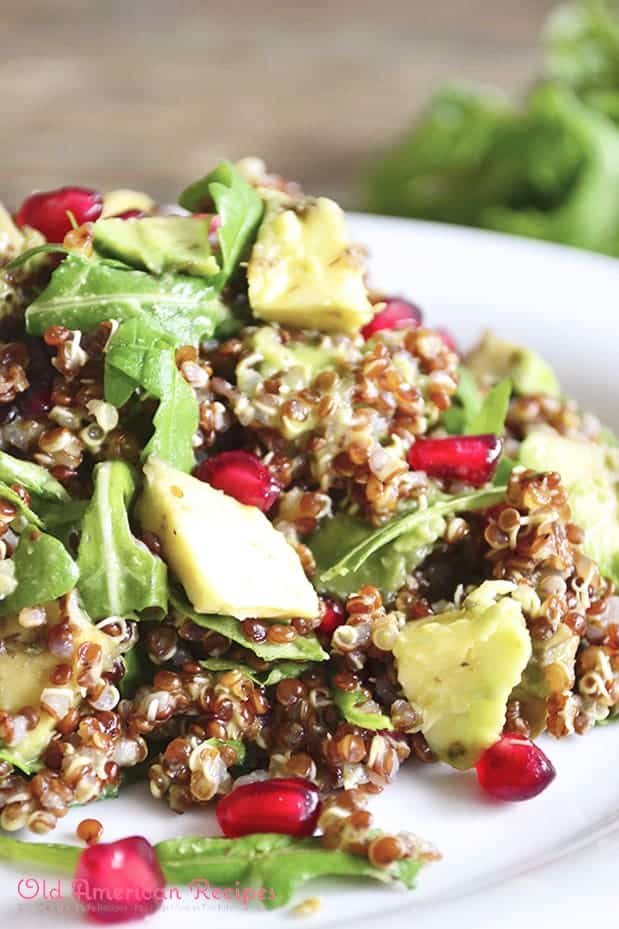 Sour and sweet full of flavor and amazing ingredients this red quinoa, pomegranate and arugula salad is one of my favorites.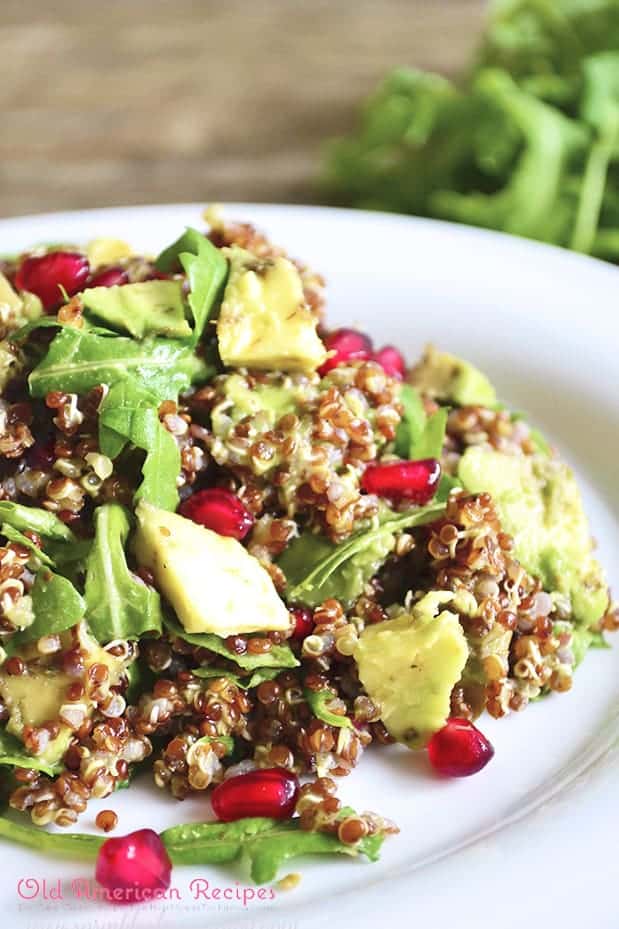 You will fall in love with this red quinoa, pomegranate and arugula salad within your first bite, believe me. It's one of my all time favorite salads because it's so full of flavor, amazing healthy ingredients, color and texture.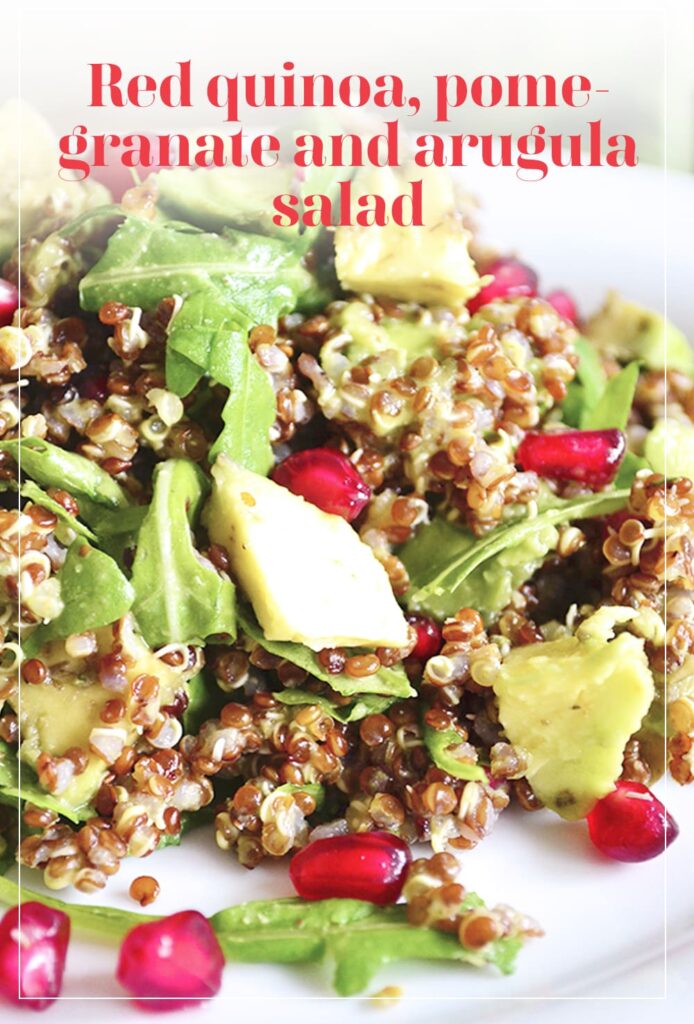 All of the wonderful ingredients are coated and hugged with a yummy basil, mustard and lemon juice dressing. Sour and sweet with peppery arugula, creamy avocado and juicy pomegranate this salad is the bomb.
I would gladly hand you a spoon and hook you up with a bowl of this amazing red quinoa, pomegranate and arugula salad but since you are unfortunately not within my reach the next best thing I can do is share the recipe with you, my lovely readers.
Make it for lunch or dinner, impress your friends and family or make a huge bowl just for yourself. Don't skip or substitute ingredients as each one is an important part of this happy salad family, stick to the recipe for the best results. You can however substitute red quinoa for white, but red has a crunchier texture and holds its shape better when cooked.
This salad is the perfect example of a tasty and filling meal showing that gluten free diet can be fun, bursting with flavor and not at all boring. As a bonus you won't fell tired, bloated or low on energy after having this for lunch. I am not trying to convince you to go gluten free I am just trying to let you all know how wonderful I've been filling during this one month gluten and sugar free period I decided to challenge myself with. I did the same thing last year for 21 days and I felt amazing.
I don't have any allergies or health problems I am just trying to eat better because of myself, because it makes me feel better, I have more energy, better skin, digestion, I sleep better. The reason for devoting more time for developing gluten free recipes was also my mother being diagnosed with rheumatic arthritis. I believe that food plays a major role in healing many health conditions, improving them dramatically when following a strict diet.
I hope you give this salad a go and make it a home because it is seriously amazing. And if you do, don't forget to send me some pictures using #cookingwithTjasa on Instagram, I would love to see them.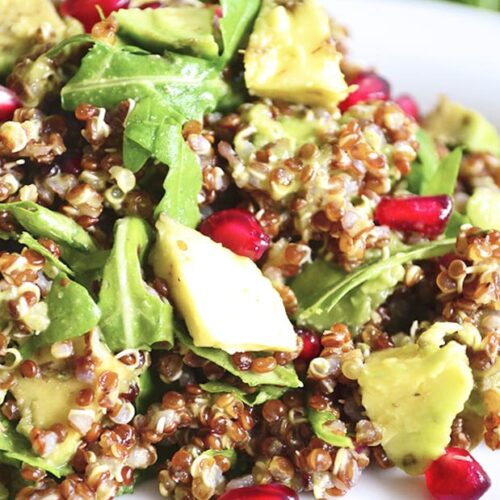 Red quinoa, pomegranate and arugula salad
Ingredients  
1/4

cup

basil leaves

1/4

cup

lemon juice

2

table spoons wholegrain mustard

5

table spoons olive oil

1

garlic clove

1/3

cup

pomegranates

1

avocado

2

cups

arugula

2/3

cup

uncooked quinoa
Instructions 
Cook quinoa according to the packaging directions. Let it cool completely.

To make the dressing place basil leaves, olive oil, lemon juice, mustard, garlic and salt into a blender and blend till smooth.

Wash arugula and cut the leaves in half. Half the avocado, remove the pit and cut into pieces.

Once quinoa has cooled completely transfer into a bowl, add pomegranate seeds, avocado and arugula, gently mix together and pour over the dressing (you can add less dressing if you prefer), toss to combine. Add more salt, pepper or lemon juice to taste.
Sharing is caring!