Sharing is caring!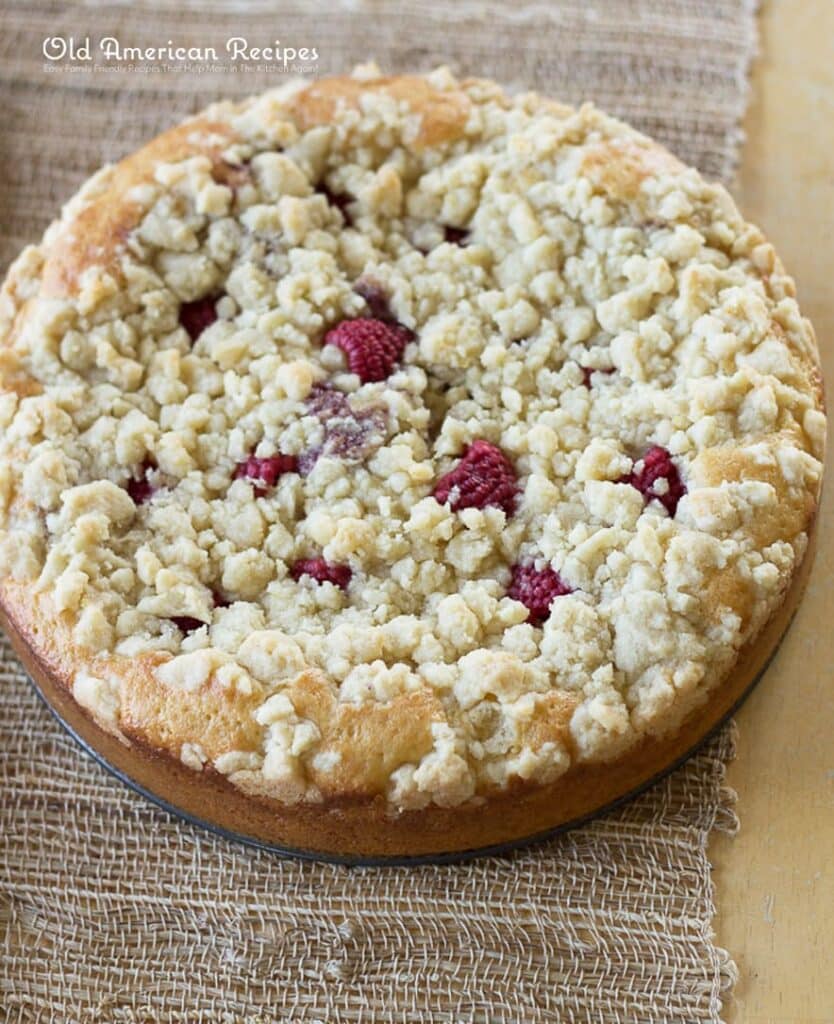 The sun is rare in Seattle during the cold months of January – April but when it does come it, my gloomy city is transformed. People are happier, dogs are happier and bad drivers get worse.  On clear days, the magnificent view of the snow-capped mountains is quite distracting. Yesterday was a peek into summer, sixty degrees and not a cloud in the sky, which was why I was outside all day. There was work to be done but my body craved vitamin D like you crave water.  I needed to have it in order to survive.  After almost of year of running a blog, you would think I would have blog post planned out months in advance. Nope! My crazy schedule and burst of inspiration the day before has me scrambling to bake or cook for the next day. Usually, I stay up till midnight writing, editing the pictures and so forth but yesterday I wanted to sleep so that's exactly what I did.  This is a long-winded explanation on why this Lemon Raspberry Coffee Cake isn't up until now.  Sometimes you just got to seize the day!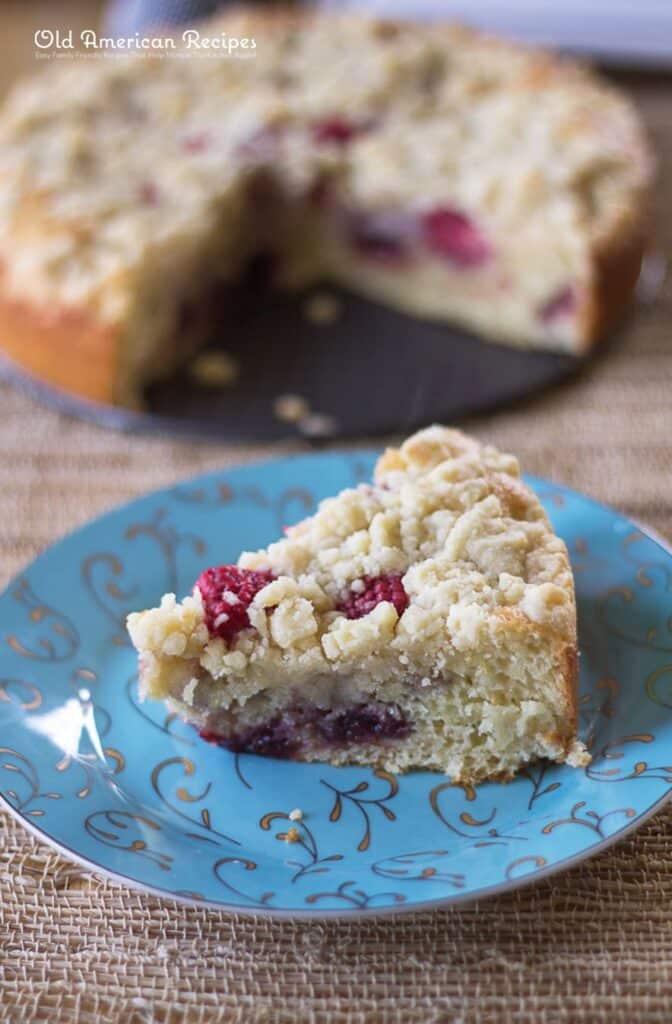 Lemon Raspberry Coffee Cake is perfect for your Easter Brunch menu. The swirl of jam inside the buttery cake screams spring. Also, I doubled the amount of crumb topping because it's my favorite part of any coffee cake.  Lemon zest is folded into the batter and the topping, which gives it a subtle lemon flavor. If you're not a fan of raspberries, you can try strawberries instead. Either way this cake is a winner and not to be missed. Enjoy!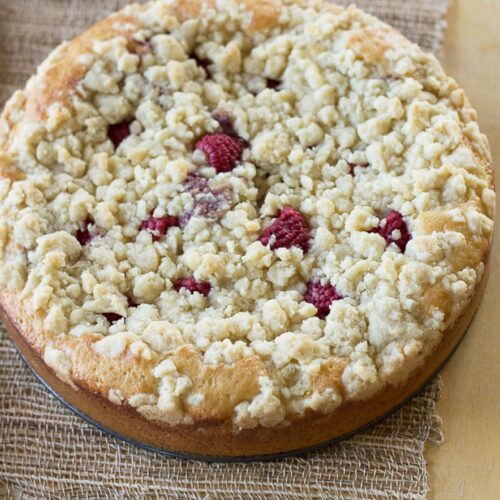 Lemon Raspberry Coffee Cake
Ingredients  
For the crumb topping:
1

cup

all-purpose flour

⅔

cup

sugar

Zest of ½ lemon

8

tbsp.

1 stick unsalted butter, melted and cooled slightly
For the cake:
1 ¾

cups

all-purpose flour

1

cup

sugar

2

teaspoon

baking powder

¼

teaspoon

baking soda

¼

teaspoon

salt

3

eggs

1

cup

sour cream

½

teaspoon

vanilla extract

⅛

teaspoon

lemon extract

1

tablespoon

lemon zest

¼

cup

raspberry jam

1

cups

fresh raspberries
Instructions 
Preheat the oven to 350˚ F. Lightly grease and flour and 10-inch springform pan.

To make the crumb topping, mix together the flour, granulated sugar and lemon zest in a small bowl. Slowly pour in the melted butter and stir with a fork until the mixture is crumbly. Set aside.

To make the cake, whisk the flour, sugar, baking powder, baking soda and salt in a large bowl. In a separate bowl, mix together the eggs, sour cream, both extracts and lemon zest until well blended. Make a well in the center of the flour mixture and add the liquid ingredients. Gently fold the ingredients together until the batter is evenly mixed and no streaks remain but be careful to not over mix. Spread half the batter into the prepared pan in an even layer. Drop spoonfuls of raspberry jam into the pan. Spread the remaining batter on top and swirl with a knife. Dot with raspberries and sprinkle the crumble mixture over the cake.

Bake until the topping is golden brown and a toothpick inserted into the center of the cake comes out clean, 38-42 minutes.
Slightly adapted from here and originally published in The Capitol Hill Times.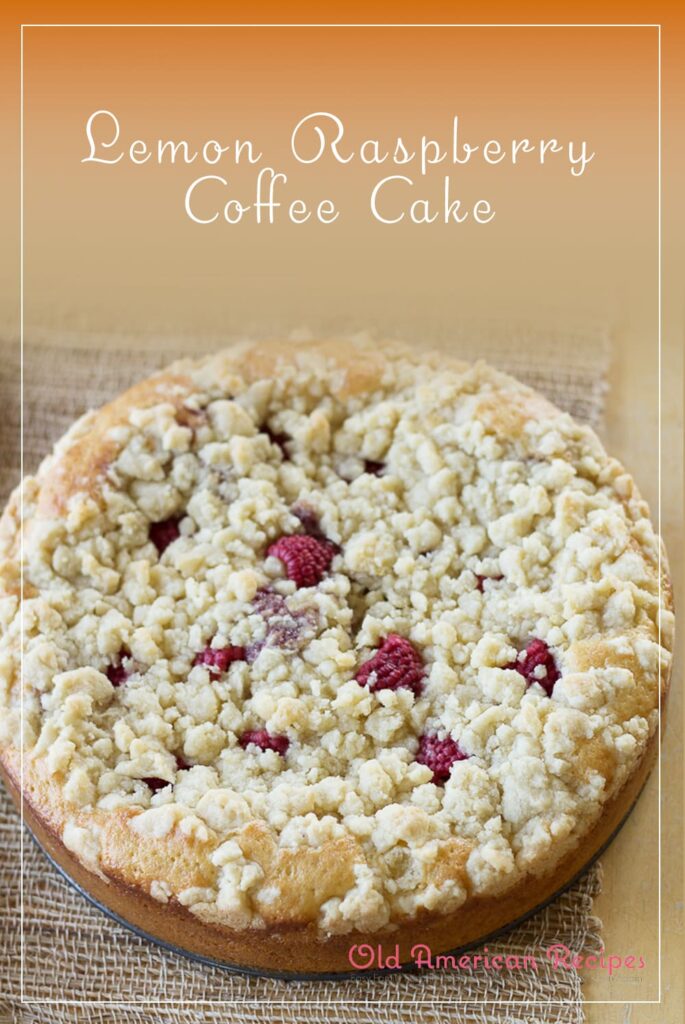 Sharing is caring!