Sharing is caring!
Celebrating love again!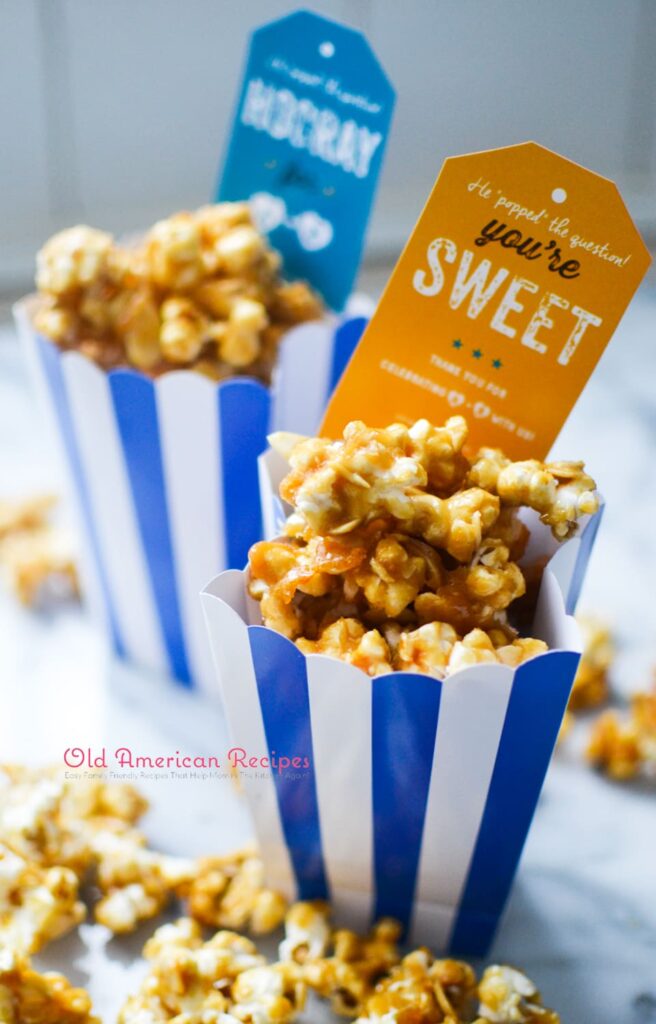 But this time it's for my bestie…so you know it's dang important.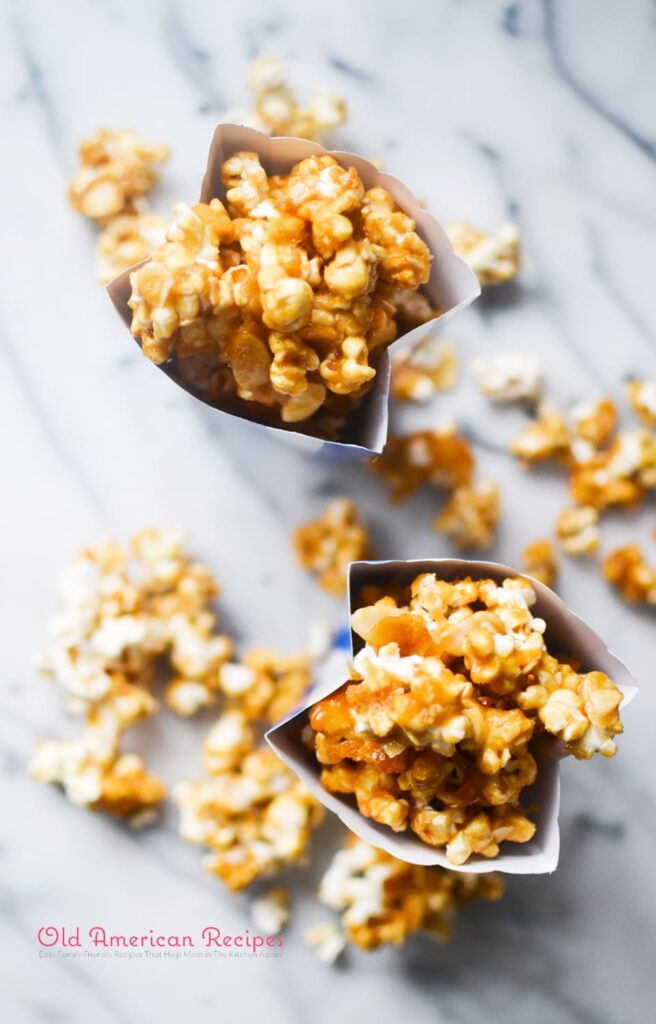 Amber has been the bright light in my life since showing up at my elementary school in grade six. She had the longest hair I'd ever seen on a girl, loved to play sports and always had a better packed lunch than me. We were (and still are) polar opposites in many ways, but we became fast friends and have been living out a real-life love story ever since.
Remember it later
Like this recipe! Pin it to your favorite board NOW!
Pin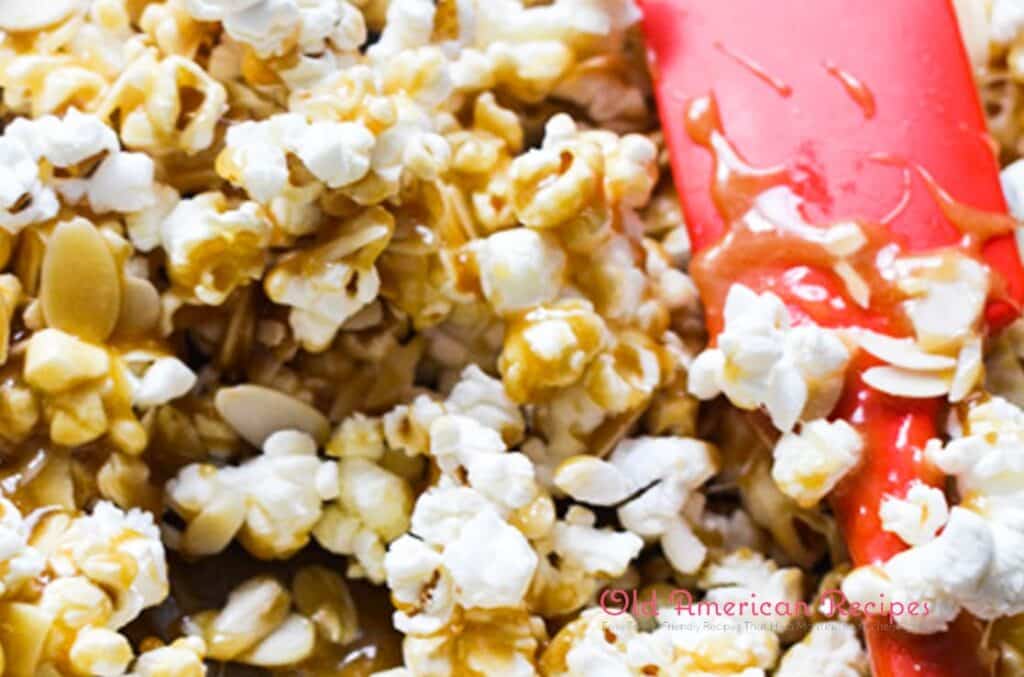 We've travelled around Europe together, been through break-ups, drank too much, lived through death, and toughed-out life. Having a best friend, someone to really count on when life makes you ugly cry is everything.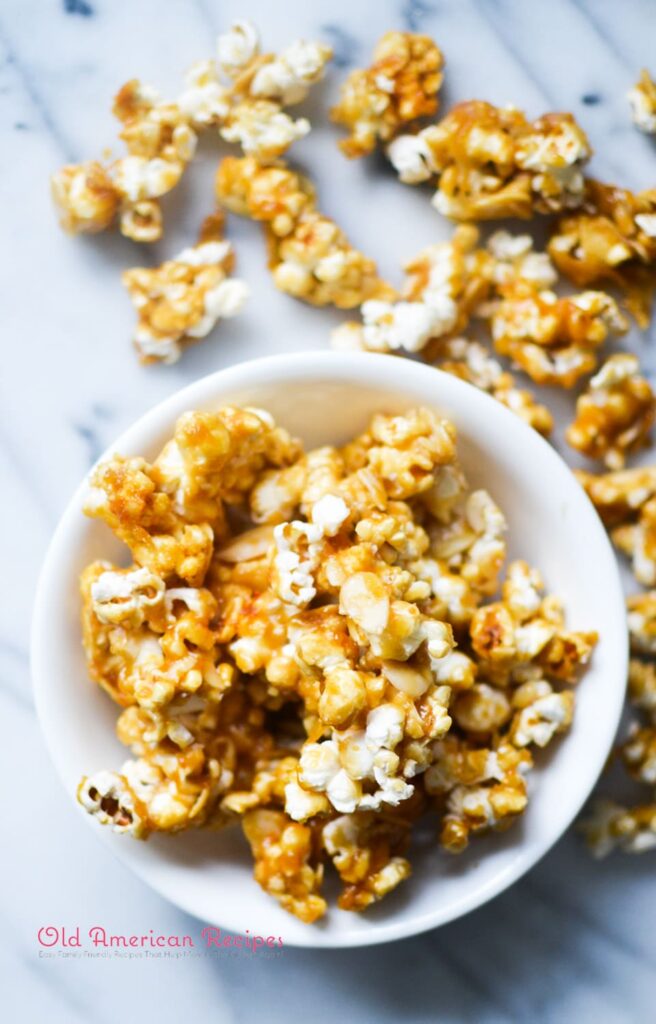 So when I found out this gal of mine was engaged, I screamed to the high sky in glee!…and her man even let me help pick out the ring. #HardestSecretToKeepEver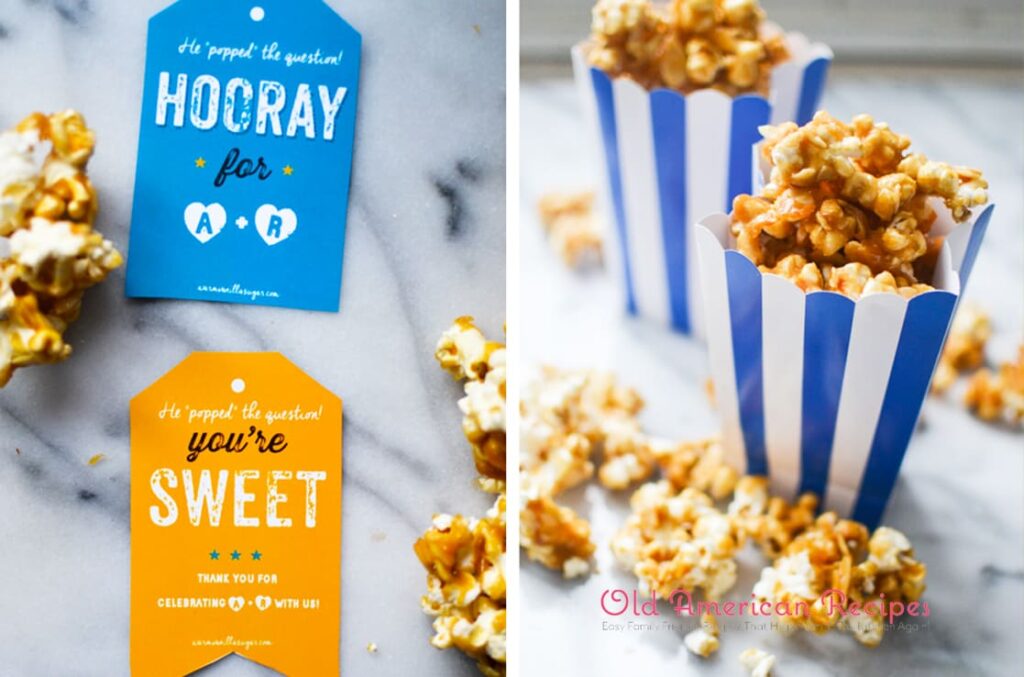 So naturally, a party needed to be planned. Love is in the air, after all!
I thought homemade caramel corn would be the perfect party favor to celebrate an engagement, since…you know? He popped the question!!! And I like obnoxious things like that.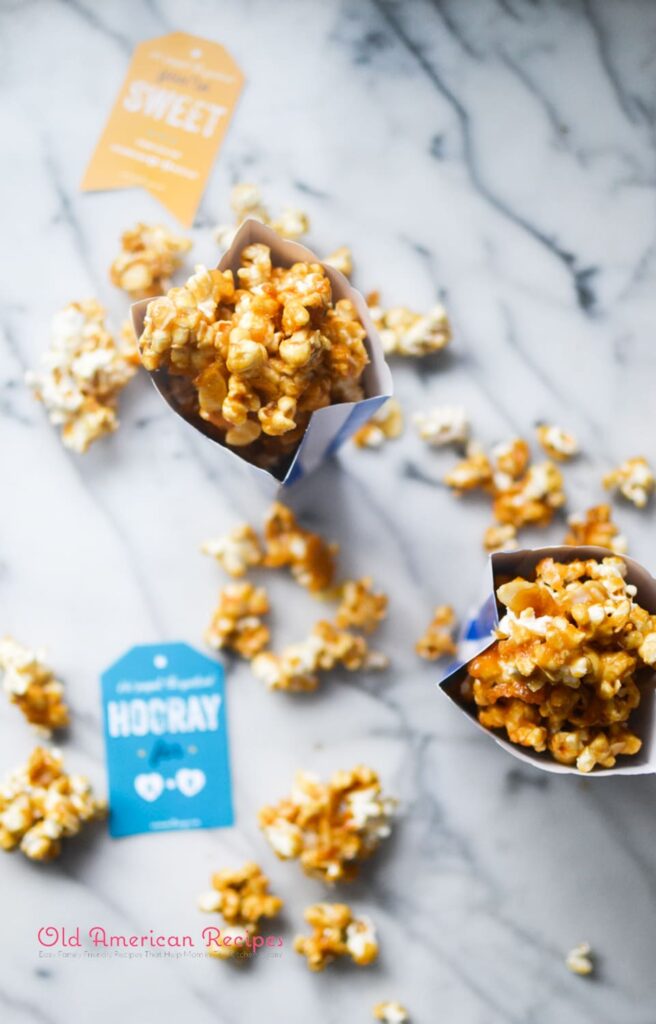 Perfecting this recipe took me three weeks (thanks for helping me eat all the tester-recipes Paul!), so believe me when I say this is the best possible caramel corn around! I tried a maple + almond butter version, a version made with a stout caramel, a classic cream and butter caramel, and finaallllllly this recipe.
Remember it later
Like this recipe! Pin it to your favorite board NOW!
Pin
Pure sweet perfection right here. And this recipe for peanut butter and honey caramel corn is lovely too!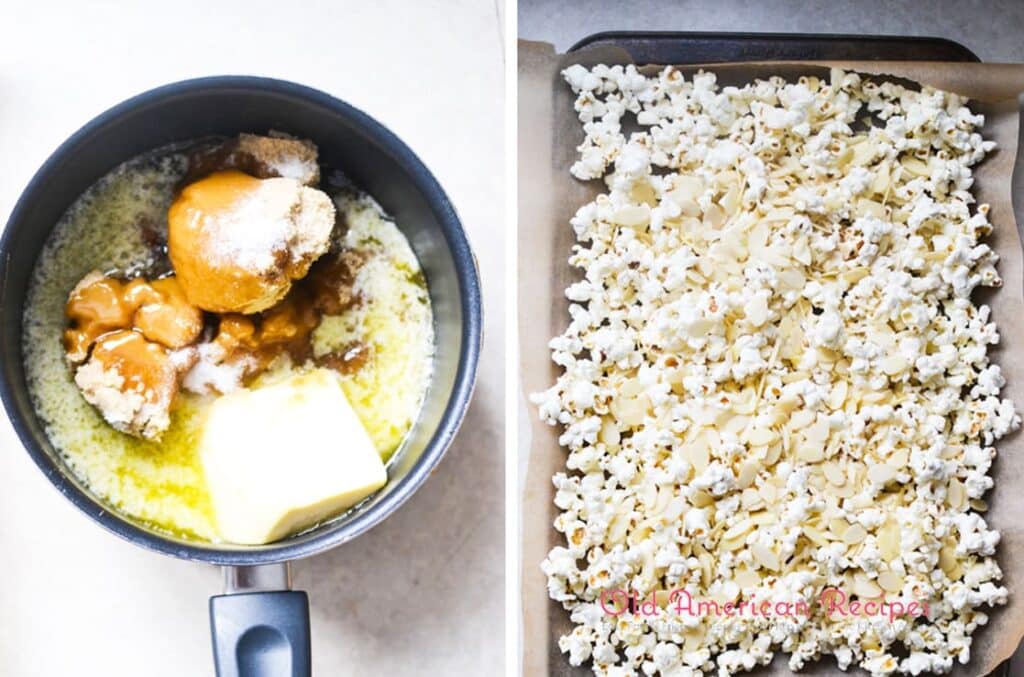 The caramel itself is easy to make. Just mix the brown sugar, corn syrup, butter, cream of tartar and salt together on the stove-top, let it boil for a bit, and then add in the baking soda! The caramel turns a lighter colour and puffs up real high….this is a good thing. A VERY good thing.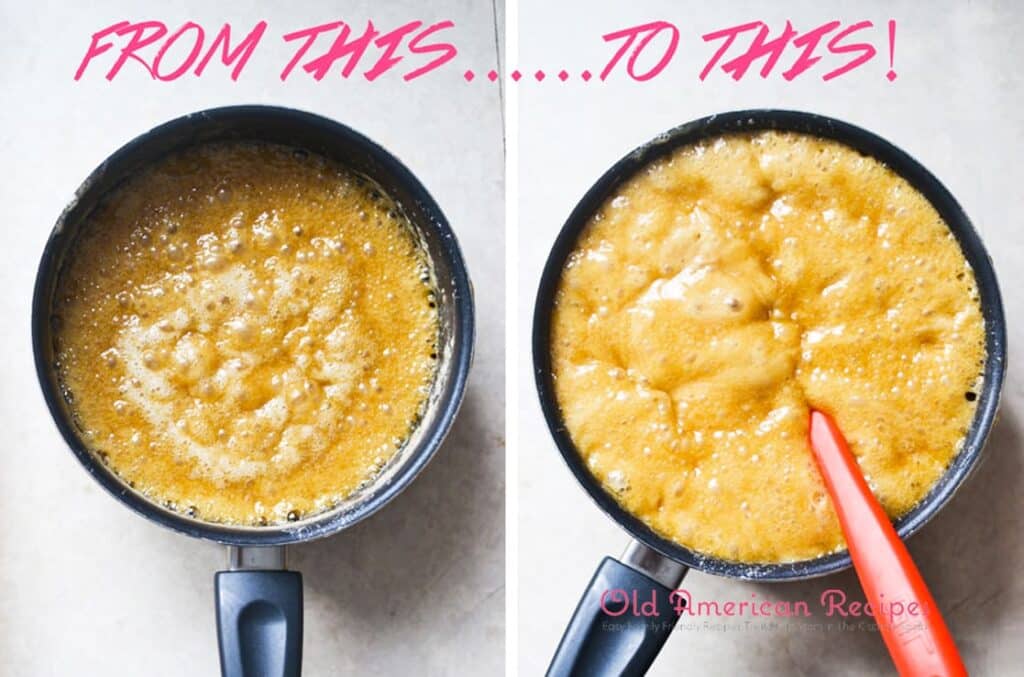 Ohhhhhh and this is made with sliced almonds instead of peanuts…because I can (!!) and because I don't like whole peanuts in my baked goods.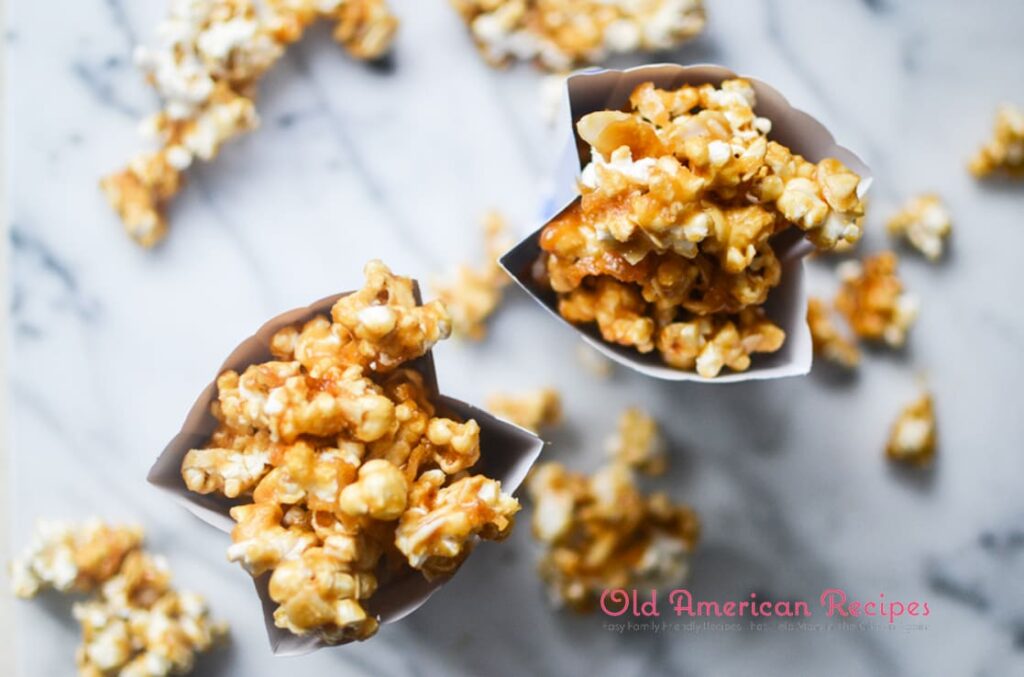 So celebrate love with me and get busy with this caramel corn…you won't regret it.
Classic Caramel Corn
Ingredients  
8

cups

air-popped popcorn

1/3

cup

sliced almonds

1/2

cup

unsalted butter

1

cup

light brown sugar

1/4

cup

corn syrup

1/8

tsp

cream of tartar

1

tsp

fine sea salt

1/2

tsp

baking soda

Flaked sea salt

for sprinkling
Instructions 
Preheat oven to 200 degrees F. Line a large baking sheet with parchment paper and set aside.

Pop the popcorn with a popcorn maker or using the microwave (see notes). Spread the popped popcorn out onto the baking sheet. Sprinkle the sliced almonds on top of the popcorn.

In a medium saucepan over a medium-high heat, combine the butter, brown sugar, corn syrup, cream of tartar, and sea salt. Stir everything until combined with a rubber spatula and bring to a boil for 5 straight minutes, stirring every so often. Remove saucepan from the heat and quickly stir in the baking soda until completely combined. The caramel will puff-up – this is normal.

Pour the caramel over the popcorn and stir gently with a rubber spatula until most of the popcorn and almonds are coated.

Bake the popcorn for 1 hour, stirring at the 30 minute mark.

Once cooked, remove the popcorn from the oven and immediately sprinkle the top of it with large flaked sea salt (or regular salt). Stir the popcorn one last time and allow it to cool completely on the pan. Once cooled, break apart the large clusters with your hands.

Store the popcorn in an air-tight container (I used a large freezer bag). The popcorn stays fresh for a whole week!
Notes
*If you do not have a popcorn maker at home, you can simply place the corn kernels in a brown paper bag (3 tablespoons at a time). Fold the top over. Place in the microwave and pop for 4 minutes. When the popping starts to slow to about one pop per one second, remove from microwave. Continue this process until you get 8 cups of popcorn.
This recipe is easily doubled.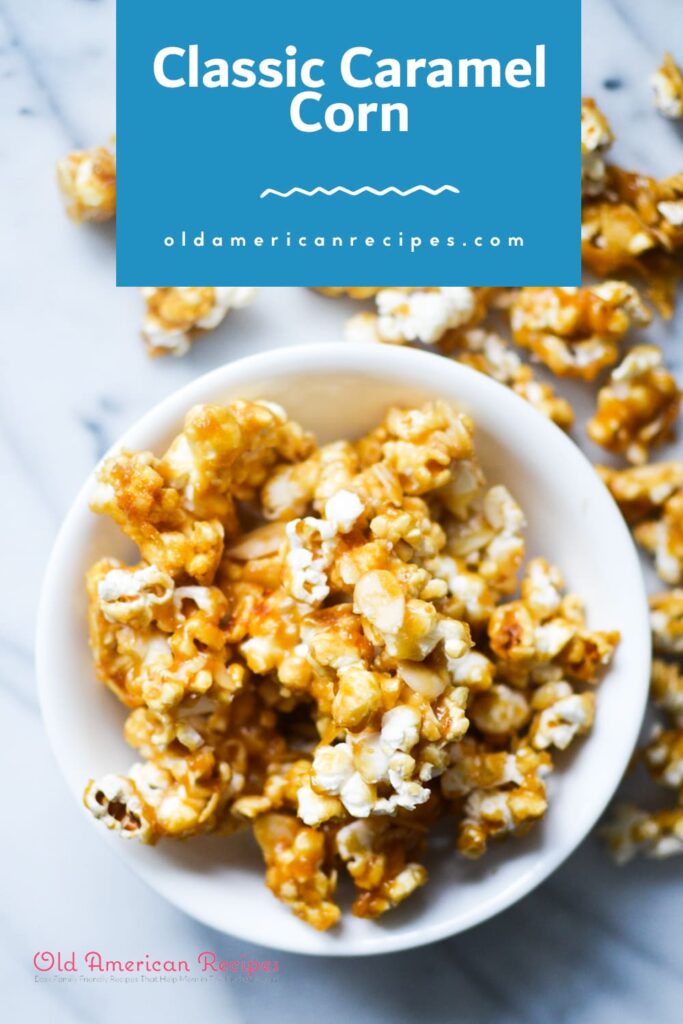 Sharing is caring!