Sharing is caring!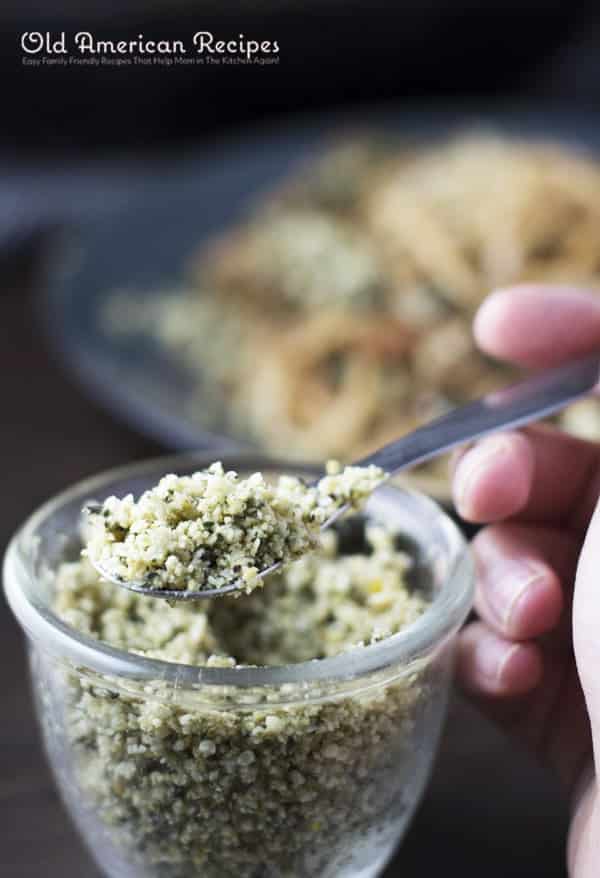 This is totally a post I would have made fun of even a few months ago. In fact I will probably be guilty of making fun of posts like this in the future… not to the author, but Mark and I have gone back and forth over things like this.
"Oh look honey. Supposedly I can make Parmesan out of hemp seeds."
"Ummm… seriously????"
It tastes just like it.
No. Nope. Nada. Just kidding. Do you know what does taste just like Parmesan? Parmesan. And I miss it. My pasta has been bare. Bareness is a sad fate indeed for spaghetti and meat sauce.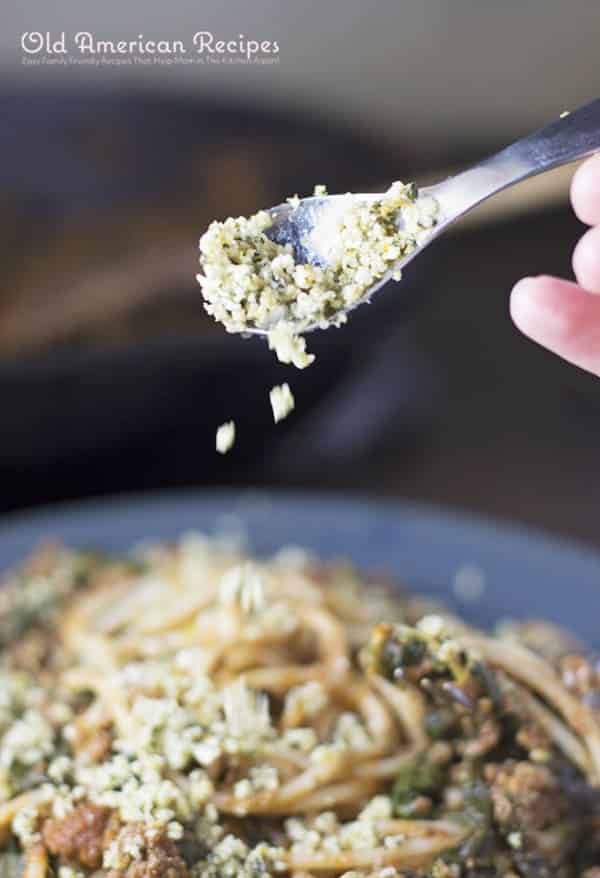 Poor Valerie took two weeks to get over the congestion from that trip. Every time I held her I could feel the congestion in her chest, and of course see it around her eyes, in her snot, etc. She had trouble sleeping and generally was miserable. Way to show how insignificant "bare" spaghetti is.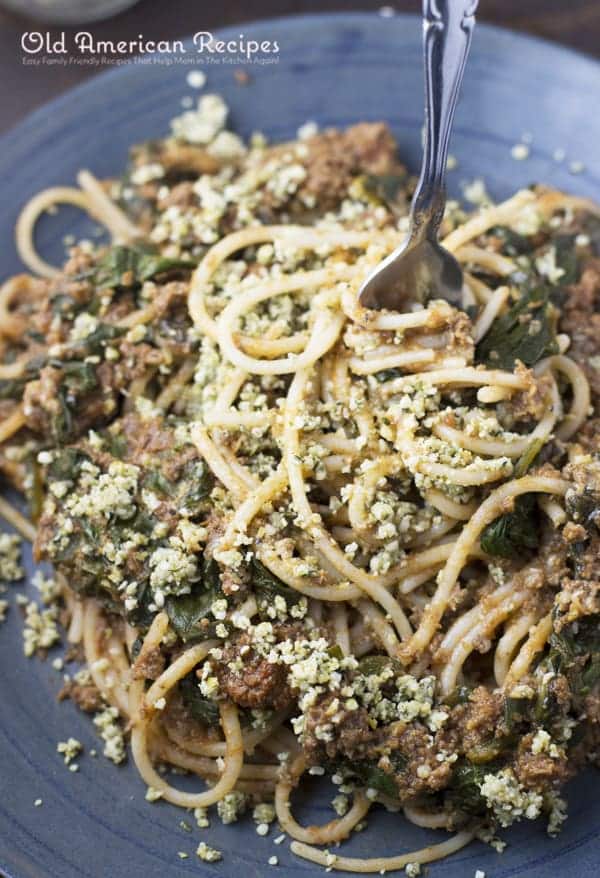 But, that does not mean I don't miss that salty, tangy bite that Parmesan has. Or that when I kept seeing an idea for a Parmesan sub out of hemp seeds that I did not want to try it. Most recipes I saw did not do much to the hemp, it left it raw. I understand the appeal of raw food as I used to strive for a 70%+ raw diet, but I find raw hemp pretty bitter.
I decided to try toasting it with some salt and oil and seeing what happened. Once it turned to a golden color, it went from slightly bitter to delightfully "nutty" and savory. With a heavy pinch of salt (going for a salty topping here) and the oil from cooking it was absolutely delicious. So good I have eaten it by the spoonful (with a touch less salt). To quote my 5 year old nephew who was eating the spaghetti pictured above "We really, really, really, like the topping."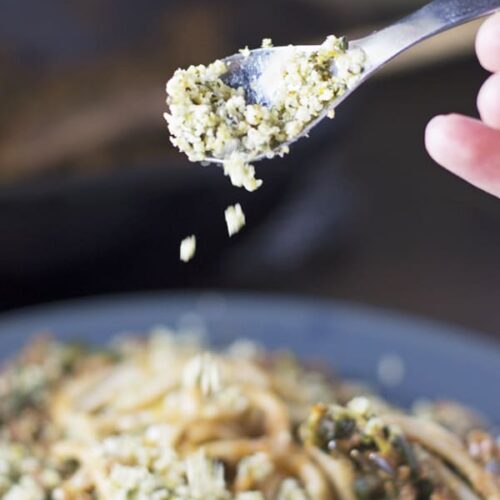 A Parmesan Sub (df, nf)
Ingredients  
½

cup

hemp hearts/seeds

½

teaspoon

salt

¼

teaspoon

sugar of choice or honey

optional, to cut down on the butter

1½

teaspoons

nutritional yeast

optional

1-2

Tablespoons

heat stable

neutral tasting oil (such as refined olive oil)
Instructions 
Place all ingredients in the dry container of a blender, or in a spice/coffee grinder. Blend until the seeds begin to clump together (a few seconds). This step is optional, but preferred.

If you have a toaster oven with heat settings, I recommend using it. If not see next step. Put the lightly ground seeds on your toaster oven tray. Toss with 1 tablespoon oil. Bake in the toaster oven at 350 degrees for 5-7 minutes. Keep a very close eye on them and stir every minute or so. After the five minute mark REALLY keep an eye on them. You want them golden, but that is just a step before burnt.

To make these on the stove top heat 2 tablespoons oil in a skillet over medium-low heat. Add the seed mixture. Stir and cook until they are nicely toasted (around 7-10 minutes). At first they will be clumpy, but will loosen as they toast. Do not leave them, especially after 4 minutes or so.
Notes
I have only used this to top foods (in place of parmesan) and in pesto. It is meant to be more of a parmesan style topping instead of being used in place of parmesan in recipes. But, I say go for it in trying it in other ways.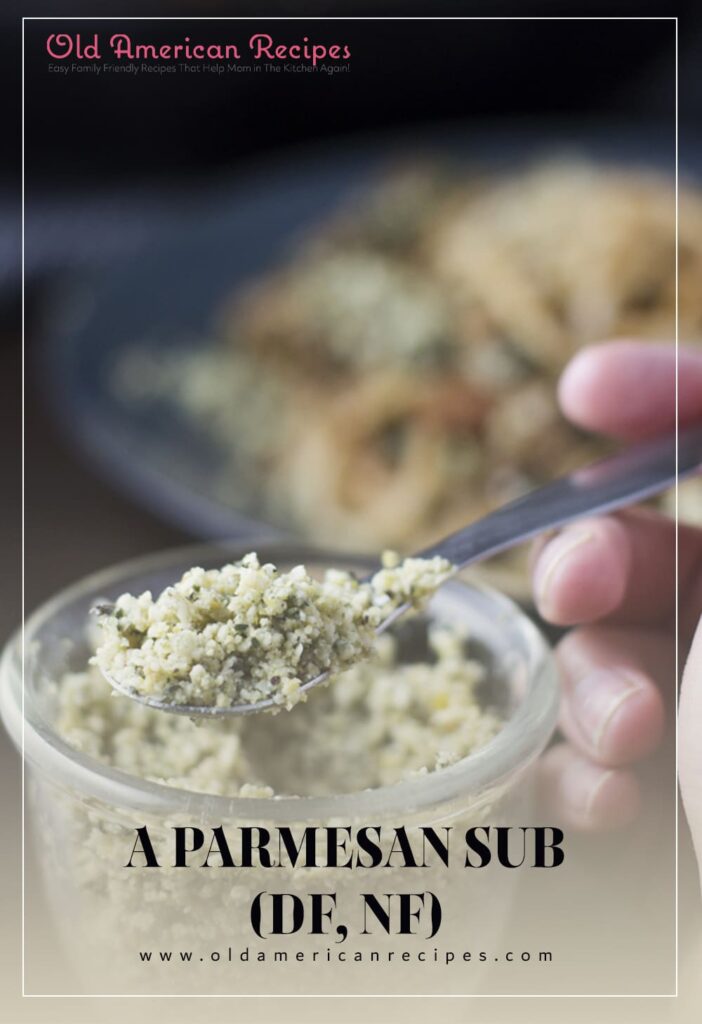 Sharing is caring!