Sharing is caring!
As of late, my mom skills include: doing everything on handed while holding a bebe, sleeping 4 hours a night while still being coherent in the morning, and finding the one piece of lego your toddler insists on having in a pile of about 100,000 other teeny tiny pieces.  Have I mentioned assembling a puzzle with the Raisin and breast feeding at the same time?  Ah yes, this is also how eating breakfast, lunch and dinner goes down.  It's always a meal for two no matter what!  Multi-tasking at its finest.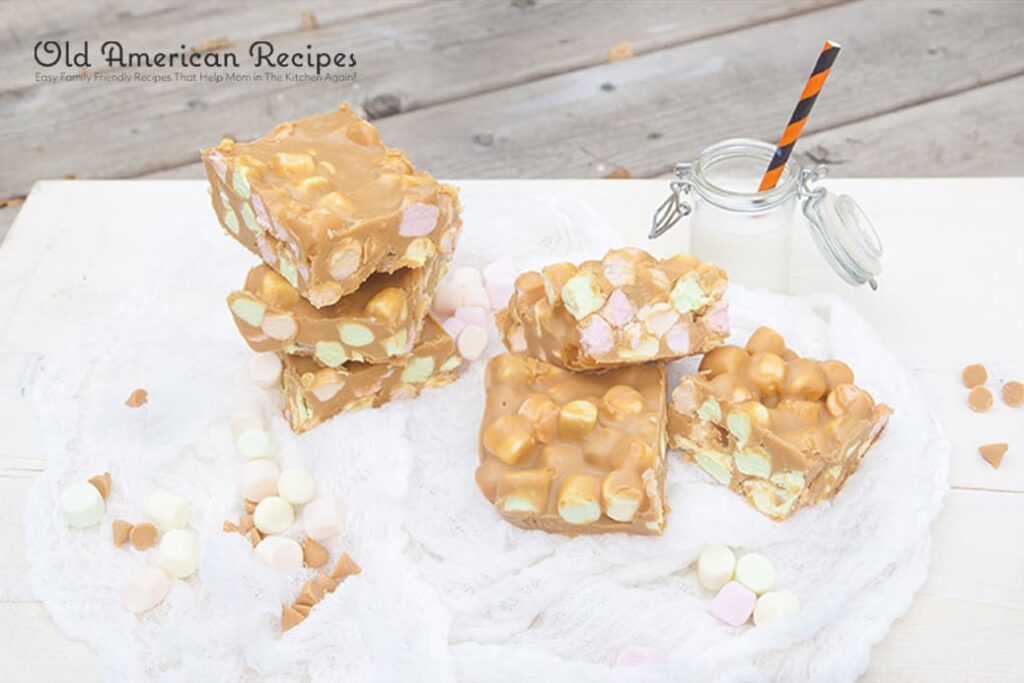 Let's face it being a mum is BUS-AY.  Since we rang in 2016 it's been go go go, and I can't believe we're well into the beginning of February.  I also can't believe we take off on our vacation soon!  I'm excited, but anxious at the same time.  It'll be our first time flying as a family of four and I have TONS to do before we leave.  Can we say luggage galore!?  I'll be doing a lot of packing one handed this week, but it will be worth it to escape the cold.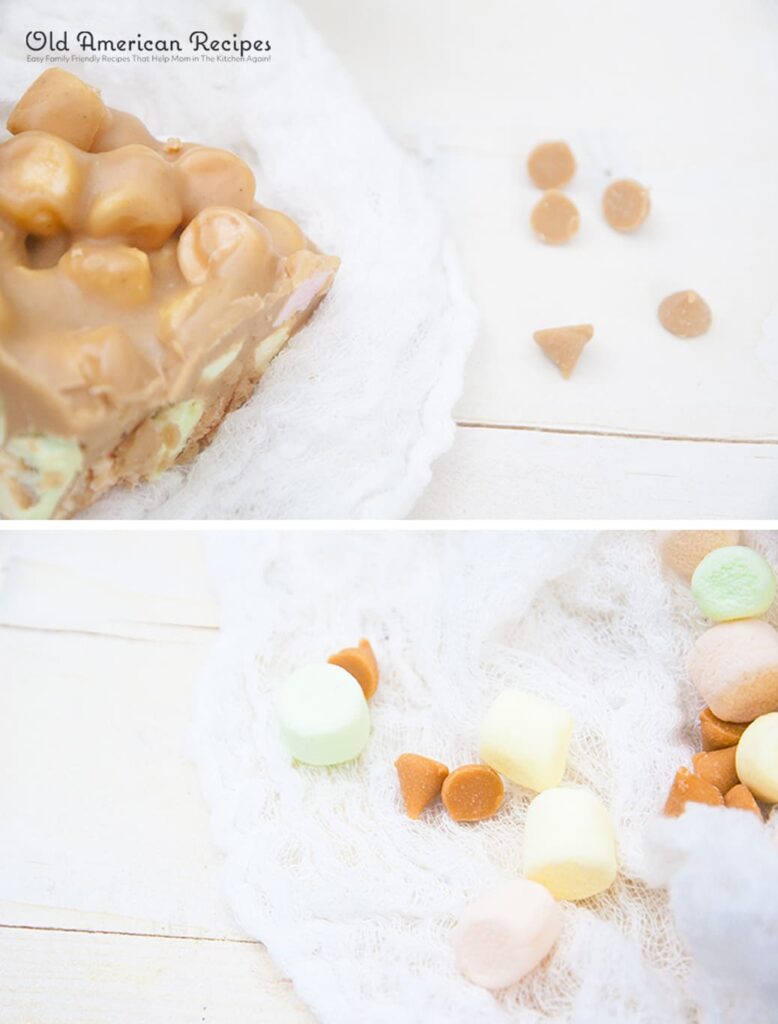 We needed to get our treat on before dusting off our luggage from the last trip which now feels like ages ago.  Raisin requests are usually one of the following 3 things to make: rice krispie treats, madeline shell cookies, or peanut butter marshmallow bars.  Because I didn't have flour or rice krispies on hand, by default it had to be the marshmallow bars.  We make this on the regular around here so hence the fall photo shots!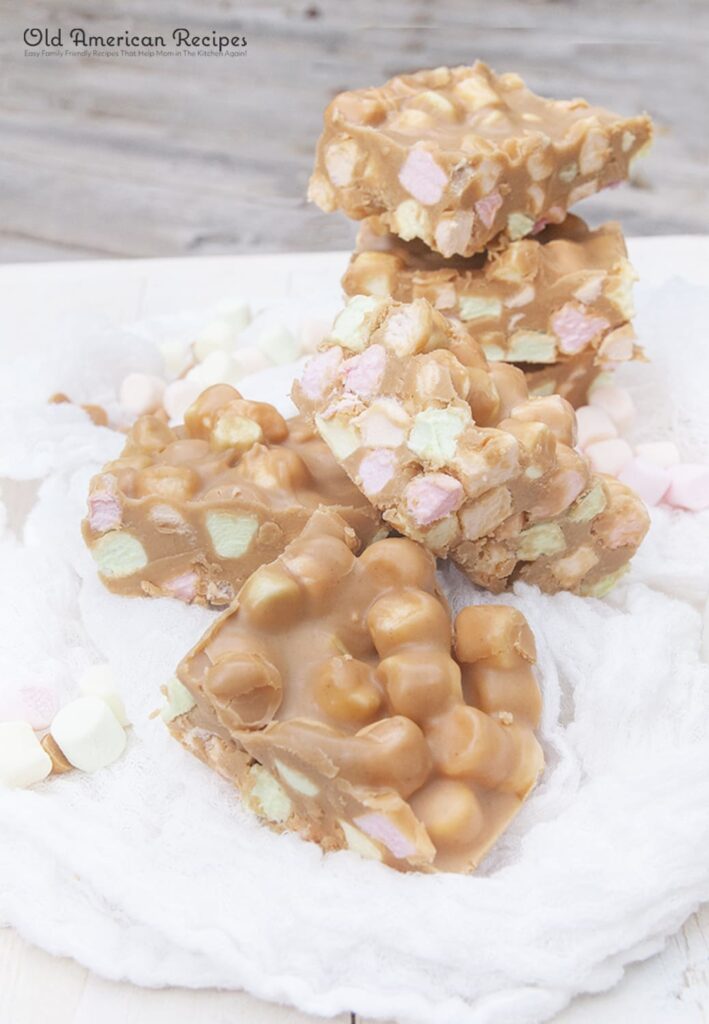 I love recipes we can make together.  Raisin is pretty pumped on tackling all measuring, pouring and mixing tasks when we bake.  One of the reasons I love this recipe is it's flourless so there's not AS MUCH clean up afterwards.  Well there's that, plus it's honestly one of his favourite treats.  Right now it's pretty hilarious trying to bake with a toddler and holding a baby at the same time. But you know what, making these memories in the kitchen are timeless.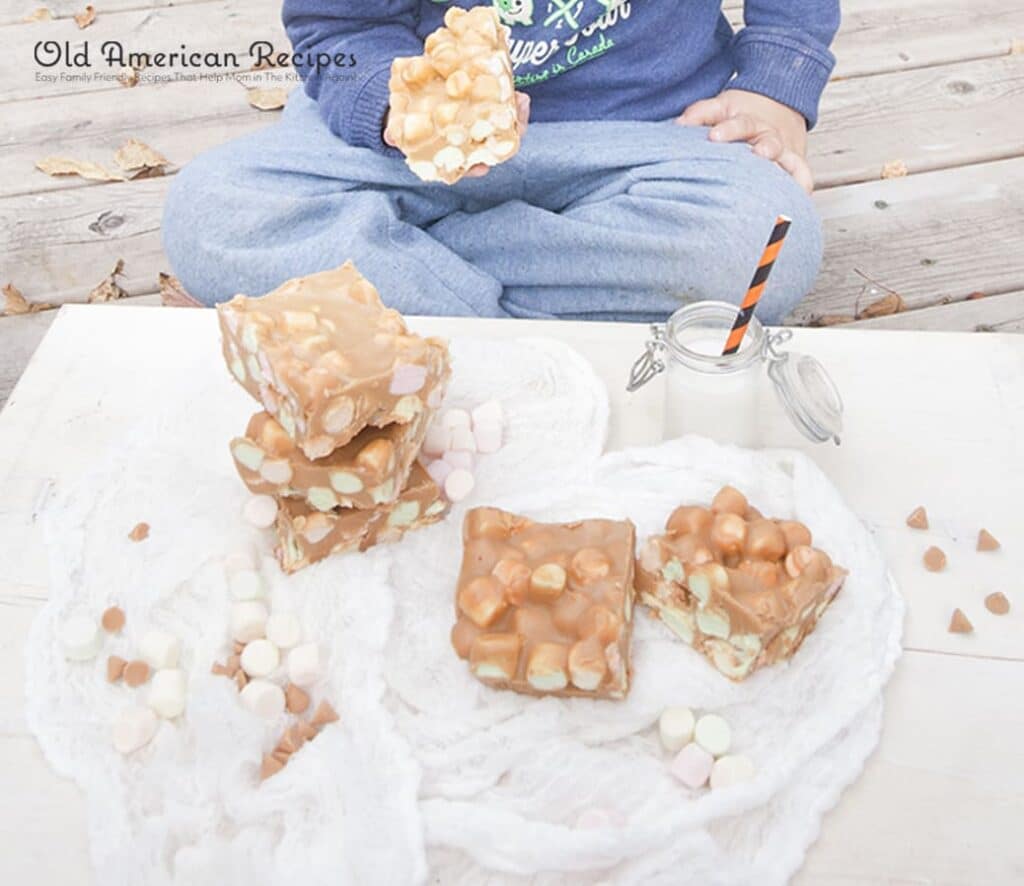 After making and munching on our marshmallow PB squares we packed some of Raisins' loot bag for the plane ride.  He's been counting down the days for our get away, and I can't blame him.  He knows soon enough we'll be pool side and licking ice cream cones to cool off instead of sipping on hot chocolate to warm up after toboggan runs.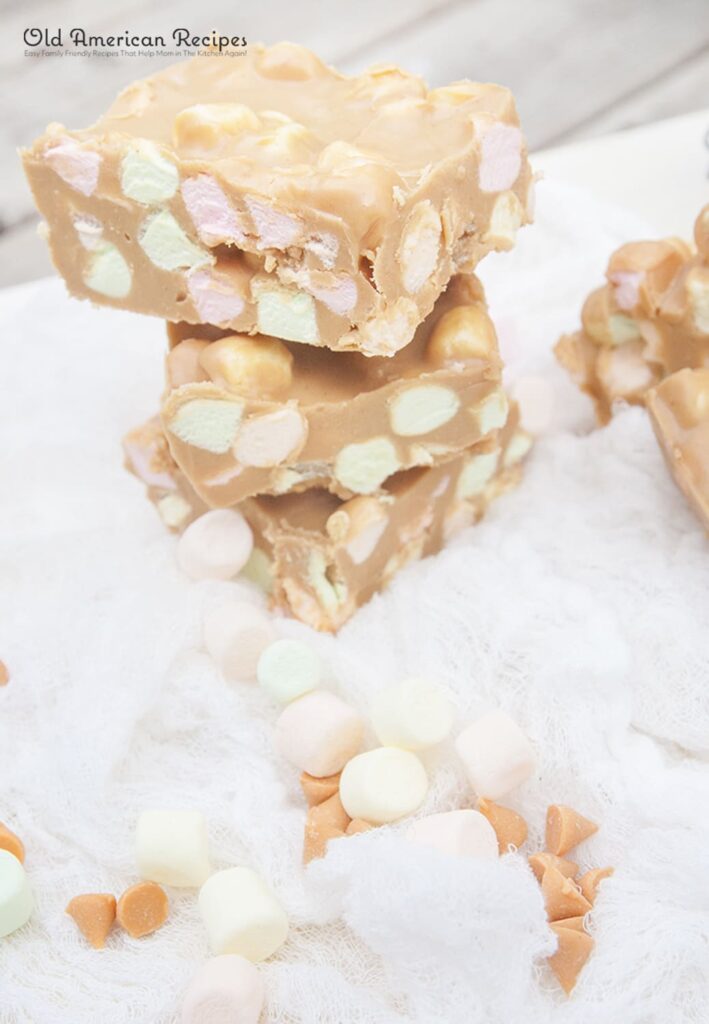 True story: eating these squares is like a peanut butter bomb in your mouth – so if you're a PB addict like myself it's a WIN!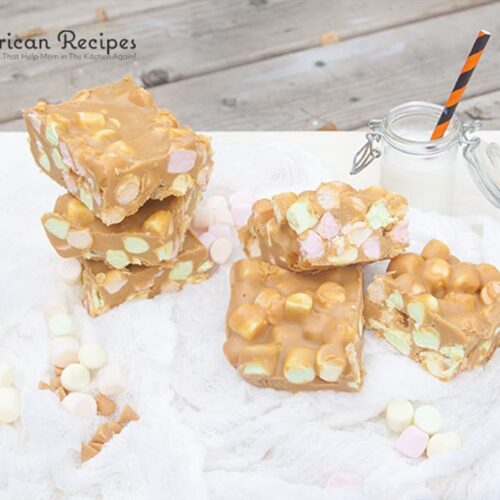 Peanut Butter Marshmallow Squares
Ingredients  
1/2

cup

butter

1

cup

peanut butter

1

pkg

300 g butterscotch chips

4-5

cups

rainbow mini marshmallows

or white, if you're vanilla
Instructions 
1 – Grease an 8×8-inch pan, or line with parchment paper – your preference. Set aside.

2 – In a medium saucepan over medium-high heat, melt the butter, peanut butter and butterscotch chips. I dare you to try and not lick the spoon during this process.

3 – Remove from the heat and set aside to cool slightly. (This is an important step so that you don't melt the marshmallows!)

4 – Stir in rainbow marshmallows and spread into prepared 8×8-inch pan.

5 – Refrigerate until firm and cut into squares.

Sharing is caring!