Sharing is caring!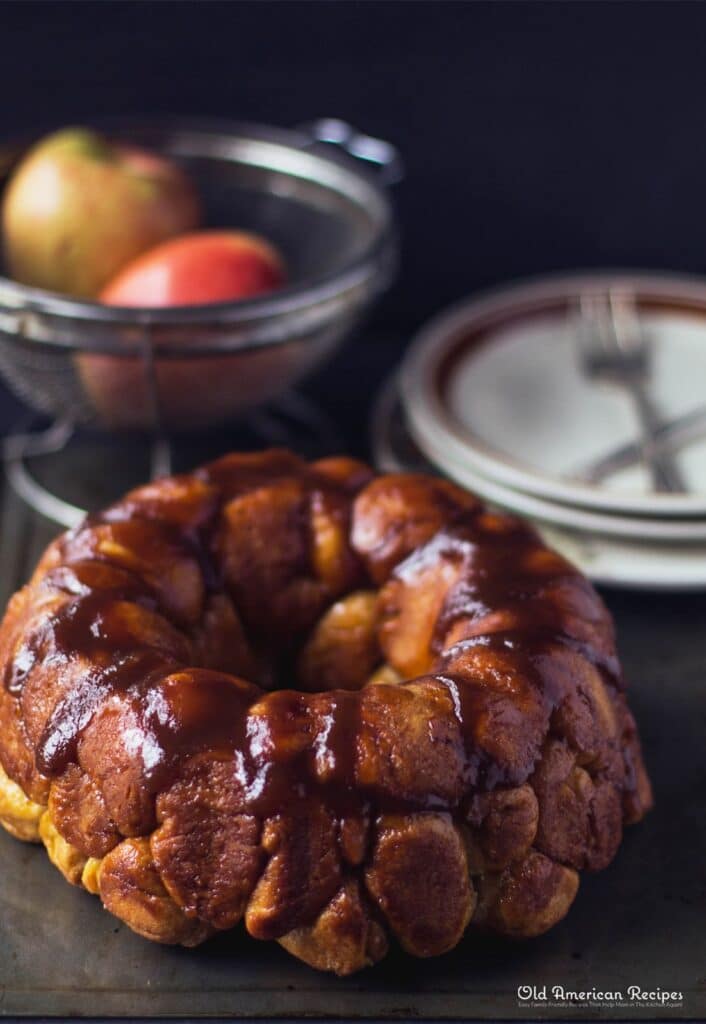 Monkey bread – is it dessert? Breakfast? I'm honestly curious what category it falls into. Say ham and cheese monkey bread would air on the savory side, therefore it's breakfast. But apple butter monkey bread…I'm stumped.
And you just got a first hand glimpse into my food loving mind. It's like a 24 hour diner in there, buzzing at 2 am when everyone else is peacefully asleep.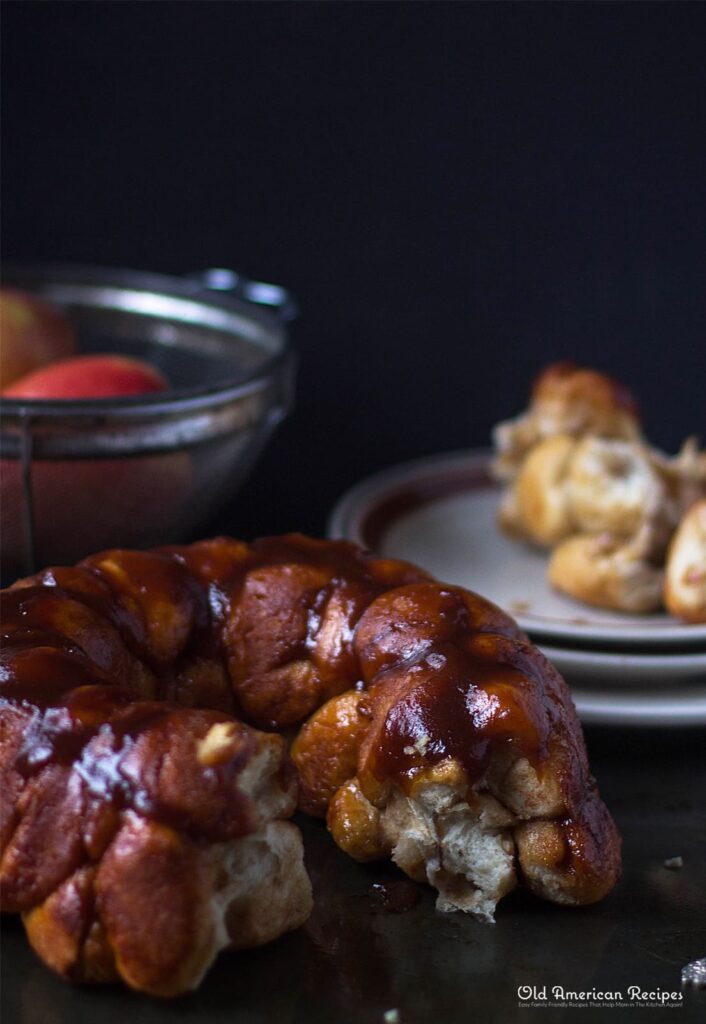 Apple butter is used twice in this recipe – stuffed into the dough balls and drizzled over the monkey bread along with butter, and brown sugar for a gooey treat. Its rather indulgent in the best possible way.
You can find apple butter at your local grocery store and or the cheapest option, Trader Joes.
This Apple Butter Monkey Bread is made with canned buttermilk biscuits, the non flakey kind so prep is a breeze. I suggest playing some music while you prep the dough balls since it can get monotonous after the 20th one. That is the "hardest" part though. Once the apple butter is cozy inside the dough, you coat the biscuits in a mixture of cinnamon sugar, place them in a bundt pan and pour the caramel like sauce over top.
As it bakes, your home will smell like an apple orchard. I suggest you run to the kitchen, because this monkey bread is not to be missed. Enjoy.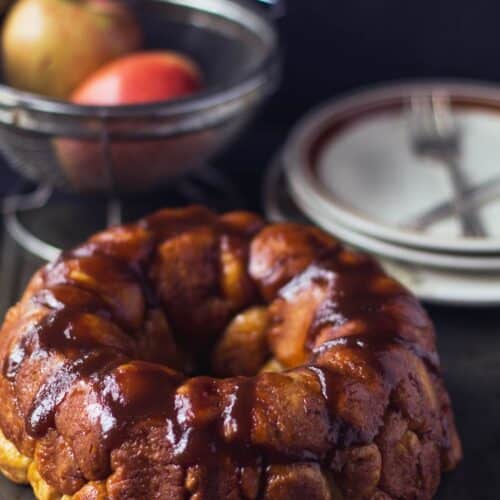 Apple Butter Monkey Bread
Apple butter is stuffed inside the dough balls and drizzled over top for a gooey delicious monkey bread that screams Fall.
Ingredients  
2

cans refrigerated Pilsbury homestyle buttermilk biscuits

1

jar apple butter

½

cup

sugar

2

tablespoons

cinnamon

1

stick butter

⅓

cup

brown sugar

¼

cup

apple butter
Instructions 
Pre-heat oven to 350 degrees F. Spray a 9 inch Bundt cake pan with non-stick spray. Set aside.

Cut biscuit into quarters. Taking one piece at a time, create a small well in the dough ball and place ¼ teaspoon apple butter in the center. Seal the dough into a ball. Continue to fill and seal until all dough is used.

Combine cinnamon and sugar in a large ziplock bag. Place half the dough balls into the bag, and shake to coat. Repeat with remaining dough balls.

Set the cinnamon sugar coated balls into the bundt pan.

In a microwave, melt butter, brown sugar, and apple butter for 1 minute. Stir to combine. Pour mixture over the monkey bread.

Bake for 20 – 25 minutes. Allow to stand for 5 minutes and then invert onto a plate. Best served warm.

Sharing is caring!