Sharing is caring!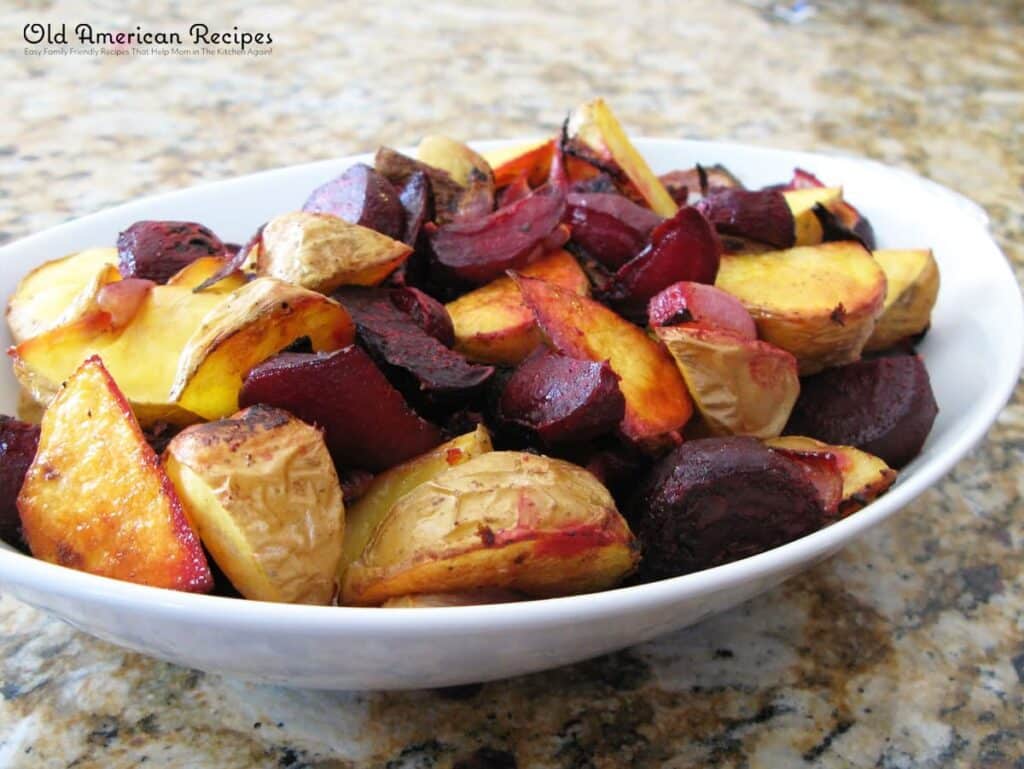 If you remember from my post about my first farmer's market, a cute old farmer talked me into buying some of his beets, a veggie I've been able to avoid until now. The beets sat in my fridge for almost two weeks while I decided what I was going to do with them (I may have been waiting for them to go bad so I didn't have to eat them, it's hard to know). I finally decided to roast them. Roasting makes everything delicious, right? I figured I couldn't go wrong.
And I was right.
I roasted them with the yellow potatoes I bought from the same farmer, a red onion, and some garlic, and the mixture was as tasty as it was beautiful. I topped it all off with some feta cheese (my favorite). We were all happy with the result, even my husband, who looked at his first fork full and said, "I'm a little scared." Hee, hee…I was, too, but the beets were yummy! Thanks, cute old farmer!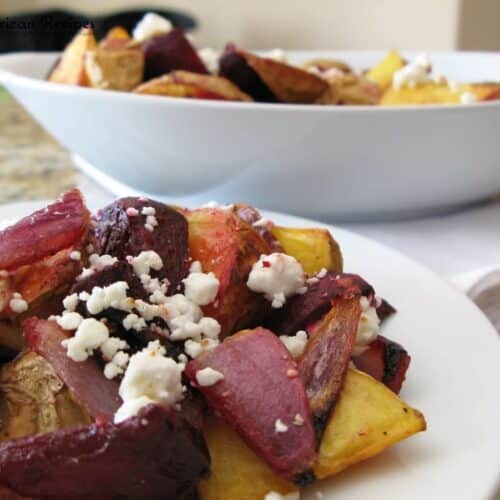 Roasted Beets and Potatoes
Ingredients  
11/4

lbs

beets

peeled and cut into wedges

1 1/2

lbs

small yellow potatoes

cut into wedges

1

small red onion

halved and cut into 1 1/2-inch pieces

2

cloves

garlic

pressed or minced

1

tablespoon

olive oil

1 1/2

teaspoon

coarse salt

fresh cracked pepper to taste

crumbled feta cheese
Instructions 
Heat your oven to 425; line a 10 1/2 x 15 1/2-inch rimmed baking sheet with aluminum foil and spray the foil with non-stick spray.

Put all of the ingredients, except feta, in a gallon-size zip-top bag. Seal the bag and gently turn the bag several times to coat the veggies in the oil. Transfer the veggies to the baking sheet, spread them to an even layer, and roast them for45-50 minutes; stir them slightly after the first 15 minutes. Top with feta cheese and serve.

Sharing is caring!