Sharing is caring!
The Omnivore was heading out of the town the other morning right as I was kneading the dough for whole wheat oatmeal bread.  He was a little surprised to see me hard at work making homemade bread when clearly he was not going to be home to enjoy it.
I was also throwing a dozen eggs into a giant pot on the stove to make egg salad and that, in combination with the bread that was shortly coming out of the oven, had him wishing he didn't have one of those jobs that made him travel.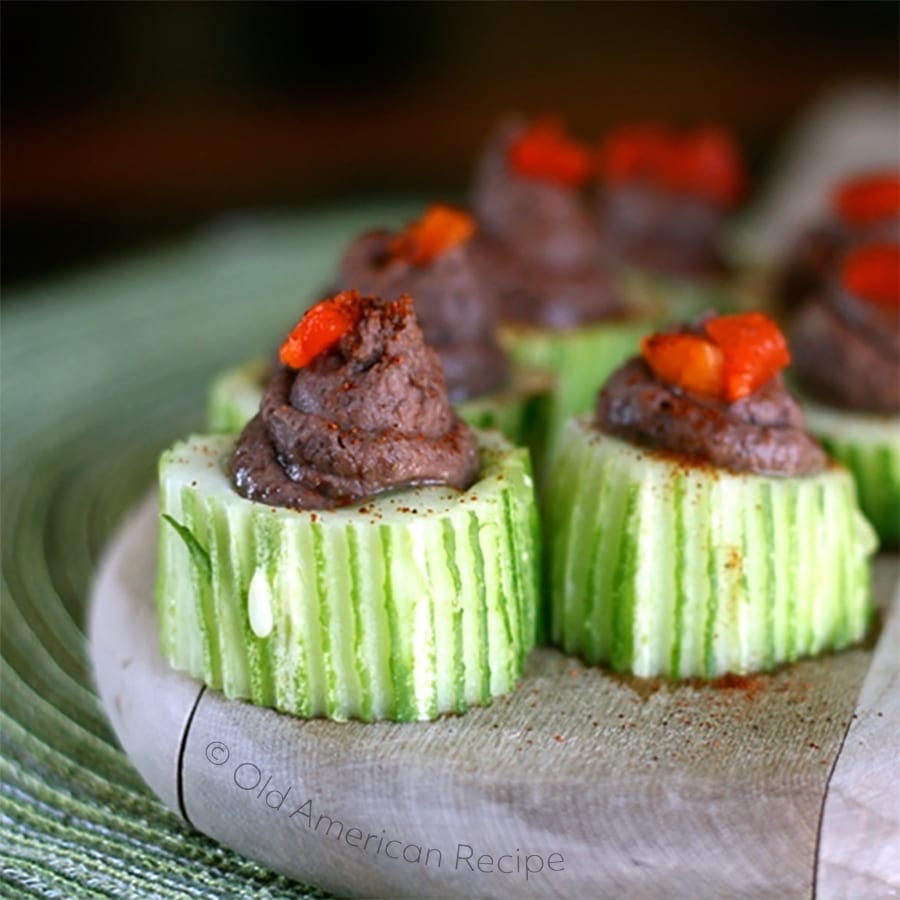 The Omnivore's pretty lucky that he was out of the house by the time I dreamed up and whipped up these appetizers for the lunch date I was hosting for a few girlfriends.  Cucumbers are his absolute favorite summer produce and these babies were still warm from the glorious South Carolina sun.
Since my ladies and I were going to be indulging in the delicious oatmeal bread (who knows portion control when the bread is so darn fresh!?), I knew I didn't want a chip-dip type appetizer.  These were a great, healthy way to start out our lunch.
They may look complex but really took less than 10 minutes to assemble.  The cool cucumber matched perfectly with the slightly spicy black bean filling.  I'm taking bets on how long after the Omnivore reads this blog post he begs me to whip up another batch.
Black Bean Cucumber Cups
Number of servings (yield): 4
Preparation time: 10 minute(s)
Ingredients
1.5 cups rinse and drained black beans
1/2 tsp cumin
1/4 tsp salt
1 mild jalapeno
3 cucumbers
chopped roasted red peppers
chipotle pepper power
Instructions
Wash cucumbers. Using a citrus zester, partially peel the cucumber so that just a little bit of skin remains.
Cut ends off cucumbers then slice the cucumber into 1″ disks.
Using a spoon, hollow out the interior portion where the seeds are. Set aside.
In a food processor, combine beans, cumin, salt, and jalapeno. Puree to desired consistency. Transfer to a piping bag.
Pipe 1-2 tablespoons of the black bean filling into each prepared cucumber cup.
Top each cup with a small roasted red pepper and a dash of chipotle pepper powder.
Sharing is caring!