Sharing is caring!
Different people want different things from a brownie. Some people like a more cakey brownie, while others want a fudgy brownie. I'm in the second category; the more fudgy the better.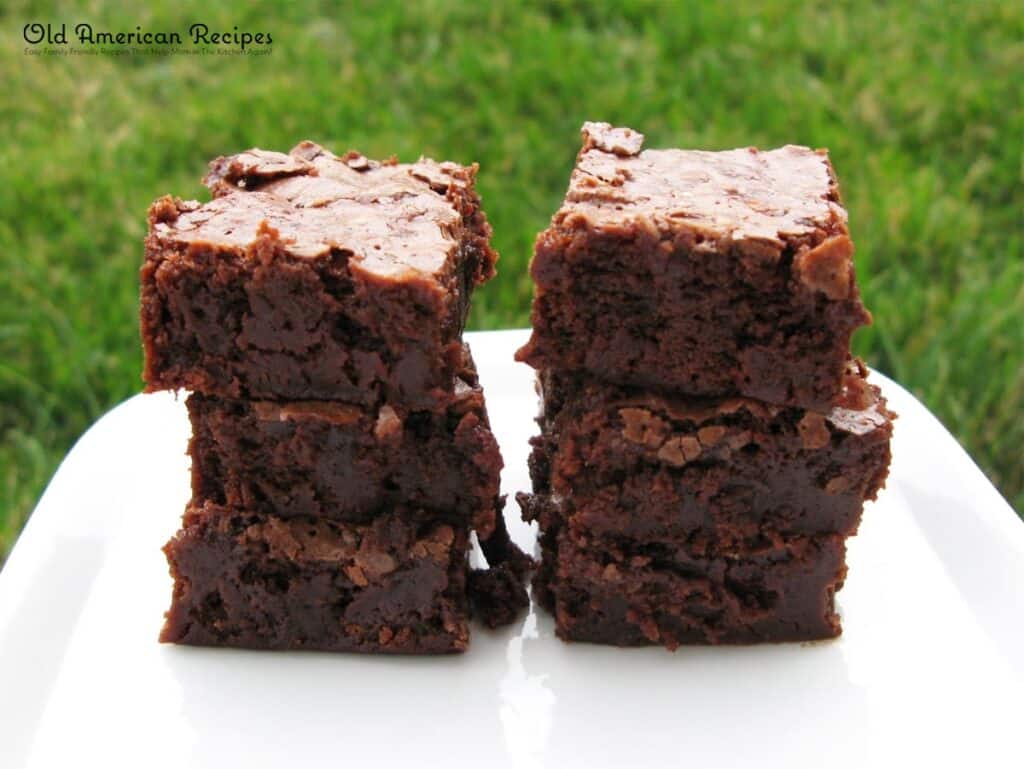 Several years ago (2003) I was toying with the idea of writing a children's cookbook (haven't given up on the idea), and one of the recipes I wanted to have in the book was for an easy brownie. What kid doesn't like brownies, right? I didn't want to use dry cocoa because the brownies I remembered from my childhood were made with cocoa and they were more like cake. So for the chocolate I used chocolate chips. I thought most people who cook would have some hanging around their cupboard, and I thought melted chocolate would get me closer to fudgy. You can also use regular bar-type baking chocolate if you don't have, or don't want to use, chocolate chips. Of course, my favorite chocolate is Ghirardelli 🙂
I had a working recipe that was pretty good and then I had to put the project on hold for a while (ended up being 6 years). This spring a friend of mine wanted to know if I had a good scratch brownie recipe. I remembered the recipe I'd been working on, but I wanted to test it before I gave it to her. Good thing I did, too. It was definitely not at the share stage. I made it six more times to get it just right. She and her husband loved them, and like all brownies, these are awesome with vanilla ice cream 🙂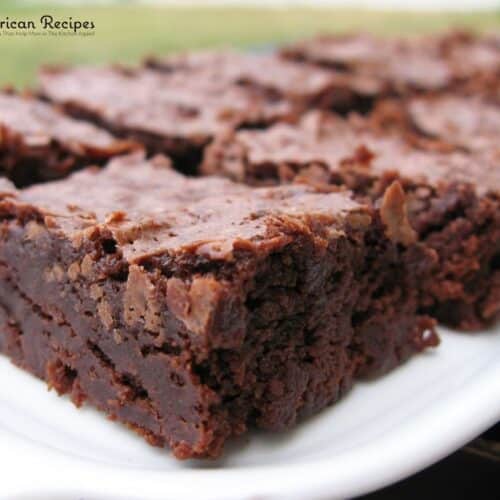 Fudgy Brownies
Ingredients  
1/4

cup

butter

1

cup

semi-sweet chocolate chips

or 6 oz semi-sweet baking chocolate

2/3

cup

sugar

1/2

teaspoon

vanilla

3

eggs

slightly beaten

1/4

teaspoon

baking powder

1/4

teaspoon

coarse salt

2

tablespoon

cocoa powder

1/2

cup

all-purpose flour
Instructions 
Heat your oven to 325. Spray the bottom of a 8×8 glass pan with non-stick spray.

Put the butter and chocolate chips in a medium microwaveable bowl, and heat on high for 1 minute; stir. Heat for 30 seconds more and stir until the chocolate is completely melted.

Add the sugar and stir until the sugar and chocolate mixture is completely combined.

Add the vanilla and eggs, and stir until the mixture is completely combined.

In a small bowl, combine the baking powder, salt, cocoa powder and flour; mix well to break up any lumps in the cocoa powder.

Add to the chocolate mixture and stir until completely combined.

Bake for 26-28 minutes, or until the top of the brownies are flat and a toothpick inserted in the center comes out almost clean (you want a few moist crumbs to cling to the toothpick).

Cool completely (if you can stand to wait) before cutting to get the best looking pieces.
Notes
Tip: Use a plastic knife to cut the brownies; the knife will slide right through.
When I was taking these pictures in my back yard my 2 year-old was sitting next to me on a over-turned bucket. She was so excited about the brown squares on the plate she could hardly keep herself off them. I turned my head at just the moment she leaned over to lick the brownie closest to her. Well, at least she kept her hands off 😉

Sharing is caring!