Sharing is caring!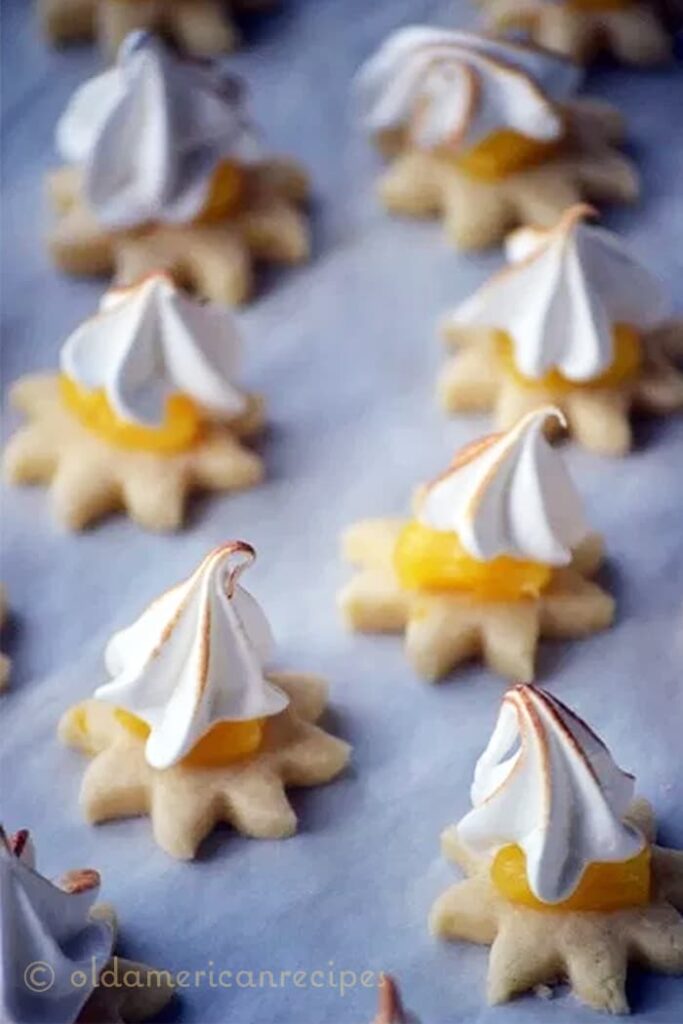 I'm sure we have all heard the adage that good things come in little packages.
I am managing to survive these still-too-cold early days of Spring by focusing on this concept.
My theory is that if I think of the arrival of Spring as a series of small packages that Nature will give us, one warm day-at-a-time and bit-by-bit, that I will inspire myself to make it through yet another day of wearing my winter coat.
I look forward to seeing tiny buds unfurling on trees (soon) and the colourful heads of tulips peeping out from the ground (soon).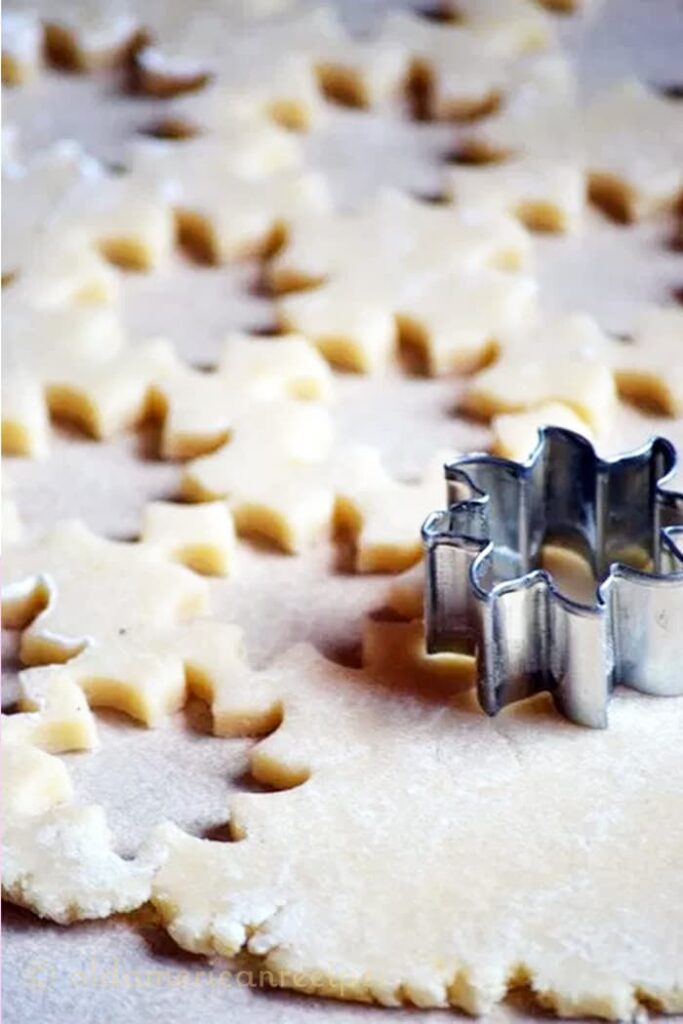 To be added to the list of small and pretty things from which I am deriving so much pleasure, I add the cookbook trEATs: Delicious Food Gifts to Make at Home by the deliciously talented April Carter of Rhubarb & Rose.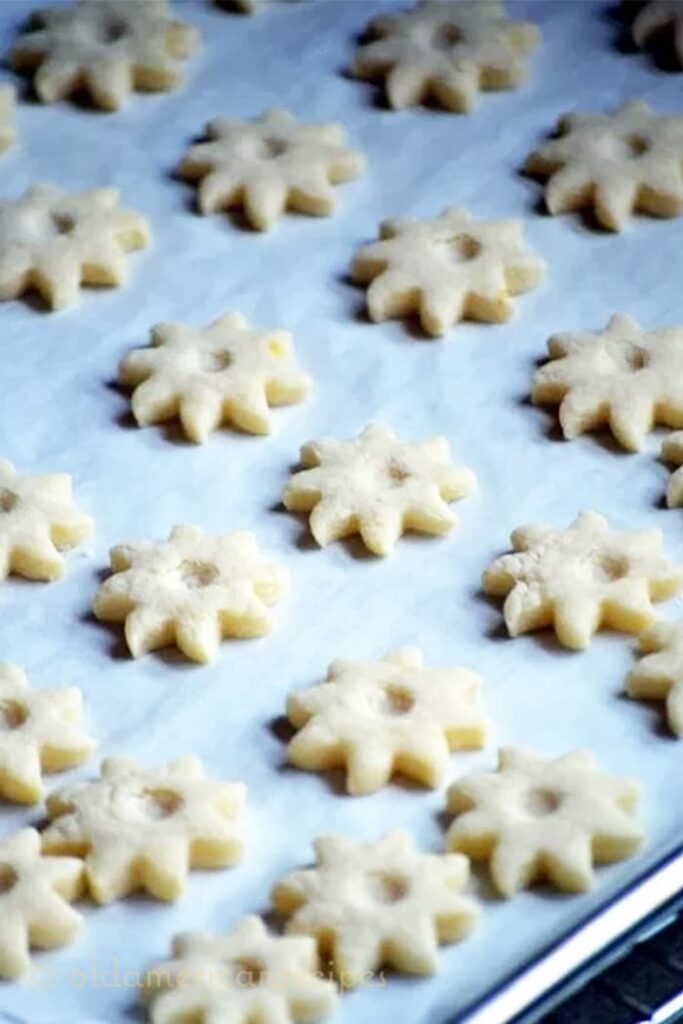 It's actually a baking book, but howsoever you choose to describe it, you should run (not walk) to your nearest bookstore to pick up your copy or your nearest computer screen to order one.
I. Love. This. Book.
It is small and perfect in every way between the wonderfully inspiring recipes, the evocative photographs and the general overall tone of happy.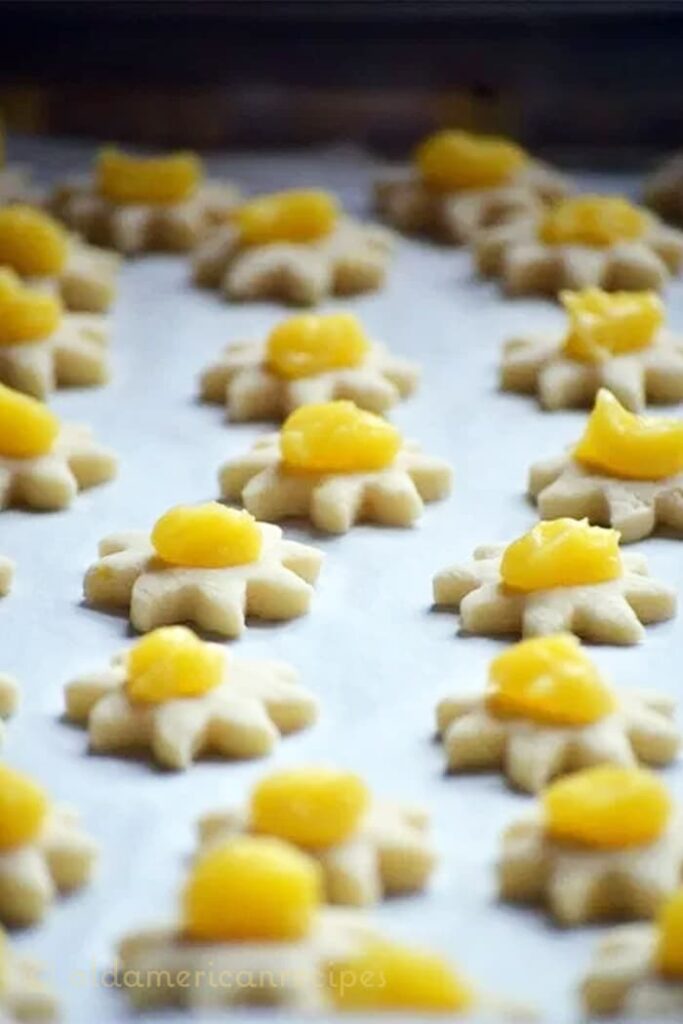 Yes. It's a happy book.
Hard to explain in a blog post so you'll have to pick up a copy for yourself but all I can say is that there is an overall air of happy person to this book. I have never met Ms. Carter but I can tell she is a happy baker and that is good enough for me.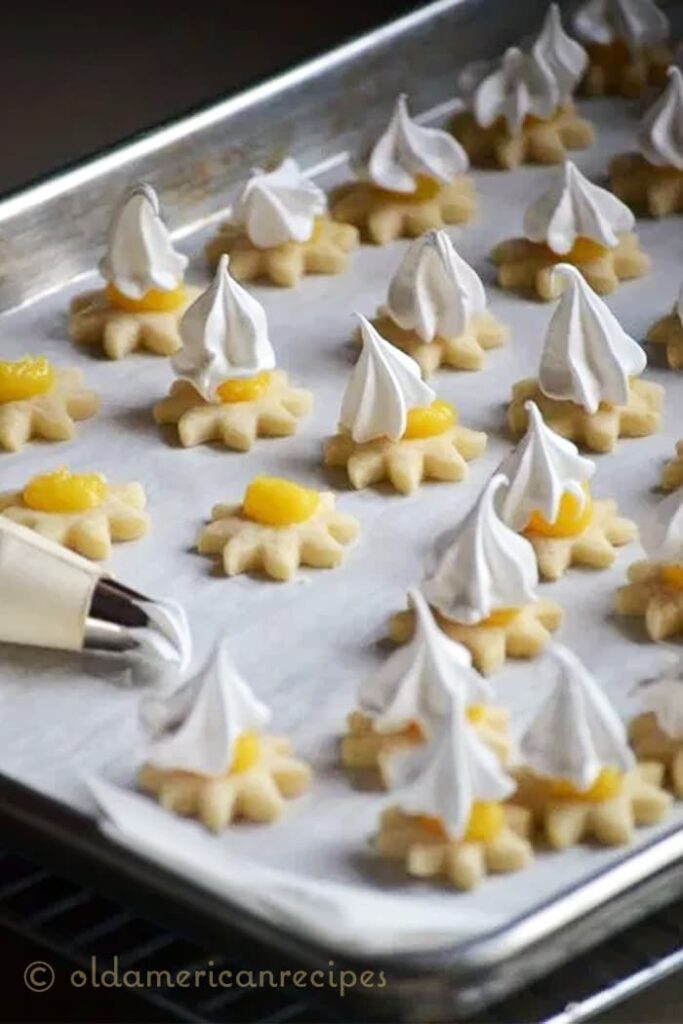 As I flipped through the book for the umpteenth time, I was struck by the recipe for Tiny Lemon Meringue Pie Cookies as I got the overwhelming idea that if I baked them, the weather would change.
What can I say … the happy got to me.
Don't forget to PIN this Lemon Meringue Cookies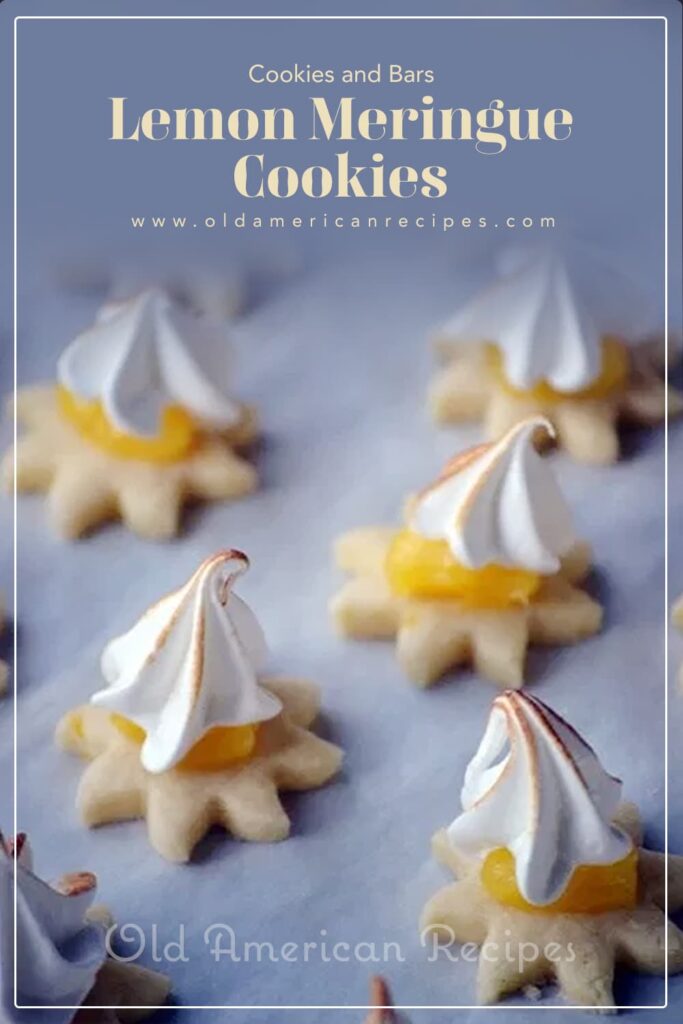 While I used the cookie base recipe from the book, I actually switched the recipe a bit to include a lemon curd and a meringue topping (the original recipe doesn't call for curd and the topping is a royal icing).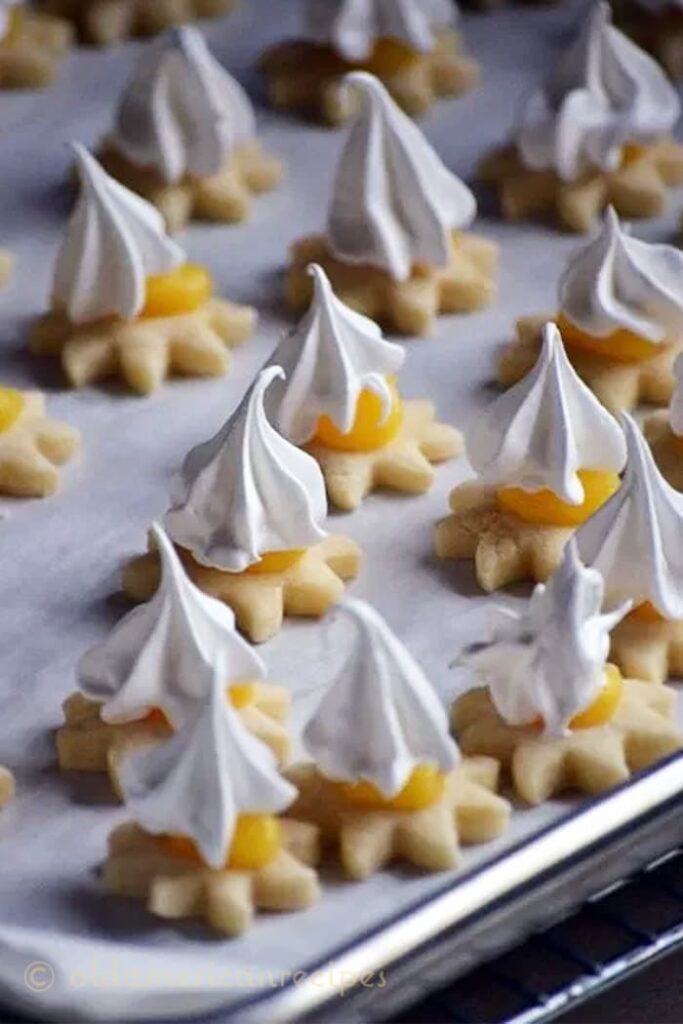 These little sweet bites made me so happy and they made a whole bunch of other people happy.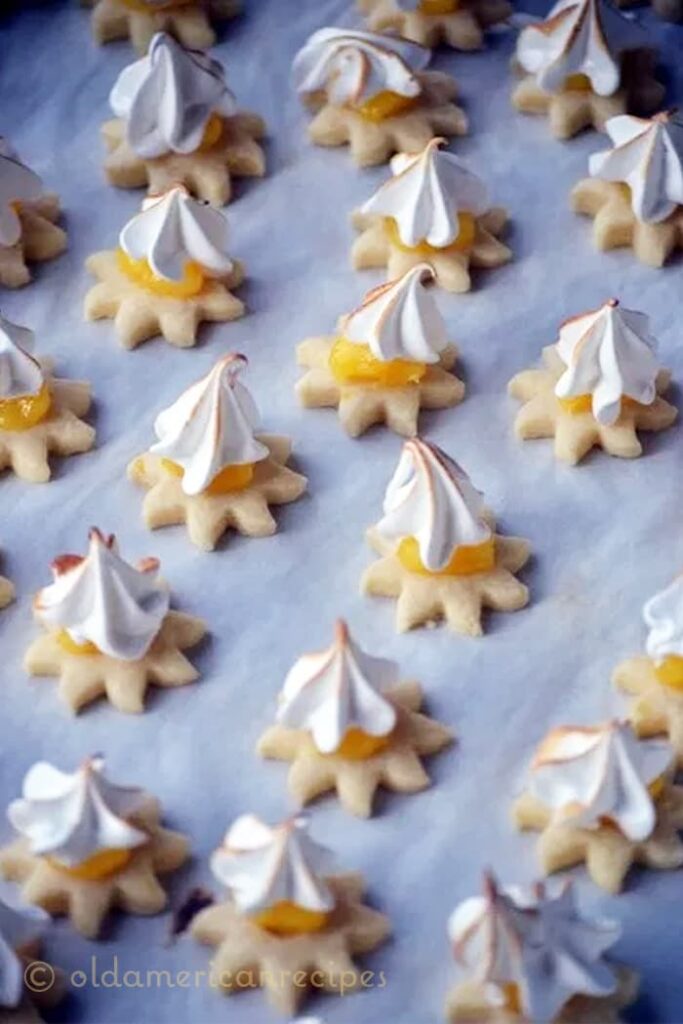 Good things come in tiny bites, too.
Lemon Meringue Cookies
With their sunny yellow appearance, these Lemon Meringue Cookies are sure to brighten up anyone's day. Plus, they feature the yummy flavors of one of your favorite desserts: Lemon Meringue Pie!
Equipment
baking trays

a cookie cutter (preferably a small one, no more than two inches in diameter)

(optional) a piping bag and a star tip
Ingredients  
For the butter cookies:
1/4

cup

unsalted butter

at room temperature

1/4

cup

superfine sugar

*Also called fruit sugar.

zest of half a lemon

1

large egg

a few drops of lemon oil or pure lemon extract

1/4

teaspoon

baking powder

pinch

of kosher salt
For the meringue topping:
1/2

cup

of egg whites

four egg whites

3/4

cup

granulated sugar
Instructions 
The day before you make your cookies, make the lemon curd and refrigerate it so it's nice and cold when you're ready to assemble the cookies.

In the bowl of a stand mixer, beat the butter and sugar together until fluffy (about 3 minutes).

Add the lemon zest and the lemon oil or extract and mix for another minute or so. Lightly beat the egg and add it to the butter mixture, mixing for another minute. Be sure to scrape down the sides of the bowl.

Combine the flour, baking powder and salt in a separate bowl and then add it carefully to the butter mixture (with the speed on low), until it's fully incorporated.

Gather the dough into a ball and cover with plastic wrap. Referigerate for an hour.

Just before you're ready to bake your cookies, preheat the oven to 350 degrees F. and line two baking sheest with parchment paper.

Have your cookie cutter ready to go.

Roll out your cookie dough to a thickness of a 1/4 inch to just under 1/2 an inch (I like thicker cookies as they're sturdier).

Use your cookie cutter to cut out as many cookies as you can, placing them on the prepared cookie sheets as you go.

Reroll the scraps and cut out more cookies until you've used all your dough.

Place the cookie trays in the freezer for 10 minutes to firm them up. Chilling the dough in this way will ensure that your cookies bake up smoothly and uniformly (and don't spread out too much).

After having chilled the cookies, pop the trays in the oven for no more than 5 to 7 minutes (depending on your oven). You can rotate the trays as well to help ensure the cookies bake evenly. They should be just ever-so-slightly golden on the bottom. (This took about 6 minutes in my oven as my cookies were very small.)

Once baked, remove the cookies from the oven and make a small indentation in each one (you could use the end of a wooden spoon to do this). This will form a little valley in which to nestle your lemon curd.

Allow the cookies to cool completely on the trays before transferring the cookies to a wire rack.

Once completely cool, dollop a small amount of lemon curd in each of the valleys or indentations you made in the cookies.

To finish the cookies off, make the lemon meringue topping by placing your egg whites in the bowl of stand mixer with the whisk attachment.

Beat on high until soft peaks form and then gradually add in the sugar, beating on high.

After a few minutes the meringue will become stiff and glossy.

You can dollop the meringue on to the cookies or use a piping bag with a star tip.

If you want to go all out, get yourself a kitchen torch to brown the meringue a bit.

If you're not serving the cookies right away, referigerate them. They will keep for two to three days.

Enjoy!
Don't forget to PIN this Lemon Meringue Cookies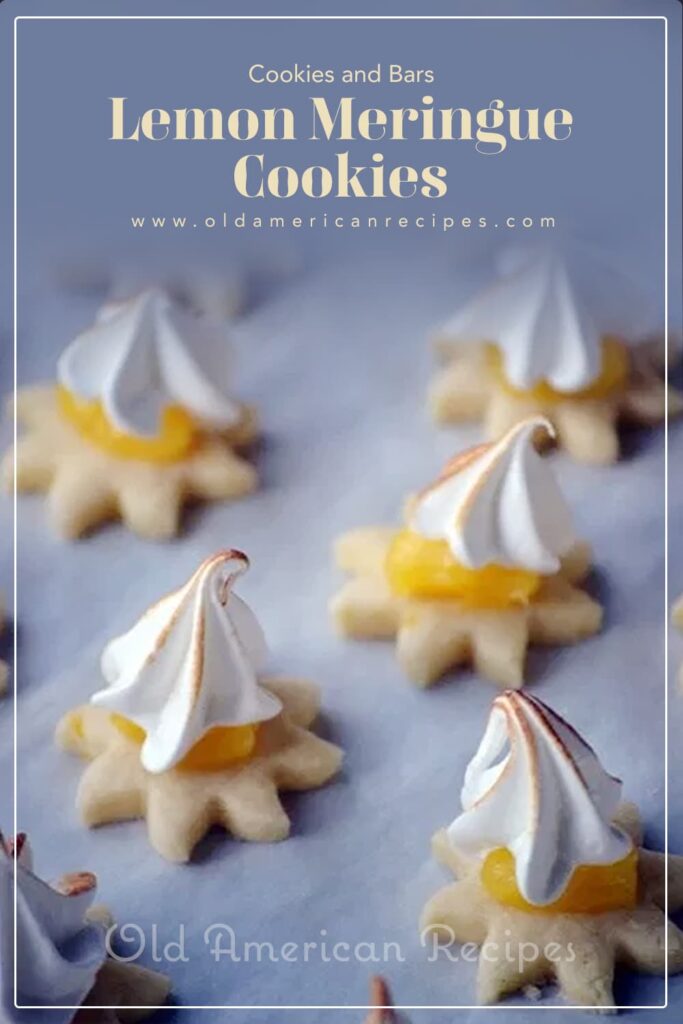 Sharing is caring!