Sharing is caring!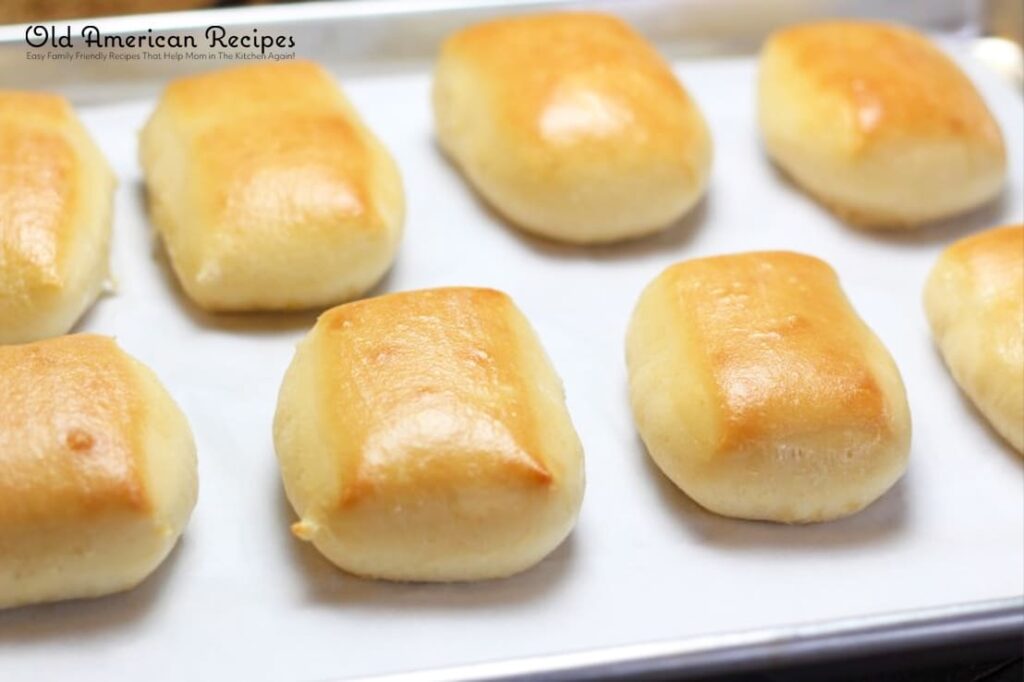 You can't eat just one.  Fluffy, buttery, tender dinner rolls similar to those that are served in a very popular restaurant.  In my personal opinion, these are better than the delicious ones at Texas Roadhouse.
I've been asked what type of rolls would go best with the Savory Broccoli Cheddar Soup that I posted a few days ago.  These would be P-E-R-F-E-C-T.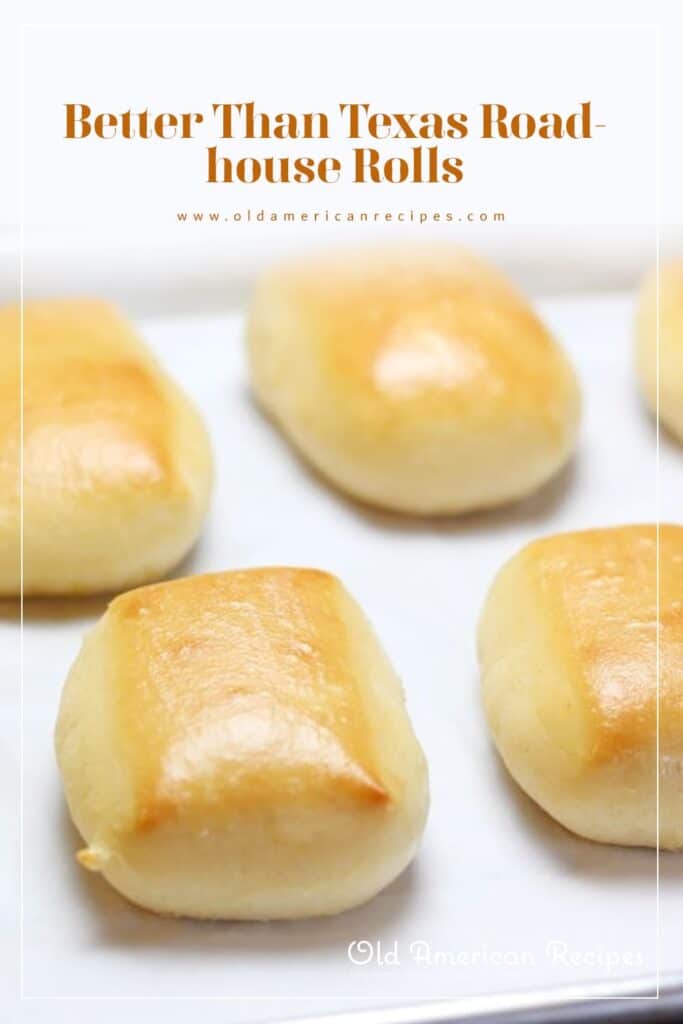 Now, I'm not putting theirs down.  Remember, I live over 160 miles away from one of any of those types of places.  So being the resourceful woman that I am, I had to find the best recipe I could that would even come close to the taste and texture that the Texas Roadhouse boasts.  I think some people dine there particularly for those magical little pillows of fluffiness.
Thanks to the internet, Google search, and Pinterest, I finally landed on a recipe that looked like it came pretty darn close to the real McCoy.  Kathi at the fabulous food blog Deliciously Yum shares her copycat take on these favorites here.
Who can resist these?
Granted, these will take a little bit of effort on your part.  The reward will be well worth the time.
Having gotten over my fear of yeast, the world of breadmaking has opened up huge new doors.  It truly rocks my world.  Look at it like this – it's grownup playdough.  This could possibly be one of the best therapeutic practices I have found.  Okay, one of several.
A stand mixer does most of the work mixing these together.  Once the dough is made, it's covered and placed in a bowl to rise double in size.  Just one punch with the fist into the center (that's the fun part!) then it's placed on a floured board or surface. The dough is easily rolled out into a rectangular approximately 1/2″ thick, then cut into squares or rectangles.  The best hassle-free way to do this is by using a large pizza cutter.
The rolls should look like this when you place them on your baking sheet.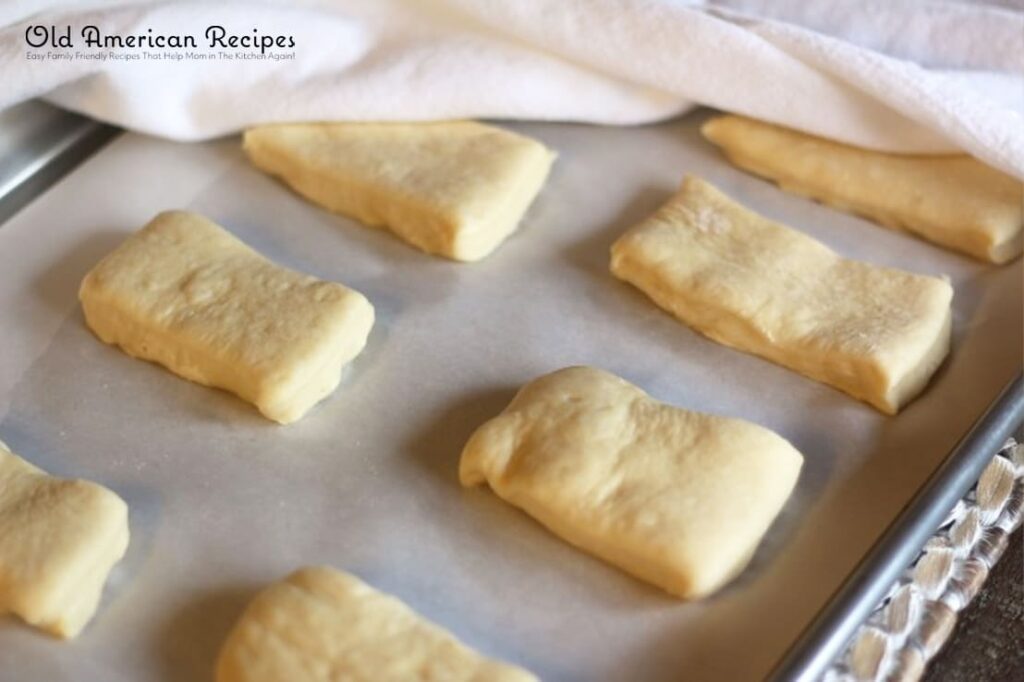 They're covered to rise double in size before they get placed in the oven.  Once they come out and are still warm, they get brushed with melted butter to create a lustrous sheen of buttery goodness.
The only thing I did a little bit different with these tasty rolls is that I added garlic salt to them. The hint of garlic flavor pairs well when they're enjoyed with soups or stew.  And it makes them smell divine when they're baking!
Once these dinner rolls come out of the oven, they'll draw a crowd immediately, and you'll be lucky to have any left to serve with the meal.  Or perhaps, if you're like me, you might just bake them up to enjoy on their own, slathered with butter while they're still warm.
Here's the recipe to make now, or to tuck into your recipe box for a rainy day.  But all I can say is that you must give them a try.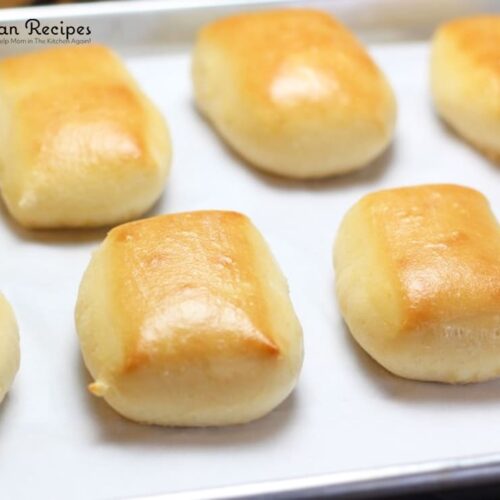 Better Than Texas Roadhouse Rolls
Fluffy, buttery, tender dinner rolls similar to those that are served in a very popular restaurant.
Ingredients  
1

envelope active dry yeast

¼

cup

lukewarm water

1

cup

lukewarm milk

3

tablespoons

melted butter

room temperature

¼

cup

sugar

4

cups

all-purpose flour

divided

1

large egg

room temperature

1

teaspoon

garlic salt

¼

cup

melted butter for basting rolls
Instructions 
Lightly grease a large mixing bowl and set aside.

In the work bowl of a stand mixer, dissolve yeast in water with a whisk.

Allow yeast to stand for 5 -10 minutes until it starts to foam.

Attach bowl to mixer. With the paddle attachment. stir on low speed.

Add milk, butter, and sugar, continuing on low speed until thoroughly mixed.

Gradually add 1½ cups flour, stirring until thoroughly mixed.

Add egg and salt, mixing to combine.

Change the attachment to the dough hook.

On low to medium speed, gradually add remaining flour.

Continue to mix until the dough starts to pull away from the sides of the bowl.

Transfer dough to prepared bowl, using a dough scraper if necessary.

Cover bowl with plastic wrap and allow dough to double in size (approx. 1-1½ hours).

Punch dough down, remove from bowl, and place on a floured work surface.

With a rolling pin, roll out dough in a rectangle to approx. ½ inch in thickness.

Using a pizza cutter, divide into 18 pieces.

Place each piece 2 inches apart on parchment lined baking sheets.

Cover with a clean kitchen towel and allow to double in size.

Preheat oven to 350 degrees. When rolls have risen, place on middle rack of oven.

Bake 15 minutes or until light golden brown.

Remove from oven and immediately brush with melted butter.

Serve warm or allow to cool.
These will be showing up on my table for Thanksgiving dinner.  And Christmas.  And any other special occassion for that matter.
If they turn out as good for you, you'll be making them over and over again.
Have a great weekend, everyone!
Sharing is caring!