Sharing is caring!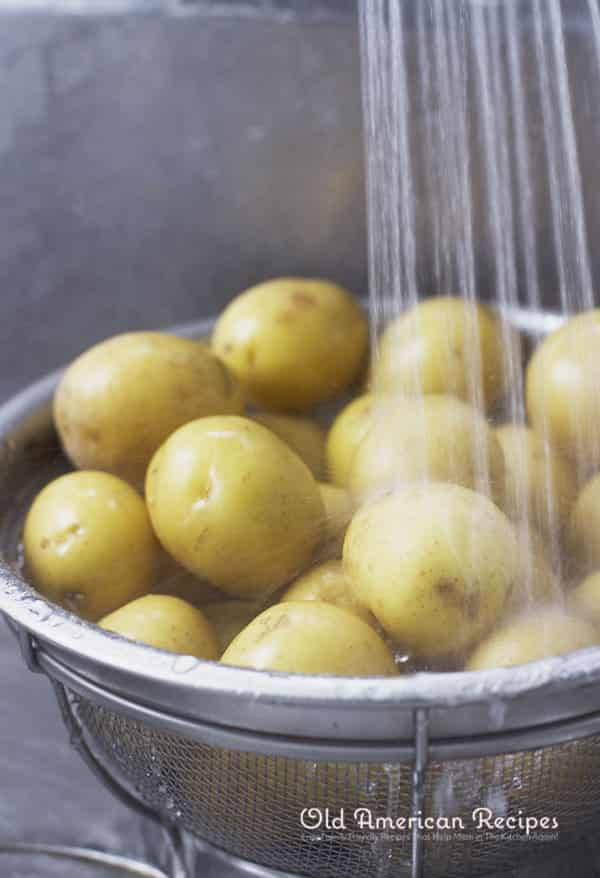 I just love all things cute and "two bite" potatoes are no exception.
Now that I am blogging, I go grocery shopping several times a week. I never know how many times I will need to make a recipe before it is "blog worthy," and with deadlines to meet that means I might make the same thing 2 or 5 times in a week. Plus, I want to get what looks good and fresh. Not just for the blog, but because I am tired of vegetables that look "ehh" and then them being bitter, starchy, or woody. Produce makes up a huge portion of our diet, so I need it nice and fresh.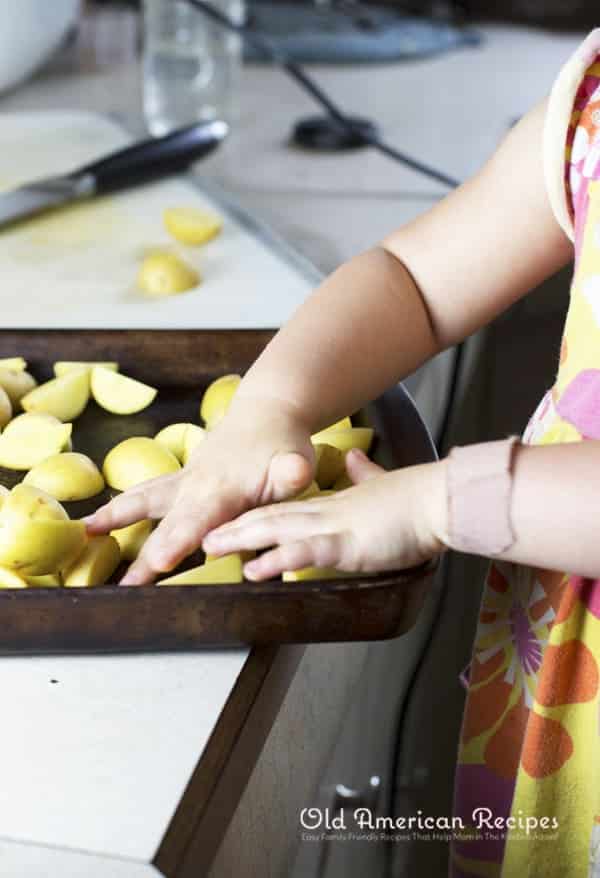 One problem with this is getting what looks good/fresh sometimes gets confused with "oh cute POTATOES!" Yeah. My budget is not a fan of that. Still trying to figure this out while recipe developing and food allergies on a budget. Plus, I just have to get cute produce…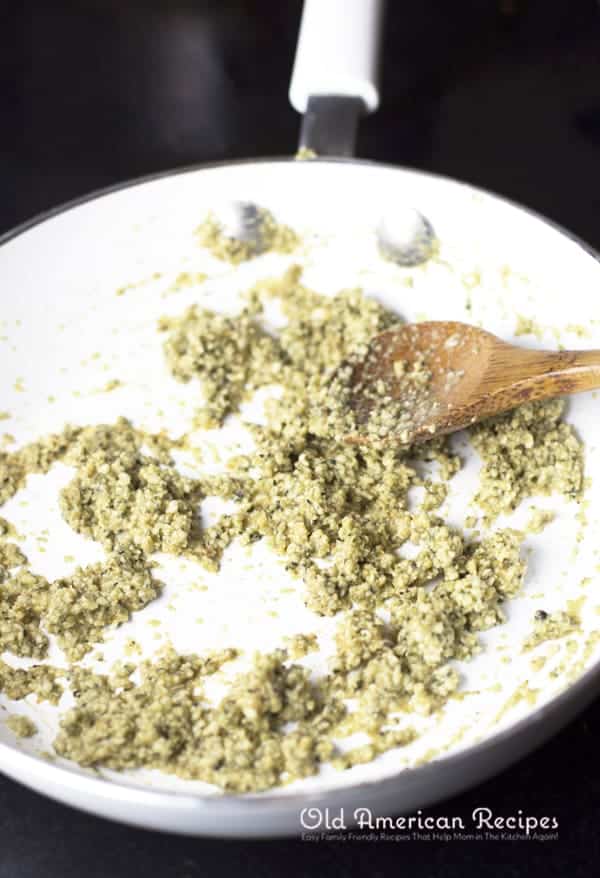 Cute potatoes are just dying to be roasted. I know this because I asked. Right after I explained to them the word "anthropomorphism." Surprisingly good conversationalists.
Even if potatoes must be roasted they don't have to be served just by themselves. Granted, that is good and has it's own place. But these cute potatoes wanted to be made into potato salad. No arguing with that.
Remember it later
Like this recipe! Pin it to your favorite board NOW!
Pin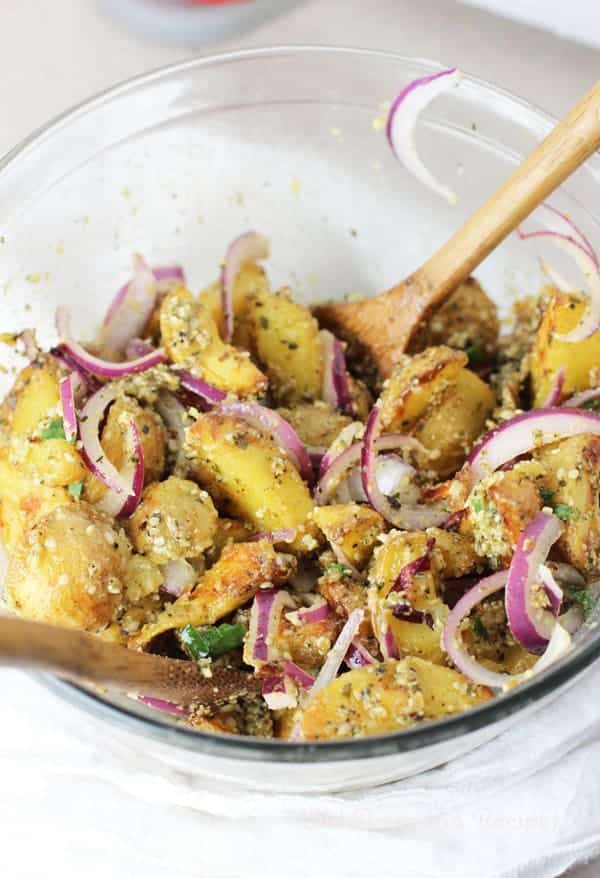 So, I sliced some red onions, made a simple dressing, some hemp Parmesan substitute  and salad-ed those roasted potatoes. Then my cute daughter ate almost all of it…
READ POST, AND SEE THE RECIPE FOR ROASTED POTATO SALAD ON FOR THE FAMILY.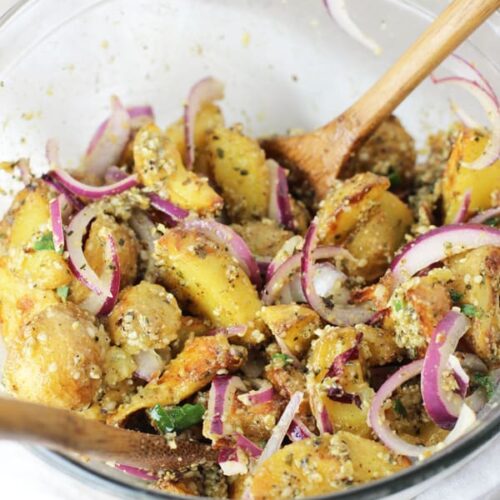 Roasted Potato Salad
Ingredients  
1 1/2

lb

two-bite potatoes

or Yukon

2

teaspoons

garlic powder

2

teaspoons

onion powder

1 1/2

teaspoon

salt

1

teaspoon

dried parsley

1

pinch

dried marjoram

1/2

red onion

cut in half and thinly sliced

2

tablespoons

chopped fresh chive

1/2

batch DF Parmesan sub or 1/4 cup grated Parmesan

2

tablespoons

olive oil

1

teaspoon

red wine vinegar
Instructions 
Preheat the oven to 450 degrees.

Cut the "two bite" potatoes in half, or cut the Yukon into 1 1/2 – 2″ pieces.

Spread potatoes on a sheet pan. Mix together the salt, garlic powder, onion powder, parsley, and marjoram. Sprinkle the mixed seasonings over the potatoes, and stir. Drizzle a bit of olive oil over the potatoes (a tablespoon or two), and toss to coat. Spread potatoes back out. Bake at 450 degrees for 30 minutes, stirring every ten. Remove potatoes from the pan, and put them into a medium-sized bowl.

While the potatoes are cooking, put the sliced red onions in a container; liberally sprinkle them with salt, and cover with water. Let the red onions soak in the salt water for 5-10 minutes, then rinse. This helps take the sharp bite out of the onion so it does not over power the rest of the dish. Dry with a towel to prevent excess moisture in the potato salad.

Mix the potatoes, onions, chives, Parmesan (or sub), and vinegar in with the potatoes. Add salt to taste if needed.
Sharing is caring!