Sharing is caring!
When I become fixated on something, there is an obsessed air of compulsion running riot within me.  When I am truly focused, I will explore every possible avenue before reaching my goal.  The target of my obsession does not even have to be significant.  Big or small, if I am determined enough, I do not discriminate in my manic treatment!
A recent object of focus was tracking down … wait for it … pearl sugar.  Okay, sounds pretty simple, right?  It should be, but here in Brisbane, not an easy feat.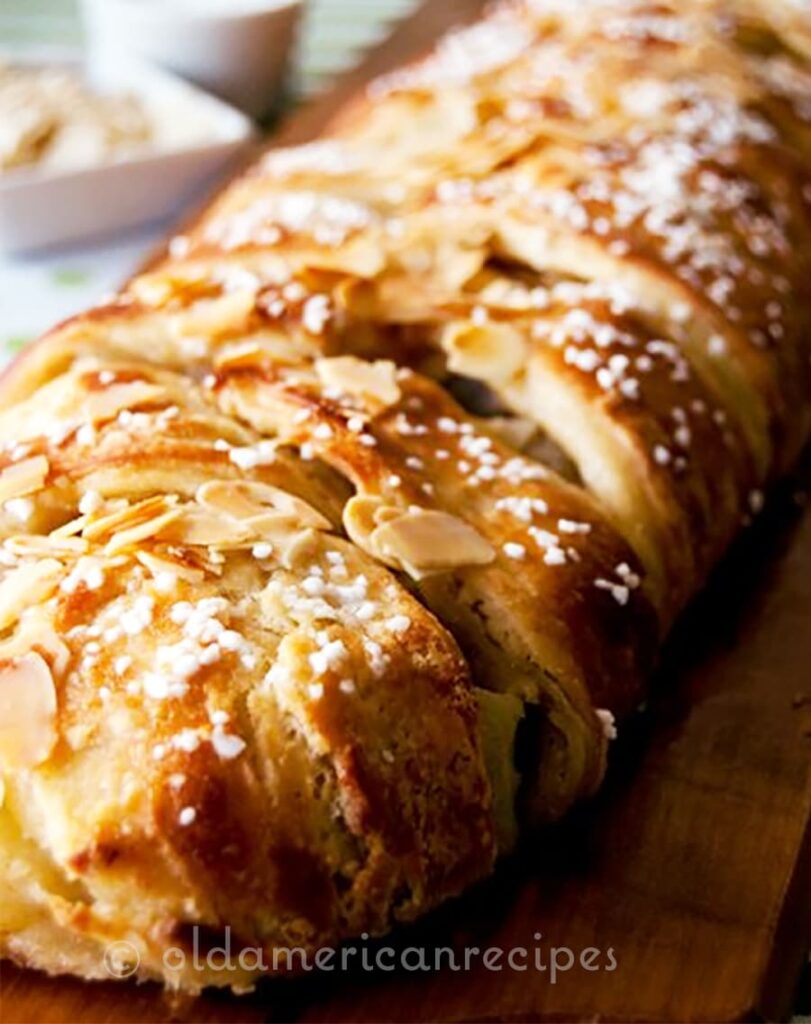 Not content with simply contacting some local gourmet and speciality providores (and after checking if they stocked pearl sugar, and being asked "what's that? – clearly you can guess the outcome of those phone calls!), I commenced the internet hunt.  Sydney.  Check.  Melbourne.  Check.  Seems this sweet little product is readily accessible down south, but how to get my hands on some?
Instead of continuing further in the gourmet food store route (where many stores do not appear to be set up well – or cost efficiently – for interstate shipping), I decided to start contacting a slew of Nordic/Scandinavian retailers and wholesalers.
In the end, I found my pot of white gold, from a small retailer in Sydney (it was not even promoted on their website), and they were happy to send me up a couple of boxes.  (YAY!)
I have been feeling somewhat of a fraud baking a range of Scandinavian/Nordic goodies without pearl sugar.  So by tracking down this requisite baking ingredient, I feel a (probably a disproportional to most!) sense of accomplishment.
All in all, it really did not take that long to find – far quicker than the commercial food grade bees wax I hunted down to experiment with the custardy goodness of Cannelés Bordelais.  Now that was a challenge!
Don't forget to PIN this Cinnamon apple Danish braid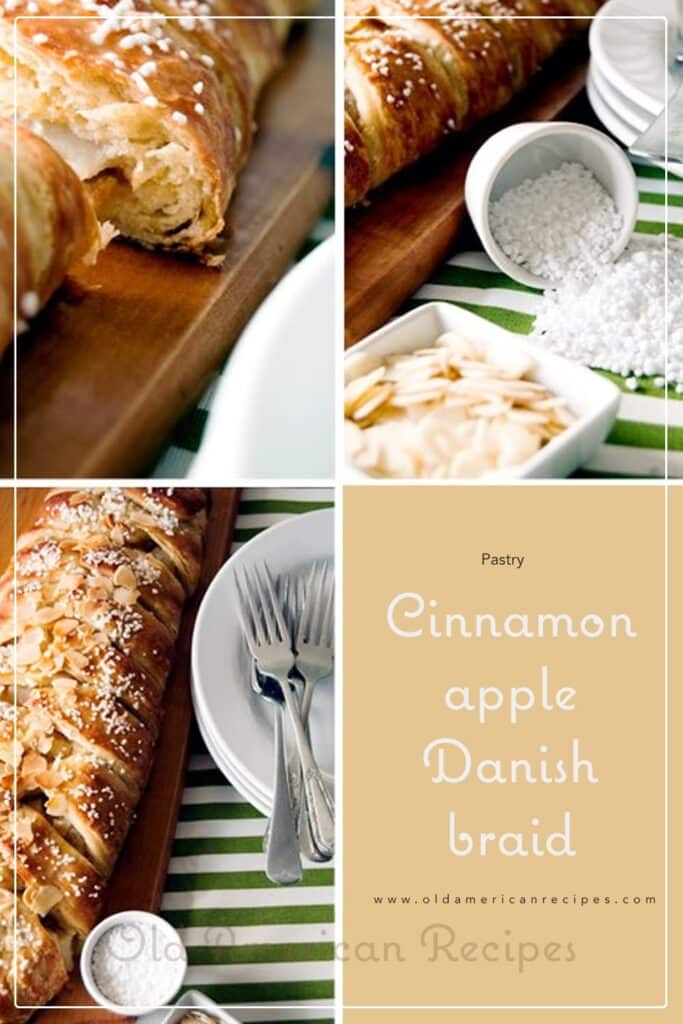 But now, with pearl sugar on hand, it was time for another Viking conquest, of the baking kind.  The famous Danish.   I researched a range of recipes to investigate ingredient proportions, techniques and approaches.  I was on the lookout for some shortcuts that would work with the much reduced time I now have for baking.
In the Great Scandinavian Baking Book, Beatrice Ojakangas provides a quick Danish recipe.  She implores readers that using this speedy version is not only common in Denmark, but produces almost identical results.  Sounds good to me!
Using Beatrice's recipe as a guide, I slightly adapted the ingredients (reduced the butter quantity, switched all the fluids to milk and added a good dose of cardamom) as well as the directions (I ditched the food processor and simply used a pastry cutter, keeping this to a one bowl dough).
It literally took five minutes to put together, and only about the same to roll and prepare the following day.
I do not think it does actually produces results similar to the more labour intensive Danish pastry (because really, why would you spend all that time with the traditional approach if it was not superior?), but what it does produce, in the very short time it takes to pull together, is nothing short of spectacular!
As Mr Mélanger has a weakness for anything baked with apple, I filled this dough with some diced Granny Smiths and a hint of cinnamon.  Simple. Comforting.
I see plenty more Danish in my future.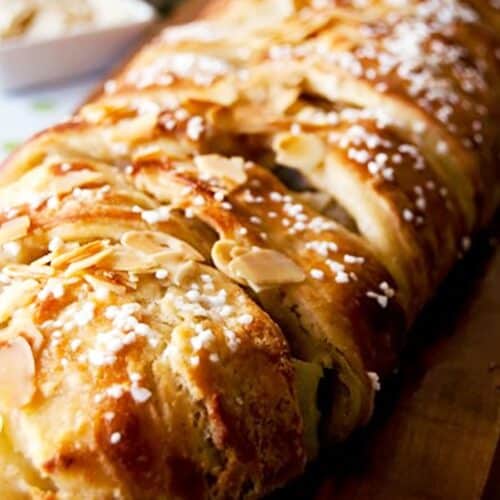 Cinnamon apple Danish braid
Ingredients  
For: Quick Danish pastry
7

g

/ ¼ oz active dry yeast

¾

cup

milk

45C/110F

1

egg

1/4

cup

sugar

1

teaspoon

salt

2

teaspoons

ground cardamom

2 ½

cups

all purpose flour

190

g

/ 1 ½ sticks cold unsalted butter

cut into 2 cm (3/4 inch) cubes.
For Danish braid:
½

recipe of quick Danish pastry

4

small Granny Smith apples

peeled, cored and cut into small cubes

¼

cup

sugar

2

tablespoons

of all purpose flour

1

teaspoon

of cinnamon

To finish:

Egg wash

Pearl sugar

Sliced almonds
Instructions 
For: Quick Danish pastry
In a small jug, lightly mix the yeast, milk, egg, sugar, salt and cardamom. Set aside. In a bowl, add the flour and cubed butter. With a pastry cutter, blend together gently until the butter is cut to the flour but still is visible – you want some butter pieces still around 1cm in size (¼ – ½ inch).

Pour the wet mixture gently into the dry mixture. Fold together only until everything is just moistened and starts to come away from the edges of the bowl. Cover with plastic and pop in the fridge overnight.

In the morning, lightly dust a work surface and roll out the dough into a 30x20cm (12 x 8 inch) rectangle. Fold the dough into thirds, and roll out again to the same size. Refrigerate for 30 minutes. Repeat the folding and chilling process. The dough is now ready to use.
For Danish braid:
Preheat the oven to 200C/400F. Remove the chilled dough from the refrigerator and place onto baking paper. Mix the apple, sugar, flour and cinnamon in a small bowl. Sprinkle the apple mixture down the centre of the dough. Cut about 8-10 strips (on a slight angle) evenly down each side of the mixture. A pizza cutter works well. Fold the strips over the apple filling in a crisscross pattern.

Let pastry rise for 30 minutes until it looks a little puffy. Brush the pastry with the egg wash, then sprinkle the pearl sugar (across the entire top of the pastry) and sliced almonds on top (almonds just down the centre). Bake for 12-15 minutes, or until golden.
Don't forget to PIN this Cinnamon apple Danish braid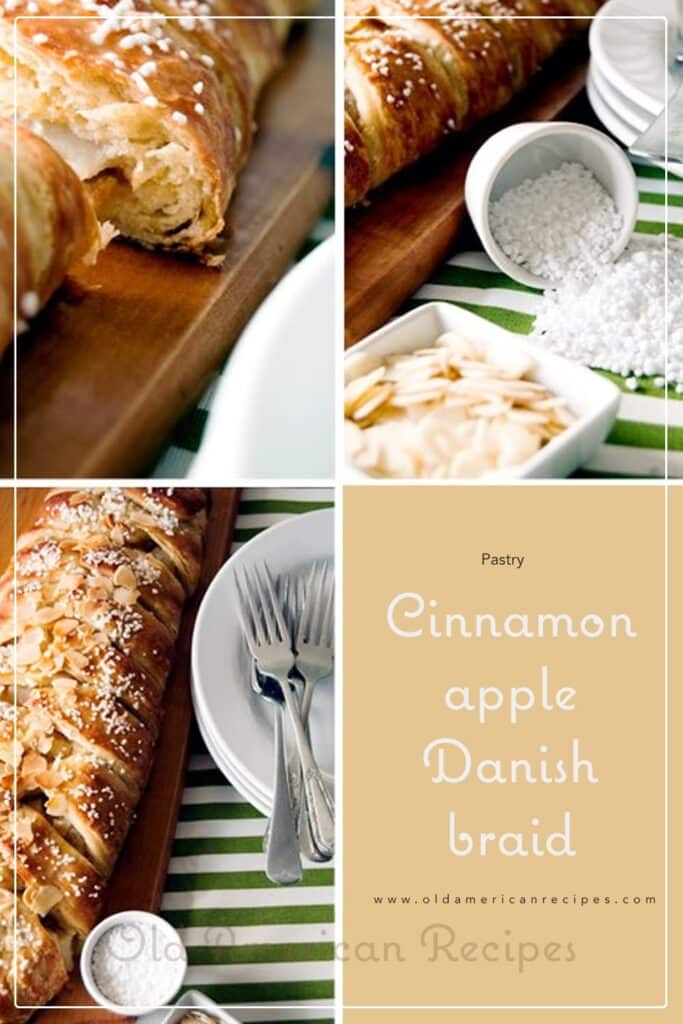 Sharing is caring!