Sharing is caring!
Delight your family and friends on Easter Sunday by featuring this easy-to-prepare, delicous Savory Easter Pie as the main course for brunch or supper.  Ricotta and mozzerella cheeses, garlic, peppers, turkey ham, spinach and basil are encased in a flaky pie crust.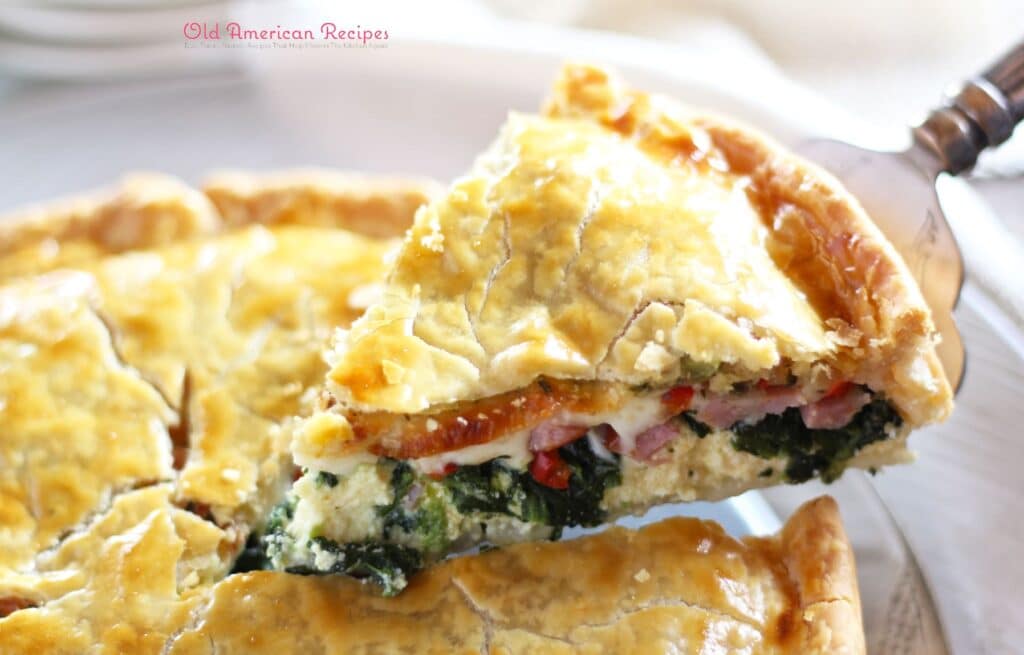 A recent look-see through a basket piled high with recipes I used to use all the time revealed this gem of a dish that brought back fond memories.  Seeing my handwriting in the margin saying "This was a hit!" made me smile.  I couldn't help but dust it off and resurrect an old favorite.
It's been over 20 years since I baked this special pie.  I remember getting the idea out of magazine, and in true fashion, made it my own.  Dad and I had a propensity for writing down recipes out of newspapers and periodicals, then figuring out how to make them even better.
This was one of those recipes.  It is absoulutely delectable and filling, not to mention a showstopper.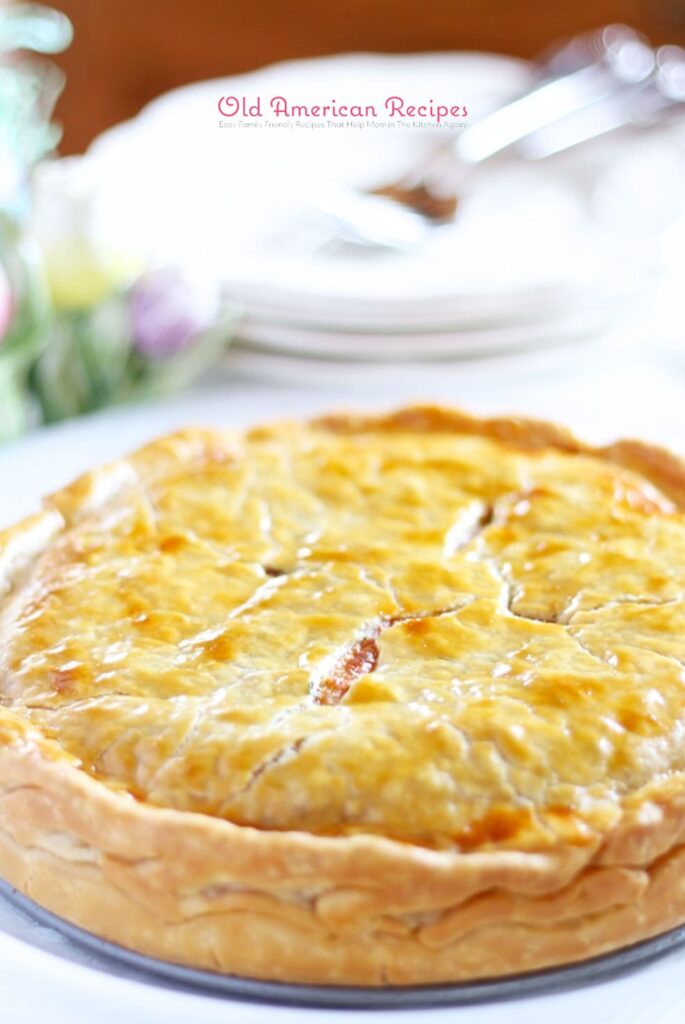 Every time I served this main course pie, I got rave reviews.  How on earth it landed in the bottom of a basket I'll never know.  Perhaps we tired of it, and found something else to relish in it's place. Since it's been so long, it's like discovering a new recipe for the first time.  And of course, I had to fiddle with it a bit.  Again.
I decided to bake it in a springform pan, resulting in a deeper space to layer all of the ingredients. By doing this the crust was able to stand high on it's own once it came out of the oven and had cooled.  This is bakery or restaurant quality ten times over.
Remember it later
Like this recipe! Pin it to your favorite board NOW!
Pin
To make the pie more user friendly, I've incorporated some premade items that make putting it together alot easier.  Hopefully this will encourage those of you with limited time to make it.
The bottom crust is pressed in a lightly greased pan.  You can see it doesn't have to be perfect. Just make sure it covers the corners and is pressed up the sides.  Then you just start adding the layers of ingredients.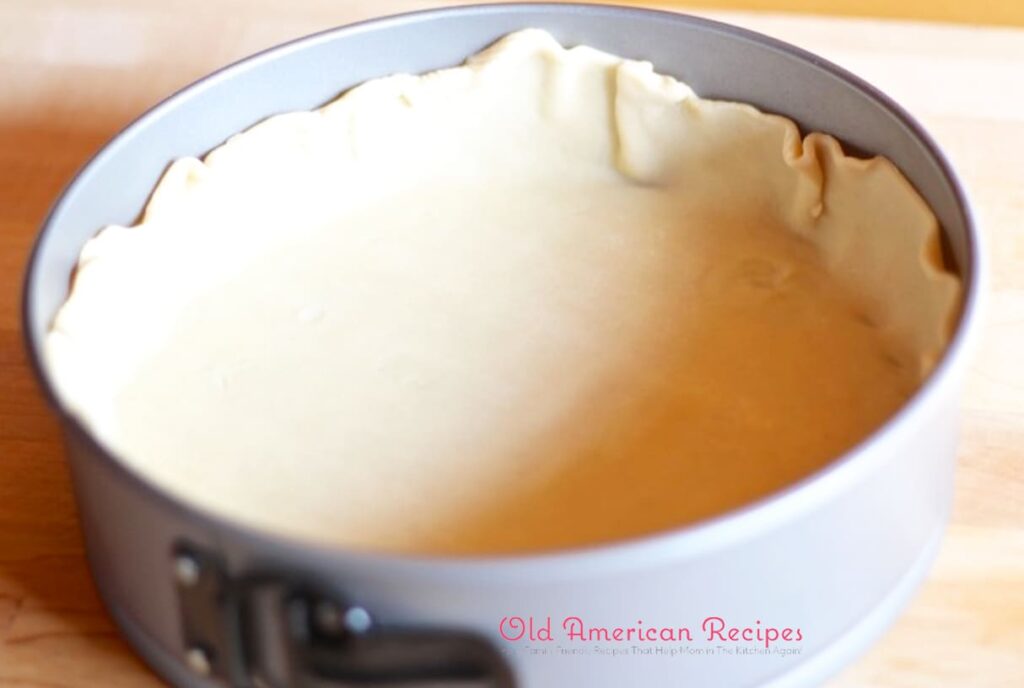 First the ricotta cheese, egg, and garlic mixture is evenly spread over the bottom of the crust.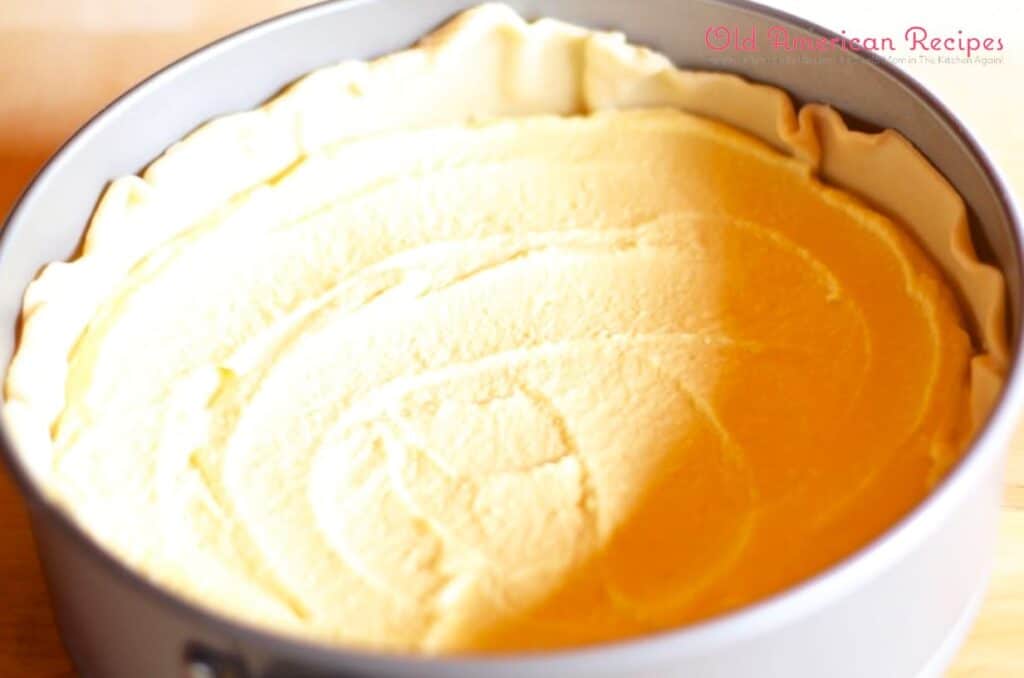 Then thawed, rinsed, and dried spinach is added.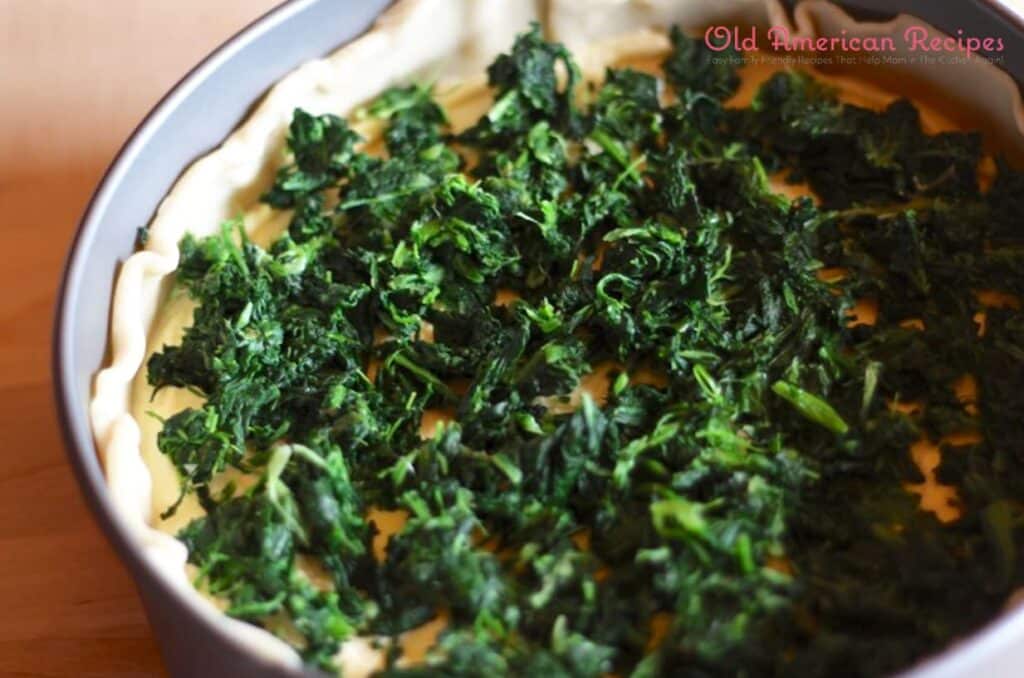 Sauteed strips of turkey ham and bell pepper are bedded down over the spinach.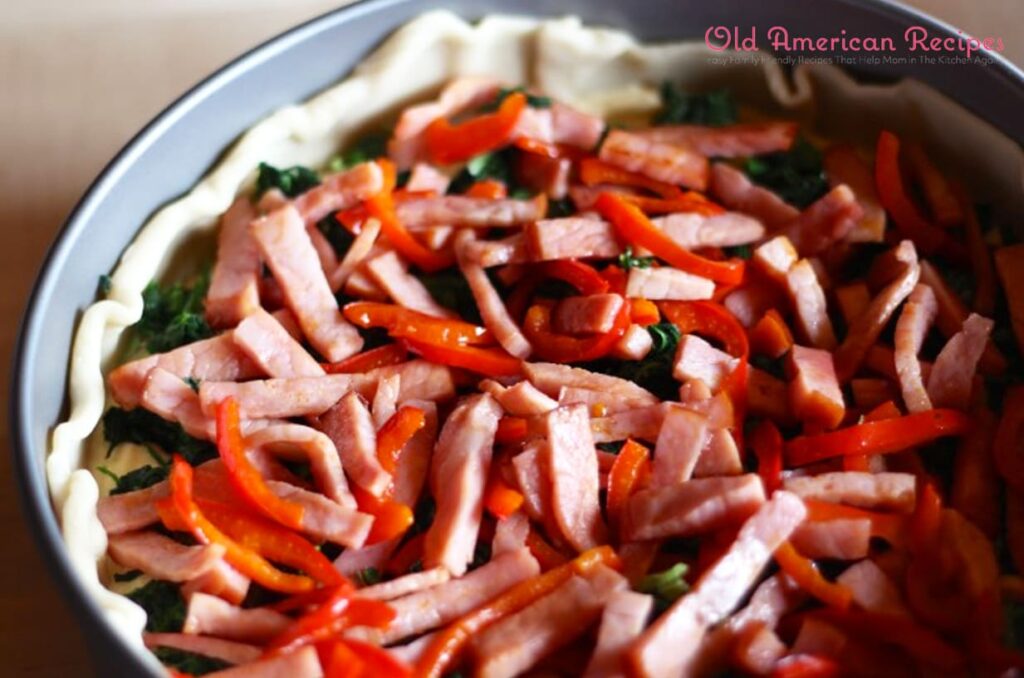 Then shredded mozzarella and basil is sprinkled evenly all over the meat layer.
The top crust crowns and seals the goodness inside so all the flavors meld while baking.  It can be a bit tricky, so here are the steps I took to ensure a rolled edge that keeps it all together.
Lay the crust evenly on top and lightly press it on the inside of the bottom crust that is extended up the sides.  Like this.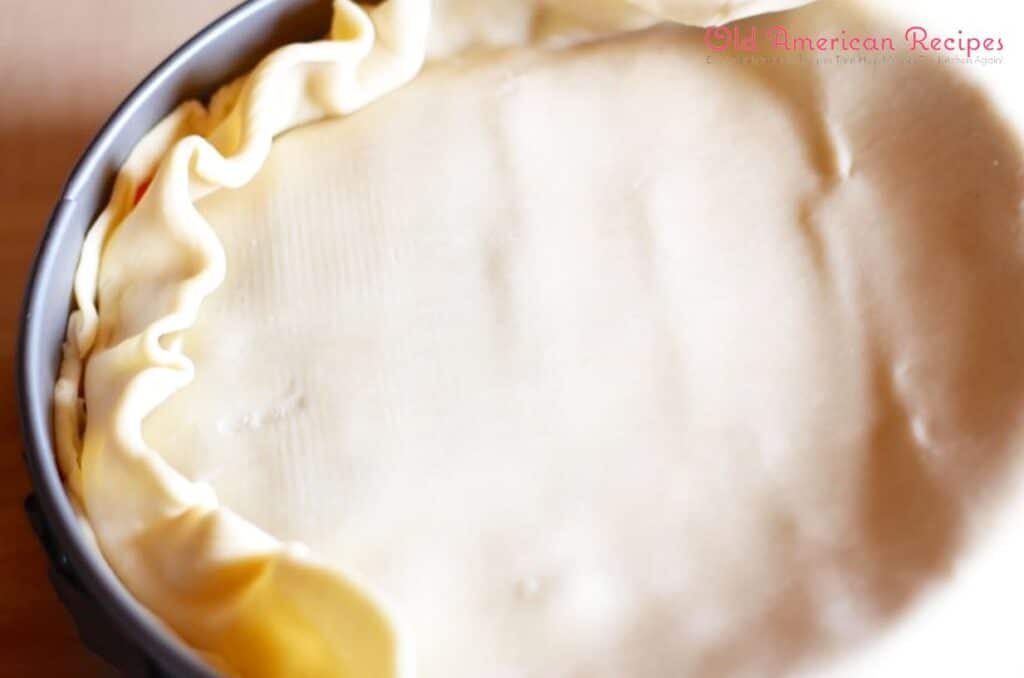 Pull the crust slightly away from the side of the pan to allow you to fold the top crust over the bottom, then tuck it behind and press it back against the pan.  This will form a rolled-type edge.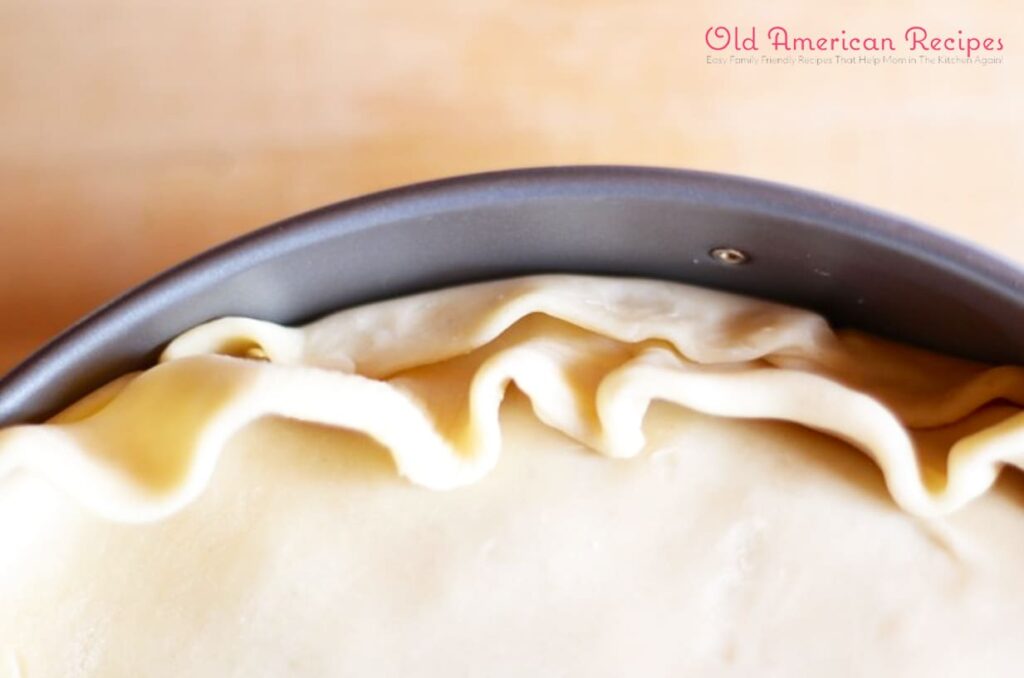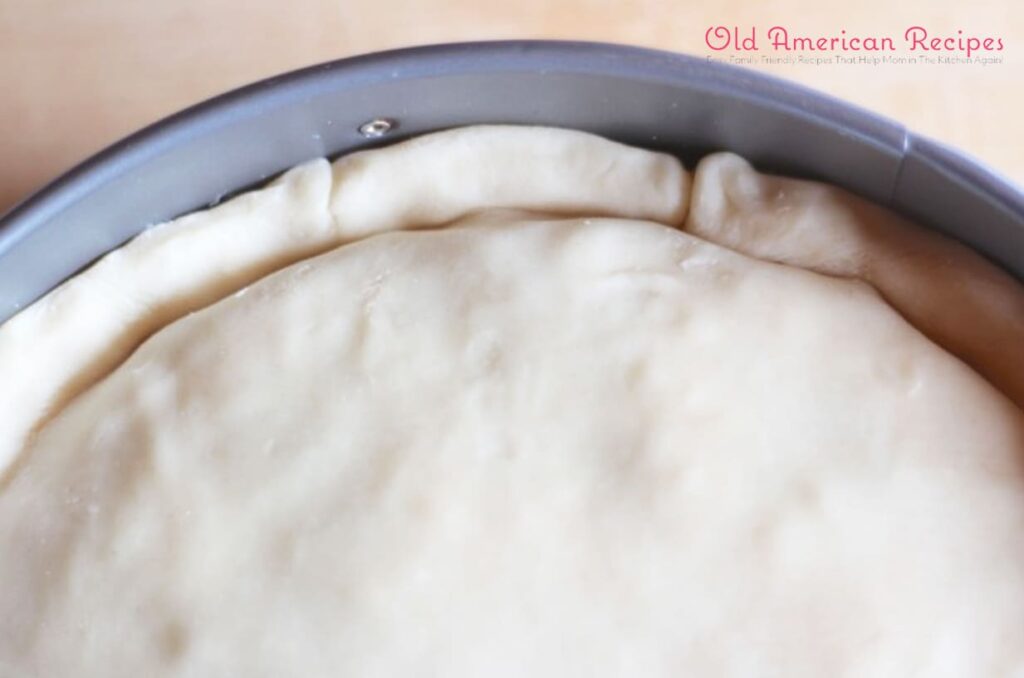 Once this is done all the way around, lay your hand flat and gently press on the center to pack the layers a bit more tight and evenly.  Then give it a light brushing of a beaten egg before popping it in the oven.
It's best to place the pan on a sheet lined with foil just in case the crusts don't seal completely. This will prevent any mishaps from oozing onto the oven racks and bottom, causing a nasty burnt odor. Taking the precaution is well worth it.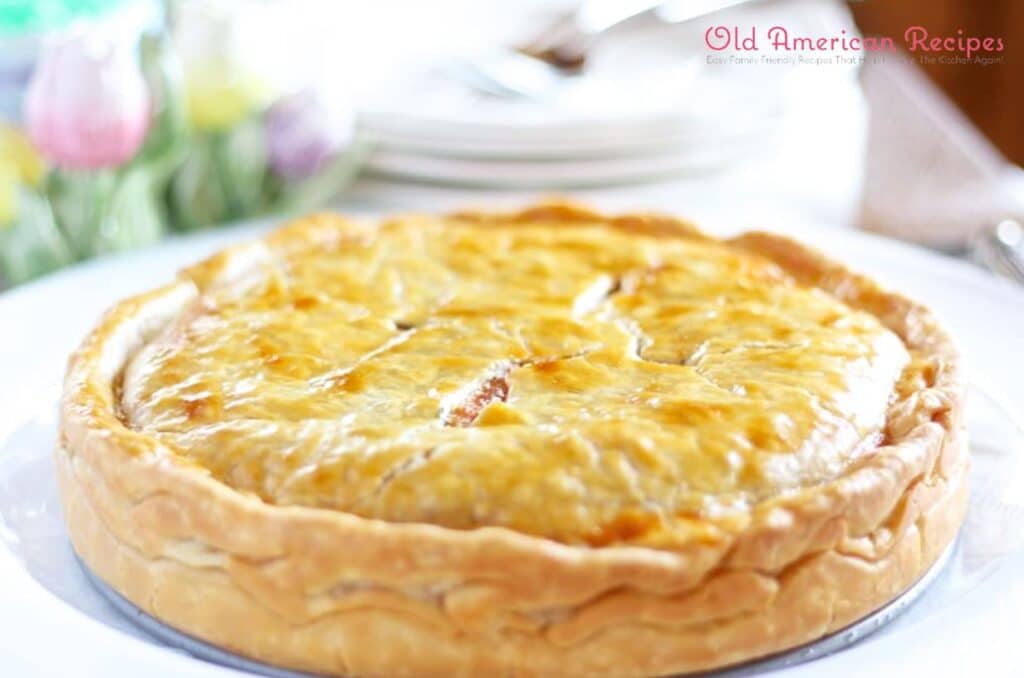 Once it has cooled down a bit, the sides of the pan can be removed to allow it to rest before the pie is ready to be cut into.  The rewards in taking the time to make it will pay off with all the oohs and awes you'll get when you present this lovely dish at the table.
A little slice of savory pie heaven.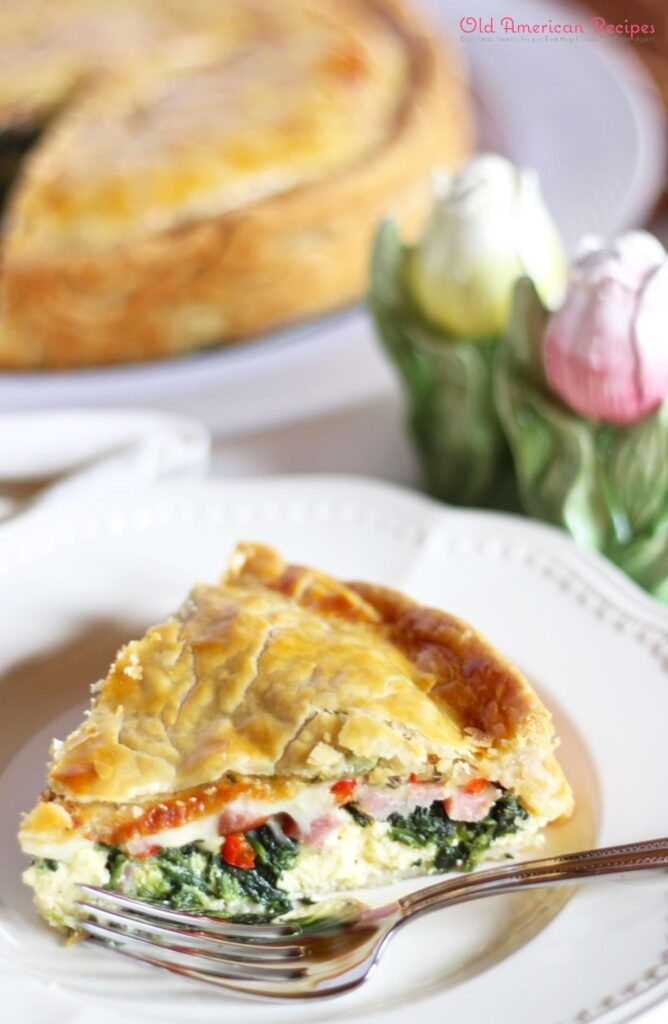 The ricotta layer bakes up to a nice cheesecake-like quality.  The ham, peppers, and spinach layer are bound by melted mozzerella.  The crust comes out golden.  Each component compliments the other in both flavor and texture.
Here's the lost and now found recipe we have enjoyed for many, many years.  I hope you and yours will enjoy it too.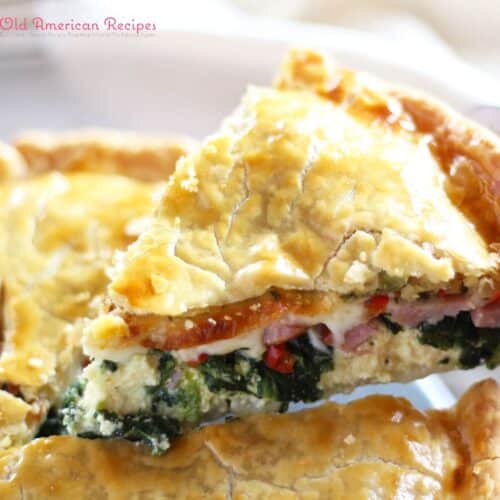 Savory Easter Pie
Ricotta and mozzerella cheeses, garlic, peppers, turkey ham, spinach and basil are encased in a flaky pie crust.
Ingredients  
2

prepared pie crusts

8

ounces

cooked

smoked turkey ham, sliced in thin strips about 2 inches in length

1

red bell pepper

core and seeds removed, sliced thin about 2 inches in length

1

teaspoon

olive or vegetable oil

1 15

ounce

container ricotta cheese

2

large eggs

beaten

1

teaspoon

crushed garlic

8

ounces

frozen spinach

thawed and dried thoroughly

2

cups

shredded mozzarella cheese

2

teaspoons

dried basil

1

egg

beaten for top of crust
Instructions 
Preheat oven to 375 degrees.

Lightly grease a 9-inch springform pan.

Press one pie crust into the bottom and up sides of prepared pan.

In a medium bowl, whisk together the ricotta cheese, eggs, and garlic.

Evenly spread mixture over the bottom crust.

Evenly spread the spinach over the ricotta layer.

In a large fry pan, heat the oil. Add the ham and peppers.

Heat through, stirring until peppers are tender.

Remove from heat. Evenly distribute over spinach.

Sprinkle mozzarella cheese evenly over meat layer.

Top with remaining pie crust. Roll and crimp edges to seal.

With a sharp knife, cut four 1-inch slits in top of crust.

Brush top evenly with remaining beaten egg.

Place on a foil lined baking sheet.

Bake on middle rack of oven for 50 minutes, or until top of crust is golden brown.

Remove from oven and allow to cool for 10 minutes on wire rack.

Carefully remove sides of springform pan.

Continue to cool on rack until set, approx. 20 minutes.

Serve warm.
What's on tap for your Easter fare?  Brunch? A big family dinner?   Please share your traditions with us.
Have a great weekend everyone!
Sharing is caring!