Sharing is caring!
We come from Finland, so Halloween has never been a big deal for us as we grew up. I think I probably heard about it the first time when I was a teenager. But things changed dramatically when I moved to Singapore. Here Halloween is quite a big deal and I can only imagine how big it is in the US! Having dived into the food blog and Instagram world, I've also come to realize that Halloween isn't just about dressing up, but food plays also a big part in this festivity. So first time in my life I decided to make a dish inspired by Halloween (as well as the autumn harvest) – a butternut squash quiche with a pumpkin face.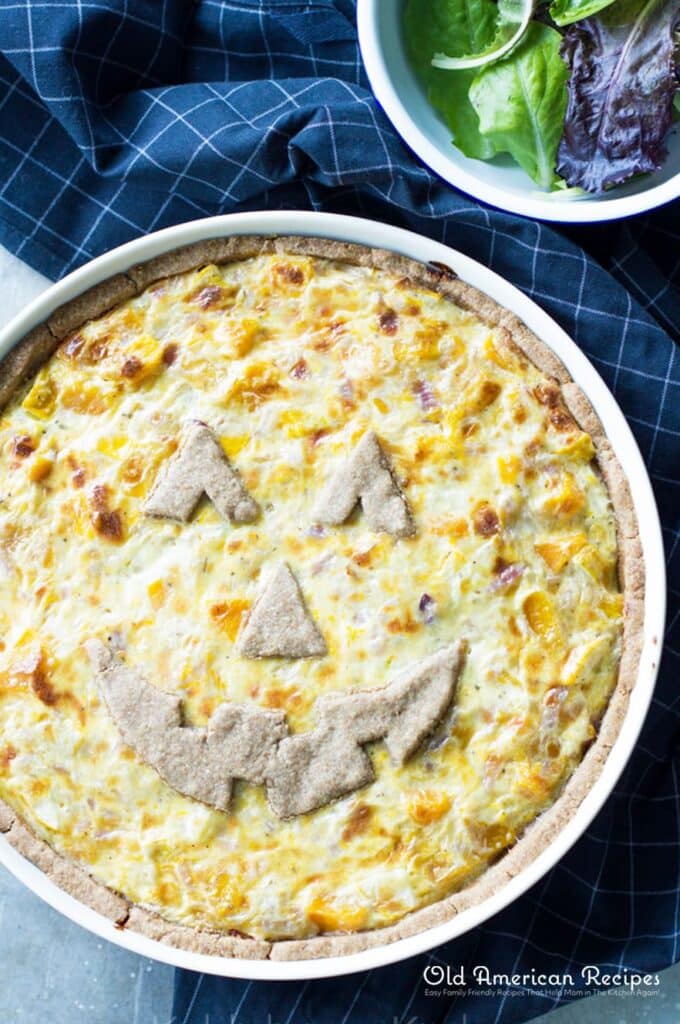 Autumn harvest is at it's best at the moment and I wanted to make use of it when creating this quiche recipe. Butternut squash was my first choice since it's a kids' favourite due to it's sweet and soft taste. Along came also some yellow zucchini and red onion. A super delicious combination! A crisp rye crust and a creamy soft filling, this butternut squash quiche is perfect for your Halloween party, Thanksgiving or any other autumn party.
I admit that this isn't the healthiest recipe we've published on our blog (it's including quite a bit of butter, crème fraiche and cheese), but sometimes you just need to go flavour first. And I think you should eat everything within limits – also saturated fat. And I mean, it wouldn't be a proper quiche without some yummy creamy and cheesy filling, right?
Like I said, we are totally new to Halloween. It would be fun to hear what is your go-to recipe for Halloween!
If you're looking for other pumpkin recipes for Halloween, you might like this high protein pumpkin flatbread recipe.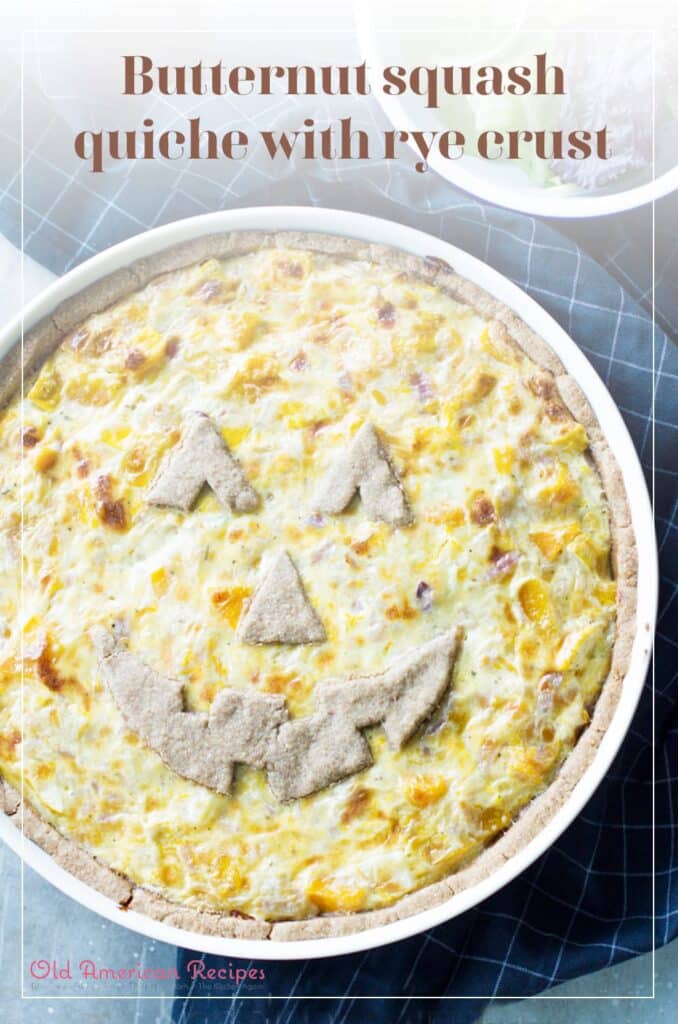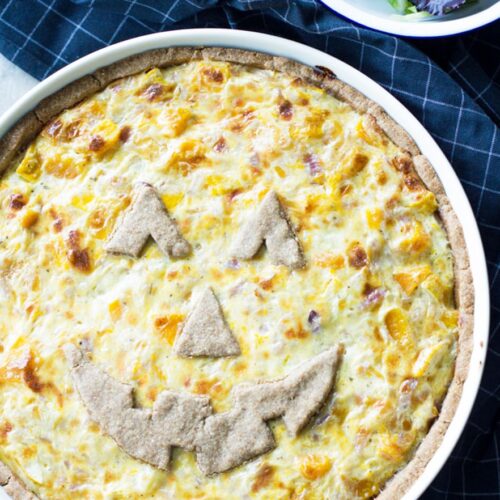 Butternut squash quiche with rye crust
Ingredients  
For the dough:
125

g/ 4.4 oz butter at room temperature

4

dl/ 1.7 cups flour

I used ½ rye flour and ½ whole wheat flour

3

tbsp

water

pinch

of salt

For the filling:

3

tbsp

tomato puree

1

tbsp

olive oil

½

red onion

ca 200 g/ 7 oz butternut squash

ca 100 g/ 3.5 oz yellow zucchini

1

container

150 g/ 5.3 oz crème fraiche

1

egg

ca 50 g / 1.8 oz grated Monterey Jack or any other semi hard cheese with a buttery mild taste

salt

pepper, ground oregano, ground rosemary
Instructions 
Start by making the dough. Knead butter, flour and salt together with you hands until a dough forms. Add some water if needed. Form a ball out of the dough, cover it with plastic wrap and put in the fridge. You can alternatively also use store bought dough pastry.

Preheat the oven to 200 Celsius/ 400 Fahrenheit degrees.

Meanwhile prepare the veggies. Cut the butternut squash and zucchini into small cubes. Chop the onion. Heat the olive oil over medium heat in a pan. Add the onion and sauté for a minute. Add the butternut squash and 3 tbsp water and sauté for another 10 minutes (or until the sqush feels almost cooked). Set aside.

In a bowl mix all filling ingredients together: onion and squash, zucchini, crème fraiche, egg, grated cheese and spices.

Take the dough from the fridge and save a small piece (size of one egg) for Halloween decoration if you want. Place the rest of the dough in a pie tin and using your hands press it evenly on the bottom and sides. Bake just the pie crust in the oven for 5 minutes.

Take the pie crust out of the oven and spread a thin layer of tomato puree on the bottom. Spread the filling evenly on top.

If you want to make the Halloween decoration, roll the rest of the dough and cut a pumpkin face with the help of a knife. Place the decoration on the filling.

Bake the quiche in the oven for another 25 minutes.

Let the pie cool down for a while before serving.
I hope you enjoy this butternut squash quiche recipe!
Anja
Sharing is caring!